A few months ago I started doing a fun series on social media called Jar Scraps in which I just try to find fun ways to use up the tail-end of a jar. I don't really post the recipes, generally, because most of the time there is barely a recipe to post! But, these Peanut Butter Noodles has been my most popular jar scraps recipe to-date so I thought maybe I'd actually write out how I make these!
Here's the first video of me making these silly noodles with hundreds of comments of people finding things to hate about the recipe. But, it's not intended to be some high-brow peanut noodle recipe. It's a quick fix of a lunch that's a perfect use of that very bottom of the peanut butter jar.
These are actually one of the jar scraps that I make the most. I actually look forward to finishing peanut butter jars so I can make them!
Do you need a leftover Peanut Butter Jar for this recipe?
The obvious answer is no. You can just scoop a few tablespoons of peanut butter into a bowl and stir in the other ingredients and you'll have the same sauce.
That said, there is something special (and easy) about using the near-empty jar to shake up the sauce. It means less dishes and is just plain fun to do. (Cooking should be fun if you didn't know).
So, while you don't NEED a peanut butter jar to make these, I encourage you to just bookmark the recipe or save it for later so you can for sure try these out when you have an empty jar.
Ingredients and how to make the sauce for these noodles
I tried to keep the ingredient list for these peanut butter noodles short so you can hopefully have most of the stuff you need.
Peanut butter – obviously
Garlic and Ginger – this is the only actual chopping you need to do and I just use a microplane grater
Soy sauce – Always good
Sesame oil – Nice nutty flavor
Honey – Just for a little sweetness
Chili Crisp – If you don't have chili crisp normally in your pantry you could substitute a dash of your favorite hot sauce.
Ramen noodles – Nothing fancy needed here. You don't actually need the sauce packet, although I use a little of the spice packet that comes with the ramen.
Hot water – Probably the most important part. 1/3 cup of cooking water makes the sauce emulsify into something wonderful.
To make this sauce happen just add all the ingredients except the noodles and water into your jar! You might need to use a spoon to scrape down the sides of the jar a bit to get off as much Peanut butter as possible.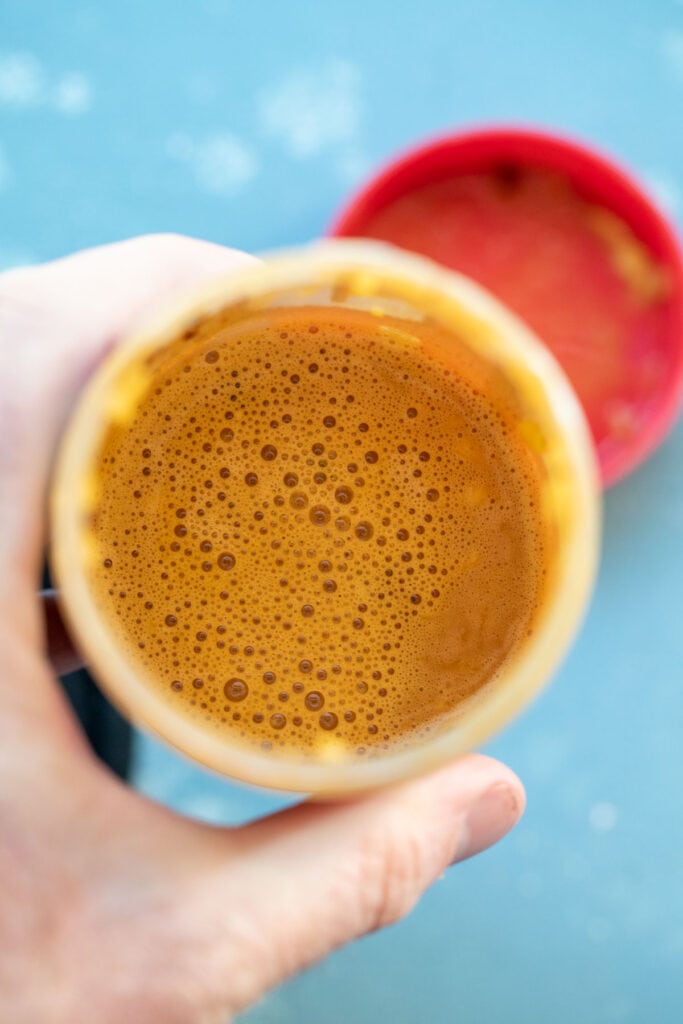 Then add some hot cooking water to the jar. Put on the lid and shake it well! After just a few seconds you'll have a smooth and delicious sauce. It might look a little thin at first, but don't worry about it.
Finishing these Jar Scraps Peanut Butter Noodles
Once your noodles are cooked, drain them and pour in the peanut butter sauce.
If the sauce looks too thin right now, just stir it together in the pot off the heat and it will thicken quickly.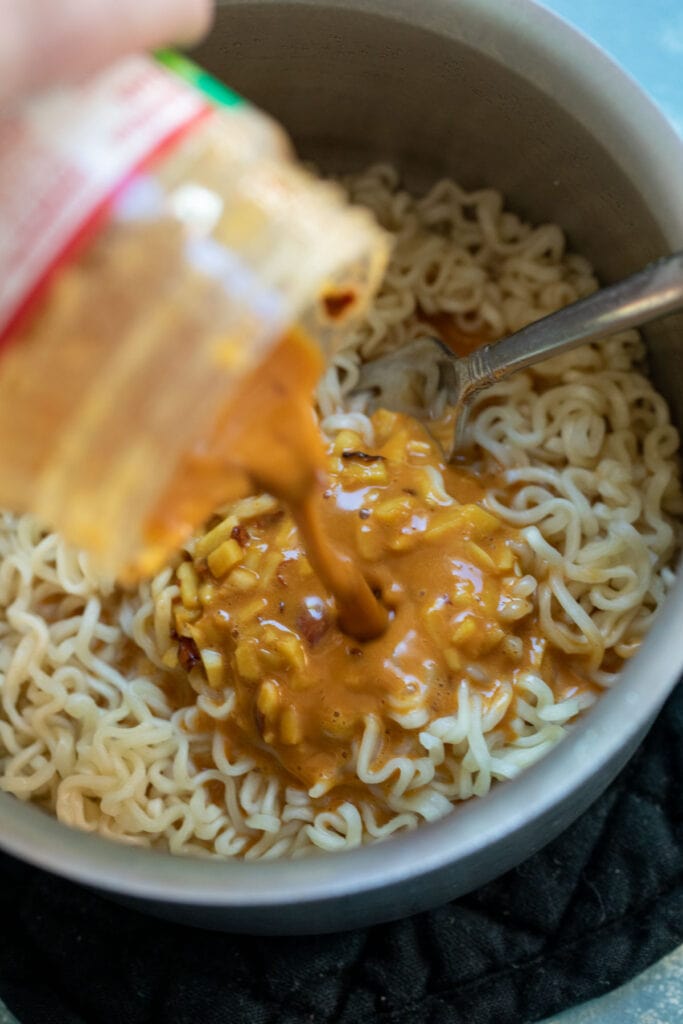 You could literally eat these peanut butter noodles out of the pot, but I like to transfer them to a bowl and garnish them with scallions and some toasted sesame seeds. Totally optional!
Substitutions and Ideas for this Recipe
There are some easy substitutions you could try for these peanut butter noodles!
The easiest thing to note is you don't have to use peanut butter for this recipe. The end of any nut butter jar or even tahini would be really good! Anything nutty would go great!
You can absolutely change or substitute ingredients in the sauce, but try to keep a balance between salty, sour, sweet, and spicy. Those are the key elements for a good peanut sauce. So for example you could substitute Agave for the honey or sriracha for the chili crisp, but try to keep the flavors balanced.
Instead of ramen, you could try the sauce with rice noodles, soba noodles, or udon!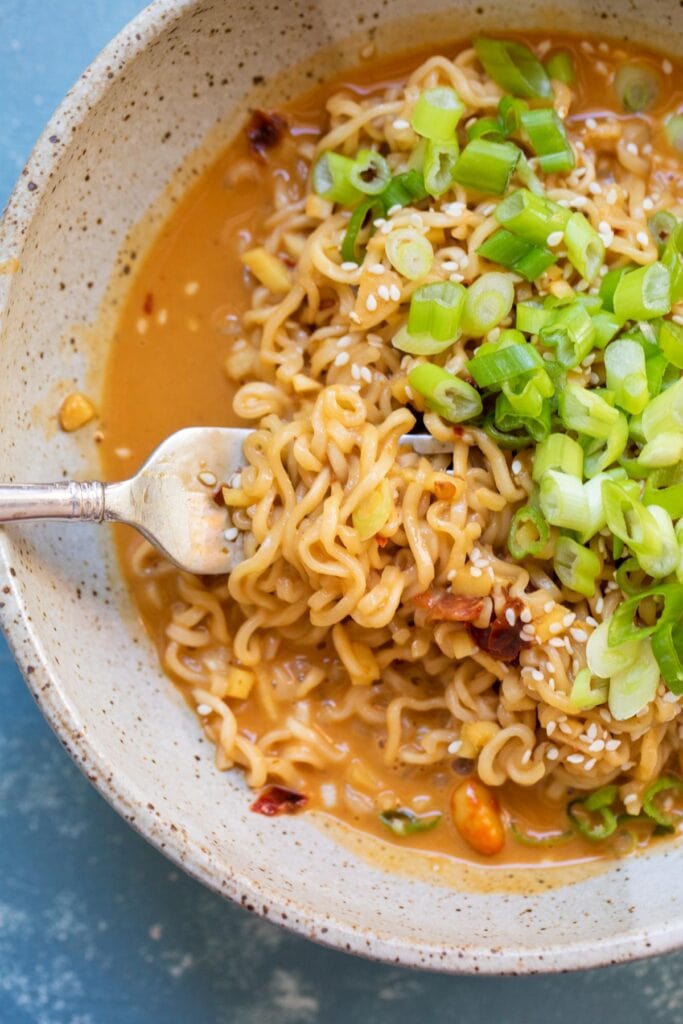 Jar Scraps Peanut Butter Noodles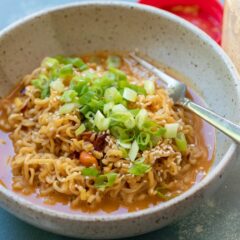 Next time you have a near-empty peanut butter jar, try out these delicious peanut butter noodles for lunch or dinner! The recipe has just a few ingredients and is ready in minutes!
Ingredients
1

near-empty Peanut Butter Jar

,

About 2 tablespoons PB

1

clove

garlic

,

grated

½

inch

fresh ginger

,

grated

1

tablespoon

soy sauce

½

tablespoon

chili crisp

,

optional

1

teaspoon

honey

1

teaspoon

sesame oil

½

packet

ramen seasoning

1

packet

ramen noodles

Scallions

,

garnish

Sesame seeds

,

garnish
Instructions
Cook ramen noodles according to package by simmering in water. Reserve 1/3 cup of the cooking water.

In a near-empty jar of peanut butter (or add 2 tablespoons peanut butter to a bowl or jar), add soy sauce, chili crisp, sesame oil, honey, grated ginger and garlic, and 1/3 cup of hot water from ramen. Put on lid and shake well. Use a spoon to scrape off any PB from the side of the jar.

Drain ramen noodles and then pour in Peanut butter sauce from jar into the hot pot with the ramen. Stir to coat and toss well. If sauce seems too thin, continue to stir off the heat for 1 minute and it will thicken up.

Transfer noodles to a bowl and top with scallions and sesame seeds.
Nutrition
Serving:
1
bowl
|
Calories:
698
kcal
|
Carbohydrates:
69
g
|
Protein:
18
g
|
Fat:
41
g
|
Saturated Fat:
11
g
|
Polyunsaturated Fat:
8
g
|
Monounsaturated Fat:
20
g
|
Sodium:
2875
mg
|
Potassium:
401
mg
|
Fiber:
4
g
|
Sugar:
11
g
|
Vitamin A:
10
IU
|
Vitamin C:
1
mg
|
Calcium:
50
mg
|
Iron:
5
mg
Did you make this recipe?
Here are a few other great recipes to try!