Breakfast tacos might seem like a weekend project, but I'm not sure that is warranted. You can make a batch of really delicious and simple breakfast tacos in about 15 minutes! These quick breakfast tacos are filled with potatoes, ham, eggs, and a bunch of other traditional Tex-Mex toppings.
They are a great way to start any day!
I can make these in literally 15 minutes, but if you are a slow chopper you could dice the potatoes and ham the night before, or you could actually cook the ham/potato mixture the night before and then just reheat it. Then you have like a 5-minute breakfast taco!
Even with my hectic mornings with two young kids, I sometimes need something other than oatmeal or cereal for breakfast during the week and these are a really delicious option!
Breakfast taco lovers stand up!
How to Season Breakfast Tacos
As you might imagine, you can go crazy with seasonings on these tacos. Chili powder, garlic powder, paprika… all could be added in small pinches. But I wanted to keep this simple so I added just one seasoning to my breakfast tacos: Seasoned salt! It gives the filling a nice savory flavor with one sprinkle. Done!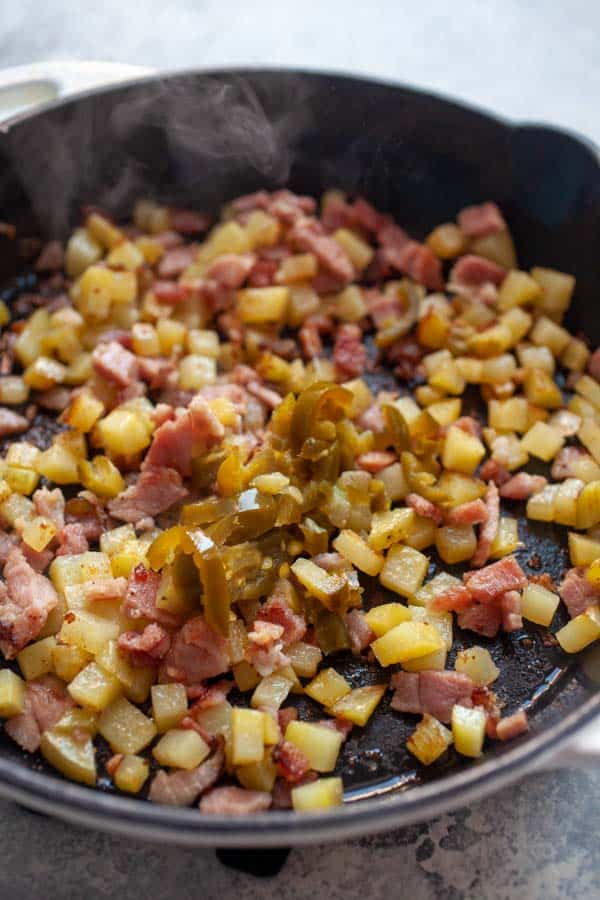 Making the Breakfast Taco Filling
The only tip to remember here is to spend a little time to dice your potatoes and ham into about 1/4-inch pieces. This ensures they will cook quickly, which is the whole goal with these breakfast tacos!
After about 8 minutes in a skillet with some oil they should start to crisp up nicely around the edges. As long as the potatoes are tender though, you are good to go!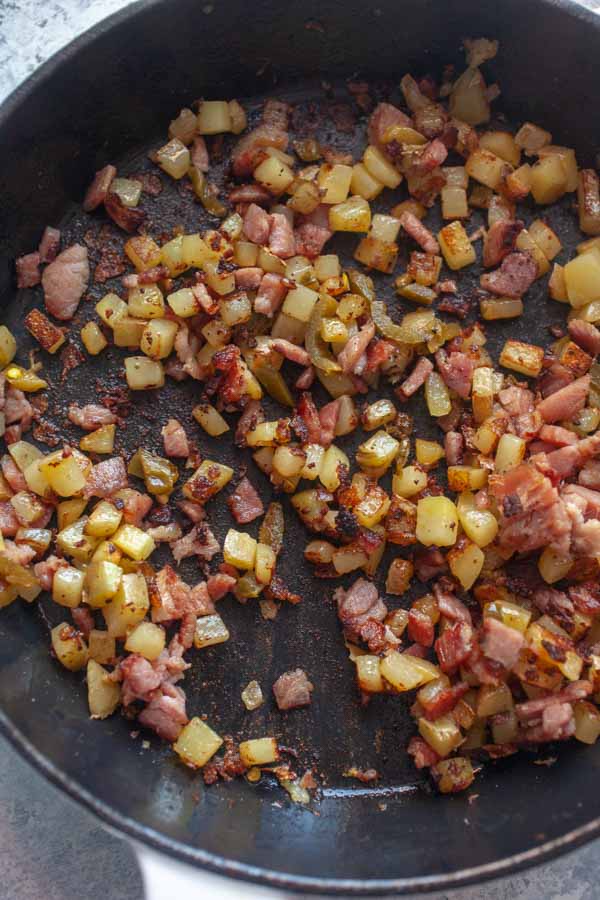 Meanwhile, you can make the scrambled eggs in a small skillet. I cooked mine with a small drizzle of oil over low heat. Check out my perfect scrambled eggs tutorial for more on making really good scrambled eggs!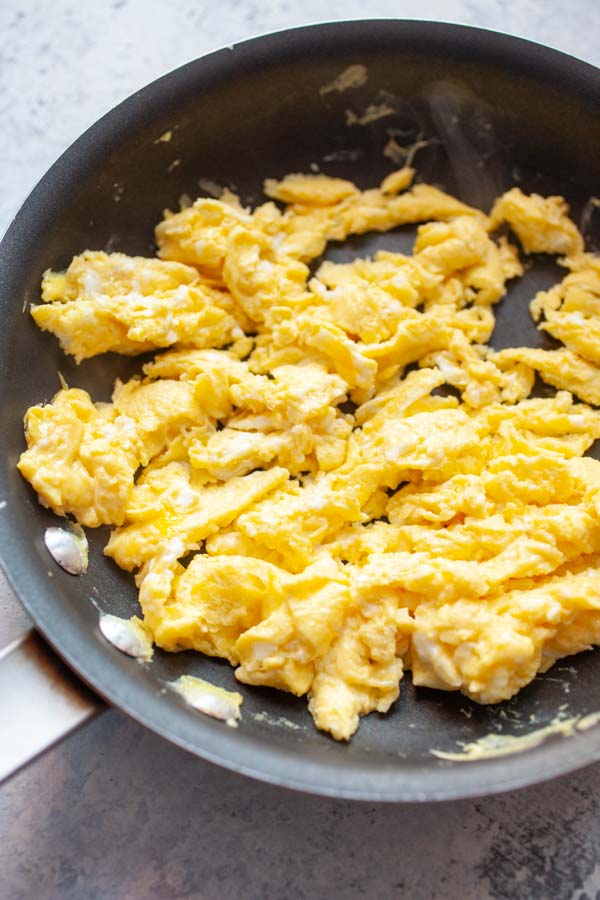 Now you just have to assemble it! I like to use flour tortillas for these breakfast tacos but you could obviously use corn tortillas.
Divide the potato filling between the tortillas and then top with eggs, queso fresco, avocado, salsa, sour cream (just a little) and some fresh cilantro.
Done deal! Dive in!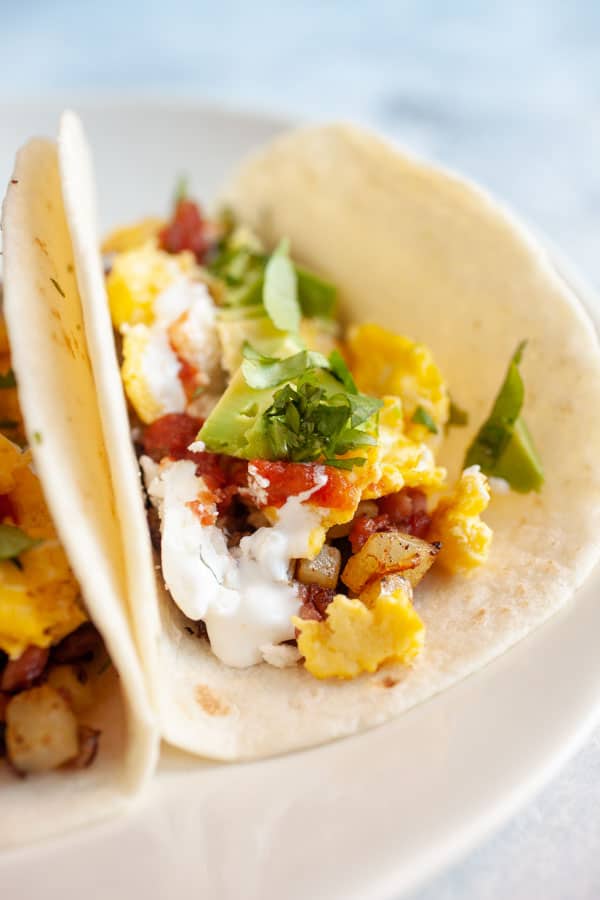 Crunch Time Tips
Here are a few tips that will help you make these breakfast tacos perfectly every time.
Dicing your potatoes is very important. If you have larger, chunky potatoes, they won't cook all the way through quickly and you'll be left with crunchy, undercooked potatoes.
Watch the salt you add to these tacos. If you are using ham, it can be salty and so you run the risk of over-salting the tacos. Just taste the filling before you make the tacos and add a pinch of extra seasoned salt if it needs it.
The eggs are best if they are slightly undercooked and still glistening. If you cook them all the way firm, they will be rubbery in the tacos.
Substitutions
You can use these breakfast tacos as a great excuse to clean out the fridge. Here are some ideas!
Rather than ham, try chorizo sausage, leftover taco meat, bacon, or refried beans for a vegetarian option.
Rather than pickled jalapenos, use fresh pico de gallo to add some flavor to the tacos.
Add other vegetables, sauteed near the end of the potatoes, like spinach, red peppers, or green onions.
Change up the cheese! Use shredded cheddar cheese or pepper jack, or whatever you might have in the fridge.
Leftovers
I wouldn't recommend storing made tacos for later. They will degrade quickly. That said, the potato filling for the tacos keeps well for a few days and you can reheat it quickly in the microwave for an even faster easy breakfast!
Struggling with weeknight meals? Be sure to check out my Crunch Time Meals!
Quick Breakfast Tacos
These breakfast tacos can be made in about 15 minutes flat with just a few ingredients. Tacos don't have to be fancy to be delicious! These are loaded with diced potatoes, ham, eggs, and salsa! Plus, cheese obviously!
Ingredients
1

tablespoon

olive oil

1

cup

diced yukon potato

½

cup

diced ham

2

tablespoons

diced pickled jalapeno

¼

teaspoon

seasoned salt

3

eggs

,

scrambled

4

taco sized flour tortillas

2

ounces

queso fresco

Salsa

Avocado

Sour cream

Fresh cilantro
Instructions
Dice potatoes and ham into 1-4 inch pieces at the largest. You want a pretty small dice. In a medium skillet over medium heat, add oil and the potatoes and ham. Cook for 7-8 minutes until potatoes are tender and the mixture is crispy in spots. Add in seasoned salt and diced pickled jalapenos (optional). Keep warm.

Scramble eggs and cook in a nonstick skillet over medium-low heat until they are just cooked, 2-3 minutes.

Assemble tacos in flour tortillas by dividing potato mixture. Top with a sprinkle of queso fresco, the eggs, avocado, sour cream, salsa, and fresh cilantro.

Eat immediately!
Nutrition
Serving:
2
tacos
|
Calories:
536
kcal
|
Carbohydrates:
50
g
|
Protein:
26
g
|
Fat:
26
g
|
Saturated Fat:
8
g
|
Polyunsaturated Fat:
4
g
|
Monounsaturated Fat:
10
g
|
Trans Fat:
0.3
g
|
Cholesterol:
280
mg
|
Sodium:
1417
mg
|
Potassium:
645
mg
|
Fiber:
4
g
|
Sugar:
4
g
|
Vitamin A:
587
IU
|
Vitamin C:
21
mg
|
Calcium:
298
mg
|
Iron:
4
mg
Did you make this recipe?
Here are a few other great taco recipes!