Somehow my five-year-old daughter made it almost to six years old without knowing about strawberry milk. Chocolate is obviously known, but just recently she saw strawberry for the first time and it was an instant hit. I decided to try my hand at making some homemade strawberry milk. I figured I could cut WAY back on the sugar and use real strawberries!
Of course, my homemade version isn't as sweet as the store-bought pink version, but it does have a really nice fresh strawberry flavor. I'm not 100% sure that my daughter would choose mine over the store-bought version, but if I don't give her a choice then she'll happily choose my version!
If you're up for a little project, this recipe takes just a few minutes and is a really fun and flavorful way to use up some fresh strawberries this time of year.
Differences Between Store-bought Strawberry Milk
There are three big differences between the homemade version of strawberry milk and the store-bought version. The first difference is color. If you are expecting a bright pink color, you will have to add some food coloring to the milk (I actually think this would've made my daughter like it more). I didn't mind the light pink color though.
Second, there is a nutrition difference. First, there is way less sugar in my version. I used just a 1/4 cup of honey to sweeten the milk while each cup of storebought strawberry milk has 23g of added sugar per cup. Wowza.
Third, and coolest in my opinion, I used ripe, beautiful fresh strawberries. Zero chance store-bought strawberry milk is rocking fresh berries.
I should also note that there is a very popular Korean strawberry milk version which is more like a tea and not really similar to this version at all.
How to make Strawberry Syrup
The trick to making this milk is to make a simple strawberry syrup. I used a similar strawberry syrup that i've used in recipes like my strawberry basil gin fizz except I used honey as a sweetener and didn't add a bunch of sweetener because my berries were already really sweet.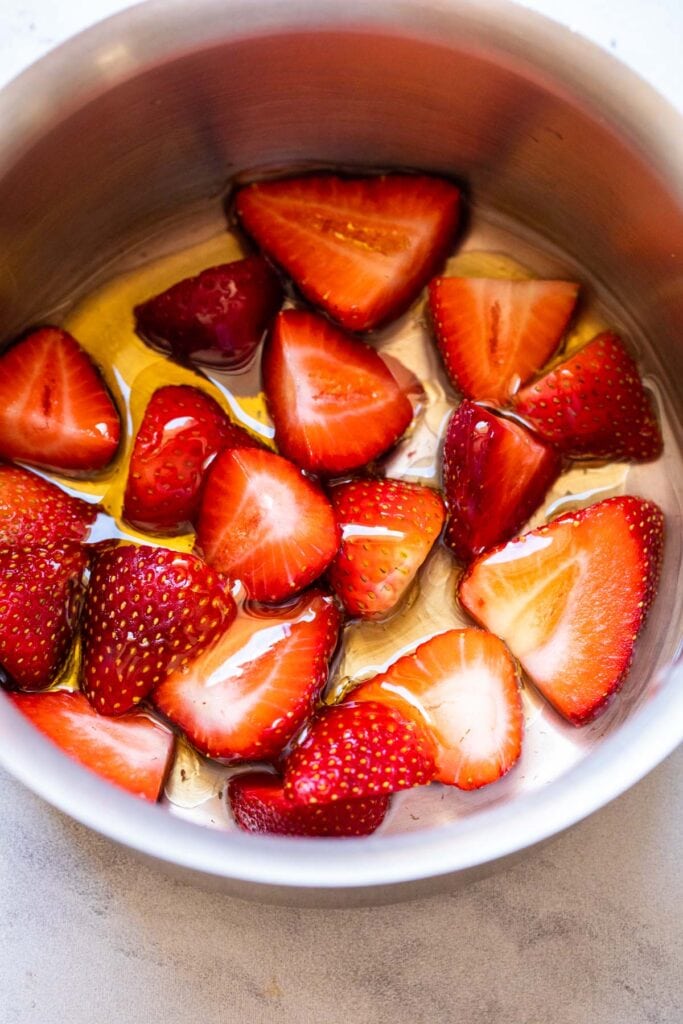 You could adjust the honey amount to your liking though.
Just add some halved strawberries to a small pot or saucepan with 1/4 cup of water and 1/4 cup of honey and bring it to a simmer. Once the berries are soft and breaking down, it's done! Mine took about five minutes of cooking time to get there. It's pretty fast!
Straining and Cooling the Syrup
You will need to blend the strawberry mixture to finish the syrup. Any blender or food processor will do the trick here. Just blend it until it's smooth.
While not completely necessary, I recommend straining the syrup in a fine mesh strainer so it's really smooth and you get out all those small strawberry seeds.
Also, if you want to speed up the total time it takes to make this strawberry milk, I recommend cooling the syrup over an ice bath which cools it down in just a few seconds.
Otherwise, you'll want to wait for the syrup to cool down before mixing it with the milk. Hot syrup and cold milk aren't a great combo.
Can you use frozen strawberries?
Absolutely you can use frozen strawberries to make the syrup for this strawberry milk. I would reduce the amount of water you use in your syrup since frozen strawberries have more water in them. I also find frozen berries to be less flavorful so you might want to use more syrup to milk ratio in your finished milk.
Other than that though, the recipe should work fine with frozen strawberries.
Finishing the Strawberry milk
Once you have the syrup cooled, add it to a jar and fill the jar up with milk! I used a quart jar so I needed about 3 1/2 cups of milk to top off the jar. This was a great ratio!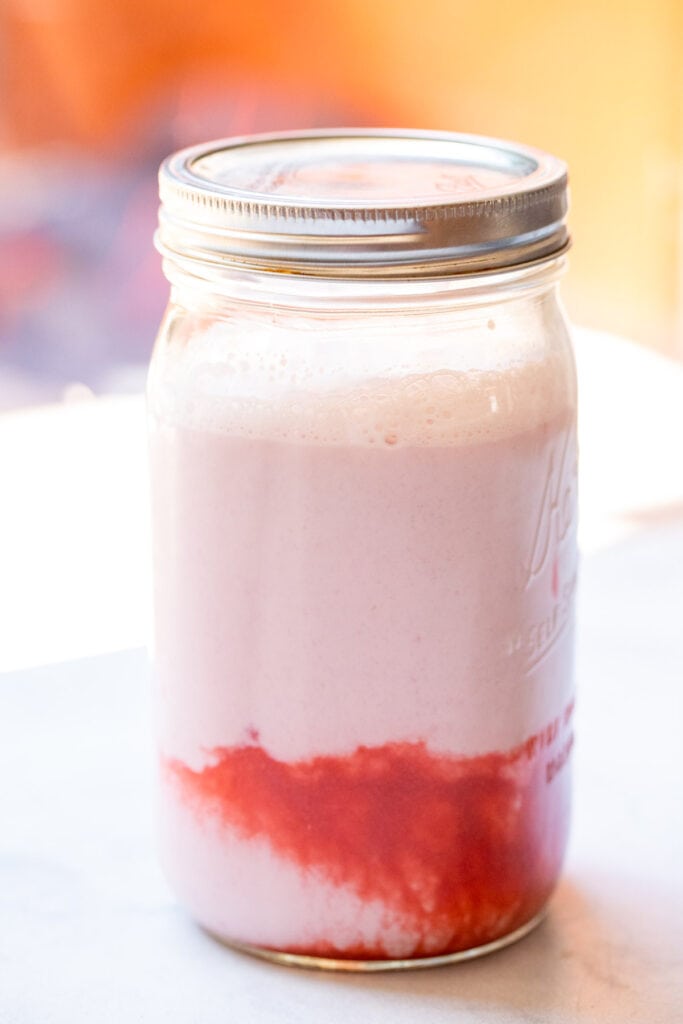 Of course, you could use alternative milks for this like almond milk, coconut milk, soy milk, or cashew milk and it will still be delicious and vegan!
Put the lid on your strawberry milk and shake it up!
Other Sweeteners you can use for Strawberry Milk
I used honey in my strawberry milk, but other sweeteners would work just fine. You could use classic sugar, brown sugar, maple syrup, or alternative sweeteners like monk fruit sweetener. Ultimately you'll want to taste the milk to make sure it's sweet enough for you. You can always stir in some more honey or sugar to sweeten the milk later.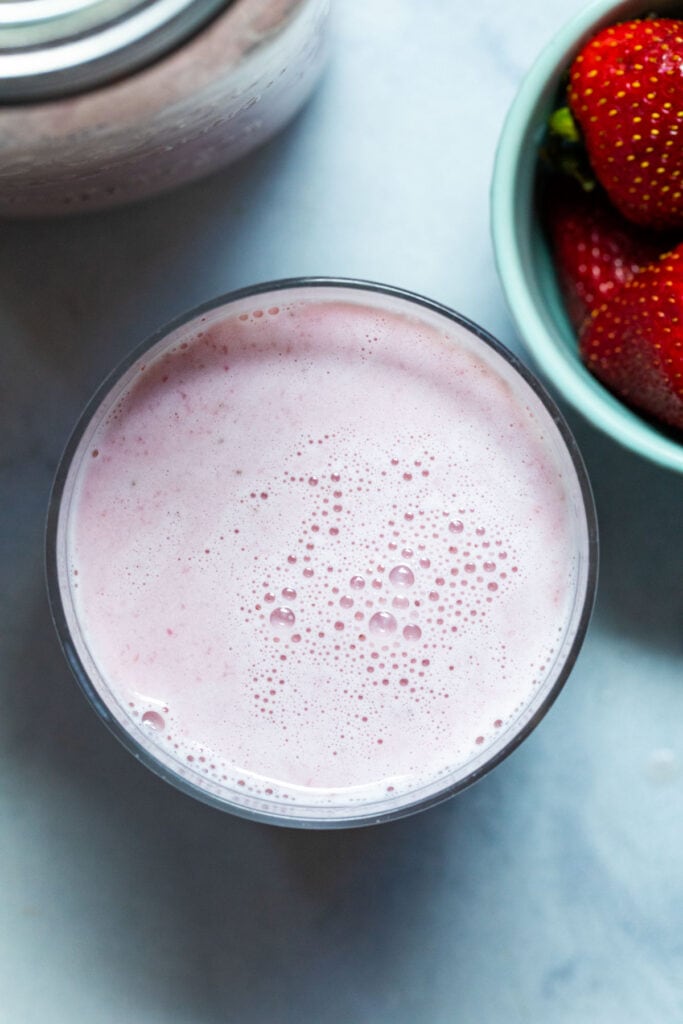 Homemade Strawberry Milk
A creamy, delicious alternative to sugary store-bought strawberry milk, this homemade recipe is surprisingly simple to make and has just three ingredients!
Ingredients
1

cup

fresh strawberries

,

halved

¼

cup

water

¼

cup

honey

3

cups

milk
Instructions
Add halved strawberries to a small saucepan with water and honey over medium heat. Cook until strawberries start to break down and the honey is dissolved, maybe five minutes.

Transfer the syrup mixture to a blender or food processor and process until smooth.

Pour syrup through a mesh strainer or cheesecloth to remove seeds.

Cool syrup in the fridge or place over an ice bath to cool quickly. Pour syrup in a quart jar and fill with milk. Shake and serve or store in the fridge for later.
Nutrition
Serving:
1
cup
|
Calories:
186
kcal
|
Carbohydrates:
29
g
|
Protein:
6
g
|
Fat:
6
g
|
Saturated Fat:
3
g
|
Polyunsaturated Fat:
0.3
g
|
Monounsaturated Fat:
1
g
|
Cholesterol:
22
mg
|
Sodium:
71
mg
|
Potassium:
341
mg
|
Fiber:
1
g
|
Sugar:
28
g
|
Vitamin A:
301
IU
|
Vitamin C:
21
mg
|
Calcium:
234
mg
|
Iron:
0.2
mg
Did you make this recipe?
Storing the Milk for later
This milk will keep for a week or longer in the fridge in a sealed jar. Just give it a shake before you pour it into glasses as the syrup might settle to the bottom a bit.
My strawberry syrup lasted just a few days though. It's a fun drink and tastes really good on a hot day.
I feel pretty good serving it to my kids since it has way less sugar than other strawberry milk versions you can find at the store.
Here are a few other great strawberry recipes to try!