These delicious and fun Cheese Taco Shells were born out of a mistake. I was making my kiddos some easy cheesy quesadillas in the oven and one of them completely overflowed (as they tend to do).
I removed the quesadilla and mindlessly stuck the sheet pan back in the oven with the oven off. Later as I was cleaning the kitchen I remembered the sheet pan in the oven and pulled it out to find the most perfect little cheese crisps on the sheet pan.
That got my brain spinning and I thought I'd try to make some entire cheese shells that I could use as taco appetizers! Bonus is that when you are making a taco shell out of cheese, it's very low-carb and also a keto taco!
Welp, I tried it exactly once and it worked so beautifully that I thought I'd post it.
Now, the most important thing about these cheese taco shells isn't the actual shell, it's what you put in it! I wouldn't put traditional taco fillings like ground beef or chicken. It'll be too heavy. Stick with something light. I stuffed mine full of basically a chopped Bacon-Lettuce-Tomato mixture and they were PERFECTION.
What cheese works best for taco shells
There's no need to find some fancy cheese for these taco shells. The two best options, in my opinion though, are a sharp cheddar cheese or parmesan cheese. Both of these cheeses have the feature of being shapable once melted but also getting very crispy if you continue to bake them after they are melted.
So you can shape these cheese taco shells and then they hold their shape really well.
How to Make Cheese Taco Shells
There barely needs to be a recipe for these because it's one ingredient: Cheese. I recommend using a good sharp cheddar which will melt but then eventually dry out and turn crispy. Good stuff!
Start by lining your baking sheet with either foil or parchment paper. If you use foil, spray it with some nonstick spray to help your cause later.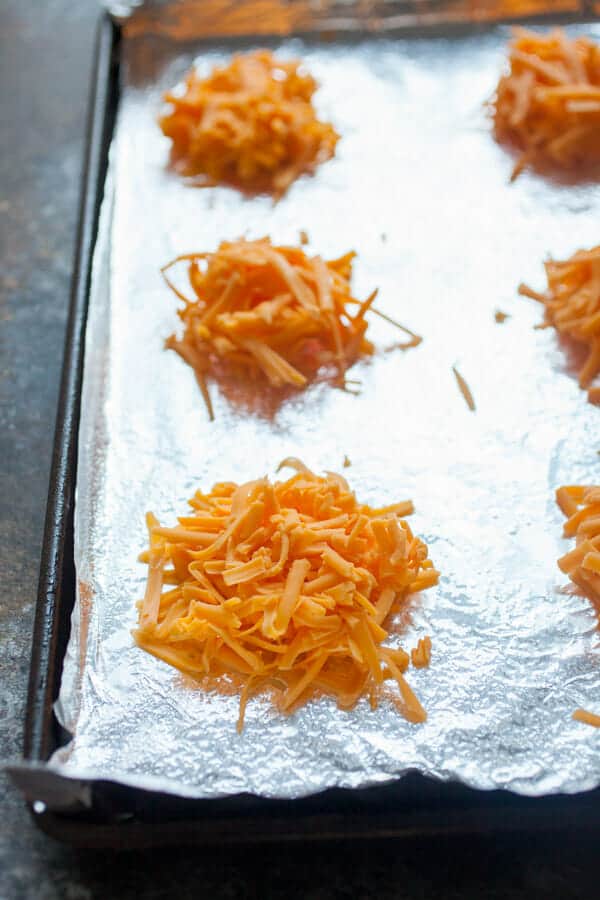 Then pile your cheese up. I'd recommend using about two tablespoons of cheese per taco shell (maybe 1/2 ounce). USE RESTRAINT here. If you put too much cheese in each pile, they will just melt together into one giant cheese board cracker thing (different post).
If you wanted to add some seasoning to the taco shells, you could sprinkle the cheese with a little taco seasoning, but I would use a light touch. Too much seasoning would maybe break down the taco shells.
Then pop them in the oven! I did a 350 degree F. preheated oven and you want to start checking them after 10 minutes or so but they may take up to 15-20 minutes. It's pretty hard to burn them, honestly.
You know you are getting close when the edges of the cheese circles are getting browned and the bubbles are looking solidified.
These were my finished cheese shells after about a 15-minute bake.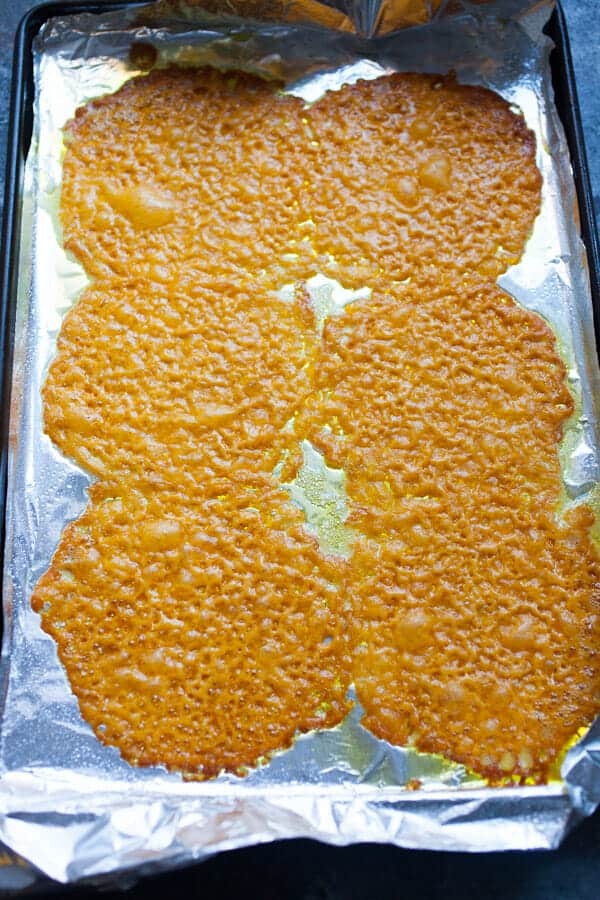 Okay. Now work quickly! These will crisp up as they cool so you want to move them and shape them while they are still warm. The trick to making them into taco shells is to flip over a muffin tin and drape the cheese shells over the voids in the muffin tin to hold the shells in shape! They are hot so you might need to use a spatula or a wooden spoon to help release them from the baking sheet and transfer them to the muffin tin.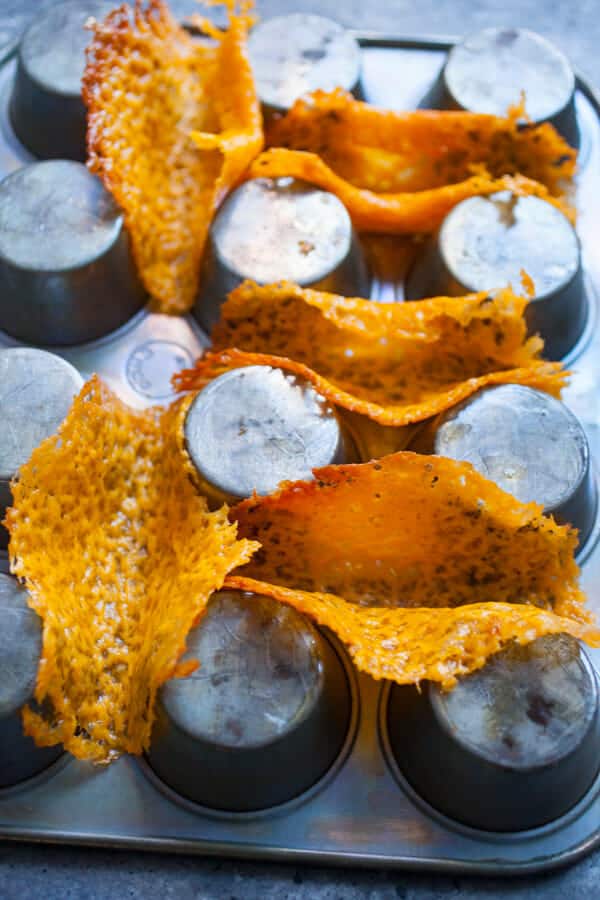 Let those cool completely and they will hold their shape!
After shaping mine, I found them to be pretty greasy still so I just blotted them with a few paper towels to pull off some of the grease on the shells.
Making these in a skillet
I prefer to make these cheese tacos shells on a baking sheet so you can make a bunch at a time, but if you have a good non-stick skillet or griddle, you can use those to make the cheese taco shells also. Heat the cheese in the skillet until it's starting to brown around the edges and then transfer it to your muffin pan to shape. Works great if you only need to make a few!
How to Fill the Cheese Taco Shells
Like I said at the beginning, my feeling on these is that it's entirely about the filling whether or not it works as an actual appetizer (these are an appetizer by the way).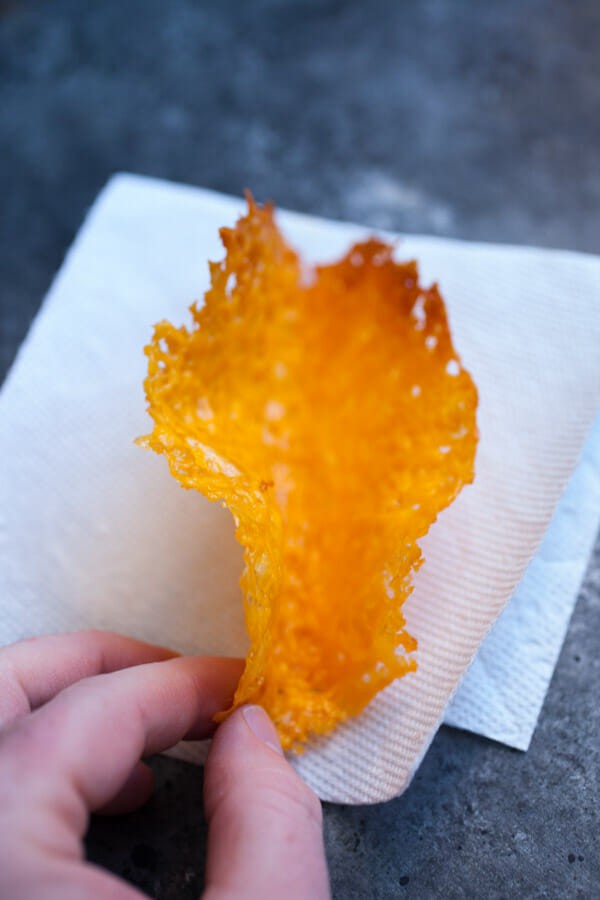 Would it be a good idea to fill these taco shells with hot pork carnitas? Absolutely not. The shells would fall apart.
But a crisp mix of lettuce, tomato, and bacon? YES PLEASE.
Of course, a dash of hot sauce or something would go well. You could also top lightly with avocados, diced onions, or even salsa, but just remember to use a light hand with the toppings. If you over-fill these taco shells, they will fall apart.
These are a really fun and creative (if I do say so myself) twist on the standard taco. The shells hold up well once they are made so you could make a bunch in advance if you wanted.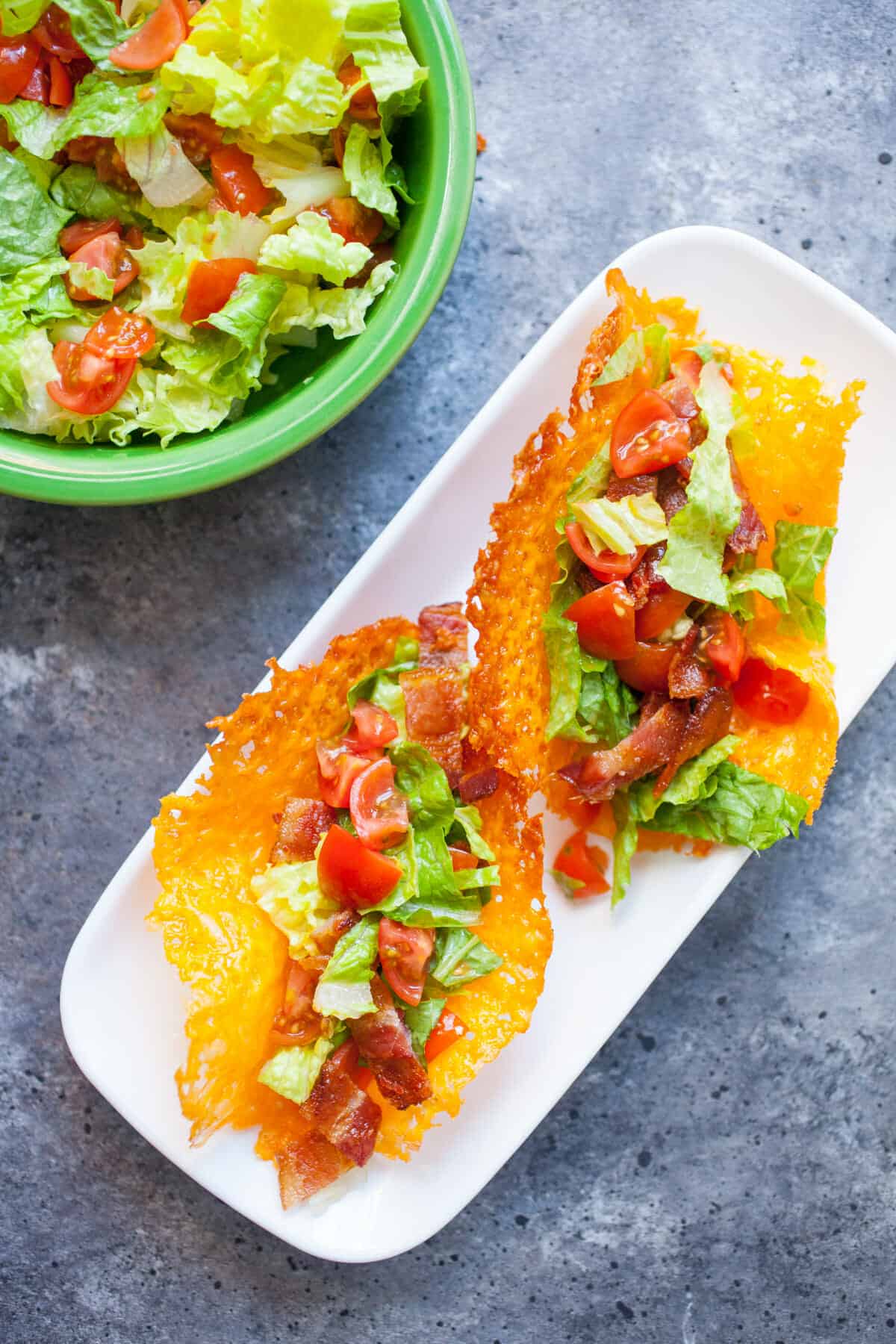 Go forth and make cheese taco shells!
Cheese Taco Shells
These are a fun change-up and great as a party appetizer. Your friends will love it! Keep the fillings light since the shell is made of, well, CHEESE.
Ingredients
3

ounces

cheddar cheese

,

grated
Instructions
Line a baking sheet with parchment paper and portion out cheese into about 1/2-ounce piles. Do six per baking sheet.

Add baking sheet to a 350° F. oven and let bake so cheese melts. Bake for 10-15 minutes. Turn baking sheet so the taco shells bake evenly. When the cheese starts to brown on the edges and the bubbles solidify on the cheese, they are done.

Work quickly now. While your cheese is still flexible, add the taco shells to an upside-down muffin tin. Use the muffin tin holes to keep the shells in place. Let cool completely.

Fill cheese taco shells with light toppings. I like a simple mix of lettuce, chopped bacon, and tomatoes. Yum!
Nutrition
Serving:
1
Shell
|
Calories:
58
kcal
|
Carbohydrates:
0.3
g
|
Protein:
3
g
|
Fat:
5
g
|
Saturated Fat:
3
g
|
Polyunsaturated Fat:
0.2
g
|
Monounsaturated Fat:
1
g
|
Cholesterol:
14
mg
|
Sodium:
93
mg
|
Potassium:
11
mg
|
Sugar:
0.05
g
|
Vitamin A:
142
IU
|
Calcium:
100
mg
|
Iron:
0.02
mg
Did you make this recipe?
Here are a few other great taco recipes!
If you're experimenting with making different kinds of taco shells, these quesadilla taco shells are actually easier to make and perfect for filling with heartier toppings. For a completely different and more authentic take on tacos, try these Fried Tacos made with homemade dough. SO GOOD. Need breakfast? Check out these Easy Breakfast Tostadas! I also love these Chicken Street Tacos from Our Salty Kitchen!