This Fried Tacos Recipe stuffed with spicy beef and cheese is a homemade version of a taco I originally had in NYC a few years ago. A good fried taco should be perfectly crispy on the outside and stuffed with meat and cheese, but still have enough room for some fresh pico de gallo or salsa to be scooped in later!
My Fried Taco Inspiration
A friend and I found ourselves with a few hours to kill in NYC before our train a few years ago so tacos were the subject – specifically the tacos at a stall in Chelsea Market called Los Tacos No. 1.
After having their tacos, I fully expect to be visiting Los Tacos No. 379 in Denver in a few years. They are pretty legit.
As you might guess, their menu is basically tacos, but my friend recommended one thing that I probably wouldn't have ordered on my own. It was simply called "Taco Especial"… special taco. Special indeed. When I ordered mine, they yelled "especial" down the line which meant nothing to me at the time.
What it meant to the cooks is to drop a freshly formed cheese stuffed tortilla into the damn deep fryer.
So when you get up to the line, they pull this golden beauty out which is half taco and half quesadilla. Then they cut it open to reveal a river of cheese and fill it with whatever toppings you choose. Like I said: special.
I've had dreams of these fried tacos since then and have tried to figure out how to recreate it.
Warning: The method I landed on after a few failed attempts involves deep frying things and making your own quick tortillas. Neither of these steps are super hard, but this maybe isn't the recipe you pull out for a quick taco Tuesday if you get my drift.
If you take the time though, it sure is special.
Making the taco stuffing
Before the method is addressed, let's talk about filling. In short, I can't think of a single taco filling you couldn't use for these. Beef, chicken, beans, mushrooms, carnitas… it's all on the table. (So you could hit up the taco recipes for some other ideas).
What I will say is you should make whatever filling you want before you start the tacos. You don't want to be fiddling with a filling while your tacos are frying (or getting cold). For me, I made a quick beef mix with some homemade taco seasoning added in.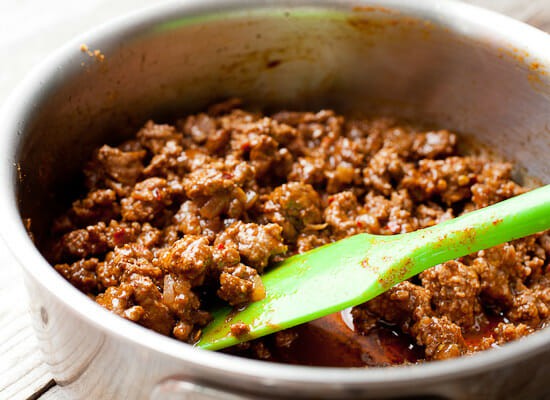 How to Make Fried Tacos
Guys, I've never made homemade tortillas before this day. For some reason they've always intimidated me and I don't own a tortilla press. (I have since done a full deep dive on if homemade tortillas are worth it.)
The only reason I did it here is that A) I think there is no other way to make these and they were haunting me in my sleep and B) I knew they wouldn't have to be perfect because I was frying and stuffing them.
It turns out that tortillas are actually pretty easy in small quantities.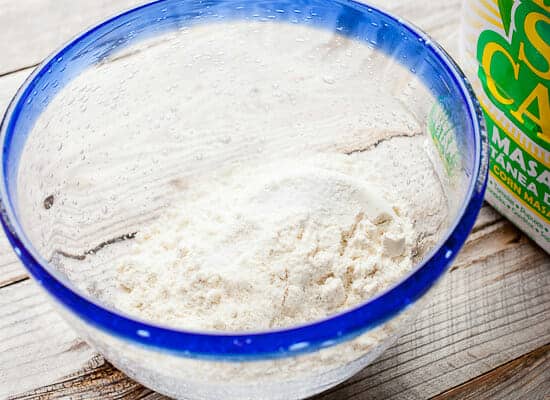 You can find ground masa at most grocery stores these days (it will sometimes be in the Latin section and sometimes be with the cornmeal and flour). Stir it together with some salt and water and you'll end up with a smooth ball. You should check your brand of masa for exact measurements.
When your dough ball is together, knead it for a few minutes until it has a smooth texture. I found it really easy to work with actually.
Then roll the dough into even balls. If you make a full batch you should be able to get 12 dough balls that are a scant two ounces in size. If you split your dough into 12 even pieces, you'll be in good shape.
Keep these covered or they will dry out.
Working with one at a time, stick it between a few pieces of parchment paper or wax paper and roll it out into roughly an 8-inch round. If you have a tortilla press, this will be more uniform, but with a rolling pin this was about as good as I could get.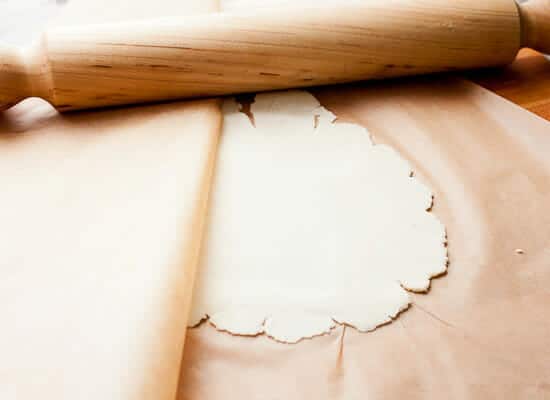 Some cracked edges are fine since we are filling and frying these anyway. If I ever start actually making tortillas regularly, I'll invest in a press for sure.
Anyway, once it is rolled out, add some cheese! I like queso fresco because it melts but doesn't get too liquidy. It keeps some of its texture.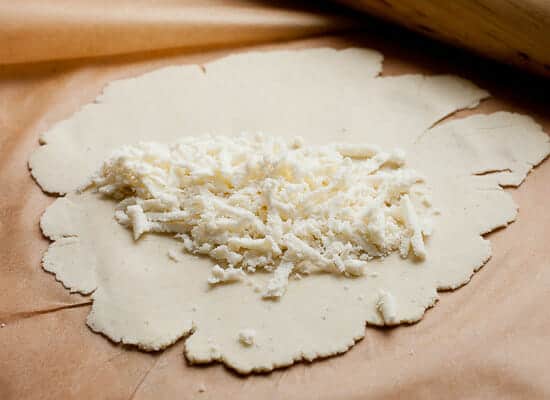 Then just fold over the tortilla and press out as much air as possible. Crimp the edges closed and cut off any extra around the edges.
I would recommend making all the tortillas before frying them!
Then you need some oil at 350 degrees F. I just heated mine in a cast-iron skillet.
2-3 minutes per side and you're deep-fried tacos will be crunchy on the outside and cheesy on the inside!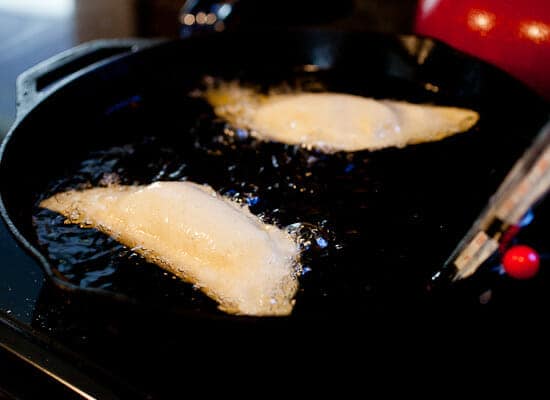 One of the reasons I like to use a semi-meltable cheese like queso fresco is that if you happen to have a whole in your taco while it's frying, the cheese will still mostly stay in the taco and won't explode out. If you were using cheddar or something, there would be a huge mess if you didn't have a perfectly sealed taco.
Once the tacos come out of the fryer let them drain on a few paper towels. You can keep fried tacos warm in a 200 degree F. oven while you are frying the rest, but they will also stay warm for 5-10 minutes without much issue.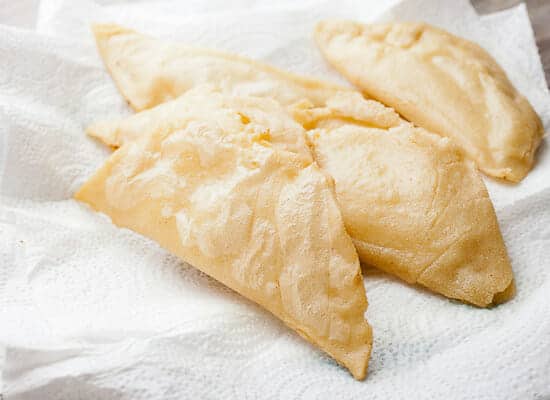 When you're ready to serve these fried tacos, slice open the top of the taco (watch out for hot steam!) and you should have crispy taco with cheese in the center. This taco ends up being better than any quesadilla or corn tortilla. It's crunchy, but has plenty of bite to it also.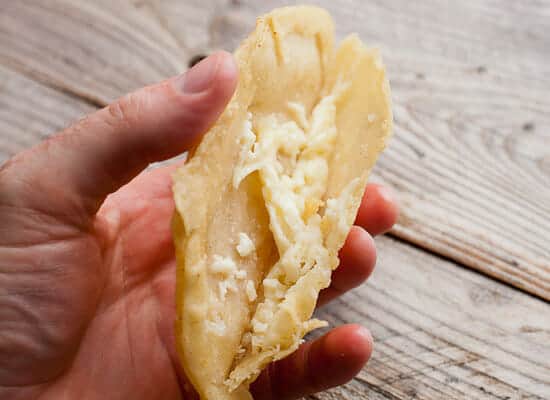 Stuff these suckers full of your filling of choice and top with salsa, crumbled cotija cheese, and fresh cilantro.
By the way, the reason you wouldn't want to fill these before frying them is because doing it this way allows you to really stuff them full after they fry. You can fill to the edges and beyond. If you filled them and then fried them you would have to keep the filling minimal to avoid explosions.
But I mean come on.
Special right?!
I'll say two quick things about these beauties.
First, I have no idea if this is how Los Tacos makes theirs. This was my best effort.
Second, it tasted pretty darn close and I stopped having nightmares and fits about how on earth I could recreate such a masterpiece.
Fried Tacos.
Special indeed!
Fried Tacos with Beef and Cheese
Fried tacos made from quick masa tortillas and filled with a spicy beef mixture and cheese, of course. A bit of a Tex-Mex project, but worth it!
Ingredients
Tortilla Mixture:
2

cups

ground masa

½

teaspoon

salt

1 ⅓

cups

water

8

ounces

queso fresco or other cheese

1

qt.

vegetable oil

,

for frying
Filling Options:
1

pound

ground beef

2

tablespoons

taco seasoning

2

tablespoons

water

Cotija cheese

,

crumbled

Fresh cilantro

Red onion

Hot sauce or salsa

Fresh limes
Instructions
Before you start frying your tortillas, make sure you have your fillings and toppings ready to go! Once you pull the tortillas out of the fryer you don't want them to cool off too much before eating!

To make masa dough, stir together masa and salt in a medium bowl. Stir in water and mix with a spoon until the mixture comes together. Then lightly knead the dough for a few minutes with your palm until it's a smooth ball. Divide the dough into 12 even balls (a scant 2 ounces per ball if you want to be specific).

Working with one dough ball at a time (keep the rest covered with plastic so they don't dry out), press the dough between two pieces of parchment paper. Use a tortilla press or rolling pin to roll the ball into roughly an 8-inch round tortilla.

Add 2 tablespoons grated queso fresco (or your favorite) cheese to half of the tortilla and fold it over. Crimp the edges closed while pressing out as much air as possible. If the tortilla tears, try to fix it if possible with scraps from other tortillas. Use a sharp knife to trim off any extra so you have a nice half-circle filled with cheese.

Repeat with all the dough balls and cheese. Take your time here. This is the most important part. Heat your oil to 350 degrees F.

When oil is hot, work in batches and fry the stuffed tortillas for 2-3 minutes per side until they are golden brown. Remove fried tacos and let drain on a tray lined with paper towels.

Fry all the tacos. You can keep fried tacos warm in a 200 degree oven if you want once they have drained on a few paper towels.

When all the tacos are fried, use a sharp knife to slice open the top of each taco. Be Careful! Hot steam might escape and can burn you which is why you want to let them cool a bit before doing this.

Stuff the tacos with beef mixture, salsa or hot sauce, crumbled cotija cheese, and fresh cilantro. Serve with lots of fresh lime for squeezing!

These are filling so 2-3 of them makes a good meal, especially with chips and guacamole or something!
Nutrition
Serving:
2
Tacos
|
Calories:
1840
kcal
|
Carbohydrates:
31
g
|
Protein:
23
g
|
Fat:
183
g
|
Saturated Fat:
35
g
|
Polyunsaturated Fat:
92
g
|
Monounsaturated Fat:
45
g
|
Trans Fat:
2
g
|
Cholesterol:
80
mg
|
Sodium:
598
mg
|
Potassium:
353
mg
|
Fiber:
3
g
|
Sugar:
1
g
|
Vitamin A:
464
IU
|
Vitamin C:
0.4
mg
|
Calcium:
287
mg
|
Iron:
4
mg
Did you make this recipe?
Storing these fried tacos
To be honest, I don't think these keep very well. The shells break down and get kind of soggy if you store them in the fridge. If you have leftovers that have haven't been fried, you could freeze them and thaw them for later. If you have leftovers that are fried, you can store them in the fridge and reheat them in a skillet or oven and then stuff them.
If you have leftovers that are already stuffed, I think just eat them. They won't keep in the fridge!
Here are a few other (easier) taco recipes!