One of my favorite things about learning how to cook is that there is always new and better ways to do things. I've been cooking tofu at home for fifteen years now and thought I had a surefire method for making really crispy tofu. But, it turns out that there is truly a better way! After I tried this crispy tofu method, I knew I had to write about it to help spread the word!
Full credit must be given here. I first read about this method in the new book, The Wok, by Kenji Lopez Alt. It's an absolute gem of a cookbook and has more information packed into its pages than I think I've ever seen in a cookbook. I dug into on a plane ride recently and was just blown away by the amount of information and tips.
But, this tofu method, which Kenji credits to Andrea Nguyen, author of Asian Tofu, was one of the tips in the book that smacked me in the face the hardest. It was completely new to me and as soon as I got home, it was the first thing I tried from this book.
And I'll be damned if it wasn't perfect. Beautiful cubes of crispy tofu that are still juicy on the inside and can be used in any number of ways.
What kind of tofu to use for crispy tofu?
The most common varieties of tofu in American grocery stores are silken, firm, and extra firm. I would stay away from silken for this recipe as it is just too soft and will be hard to handle. Either firm tofu or extra firm tofu will work great in this recipe.
To press or not to press your tofu
This was my first revelation when I read about tofu in The Wok. I always used to press my tofu to try to force out as much liquid as possible from the tofu before cooking it. By doing this, I was just turning firm tofu into extra-firm tofu or extra firm tofu into extra extra extra firm tofu. I wasn't necessarily drying out the surface of the tofu though, which is how you get it crispy.
So, I no longer do this. You do not need (and in fact SHOULD NOT) press your tofu to get it crispy. Doing so will just dry out the interior of the tofu and not guarantee crispy results.
Step one: A salty bath for your tofu
When you open your tofu container, drain the water in it and cube it into 1-inch cubes. Then lay it out on a surface that will drain. I put a rack over my sink for this. Slowly pour boiling salted water over the tofu.
Doing this will lightly season the tofu but more importantly, it will gently pull moisture to the surface of the tofu which will evaporate faster due to the hot water and make it easier to blot off with a paper towel.
Step two: Dry your tofu well
Once I performed the salt bath ritual I moved my tofu to a few paper towels and patted them dry. You want the surface of the tofu to be completely dry to the touch. I used a few paper towels for this but you could also use a clean kitchen towel.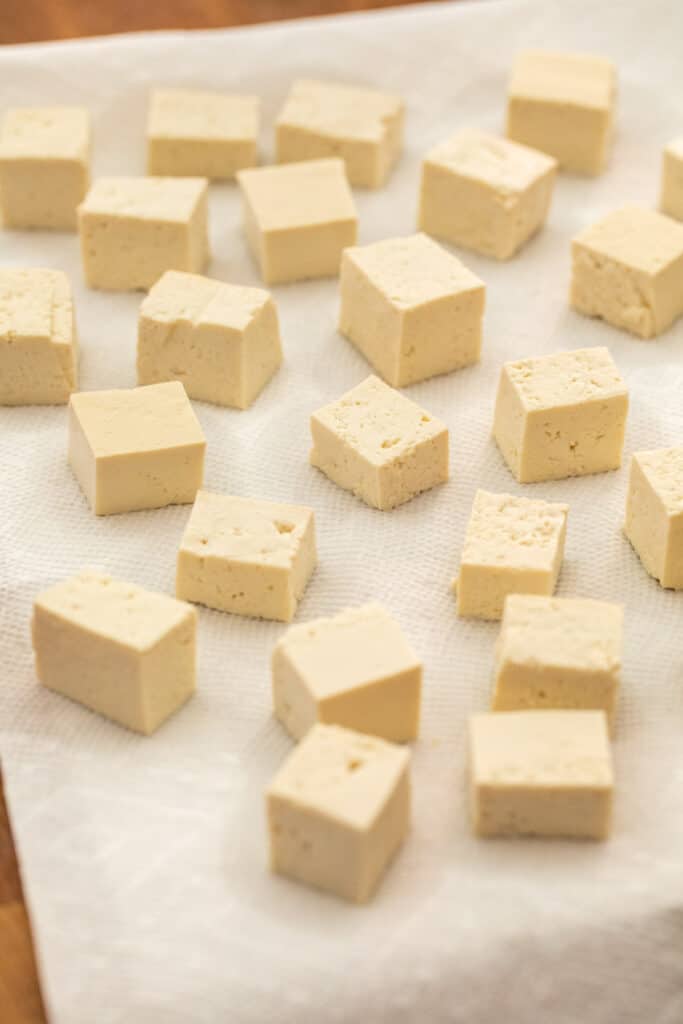 This might seem like a lot of work, but it's actually easier than pressing tofu so it's a win.
Good news! You are ready to cook!
Do you need cornstarch for crispy tofu?
Nope! Many recipes will call for tossing the tofu in cornstarch, but if you dry pieces well, you do not need do add cornstarch. I would only add cornstarch if you were using the tofu in a saucy recipe and needed to thicken the sauce as you toss the tofu (something like General Tso's, for example).
Step three: Pan fry your crispy tofu
While you can bake tofu, the way to get it absolutely beautifully crispy is to pan fry it. You can do this in a wok or just a large skillet like a cast iron skillet or steel skillet. Add a thin layer of oil and make sure your pan is preheated well over medium-high heat. Then add your dry tofu in batches and let them sear for a few minutes on each side. If have a 1/8 to a 1/4 inch layer of oil, the oil will come up on the tofu and you'll just need to flip it once to get a perfectly crispy piece of tofu.
I was amazed at how fast this was and only a few of my tofu pieces lightly stuck to the pan. Almost all the pieces released really easily and had the most amazing crispy exterior.
Can you use an air fryer?
I think an air fryer would work just fine if that's easier for you. I would spray the dried tofu cubes with some nonstick spray and air fry them for 5-6 minutes at 375˚F. Turn and fry a second time to get maximum crispiness.
What sauces work well for crispy tofu?
I would recommend the first time you make this tofu to avoid tossing it in a really thick sauce. Make a simple dipping sauce with some chili garlic sauce, soy sauce, and sesame oil, and dip the crispy pieces in the sauce. It's amazing.
But, you can use this crispy tofu in a ton of ways. Toss it in any stir fry. Toss it into noodle dishes. Add it to teriyaki or other sauced recipes served over rice. It's versatile and very delicious!
Salt Bath Crispy Tofu
A step-by-step process on how to make your own crispy tofu at home. This tutorial involves a few easy steps and is full-proof. Use the results in many recipes!
Ingredients
1

block firm or extra firm tofu

4

cups

boiling salted water

½

cup

neutral oil

,

for pan-frying
Easy dipping sauce
¼

cup

soy sauce

1

tablespoon

sesame oil

1

tablespoon

chili garlic sauce
Instructions
Remove tofu from the container and drain off water. Cut tofu into 1-inch cubes and place on a drainable rack over the sink or in a colander.

Boil a kettle of salted water (I used 1 tablespoon kosher salt per quart of water).

Slowly pour boiling water over the surface of the cubed tofu. Allow to drain for a minute.

Transfer salted tofu to a few paper towels to dry completely. Pat dry with more towels so the surface of the tofu is very dry.

In a large skillet or wok over medium-high heat, add oil. You want enough oil so it goes up about ⅛ inch in the pan. When glistening hot, but not smoking, add tofu cubes in batches. Turn heat down to medium and sear tofu for 4-5 minutes. Then flip and sear on the second side.

Remove tofu and let drain on a few paper towels. Serve with dipping sauce or in any recipe that asks for delicious, crispy tofu.
Nutrition
Serving:
4
oz
|
Calories:
369
kcal
|
Carbohydrates:
4
g
|
Protein:
10
g
|
Fat:
35
g
|
Saturated Fat:
5
g
|
Polyunsaturated Fat:
20
g
|
Monounsaturated Fat:
9
g
|
Trans Fat:
0.2
g
|
Sodium:
1023
mg
|
Potassium:
31
mg
|
Fiber:
1
g
|
Sugar:
1
g
|
Calcium:
127
mg
|
Iron:
2
mg
Did you make this recipe?
Recipes that use crispy tofu
I would use this crispy tofu method for these Spicy Tofu Lettuce Wraps or this Tofu Bibimbap. This rice noodle salad would be great with the crispy tofu also. Kenji's Stir-Fried Tofu with Broccoli uses this crispy tofu and it's a winner, for sure.
Leftovers and reheating
One you have this tofu cooked, it stores really well. It'll keep in the fridge for a week or so. If you want to keep it crispy, reheat it in a medium-low heat pan with a drizzle of fresh oil. Microwaving it will kill the texture.
If you thought you had tofu mastered, you have to try this method out. It's a game-changer!