I'm not one to try to hide healthy foods in unhealthy dishes.
My normal philosophy is just to make healthy food that tastes good and unhealthy food that tastes good and know the difference.
But occasionally there are ways to healthify an unhealthy dish without sacrificing much.
Turns out that making mac and cheese with TOFU is one of those ways. Tofu Mac and Cheese tastes almost identical to the real version and is actually much easier to make.
I did this Tofu Mac and Cheese recipe just as a personal experiment, but it turned out so perfect that I just had to post on it.
Tofu Mac and Cheese
Make a super-creamy macaroni and cheese with silken tofu and sharp cheddar cheese. It's delicious and somewhat healthy!
Ingredients
1

lb.

macaroni

1

lb.

tofu

,

silken is best

⅓

cup

Greek yogurt

⅔-1

cup

milk

8

oz.

sharp cheddar cheese

2

tbsp

unsalted butter

Salt and pepper
Toasted Bread Crumbs:
1

cup

bread crumbs

2

tbsp

unsalted butter

1

teas

red pepper flakes
Instructions
Add tofu to a food processor and pulse until it's in a grainy texture.

Pour in yogurt, milk, and cheddar cheese and process until it's smooth. If it looks a little grainy it's okay, but if it's very grainy than add in a bit more milk.

Cook macaroni according to package. Drain.

Add butter to pot along with macaroni and stir over low heat until butter is melted.

Stir in all the cheese sauce and stir until heated and melted, about 5 minutes.

In a large skillet add butter over medium heat with the bread crumbs and red pepper flakes. Cook until crumbs are lightly browned.

Season macaroni with salt and pepper.

Serve immediately topped with seasoned bread crumbs!
Nutrition
Serving:
1
bowl
|
Calories:
660
kcal
|
Carbohydrates:
74
g
|
Protein:
30
g
|
Fat:
27
g
|
Saturated Fat:
13
g
|
Polyunsaturated Fat:
4
g
|
Monounsaturated Fat:
6
g
|
Trans Fat:
0.3
g
|
Cholesterol:
62
mg
|
Sodium:
601
mg
|
Potassium:
298
mg
|
Fiber:
4
g
|
Sugar:
5
g
|
Vitamin A:
755
IU
|
Vitamin C:
0.002
mg
|
Calcium:
460
mg
|
Iron:
3
mg
Did you make this recipe?
Tofu Mac and Cheese
Making the Sauce
I've made a fair number of mac and cheese dishes over the years.
Normally, I make a rich bechamel sauce with butter, flour, and milk and then whisk in a metric ton of cheese. This works and is very delicious but you can get shockingly close to it with these basic ingredients.
Ideally, you would use silken tofu for this so it's easier to blend. I couldn't find any on this day so I actually use FIRM tofu which still worked.
The only deal-breaker for this sauce is that you definitely need a food processor or blender for it. There's no other way to get the ingredients to the right consistency for the sauce.
If you're using a food processor, add the tofu block and pulse it until it's really crumbled.
If you're using a blender you'll probably have to add all the liquid ingredients right away to get it to mix which is fine.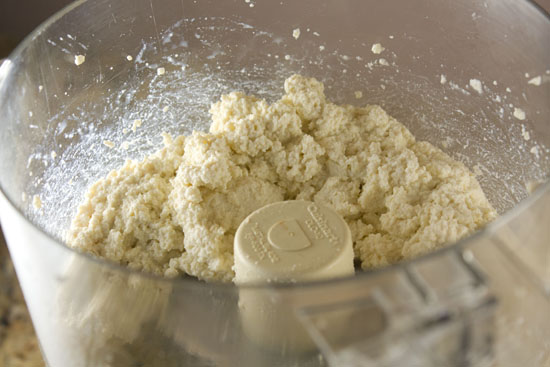 Next add in your yogurt, milk, and grated cheese. Normally, for my mac and cheese recipes I'll use at least a pound of cheese. For this version though, I got away with just eight ounces. Because you are using less, be sure to use a really flavorful cheese.
I went with an extra sharp cheddar cheese that worked wonderfully.
Process or blend this mixture until it's very smooth. Depending on the kind of tofu you use, you might need a little more or less milk so just add it in small batches.
I was a bit worried when I looked at my finished sauce because it looked like it had little grainy bits in it. I thought that was the tofu, but it was actually the cheese. Once the sauce got hot, they melted out completely.
The Mac
You can use a lot of different macaroni for this dish. I went with kind of a fancy elbow macaroni called cavatappi.
Just cook your pasta according to the package and then drain it and add in a knob of butter. The butter just helps the sauce smooth out a bit.
Then just scoop all your cheese sauce right into your pot!
I was a bit worried at this point, but there was no going back now.
Add the pot back over the heat on medium-low heat and stir stir stir while the sauce heats.
Almost magically, the sauce will completely smooth out and you'll end up with a big pot of really creamy mac and cheese.
If you cook your sauce too long, it might start to clump up a bit. If that happens, just add in a bit more milk and stir it vigorously.
The Topping
I like my mac and cheese to have some texture and I didn't want to bake this because I wasn't sure how it would hold up in the oven so I just toasted some bread crumbs with a bit of butter and red pepper flakes in a large skillet.
Toast them for a few minutes until they start to brown slightly and you'll be all set.
Then just sprinkle some of the topping on each serving of the mac and cheese and you'll be in heaven!
When Betsy tried this for the first time she said, "It tastes exactly the same. No difference at all."
I noticed a very slight taste difference but it wasn't bad at all, just different. In fact, I would venture that most people probably couldn't identify the secret ingredient.
The One Downside
I did notice one downside to this Tofu Mac and Cheese recipe: It doesn't have a great shelf life. On day two the sauce was really grainy and I wasn't really able to reheat it correctly to get it silky smooth again.
That said, it still tasted okay, just not quite as good as normal mac and cheese on day two.
I was really blown away by how great this turned out. I'm not saying that it's a healthy dish (it's still mac and cheese), but it's at least healthier and more filling than the normal version. Plus it's easy to make if you're not a fan of making bechemel sauce.
Give this Tofu Mac and Cheese recipe a shot if you're looking for a twist on mac and cheese!