Here's a completely unproven statement about these spicy tofu lettuce wraps: Eating just one of them will add a week onto your life!
Seriously, if you were to eat just one of these a week you would live forever. You would break even on the week and could do no wrong after this lettuce wrap was consumed.
Or, if you're like me, you'll eat eight of these in one day which is like traveling back in time.
Are you following me here?
What I'm trying to say is that these are healthy bites of food, but they also pack a serious spicy punch thanks to a homemade spicy chili peanut sauce.
But, my favorite ingredient in these wraps? Wasabi seaweed chips. Crumbled up on top. Yep. You read that right and it's not yet April Fool's Day so you know I'm being serious.
Spicy Tofu Lettuce Wraps
Spicy tofu lettuce wraps with a chili peanut sauce wrapped in Romaine lettuce with brown rice and great toppings like cilantro and nori chips!
Ingredients
1

pound

extra firm tofu

,

pressed

2

tablespoons

neutral oil

1

head Romaine lettuce

2

cups

brown rice

,

cooked

1

package seaweed chips

Sesame seeds

,

garnish

Cilantro

,

garnish

Lime wedges

,

garnish
Spicy Peanut Sauce:
¼

cup

Gojuchang chili paste

3

tablespoons

creamy peanut butter

3

tablespoons

water

1

tablespoon

sugar

1

tablespoon

rice wine vinegar

2

teaspoons

soy sauce
Instructions
Stir together sauce ingredients until smooth. For tofu, cut in half horizontally and then press tofu between some paper towels. Put something heavy on top and let it sit for 15 minutes to press out as much liquid as possible.

Preheat oven to 375 degrees F. In a medium baking dish, add neutral oil and pressed tofu slices. Smear each piece with some of the chili peanut butter sauce. Bake for 20 minutes.

Flip tofu, smear with more sauce, and bake for another 20-25 minutes until edges of tofu are slightly crispy. Remove tofu and cube.

Cook rice using your favorite method, fluff with a fork and set aside.

Wash and dry lettuce well. Cut off any thick stems.

Make lettuce wraps by piling some rice in each leaf, then a few tofu cubes, a drizzle of sauce, crunched up seaweed chips, and any other garnishes you would like. Serve immediately!
Nutrition
Serving:
3
wraps
|
Calories:
573
kcal
|
Carbohydrates:
86
g
|
Protein:
19
g
|
Fat:
18
g
|
Saturated Fat:
3
g
|
Polyunsaturated Fat:
8
g
|
Monounsaturated Fat:
6
g
|
Trans Fat:
0.04
g
|
Sodium:
298
mg
|
Potassium:
567
mg
|
Fiber:
4
g
|
Sugar:
8
g
|
Vitamin A:
34
IU
|
Vitamin C:
3
mg
|
Calcium:
78
mg
|
Iron:
3
mg
Did you make this recipe?
Talking Tofu
We've discussed tofu a lot over the years, but let's review probably the most important step if you're going to have success cooking it: You need to press out some of the liquid! After all, most tofu comes submerged in a brine and it'll be tough to move it from it's soggy nature without getting rid of some of the moisture.
I recommend cutting the tofu in half horizontally and then pressing the slices between a few paper towels. Add some weight to the top and press the tofu for at least 15 minutes.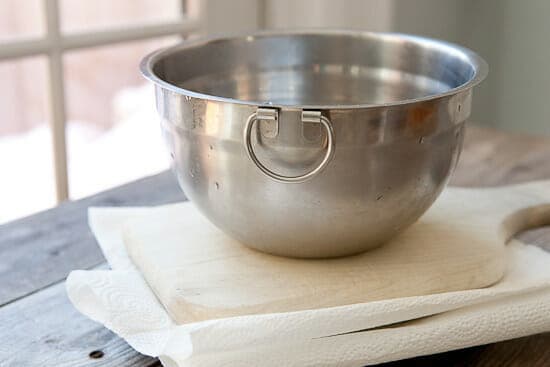 Spicy Peanut Sauce
I used the sauce for two things in this recipe. First, as a glaze for the tofu, but also there should be enough leftover to drizzle on each lettuce wrap.
I like gojuchang, a Korean chili paste, but if you can't find that you can just use chili garlic sauce (but cut the amount down to two tablespoons).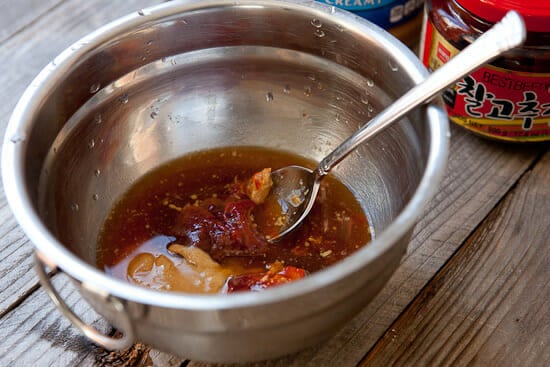 Stirring everything together and you'll have a nice, bright sauce. I love the color on this!
Baking the Tofu
You could pan sear this tofu if you were in a hurry, but I like to slowly bake mine with some of the sauce smeared on it. This gives the tofu a nice texture and gives the sauce a chance to work in.
You'll want to bake it for about 20 minutes per side at 375 degrees F. Also, be sure to add some neutral oil to your baking dish before putting in the tofu so it doesn't stick.
The finished tofu might not look as appetizing but it has great flavor.
Making the Spicy Tofu Lettuce Wraps
I like a lot of bright flavors for garnishes on these. Stuff like lime juice and cilantro are always good ideas in lettuce wraps.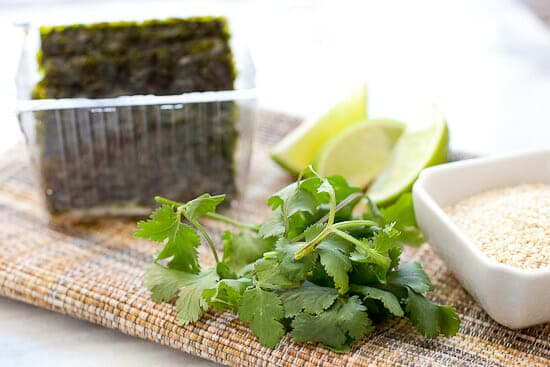 But let's talk about those seaweed chips!
These are becoming really popular and even my normal grocery store carries them. They come in little boxes and have various flavors. I love them because they are really thin and super-crispy.
They add a little salty crunch to the wraps.
The wraps would be a bit empty with just the tofu so I recommend piling in some rice also. If you have some DIY instant rice, that works perfectly or you can make a fresh batch.
Pile the rice and tofu cubes in some washed and dried lettuce and then drizzle on some extra sauce. The sauce packs a punch. That's your warning!
But yea… these are really good. Even if they don't add years onto your life, they are worth making.
And also, let's talk about how I want to put spicy seaweed chips on everything now.