While I was cooking and eating this recipe, it was beautiful in Denver. It was in the 60's, sunny, and the tulips were just popping up.
While I'm writing this post, it's a different story. There is snow accumulated on the ground, the tulips are regretting their decision, and if you showed me a picture from my office window I'd tell you it must be February. What did we do to anger you Mother Nature?!
But hey, the weather will get warmer. I think. And when it does, this is the salad you need in your life for summer lunches or lazy picnics. You could use any rice noodle you can find, but I like the thinnest of noodles (sometimes labeled as vermicelli). Likewise, any crunchy vegetable will work. The classic addition would be steamed shrimp but I went with crumbled tofu to keep it somewhat lighter (and cheaper).
Having a big bowl of this in the fridge is an awesome idea.
Cold Rice Noodle Salad with Crumbled Tofu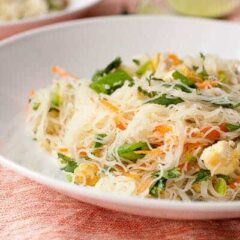 Cold rice noodle salad marinated in a slightly spicy and savory dressing and tossed with crispy crumbled tofu and loads of fresh vegetables and herbs.
Ingredients
16

ounces

extra firm tofu

,

crumbled

2

tablespoons

vegetable oil

1

tablespoon

soy sauce

8

ounces

thin rice noodles

1

tablespoon

sesame oil

8

ounces

snap peas

1

large carrot

,

grated

4

scallions

,

minced

¼

cup

cilantro

,

chopped

¼

cup

mint

,

chopped
Noodle Salad Dressing:
2

cloves

garlic

,

minced

1

jalapeno

,

minced

2

tablespoons

minced ginger

4

tablespoons

fish sauce

4

tablespoons

warm water

1

large lime

,

juice only

1

tablespoon

brown sugar

2

teaspoons

sesame oil
Instructions
Crumble tofu and blot very dry with a few paper towels. Heat a large nonstick (or cast iron) skillet over medium heat. Add vegetable oil and crumbled tofu and let cook, stirring every five minutes or so, until tofu is browned and getting crispy (probably 12-15 minutes total). It's very hard to overcook so just let it go!

Meanwhile, whisk together dressing ingredients and set aside. Chop and grate veggies for salad and add snap peas, carrots, and scallions to a large bowl.

Cook thin noodles by pouring boiling water over them and letting them sit for 2 minutes. Then rinse quickly with cold water to stop cooking and toss with sesame oil to prevent sticking. Add noodles to bowl with veggies.

Add cooked tofu and dressing to salad bowl and toss to combine all flavors. Add mint and cilantro at the end.

Serve immediately or chill for later. Keeps well for 3-4 days.
Nutrition
Serving:
1
bowl
|
Calories:
291
kcal
|
Carbohydrates:
41
g
|
Protein:
9
g
|
Fat:
10
g
|
Saturated Fat:
2
g
|
Polyunsaturated Fat:
5
g
|
Monounsaturated Fat:
3
g
|
Trans Fat:
0.03
g
|
Sodium:
1238
mg
|
Potassium:
325
mg
|
Fiber:
2
g
|
Sugar:
5
g
|
Vitamin A:
2340
IU
|
Vitamin C:
29
mg
|
Calcium:
70
mg
|
Iron:
2
mg
Did you make this recipe?
Cold Rice Noodle Salad
The Dressing
This entire recipe is rather flexible, but the dressing doesn't need much fixing. I think it's near perfect for a noodle salad dressing. Change it at your own peril!
Make sure to mince up the garlic and jalapeno well. Grate the ginger for best results!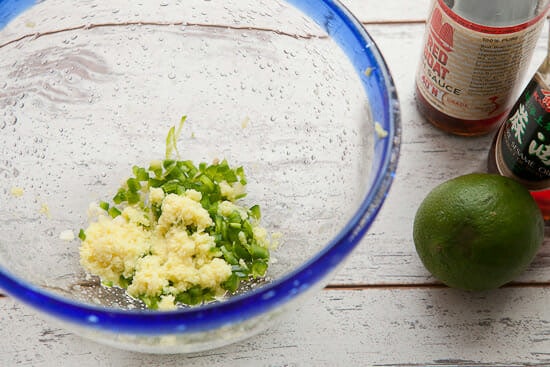 Stir everything together. It'll smell a bit strong on its own but it'll work great on a big bowl of noodles.
As an aside, I think this would also be a great marinate for something grilled. Use that information, or don't!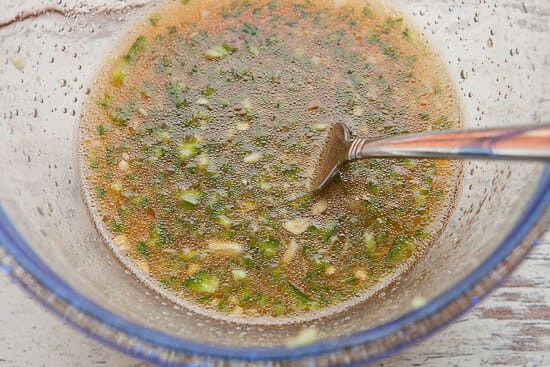 Tofu Cookin'
Cooking tofu is tricky because it has a tendency to stick to everything. There are two keys to getting it to work in crumbled form. Start with extra firm tofu and crumble it first.
Then grab some paper towels and blot it dry to remove as much liquid as possible.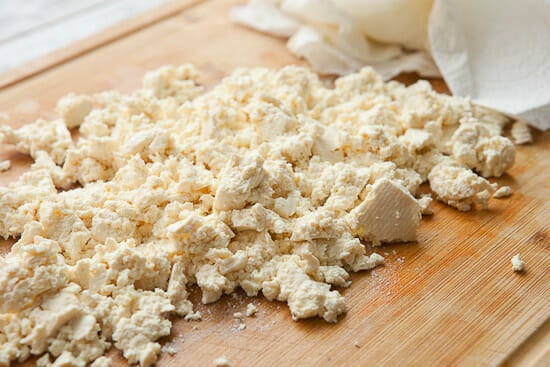 Add the dried crumbles to a large skillet with some neutral oil over medium-high heat. The nice thing about this is that it's really hard to overcook the tofu. You can let it go for 15-20 minutes without an issue. Just give it a stir every five minutes or so.
When it looks like this, you're good to go. At the very end of cooking, hit the tofu with a small splash of soy sauce.
If you don't want to try this crumbled method, you could also bake the tofu like I did for my tofu bibimbap dish and then chop up the tofu and stir it in.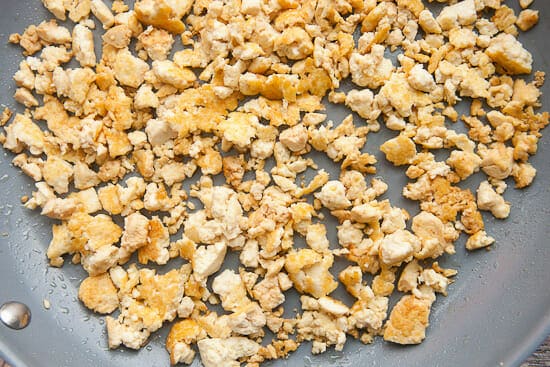 Rice Noodles
You could use any rice noodles for this salad, but I really like the very thin ones. They come in a variety of packages and are usually labeled vermicelli. You don't really need to boil these because they are so quick cooking.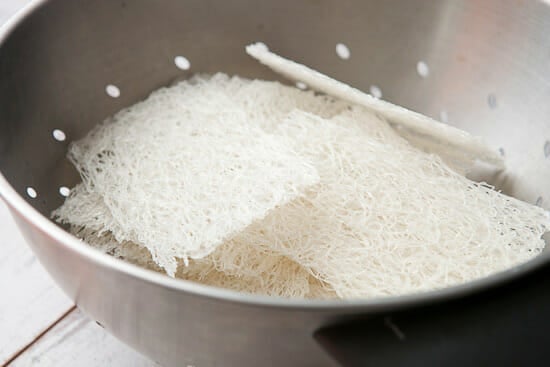 Instead, just pour boiling water over them and let them sit for about two minutes. I like to put my noodles in a colander and then in a big bowl. This way you can just pull the colander up when they are done and you don't have to fish for noodles.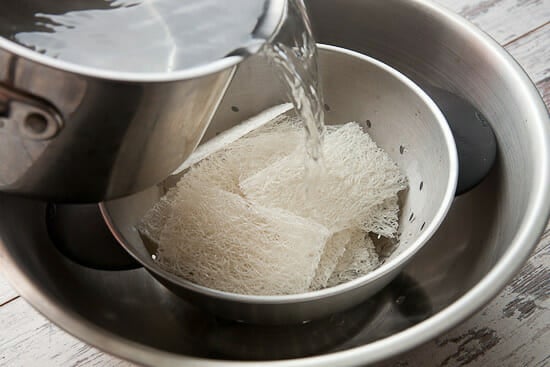 After the noodles have sat for a few minutes, rinse them with cold water and toss them with some sesame oil to prevent sticking.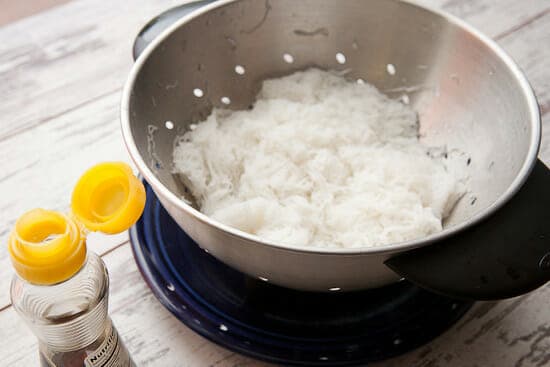 Finishing the Salad
Finishing this bad boy is pretty easy. Add the chopped and grated veggies to a large bowl.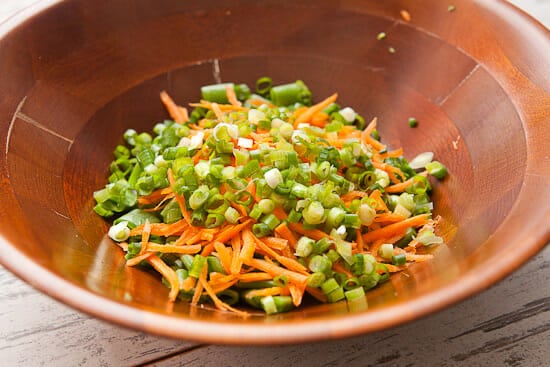 Then add in the noodles, tofu, and dressing. Toss everything together and top with big handfuls of herbs.
You can absolutely eat this right away, but as you might guess, it's better after a good chill in the fridge so the flavors can combine.
If it's warm where you are, make this pronto. If it's cold where you are, bookmark this for next week!