This is a guest post by Anna Rider! Anna is a food writer who documents kitchen experiments on GarlicDelight.com with the help of her physicist and taste-testing husband Alex.
Summertime ushers in sunny weather, fiery grills, and scorching heat waves. When you're sweaty from running in the park or grilling the twentieth hamburger patty, what better way to cool off than enjoying a chilled glass of lemonade.
Before you reach for the lemonade mix, have you considered making lemonade from scratch? Is it worth the effort?
That's right. It's time for another homemade trial. Let's find out if homemade lemonade can beat the store-bought mixes.
In case you're new to the homemade trial series, Nick picks a food and makes it from scratch to compare it to popular store-bought versions in the categories of TIME, COST, NUTRITION, and TASTE.
After our surprising conclusion on homemade vs. store-bought pizza dough, I'm (Anna) back to run this homemade trial on lemonade. Ready to quench your thirst?
Anna's Version
This homemade lemonade keeps things simple. It uses 3 ingredients: lemons, water, and sugar. Don't be fooled by its simplicity. This lemonade tastes delicious, and it's an excellent starting point to make all kinds of fancy lemonade.
Homemade Lemonade
This refreshing lemonade is perfect to accompany summertime grilling. Enjoy it with ice cubes or make it in advance and chill it in the fridge.
Ingredients
1

cup

lemon juice

,

about 3-4 large fresh lemons

3 ½

cups

water

,

divided into ½ cup and 3 cups

½

cup

sugar

,

granulated white sugar

Ice cubes

,

optional

Mint leaves

,

optional garnish
Instructions
To make the simple syrup: peel 4-5 strips of lemon skin from the lemons (this step is optional).

Heat the lemon peels, ½ cup of water, and sugar in a small saucepan on medium-high heat until you see bubbles appear on the bottom of the pan. Continuously stir until the syrup looks clear. It's ready when the bubbles gently float to the surface. Allow the syrup to cool.

Juice the lemons until you have about a cup of freshly squeezed lemon juice.

To make the lemonade: Combine the simple syrup, lemon juice, and the remaining 3 cups of water. Stir to mix thoroughly. If it's too sweet, add more water to dilute.

Serve with ice cubes and optionally garnish with mint leaves.
Nutrition
Serving:
1
Glass
|
Calories:
108
kcal
Did you make this recipe?
Tips for Making Lemonade
The foundation to great-tasting lemonade is making simple syrup, which consists of one-part sugar and one-part water. This recipe makes enough simple syrup for one batch of lemonade.
Feel free to double or triple the sugar and water if you want to make enough simple syrup to open a neighborhood lemonade stand.
You can store simple syrup in a glass jar, and it will last for months. Avoid dipping your fingers or dirty spoons into the jar.
While it's optional, I highly recommend simmering lemon peel in the simple syrup. The potent oils from the lemon skin infuse your syrup with a burst of lemon flavor. This works for other herbs too, like Nick's basil lemonade recipe. Check out this list of unique lemonade flavors you can try, including hibiscus and rosemary.
When making simple syrup, you don't need the syrup to come to a roiling boil. Your goal is to simmer the syrup until the sugar is completely dissolved. You could even make the simple syrup in the microwave by heating the sugar and water until the syrup is clear.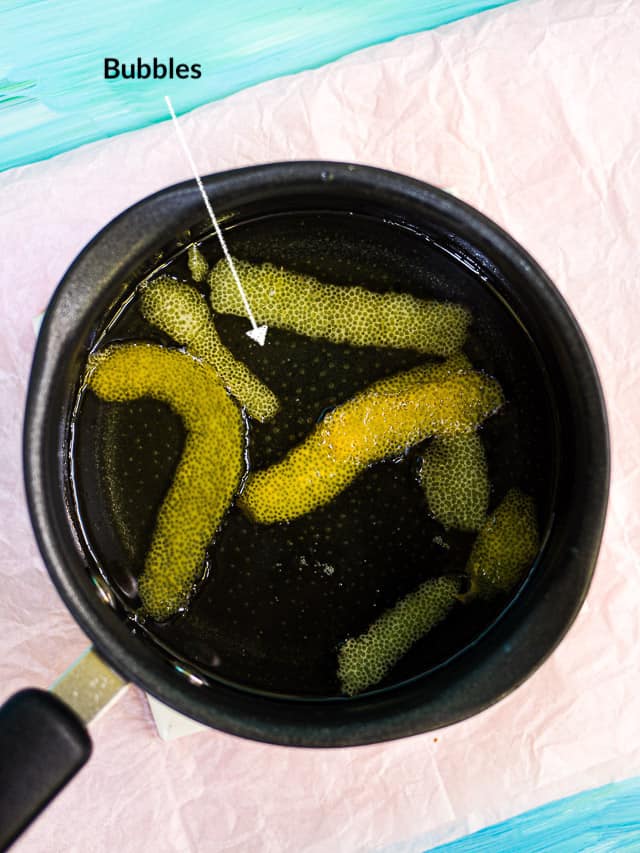 Juicing lemons is straightforward. Nick gets the job done using a $10 juicer in his raspberry lemonade recipe. I like to roll the lemon with the palm of my hand against a cutting board before slicing the lemon in half. I find this technique allows me to squeeze more juice out. Some people zap the lemons for 30 seconds in the microwave to achieve the same result. Here's my tongue-in-cheek article on how to squeeze a lemon so you can juice every last drop.
If you find seeds in your lemon juice, fish them out with a fork. Or pass the lemon juice through a strainer before combining it with the simple syrup and water. Straining it will also catch the pulp if you want clear lemonade.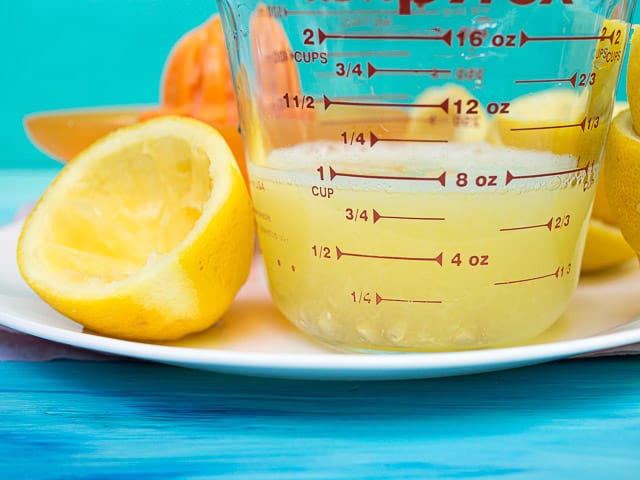 To spruce up classic lemonade, you can add sparkling water for bubbles or mix in iced tea, which makes lemonade iced tea, a.k.a. an Arnold Palmer. A splash of pomegranate juice or cranberry juice will give you pink lemonade.
The Competition
We're comparing homemade lemonade to store-bought powdered mix and premixed lemonade. For the pre-mixed version, I picked the bottled organic lemonade at $2.99 even though there was a comparable non-organic version for $1.99 because I wanted a fair apples-to-apples comparison in the taste test (the non-organic premixed version used high fructose corn syrup instead of cane sugar).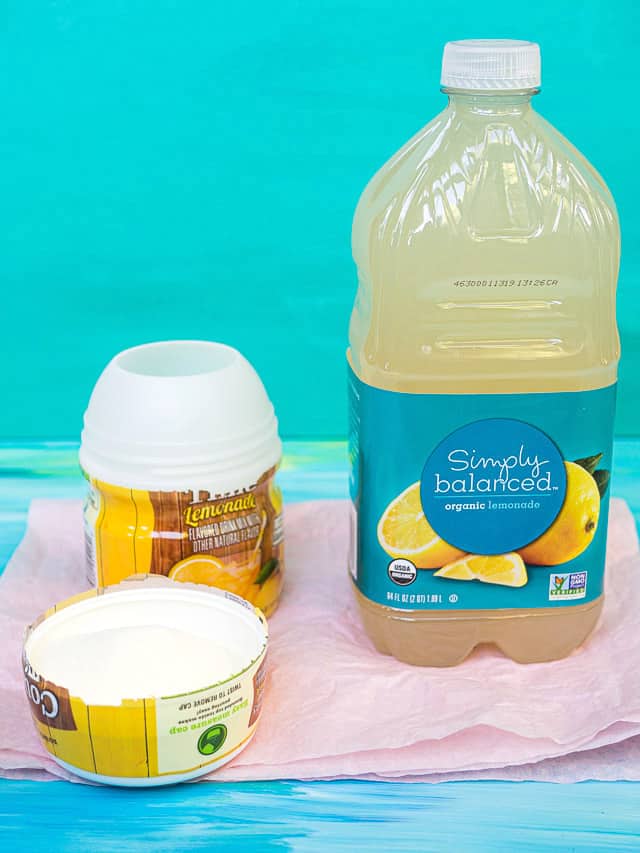 Time
Stirring two tablespoons of powdered mix into water takes 15 seconds. Pouring a glass of ready-to-drink lemonade from a bottle is even faster.
Luckily, making simple syrup and squeezing a few lemons takes less than 10 minutes. You could do it even faster if you start the simple syrup with hot water boiled in a kettle.
Because store-bought lemonade requires almost no work, I'm considering it a WIN for the STORE-BOUGHT lemonade in the category of TIME. But not by much.
COST
Living in an apartment, I don't have a lemon tree. That makes homemade lemonade a pricey beverage compared to store-bought lemonade. Fresh lemons accounted for the majority of the cost at 79 cents a piece.
Powdered mix is the cheapest option, which makes sense because you're not paying for the cost of transporting water compared to the pre-mixed version.
The cost analysis would be much different if I had bought cheaper lemons in bulk or had access to a lemon tree. With a lemon tree, the cost of lemonade would be almost zero! That would be a guaranteed win for homemade lemonade on cost.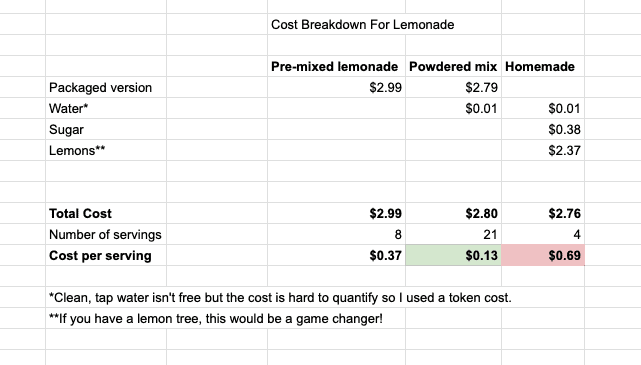 I'm going to give the WIN to the POWDERED MIX in the COST category but homemade could be a winner if you have a lemon tree.
NUTRITION
Just like the homemade trial on chocolate cake, debating the nutritional nuances of sugar water is a funny idea. Nonetheless, I went into the exercise with a straight face. Probably no surprise to you, the nutritional profiles are almost identical.
The pre-mixed version stands out as slightly higher in calories with more sugar than the other versions (more on this later because it affected the taste). In practice, you can reduce the calories and sugar per serving by diluting the lemonade with water. On the plus side, ingredients in this pre-mixed version are all recognizable items you'd have in your kitchen.
The powdered mix has artificial coloring, citric acid instead of lemon juice, magnesium oxide to prevent the powder from clumping, and sodium acid pyrophosphate (I'm unsure why this chemical is in lemonade because it's usually a leavening agent found in baking powder).
I'm going to call the NUTRITION category a TIE with some reservation around the powdered mix version.
TASTE
My favorite part of the homemade trials is always the taste test! Which will win? Can we taste the difference?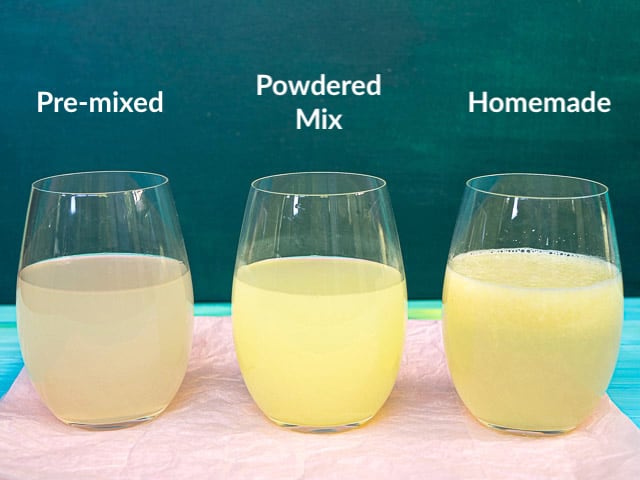 Wow, these lemonades couldn't taste more different.
The pre-mixed version is too sweet for my liking. You get a hint of lemon but it's lacking the brightness that makes lemonade shine. I couldn't help thinking that it would be greatly improved if I could squeeze some fresh lemon juice in it, which defeats the purpose of a pre-made drink. This was our least favorite.
The powdered mix tastes like artificial flavoring. Could it be the citric acid? Or the "natural flavors"? Surprisingly, powdered mix was Alex's second favorite.
The homemade version won the taste test easily. It was the most flavorful. It offered a zesty taste that was a perfect balance between a refreshing sourness and a sweet tanginess.
I'm going to call this TASTE category a big WIN for the homemade lemonade.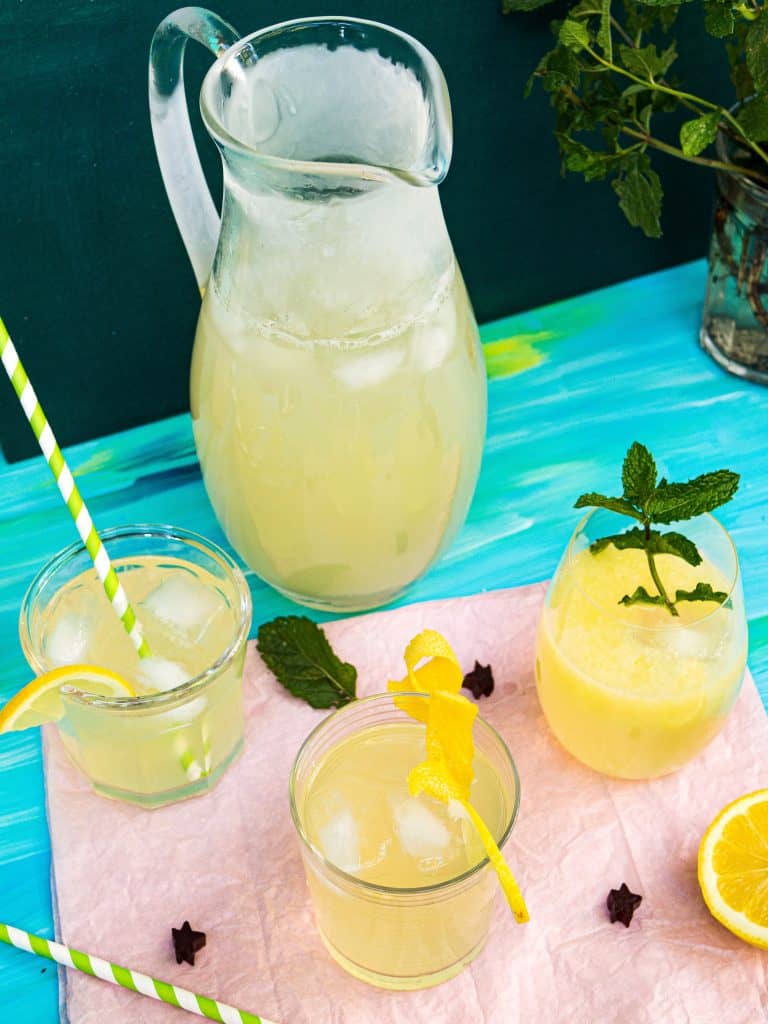 THE VERDICT
After this analysis (TIME => store-bought, COST => powdered mix, NUTRITION => tie, TASTE => homemade by far), I'm concluding that homemade lemonade is the winner of this homemade trial.
Lemonade from scratch tastes much better than the store-bought versions, and it doesn't take a lot more time or money to make. It's a classic example of when convenience can't beat taste.
Since lemonade isn't exactly a health food, if I'm going to enjoy a sugary beverage, I'll indulge in the best-tasting lemonade I can get my hands on.
Do you agree? Will you be making homemade lemonade to accompany your summer grilling?
Fancy lemonade recipes you'll love