There are some subjects in the food world that require the consultation of an expert and, if you're lucky, there is a very clear expert to consult.
I'm not sure there is a more obvious example of this than the world of canning and preserving.
I always have dreams of canning and preserving each year, but in reality I only get around to it once or twice a year. Far from expert levels, for sure. Every time I've done it, I find myself pulling out one of Marisa McClellan's books to remind myself of good practices. Usually, in those same books, I find a recipe for what I want.
This perfect-for-summer lavender lemonade concentrate is in her new book, Naturally Sweet Food in Jars, and if you're interested in canned and/or interested in learning more about using natural sweeteners, this book is a must-have.
Check out this refreshing drink and be sure to enter the giveaway at the bottom of this post!
Lavender Lemonade Concentrate
A tangy and just-sweet-enough concentrate that's great for lemonade or cocktails. From Naturally Sweet Food in jars!
Ingredients
3

pounds

lemons

,

juiced

1 ¼

cups

agave syrup

1

tablespoon

food grade lavender
Instructions
Juice lemons and combine in a medium pot with agave and lavender buds. Bring to a simmer, stirring regularly to dissolve agave. Remove mixture from heat, cover, and let steep for 45-60 minutes.

Strain out lavender buds with a mesh strainer. Return concentrate mixture to heat and boil until mixture reduces by about a third, about 15-20 minutes.

Remove concentrate from heat and let cool. Store concentrate in the fridge, in an airtight container, for 7-10 days, or process for canning.

If you're canning, funnel hot concentrate into prepared half-pint jars, wipe the rims, apply lids and rings, and process in boiling water for 10 minutes.
Nutrition
Serving:
1
Tablespoon
|
Calories:
1254
kcal
|
Carbohydrates:
339
g
|
Protein:
15
g
|
Fat:
5
g
|
Saturated Fat:
1
g
|
Polyunsaturated Fat:
1
g
|
Monounsaturated Fat:
0.1
g
|
Sodium:
38
mg
|
Potassium:
1889
mg
|
Fiber:
39
g
|
Sugar:
221
g
|
Vitamin A:
344
IU
|
Vitamin C:
770
mg
|
Calcium:
390
mg
|
Iron:
9
mg
Did you make this recipe?
Lavender Lemonade Concentrate
This recipe only has a few ingredients. Don't take shortcuts with them though. For starters, juice real lemons. Don't even think about using concentrate!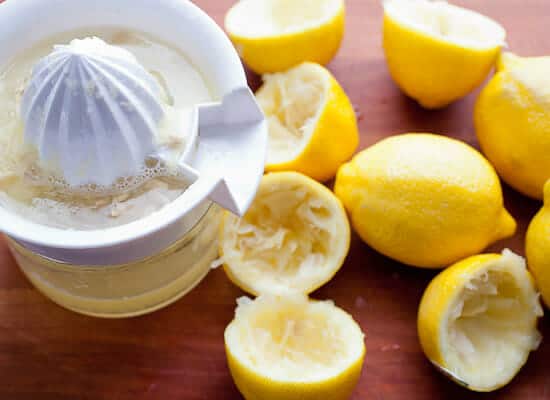 Then you need some lavender buds. You can find food-grade lavender in most natural food stores these days. You might have to ask around, but they are pretty available. You don't need much to flavor something like this. They have a pretty strong flavor.
Combine the lemon juice, agave, and lavender in a pot and bring it to a slight simmer. Stir it regularly so the agave dissolves.
Once the mixture is steaming, cover it, remove it from the heat, and let the mixture steep. If you have some cheesecloth, you could wrap the lavender in that for easier removal.
Once the mixture steeps for 45-60 minutes, I just strained mine through a metal mesh strainer. Worked great!
Now to reduce what's left. Just bring the mixture to a boil and cook it for 15-20 minutes until it reduces by about a third. It should be the consistency of a very light syrup.
This was my finished concentrate!
To Can or Not to Can
Marisa, of course, gives you instructions on how to can this so you can use lemons in their prime and have it ready for later in the season. To be honest, I just stuck mine in the fridge and it was gone before the end of the week. I found myself adding a spoonful of it to ice water or using it to mix up a quick cocktail.
It's all-purpose and very delicious.
The nice thing about it is you can add as much as you like to your drink. If you like it more flavorful, you could add a few tablespoons to a glass of water. For me though, about a tablespoon per 8 oz. of ice water is a good mix.
So refreshing and so perfect for a hot summer day!