The constant struggle for the home cook is if it's worth to make a thing or buy a thing. For me, this usually comes down to cost, time, and taste and no battle has been greater than Homemade Tortillas.
After all, there are so many different tortillas on the market that surely there would be one that would match a simple homemade version. Oh… and also… aren't tortillas a lot of work to make?!
Well, there are a lot of tortillas on the market, but most of them are honestly subpar. And while I do frequently buy them for quick meals, I've learned that homemade tortillas might just be in my future more and more. The more I make them, the faster I get, and they are so cheap and SO delicious.
But, it's not an immediately obvious answer. So, let's dive in, make some tortillas, and try to figure this all out!
Homemade Tortillas
Is it worth it to make homemade tortillas?! I walk through the process I use for making them and when I bother to make them from scratch. HINT: They are delicious!
Ingredients
2

cups

masa

¾

teaspoon

kosher salt

1 ½

cups

water
Instructions
Stir together salt and masa in a medium bowl. Add about 1 cup of water and stir it into the masa until it forms pea-sized balls.

Then start slowly adding water in 2-tablespoon batches until the dough comes together in a ball. It shouldn't crumble easily, but also shouldn't be sticky. Knead the dough a few times to make sure it sticks together well. Once the dough is shaped, cover it loosely with plastic wrap so it doesn't dry out while you make the tortillas.

Heat a griddle or cast iron skillet over medium heat. Spray it with a little olive oil or neutral oil.

Take about a golf ball sized piece of dough and place it on your tortilla press between two pieces of plastic or wax paper. Press down hard on it. I like to rotate the tortilla once or twice and press again to ensure an even thickness.

Transfer pressed tortilla to the hot skillet or griddle. Cook for 10 seconds on the first side and then flip. Cook for 45-60 seconds on the second side and then flip again. Cook for another 45 seconds on the original side. The tortilla should be lightly charred at this point. If it isn't, then you need a hotter skillet.

Transfer the tortilla to a container lined with linens or paper towels to keep warm. Cover them to keep in the moisture. Stack tortillas up as you bake them so they can continue to cook. They will soften as they rest in the container.

Serve tortillas within 30-45 minutes for best texture.
Nutrition
Serving:
2
Tortillas
|
Calories:
139
kcal
|
Carbohydrates:
29
g
|
Protein:
4
g
|
Fat:
1
g
|
Saturated Fat:
0.2
g
|
Polyunsaturated Fat:
1
g
|
Monounsaturated Fat:
0.4
g
|
Sodium:
293
mg
|
Potassium:
100
mg
|
Fiber:
2
g
|
Vitamin A:
81
IU
|
Calcium:
60
mg
|
Iron:
3
mg
Did you make this recipe?
How to Make Homemade Tortillas
So I should start by saying that I'm focusing on corn (or masa) tortillas for this post. Flour tortillas are also doable. They are just as easy to make but require a bit more kneading. Once you get the equipment and technique down for tortillas though you can mix and match to your pleasure.
To keep it simple though, I focused on corn tortillas.
I used Maseca Masa for my homemade tortillas, but there are a bunch of different brands of masa available. Feel free to experiment.
Add the masa to a bowl with some salt and water. Ideally you want the dough to not be crumbly, but also not be sticky. This version is still a little dry.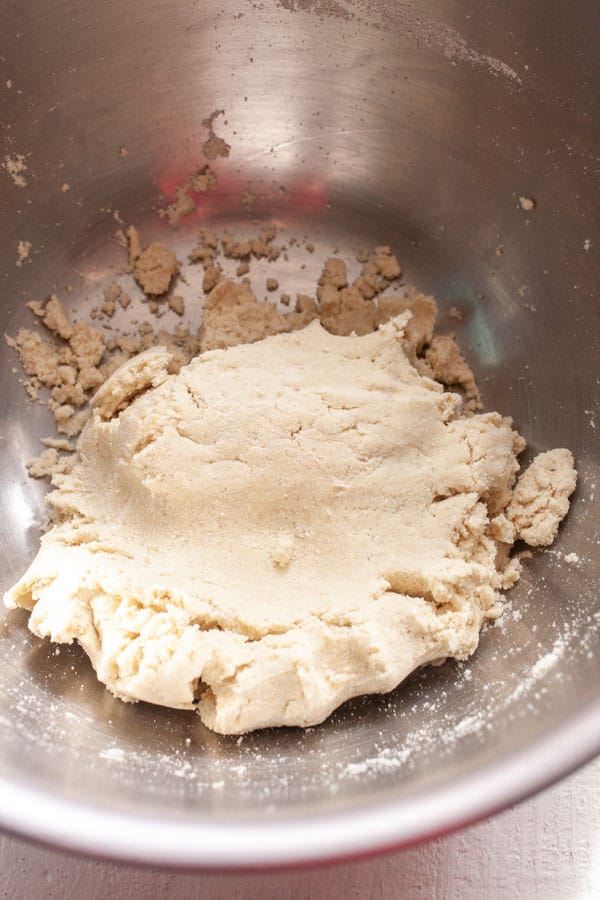 You will have to play around with it a bit and knead it some until you find the right texture. If you make a small ball of the dough, it shouldn't crumble apart if you press on it.
Once you get the dough to the right consistency, cover it with some plastic wrap so it doesn't dry out.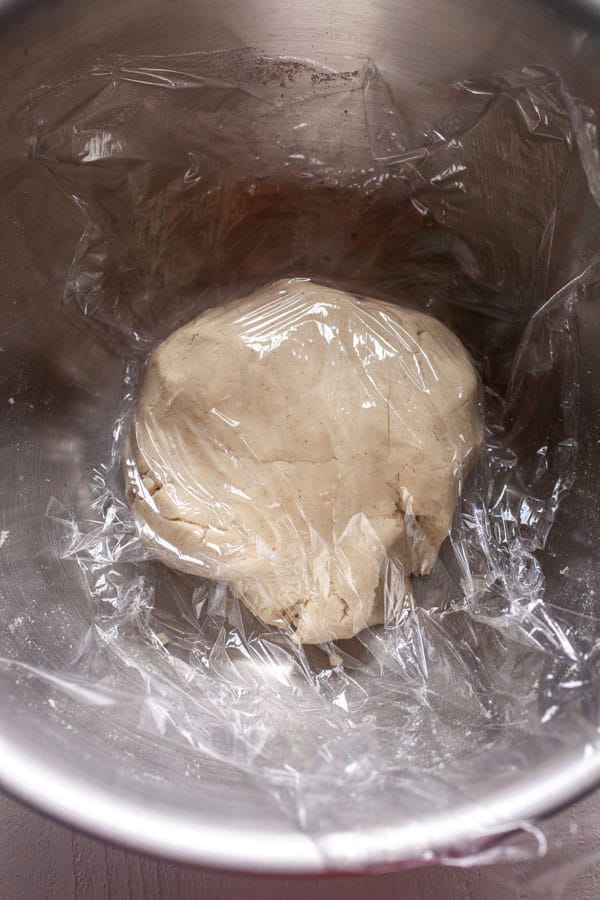 Forming the Tortillas
You don't technically need a tortilla press to make tortillas but it's a HUGE pain in the rear to use a rolling pin to roll these out. If you make these on any frequency (even once a few months) it's worth it to buy a little press.
Just add a golf-ball-sized piece of dough to your press between two pieces of wax paper.
Press it down really hard. I also like to turn my tortilla 180˚ and then press it down again to make it even.
If there's one thing I would wish it's that I could get my tortilla a little bit thinner. They are just a tad on the thick side, even when I press them really hard.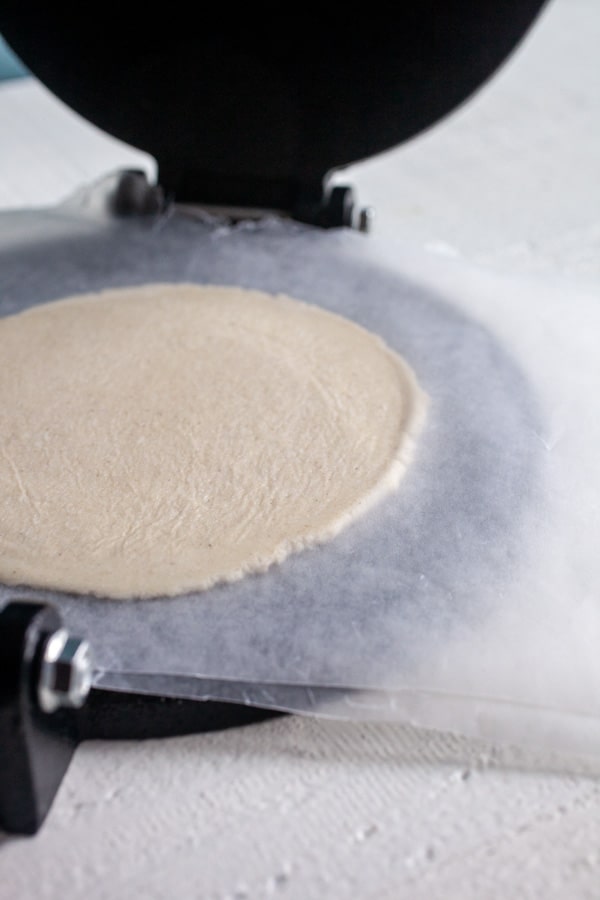 Tips for Making Homemade Tortillas
If you have a small tortilla press, you might notice that your tortillas aren't an even thickness. I like to press mine, rotate it 180˚, then press it a second time to make it as even as possible.
Cook the tortillas as soon as you press them. Don't press them all and then cook them. They will dry out fast once they are pressed.
Once your tortillas are cooked, store them in a container with lid that will keep the heat and moisture in. They will continue to soften if you store them like this.
Cooking the Homemade Tortillas
The best way to cook these is in a big cast iron skillet or on a griddle. The skillet needs to be really well heated over medium or even medium-high heat. I do a very light spray of oil in my skillet, just to prevent any hint of sticking.
The method I like to use for cooking is one I learned from this Mexican Please article. You cook the tortilla for 10 seconds on side one to seal in the moisture, then flip to side two and cook for 45-60 seconds. Then back to side one for 45-60 seconds. Each tortilla should take under two minutes cook. If it takes longer than that to get some char on the tortilla then your pan isn't hot enough.
As you cook the tortillas, stack them up in a container that has a lid. At a minimum, wrap them in a linen cloth or something to try to keep in as much heat and moisture as possible. The tortillas will continue to steam and soften if you store them like this and stack them up on each other.
The goal is to have a beautiful tortilla that is flexible and sturdy for your taco fillings. I like to give mine the flex test!
Are Homemade Tortillas Worth It?!
Obviously, these take a little work to make, but I was surprised at how fast I got at making them after a few attempts. They really aren't that bad. They are cheaper than any tortilla you can buy in the stores and better tasting than most. There are a few Mexican markets that I know of that sell made-that-day tortillas which are basically homemade, but if you are just buying tortillas at your supermarket, these will be undoubtedly better.
Mostly, I like Homemade Tortillas because it gives me flexible dinner options. I frequently have the fillings for tacos in my fridge, but if I'm out of tortillas I know I can quickly whip up a batch of exactly the amount of tortillas I need for my family (usually 8ish works).
Any homemade tortilla fans out there? Are they worth it?! How often do you make them?!
Here are a few great Taco recipes for your Homemade Tortillas!