One of my favorite things that I remember from my childhood was pickle juice popsicles. I'm not totally sure where my mom got the idea from because, ya know, there was no Pinterest. But I remember totally craving the salty, cold treat on a hot summer day. Actually I still do and can't wait for an excuse to make them for my kiddos.
Pickles have turned out to be one of Theo's favorite foods oddly and he asks for them sometimes for all meals, even breakfast. Kind of weird, but he's definitely my kid! This has left my fridge filled with lots of pickle juice and so I started experimenting with things to do with it.
These pickle juice veggies are hands down my favorite thing to do with leftover pickle juice. I think I actually like them more than the original pickles. Ha!
They are crunchy, just salty enough, and store well for a week or two. I don't bother heating and canning them which is too much work than I want to deal with. Eat pickles. Replace pickles with a boatload of colorful veggies. Wait. Eat veggies. REPEAT.
Pickle Juice Veggies
After you're done with that big jar of pickles, SAVE THE JUICE. It's good stuff and can be used to make a big jar of quick pickled veggies! I use these on sandwiches and they are actually better than the original pickles!
Ingredients
1 24

oz.

jar pickles

,

just juice

½

large cucumber

,

sliced

6-7

radishes

,

sliced

2

small carrots

,

slivered

½

red pepper

,

sliced thin

1

red chili

,

sliced (opt.)

Apple cider or rice vinegar

,

opt.
Instructions
Prepare your veggies by washing them really well and slicing them. Try to get them in a fairly even thickness. I like to cut cucumbers into half-rounds, radishes into rounds, red peppers into strips, and carrots into strips. A good veggie peeler helps.

Pack a quart canning jar with the veggies. Pour over reserved pickled juice. If the veggies aren't covered, pack in more veggies to fill the gaps or fill the jar with apple cider or rice vinegar to take up the rest of the room. Leave about 1/2 inch at the top of the jar. Put a lid on it.

Store veggies in fridge for at least 3 days but up to 2 weeks.

Use pickled veggies on sandwiches, burgers, or just snack on them!
Nutrition
Serving:
1
Bunch of Veggies
|
Calories:
31
kcal
|
Carbohydrates:
7
g
|
Protein:
0.4
g
|
Fat:
0.1
g
|
Saturated Fat:
0.01
g
|
Polyunsaturated Fat:
0.03
g
|
Monounsaturated Fat:
0.002
g
|
Sodium:
1073
mg
|
Potassium:
92
mg
|
Fiber:
1
g
|
Sugar:
1
g
|
Vitamin A:
2278
IU
|
Vitamin C:
16
mg
|
Calcium:
8
mg
|
Iron:
0.1
mg
Did you make this recipe?
Pickle Juice Veggies
You can use any pickle you can get your hands on for this recipe. You can either reuse the pickle jar or pack a fresh jar with veggies and then pour the juice over. Your call!
You can use any crunchy vegetable for these I think, but I like to have a variety of colors. My personal jar has cucumber (pickles reborn!), radishes, carrots, red peppers, and some red chili for a little extra heat. You could toss in a few cloves of crushed garlic or ginger if you wanted to infuse some extra flavor in.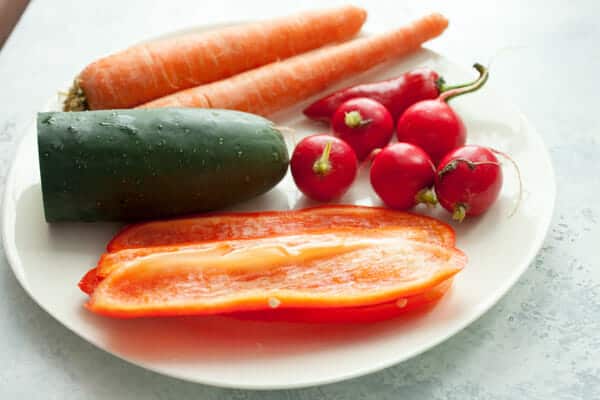 Take your time prepping the veggies here. Make sure everything is washed really well since we aren't heating these. Make sure they are clean. I recommend slicing the veggies in the following shapes!
A good veggie peeler helps with the carrot slivers, but you could also do thin carrot coins like the radishes.
Then just pack your jar with as many veggies as you can fit in it! Leave a tiny bit of space at the top.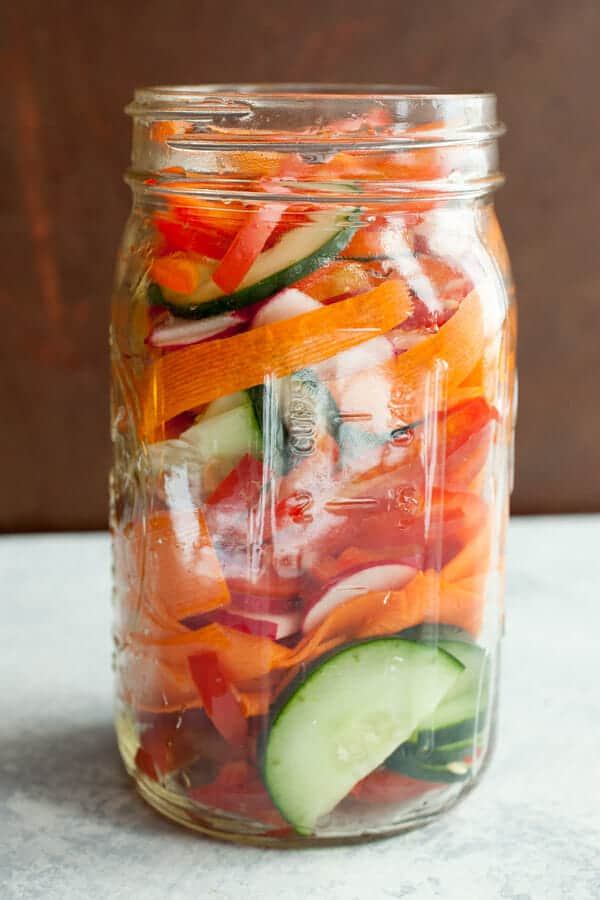 Fill it up with pickle juice and if your veggies aren't completely covered you can top them off with apple cider vinegar or rice vinegar.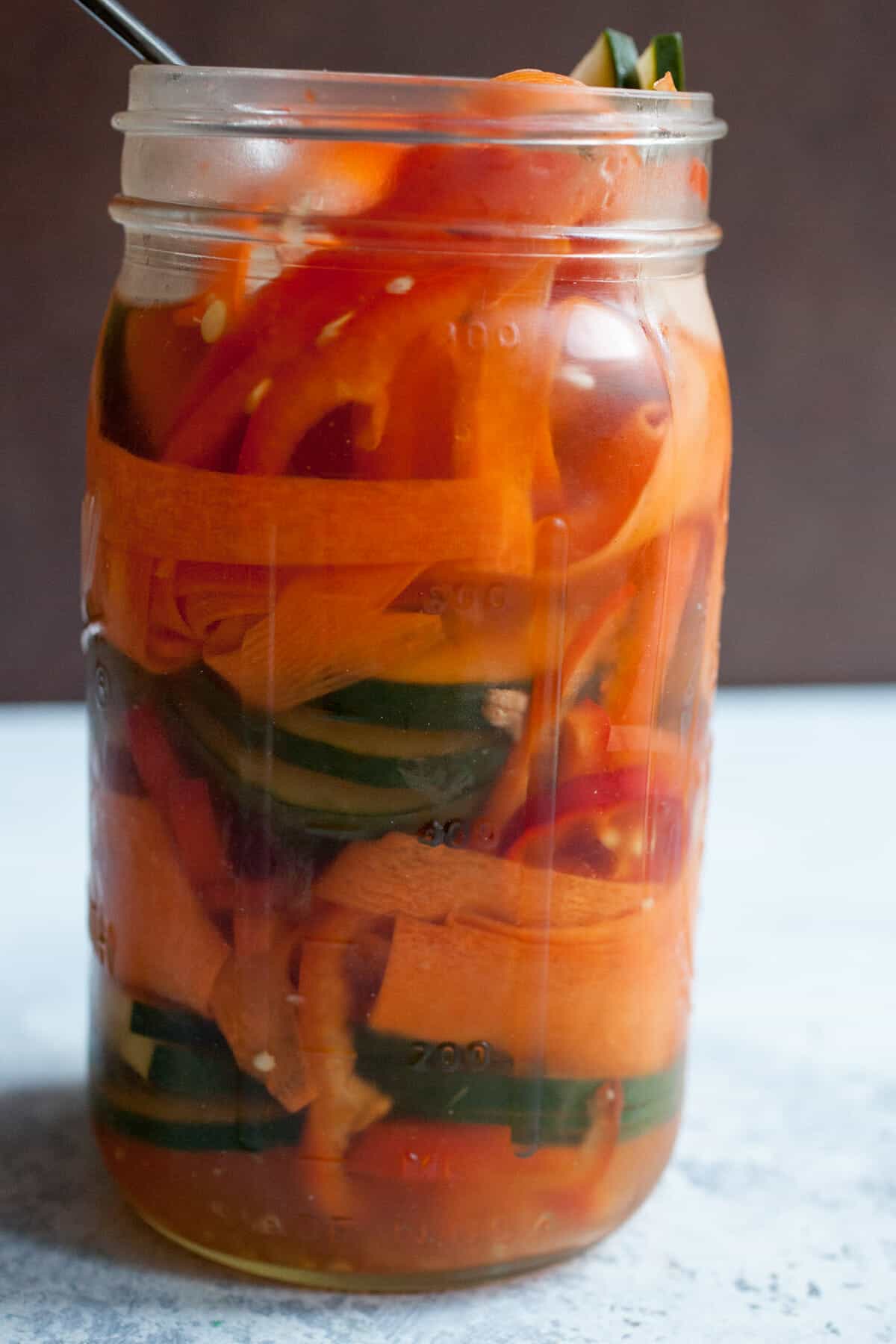 Seal and store these in the fridge for at least three days. They are great for up to two weeks though. After that mine started to get a bit mushy.
What to do with your pickle juice veggies? Well, you can snack on them right out of the jar, but they really do well as a sandwich topper. Here's my awesome pickle juice veggie, avocado, turkey, provolone sandwich!
Save your pickle juice, team. Make these veggies!