I should actually call this my award-winning Crab and Avocado Salad.
Let me explain. Every year Betsy and I haul off to North Carolina to spend a week with her family on the beach. It's always a great time and one thing we do when we are there is eat really well. There aren't a lot of restaurants in the area so we make big family dinners and feed about 20 people each night. There are many excellent cooks in Betsy's family so it's always good eats.
The last night of the trip we have a "leftovers" night where everyone pulls out stuff from fridges and comes together to eat whatever is left from the week of good dinners. This could be everything from spaghetti and meatballs, to ceviche, to braised pork tacos.
This year we ordered crabs for lunch one day and I was a bit out of practice with my crab picking. So I took a few of the leftover crabs and worked on my picking skills. I made a really simple crab and avocado salad out of the leftover crab (this very salad) and it somehow became the most talked about dish of the week and was casually awarded best dish of the week by a few of the foodies in the group.
One person described it as Disturbingly Delicious… I think because something this good shouldn't be this easy to make.
Of course, the salad isn't quite as good with packaged crab, but it's still a great light salad. Perfect for summer!
Real Crab or Imitation Crab
If you happen to have access to fresh crabs or fresh picked crabmeat, then by all means use it! It's really good in this salad and not at all a waste of crab meat to use it in this way. The salad is light enough to not overpower the crab flavors.
For most people though, canned or packed Lump crab meat works best and is readily available these days. I don't personally recommend imitation crab for this dish because the flavor is too strong, but I won't yell at ya if you try it out. Real crab has a much lighter flavor.
Ingredients for this Crab and Avocado Salad
The first time I made this salad I literally just made it based on stuff I had in our fridge. It was simple flavors which is good because crab is a light flavor and you can easily overpower it.
There isn't a ton of ingredients in this salad, which is by design. Too many ingredients will make the salad too busy.
Crab meat. Obviously you need crab for this salad.
Ripe avocados. About two avocados should be enough for the salad.
Red onion. A little onion bite helps the salad, but don't over-do it.
Grape tomatoes. The color is nice and the fresh tomatoes give some acidity to the salad.
Cucumbers. Good crunch!
Lime and Old Bay. Seasonings should be classic with crab.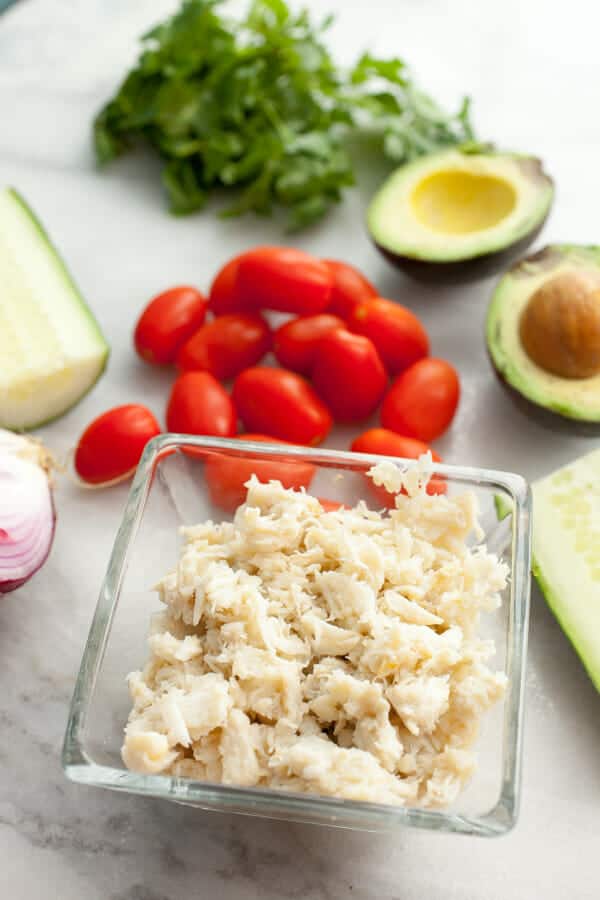 Instructions to make this crab salad
This salad is all about balance so try to keep the ingredients in proportion. If you add too much onion, it'll have too much bite. Too much acid from the lime will wash out the flavors.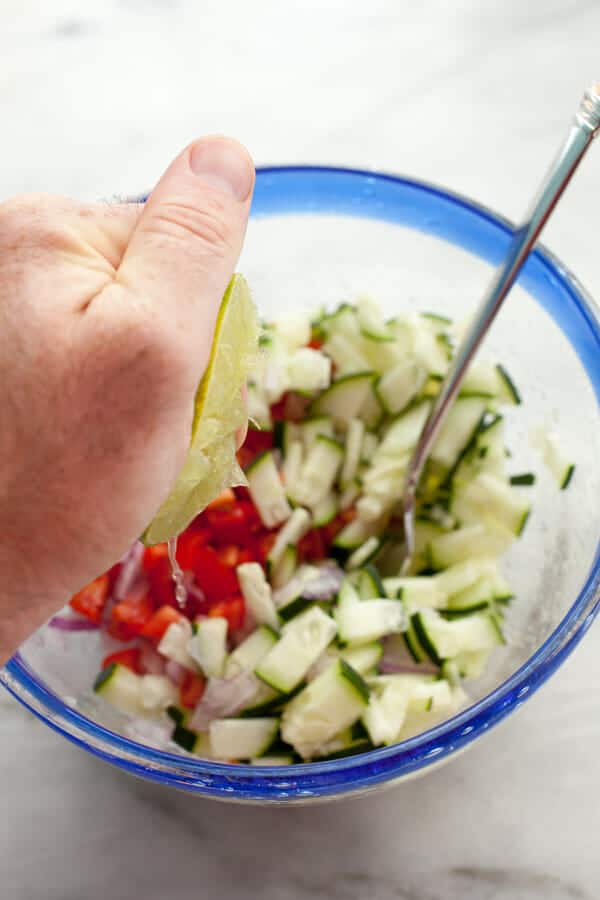 Maybe most importantly, add the ingredients to your bowl in order of delicateness. So the crab should be the very last thing and the avocado should be the second-to-last thing. If you overmix those things in, you'll end up with some kind of strange crab guacamole.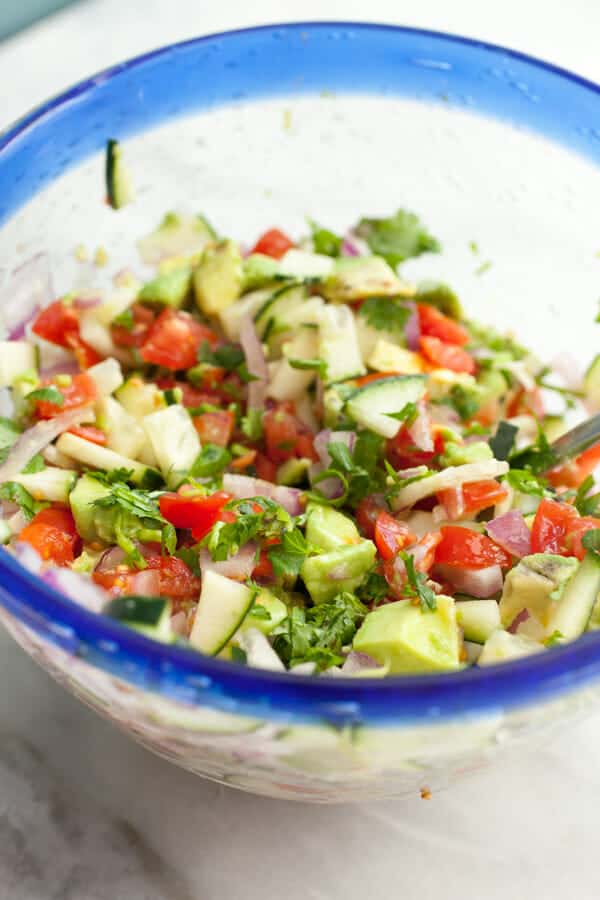 Just barely fold in the crab at the end.
Season it simply with salt and maybe a pinch of Old Bay if that's your thing. It doesn't need it though in my opinion.
Serve this salad up in small bowls while it is fresh.
Try this award winning Crab and Avocado salad ASAP!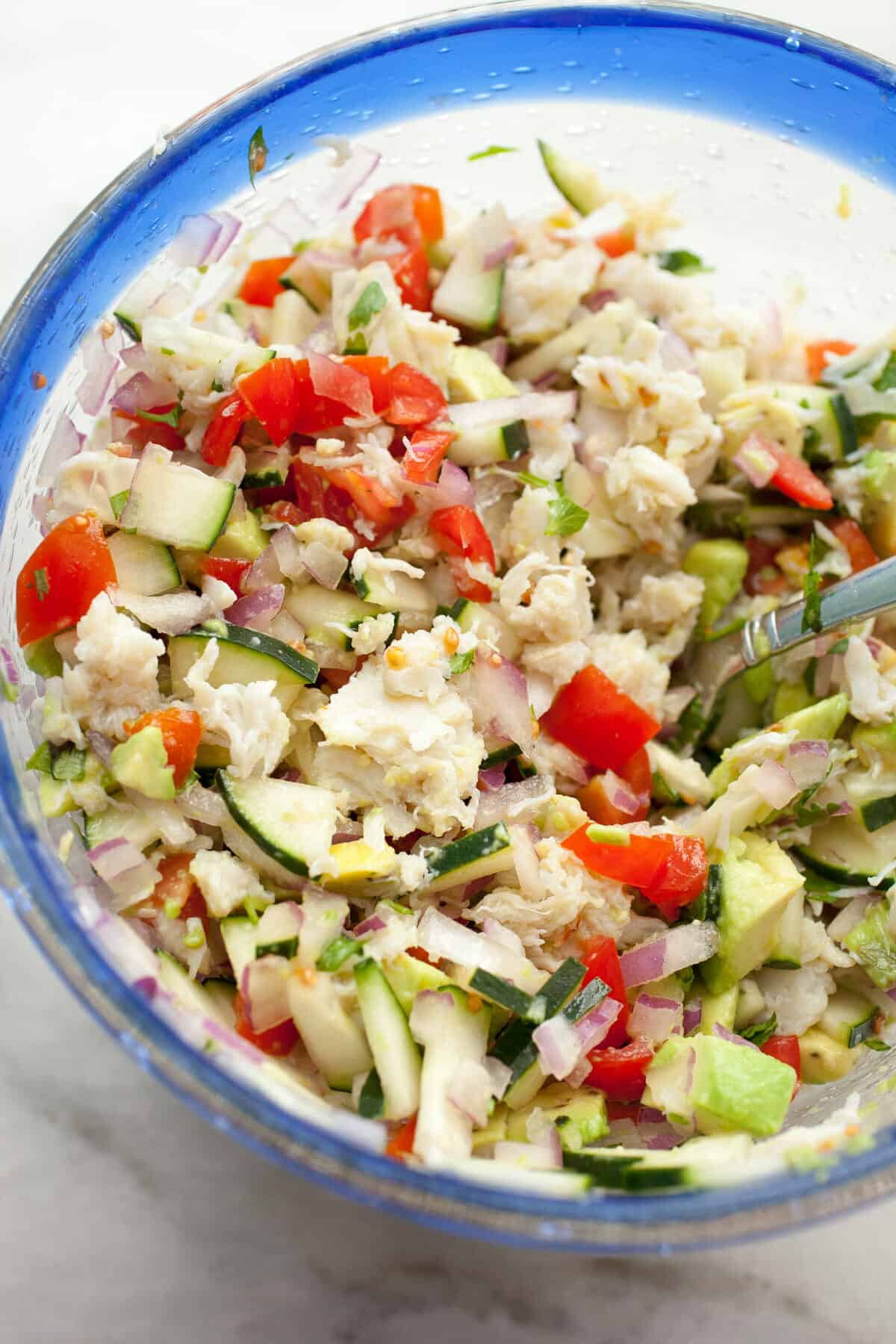 Substitution ideas for this crab and avocado salad
You can substitute many of the things in this salad (but keep the fresh crab and avocado obviously).
Instead of cucumber, try celery or radish for a crunchy vegetable.
Add fresh herbs like fresh chives, parsley, or fresh cilantro, but go slight on the herbs.
Use lemon juice instead of lime juice.
Serve the salad over lettuce leaves or on toast.
If crab really isn't your thing, steam some shrimp and chop them up and use them in the salad.
Add fresh sweet corn (preferably grilled and cooled) to the salad
Optionally, mix up the crab with the ingredients other than the avocado and spoon it into the avocado halves for stuffed avocados.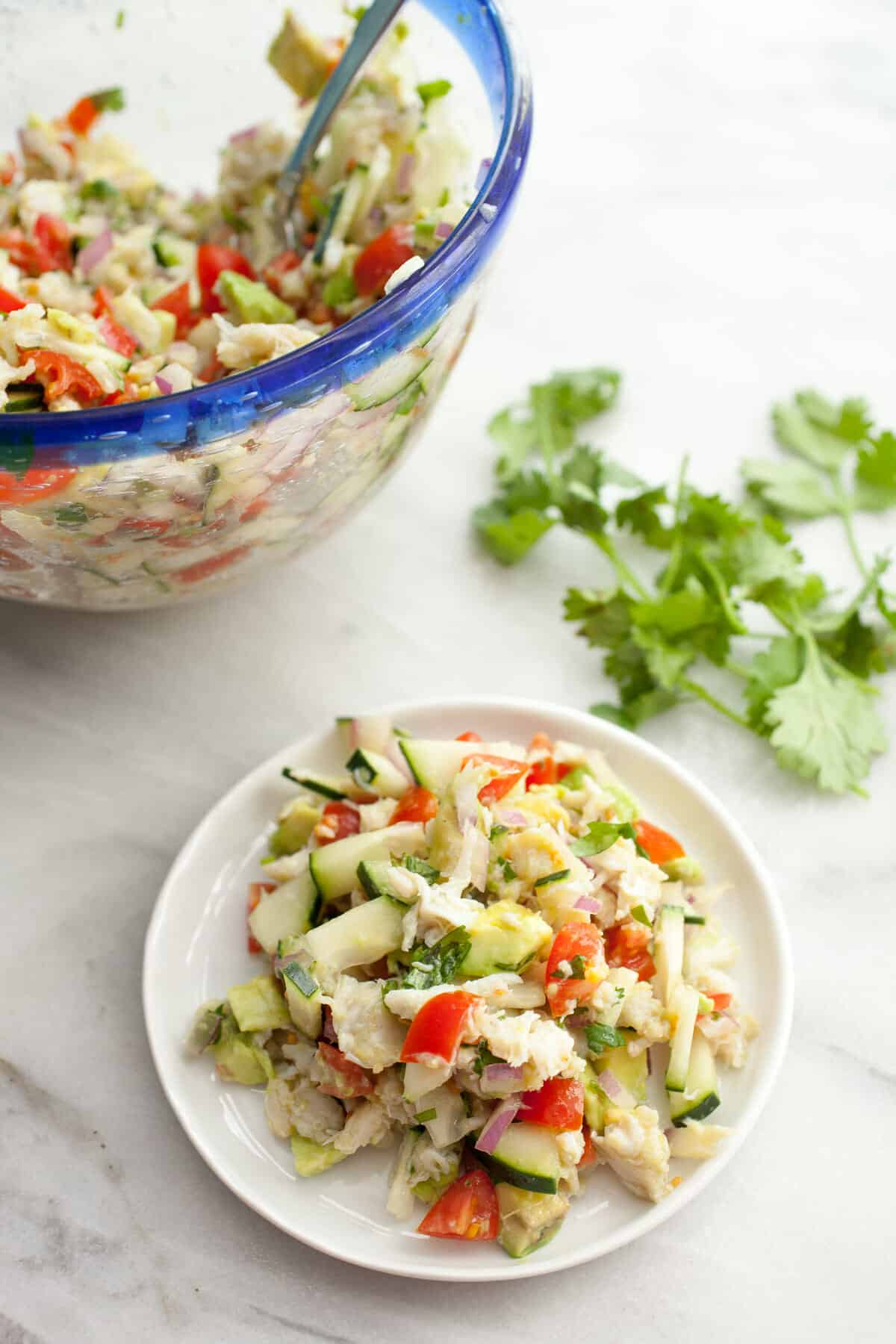 Nutrition for this crab salad
This is a great healthy meal option. The salad is naturally paleo-friendly, gluten-free, low carb, and high protein. Anybody who is trying to eat healthy could do worse than a big bowl of this crab salad!
What to serve with this salad
Quite honestly, I like this crab salad on its own as a light lunch. You can just serve it with toast or on lettuce.
That said, if you wanted to serve it alongside something grilled, it would be a nice starter. It would be great with some grilled fish, for example. Or this grilled stuffed fish from Simply Recipes!
Crab & Avocado Salad
This salad is so light and delicious. It's a perfect appetizer for summer and super easy to toss together. Enjoy!
Ingredients
½

cup

red onion

,

diced

1

cup

tomatoes

,

diced

1

cup

cucumber

,

diced

½

lime

Handful cilantro

2

avocados

6

oz.

crab

,

lump crab works best

Kosher Salt

Old Bay

,

optional
Instructions
In a medium bowl, stir together diced onion, tomatoes, cucumber, lime, and cilantro. Season with lime and salt.

Stir in ripe avocados.

Finally, stir in flaked crab (lump crab works best but any is fine). Season to taste with old bay and salt.

Serve immediately or chill and serve within the same day.
Nutrition
Serving:
1
Salad
|
Calories:
218
kcal
|
Carbohydrates:
13
g
|
Protein:
11
g
|
Fat:
15
g
|
Saturated Fat:
2
g
|
Polyunsaturated Fat:
2
g
|
Monounsaturated Fat:
10
g
|
Cholesterol:
18
mg
|
Sodium:
366
mg
|
Potassium:
745
mg
|
Fiber:
8
g
|
Sugar:
3
g
|
Vitamin A:
496
IU
|
Vitamin C:
23
mg
|
Calcium:
47
mg
|
Iron:
1
mg
Did you make this recipe?
Other delicious salad recipes