"I have to admit… that doesn't sound great." That was Betsy's first thought when I mentioned the idea of a salmon chowder recipe for dinner one night.
Later, I wish I could've recorded that and played it back to her as she went for her second bowl.
But, to be honest, it turned out much better than I expected as well. I wanted to try it just because I liked the idea of chowder on a cold day, but good clams are hard to come by in Colorado (shocker) unless you want to pay for them so I thought a salmon version might be a better fit.
Keys to Good Salmon Chowder
We will dive into the specifics of this recipe below, but there are two important keys to really make this chowder work.
First, do not overcook the salmon. Add it at the very end and stir it in gently to soup to keep it in big chunks. It'll cook through in just a few minutes so keep an eye on it! Adding it right at the end will keep the salmon tender.
The second key is to use jarred clam juice! Sounds weird, but the soup doesn't really simmer long enough to develop much seafood flavor on its own so the bottled clam juice gives it a big flavor boost with minimal work. The result is a quick and easy 30-minute salmon chowder that tastes wonderful!
Starting the chowder base
I'm a big believer in starting chowders with bacon. It helps to add a little smoky flavor to the chowder and gives it a salty richness. To help the bacon render out the fat, I like to add a few tablespoons of water to the bacon over a medium heat in a large dutch oven or pot.
When you're picking bacon for the chowder, there is no need to get the thick-cut stuff. The normal or thin bacon will work just fine.
Adding the aromatics
Most of the ingredients for this chowder will go in after the bacon has browned and turned crispy. This includes the shallots and celery. Some recipes include garlic and carrots in this stage as well. I personally don't love them in a chowder and like a simpler ingredient list, but if you wanted to add in a few cloves of garlic or some diced carrots, it would be fine to do so. Just remember that this chowder doesn't actually simmer that long so keep the carrot dice small if you add them.
I prefer to use shallots for the chowder instead of white onions but if you only have white or sweet onions, it's fine to substitute them!
No matter what you add to this aromatic stage of the chowder, it will start to smell good in your kitchen when you sauté the ingredients in the bacon grease!!
How to thicken the chowder
I use a simple roux to thicken the chowder for my version. Once the veggies cook down for a few minutes, stir in some flour and as it cooks, it will darken in color slightly. You don't need a lot, but it helps thicken the soup and gives it the traditional chowder consistency.
Now for the clam juice! I'm assuming most people probably don't have this sitting in their fridge, but you can buy small 8-oz. jars of it near the tuna fish in most grocery stores. You'll want the whole jar for this soup.
Add that in along with the whole milk, stirring it in slowly. If you wanted an even richer chowder, you could substitute one cup of the milk for heavy cream. Then bring the soup to a simmer and add the potatoes. Cube the potatoes pretty small (like 1/4-inch dice) so they cook quickly.
Simmer the soup on low until the potatoes are cooked. I prefer not to bring this chowder to a rolling boil as it can mess up the consistency of the broth so stick to a slow simmer.
Adding the salmon to the soup
Very last, add in the corn and salmon! You can use any cut of salmon honestly. If your store will give you a deal on salmon collars or scraps they work great in this chowder. Just make sure to remove any bones and cut off any skin.
Once the salmon is stirred in, season the soup with salt and pepper and cook it for just a few minutes until the salmon is flakey and cooked through. If you cook the chowder for too long once you add the salmon, it will flake apart too much and the salmon pieces will start to turn rubbery. Not great!
How to serve the chowder
Serve the salmon chowder up with lots of oyster crackers and fresh lemons. You could garnish it with a little fresh parlsey or fresh dill if you would like. Other serving options would be a nice baguette or some good crackers.
Substitutions in this chowder
At its heart, chowder should be comfort food and you don't need to worry about getting each ingredient if you don't have it. You can also substitute stuff pretty liberally here as long as you do so thoughtfully.
Here are a few ideas!
Add more aromatics to the base of the chowder like diced carrots, garlic, parsnips, or other vegetables.
Fresh herbs like thyme, chives, dill, or tarragon go well with salmon and can be added near the end or as a garnish.
If you want a pork-free version of the chowder, start with butter as your base. Use a few tablespoons to cook your aromatics and then add in your flour for the roux.
If you wanted to reduce the dairy in the chowder, you could substitute chicken broth for the milk, but it will result in more of a stew than a true chowder.
Storing and reheating the chowder
This chowder keeps well in the fridge for a few days but after that the salmon starts to break down pretty quickly. I would plan on eating it within that time frame. While you can freeze it, it isn't great. It can be a bit gritty when you reheat from frozen.
To reheat the chowder, it's best on the stovetop over low heat. You might want to add a splash of water to it to loosen the chowder a bit. Please don't microwave it!
30 Minute Salmon Chowder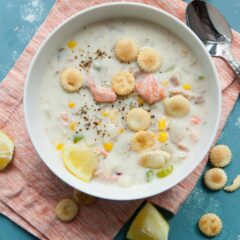 This hearty, flavorful soup recipe is incredible when you want a quick and easy dinner on a chilly night. The potatoes, bacon and corn provide the traditional chowder flavors, with healthy salmon to switch it from a traditional clam or corn chowder.
Ingredients
8

oz.

bacon

,

chopped

2

tablespoons

water

3-4

medium shallots

,

chopped

2

ribs celery

,

chopped

2

tablespoons

all purpose flour

1

cup

clam juice

3

cups

whole milk

1

pound

new potatoes

,

diced

1

cup

sweet corn

1

pound

salmon

,

roughly chopped

Salt and pepper

Lemons

,

garnish

Oyster crackers

,

garnish
Instructions
In a sturdy pot over medium heat, add chopped bacon and water. Water will help fat render out of bacon. Cook until bacon is crispy, 6-7 minutes.

When bacon is browned, drain off all but about 2 tablespoons of bacon grease and add chopped shallots and celery. Cook for a few minutes and then stir in all-purpose flour.

After flour, slowly stir in clam juice and milk. Add potatoes and bring to a simmer. Turn heat down to low and simmer until potatoes are tender, about 7-8 minutes.

Prep your salmon by removing any pin bones from the fish and also cutting off skin. Cut salmon into about 1/2-inch chunks.

When potatoes are cooked through, add corn and salmon to the chowder. Cook for 2-3 minutes until salmon is just cooked through. Taste and season with salt and pepper.

Serve chowder immediately with fresh lemon and oyster crackers.
Nutrition
Serving:
1
Bowl
|
Calories:
687
kcal
|
Carbohydrates:
50
g
|
Protein:
40
g
|
Fat:
36
g
|
Saturated Fat:
12
g
|
Polyunsaturated Fat:
7
g
|
Monounsaturated Fat:
14
g
|
Trans Fat:
0.1
g
|
Cholesterol:
122
mg
|
Sodium:
720
mg
|
Potassium:
1628
mg
|
Fiber:
4
g
|
Sugar:
15
g
|
Vitamin A:
564
IU
|
Vitamin C:
29
mg
|
Calcium:
270
mg
|
Iron:
3
mg
Did you make this recipe?
Here are a few other great recipes to try