Yesterday, I posted my take on David Chang's method for cooking eggs. While you can just eat the eggs with a drizzle of olive oil and a pinch of salt, they are really made to be served with something. Specifically, Chang usually serves them with bowls of ramen.
In my mind, real ramen noodle bowls are very intimidating. I've had great versions of them in various restaurants in New York, but I've never been to Japan.
I think the dish can be intimidating because while it looks like a very simple dish, the flavors can be deep and complex and when you start researching how to make the noodles and broth you enter a world that is just plain nuts.
People spend years learning how to make the perfect ramen broth and some broths take literally days of simmering, condensing, seasoning, and so forth.
For me, I'm happy to accept that I will probably never make a truly perfect bowl of ramen, but I think I can make a very good bowl of ramen. I can also make it in a few hours and I'm happy with that trade-off.
So, I'm showing you this – my Dashi Ramen – which takes just a few hours to make and is definitely worth those hours.
Dashi Ramen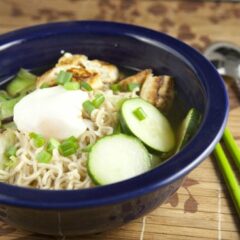 An easy homemade traditional Japanese broth recipe made with kombu and bonito flakes is the key to this delicious bowl of ramen noodles.
Ingredients
Broth:
3

large pieces kombu

1

oz

shiitake dried mushrooms

4

cloves

garlic

,

crushed

3

in

ginger

,

chopped

10

c.

water

3-4

dried bird chilis

,

opt.

⅔

c.

dried bonito flakes

3

tbsp

soy sauce

3

tbsp

rice wine vinegar
Quick Pickles:
1

large cucumber

,

sliced thin

⅓

c.

rice wine vinegar

1

tsp

sugar

1

tsp

kosher salt

Pinch

of red pepper flakes
Other Ingredients:
Ramen Noodles

,

4-5 ounces/bowl

Seared Tofu

,

3 ounces/bowl

Seared baby bok choy

,

1/2 head/bowl

1

poached egg/bowl

Chopped scallions
Instructions
For broth, bring water to just under a simmer. Add kombu, mushrooms, garlic, ginger, and chilis. Let steep for about 20-30 minutes.

Remove kombu, add bonito flakes and cook for 3-4 minutes. Then strain broth.

Bring strained broth to a simmer and simmer until the broth is reduced to about half it's original volume. Season with soy sauce and vinegar. It will take around an hour for the broth to reduce.

For the quick pickles, just slice cucumbers thin and stir in a bowl with other ingredients. Make sure they are coated evenly and let them sit for at least an hour. Drain and serve with ramen.

Sear tofu in a large skillet over medium-high heat with a drizzle of oil for about 5 minutes per side until it's nicely seared. Also sear bok choy in the same skillet. Cut the baby bok choy in half, drizzle with oil and sear cut side down for five minutes over high heat.

Cook ramen according to package right before sering.

Immediately serve hot noodles with chopped seared tofu, bok choy, pickles, a poached egg (see previous post), and chopped scallions.

Ladle simmering broth over the whole bowl and eat immediately. Feel free to season with extra soy sauce or any other sauce.

You can store the broth in the fridge for up to a week or freeze it for months.
Nutrition
Serving:
1
bowl
|
Calories:
65
kcal
|
Carbohydrates:
10
g
|
Protein:
4
g
|
Fat:
1
g
|
Saturated Fat:
0.4
g
|
Polyunsaturated Fat:
0.2
g
|
Monounsaturated Fat:
0.4
g
|
Trans Fat:
0.01
g
|
Cholesterol:
41
mg
|
Sodium:
1364
mg
|
Potassium:
189
mg
|
Fiber:
1
g
|
Sugar:
2
g
|
Vitamin A:
62
IU
|
Vitamin C:
2
mg
|
Calcium:
104
mg
|
Iron:
1
mg
Did you make this recipe?
Dashi Ramen
The Broth
There are those people who think ramen is about the noodles and then there are those that think it is about the broth.
Ok. There's actually a third group who think you have to have both perfect, but for me, the broth is more important than the noodles. I did my best to make a good broth for my Dashi Ramen that can be made in a few hours but still has lots of flavor.
There are two ingredients which may be new to some people for this recipe. Both can be found at almost any Asian food store in America.
The first is Kombu, which is just large strips of kelp. Many Dashi Ramen broths start with this as a base layer. It just gives a lot of savory flavor to the broth, but is pretty light.
The second ingredient is bonito flakes which are basically dried fish flakes that have been smoked. This ingredient is strong and when you open the bag, you'll be treated to a wonderfully smokey smell. They almost dissolve in the broth and give it all kinds of flavor.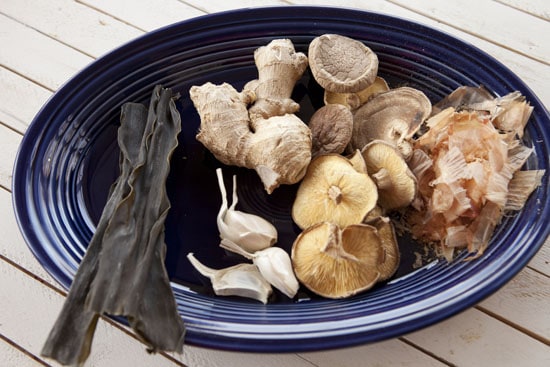 When you are making the broth, you don't want your water to be boiling. It should be just below a simmer point. Add the kombu, mushrooms, ginger, garlic, and chilis and let it steep for about 30 minutes.
This will smell wonderful. Promise.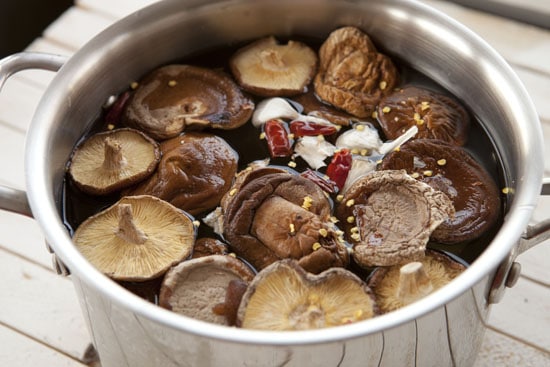 After thirty minutes or so, you can go ahead and remove the kombu. They will be huge after expanding in the water. They've contributed all they can to the broth at this point.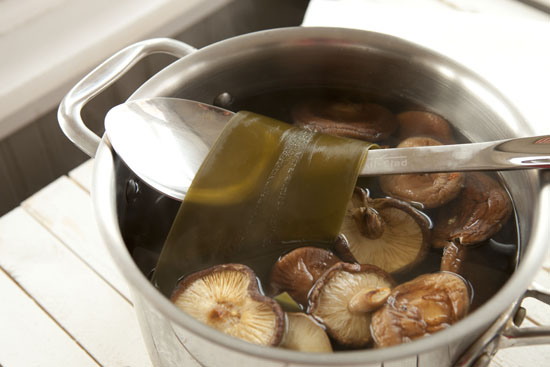 Then go ahead and add all those bonito flakes! They will seem to basically dissolve in the broth.
Once the flakes go in, you only need to simmer it for about four minutes. Then you can strain out all the stuff and you'll be left with a really clear and light broth.
If you have one, use a wire mesh strainer to make sure you get all the bits. You can also strain the broth through cheesecloth.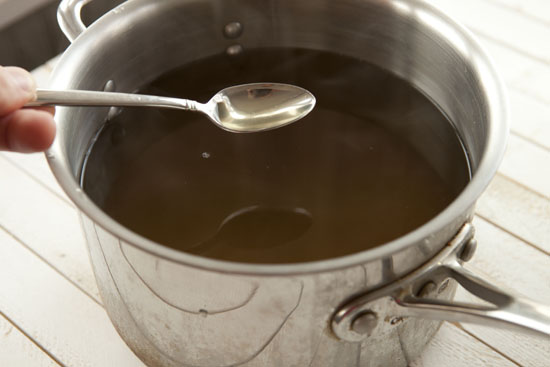 Now you can return the pot to the heat and bring the broth to a simmer. Let the broth simmer until it reduces by about half. As it reduces, the flavors will intensify and you'll be left with a really flavorful broth.
Also, season the broth with soy sauce and rice wine vinegar as it reduces.
The reduction process will take at least an hour. Meanwhile, you can work on your other parts!
The Pickles
Any sort of pickled vegetables go great in ramen bowls. Pickled peppers would work also.
For this version, I made some super fast sliced pickles with rice wine vinegar, sugar, salt, and some red pepper flakes. Just slice the cucumbers thin and stir everything together. Let these sit for at least an hour and you'll have some really light pickles to serve with the ramen.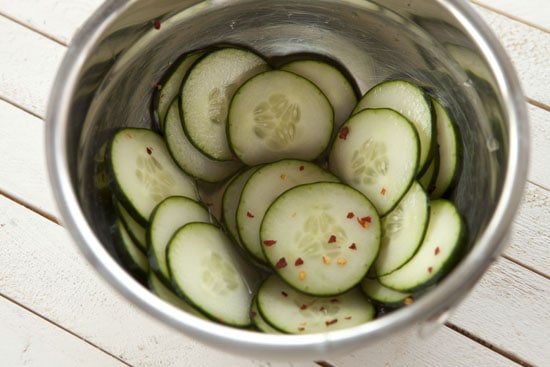 Noodles Noodles
Good ramen noodles are tough to find in the US. I would say to just do your best. Of course, you could try to make them, but I wanted to focus on the broth for this attempt so I just went with some store-bought noodles.
I just used some basic Japanese style noodles for my version. Nothing fancy.
For me, I think one package (3.5 ounces) isn't enough for a dinner-sized portion so I usually will cook three packages for two people.
The only note about the noodles is that I recommend cooking them in just water and not in the broth that you are making. If you cook them in the broth, it will make it too thick so just cook it in water separately.
Other Extras
Ramen is frequently served with some sort of roasted meat like pork or chicken or beef, but I wanted to keep this version light so I served mine with seared tofu and bok choy.
I just heated a small skillet over medium-high heat and added a drizzle of oil. When it was hot I cooked some baby bok choy, cut-side down in the skillet for about four minutes until it was nicely seared. This left the bok choy a bit crunchy, but still cooked.
I also lightly pressed some extra firm tofu and then seared it off in the same pan for about four minutes per side.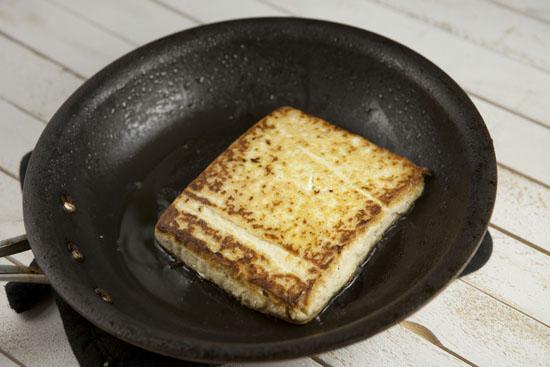 Serving the Ramen
When you're ready to eat, cook your noodles last so they are nice and hot. Add them to the bowl and surround them with your fixings. I like to put a poached egg right in the center.
Then ladle simmering hot broth over the whole thing and garnish it with chives or scallions.
Of course, people can season with extra soy sauce or chili sauce if they want.
This was a little work, but far from the amount of work that goes into some ramen bowls. It had plenty of flavor in my opinion though and was a great warming dinner on a cold winter night.
Has anyone tried making a broth like this before at home? Are you intimidated by this type of dish? Leave a comment!