There is this cool street food technique I've seen in various videos where a vendor pours eggs down on a griddle and covers the eggs with tortillas or bread and then flips the whole thing over and builds a sandwich on the egg. This Breakfast Tortilla is my at-home version of this idea.
The concept is to quickly make breakfast and have it be flexible enough to use whatever ingredients you have on hand. The whole thing comes together really fast and it's a great weekday breakfast.
You could argue that this could be called a breakfast quesadilla or breakfast wrap, but just because of the way it's made, I like the simpler breakfast tortilla name. Call it what you will, it's delicious!
Making this in a skillet or griddle
Honestly, making this recipe on a griddle is probably the easiest because you have more room to flip your flour tortilla over and then top and fold it however you want.
To challenge me though, I skipped using my griddle for these photos and trial and just made it in a plain skillet. You could use a nonstick skillet, a cast iron skillet, or even just a good-quality stainless steel skillet.
If you use a stainless steel skillet, like I did, you'll have to add a little extra oil to the skillet and make sure it is heated well before adding the eggs and stuff so it doesn't stick. No matter what, the flour tortilla gets super crispy and is a wonderful texture combo with the creamy eggs and melted cheese.
Ingredients for this Breakfast Tortilla
The nice thing about this recipe is its flexibility. This is what I used to make mine completely packed with fillings from my fridge.
Flour tortilla. I prefer this over corn tortillas for this recipe.
Vegetables. I used red peppers and spinach in my version, but almost any vegetable would be good in this breakfast tortilla situation.
Bacon. I had some on hand so I used it. I'm not sure I would make a fresh batch of bacon JUST for this recipe.
Cheese. Gotta have some cheese! I went with cheddar cheese for simplicity but anything that melts well would work.
Eggs. The eggs are the glue in this recipe. One egg is actually plenty but you could use up to two if you want your tortilla really thick and filling.
Garnishes! Cilantro? Sure. Hot sauce? Absolutely. Avocados? Why not. Go crazy with the toppings.
Starting the breakfast tortilla
This recipe starts by heating your griddle or a large skillet over medium-low heat. You don't want it too hot or your ingredients will burn. Add some oil to the skillet or griddle and add the vegetables like red peppers that need to soften. You can also add the bacon at this point if you are using it.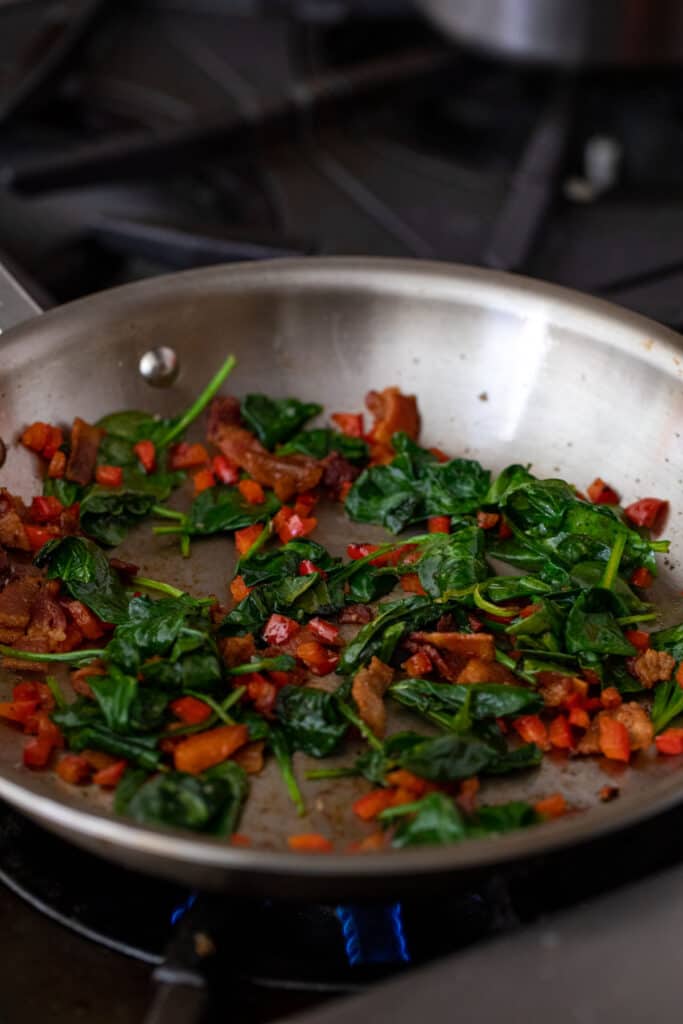 Then add the spinach, if you are using it, and let it wilt down.
Then it's time to add the scrambled egg. Make sure the egg covers all the ingredients in the same surface area as your tortilla. While the egg is still uncooked, add a small handful of cheese to the egg and top with your tortilla.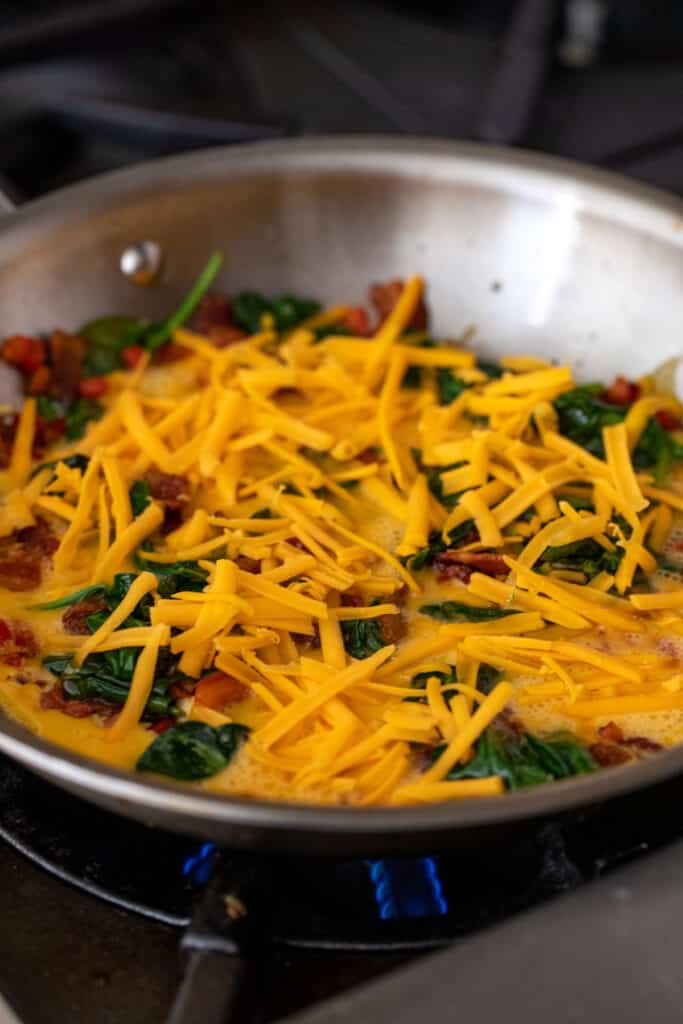 Let it cook like that for 2-3 minutes. Then flip it!
The flipping hard part
Really the only hard part of this recipe is the flip. Your eggs and stuff are on the bottom and they need to be on top. Your tortilla needs to be on the bottom so it can get crispy. You get the idea.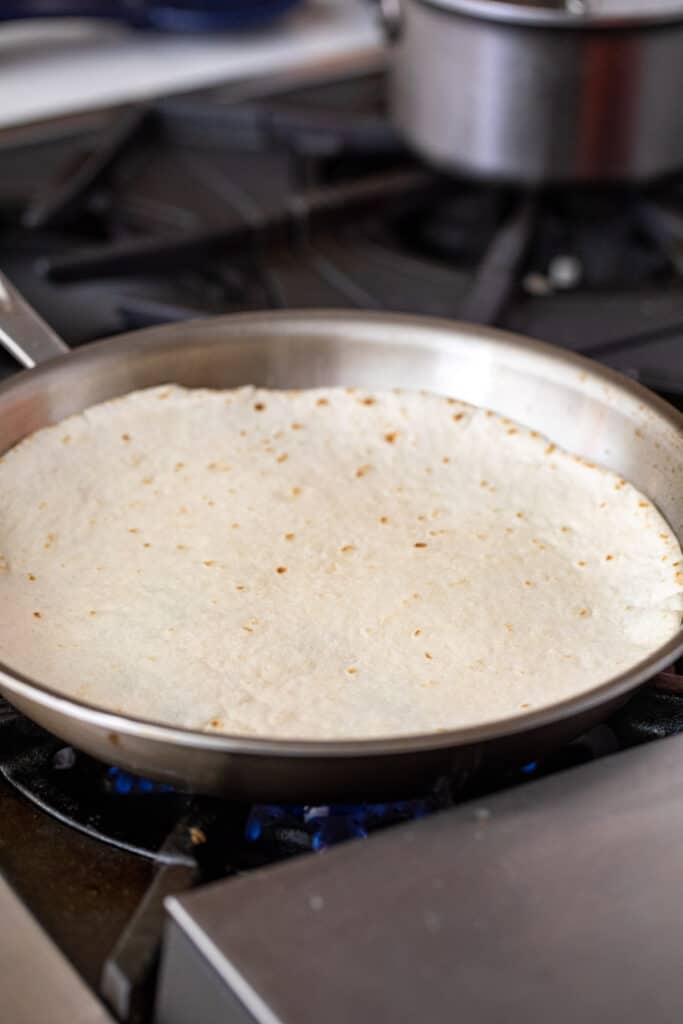 If you are using a griddle, you just have to kind of go for it. Use a big spatula and slide it right in the center and flip it with confidence. It should all stay together.
If you are using a skillet, you can use a spatula, but if there isn't enough room, you can slide the tortilla onto a plate and then flip it back into the skillet.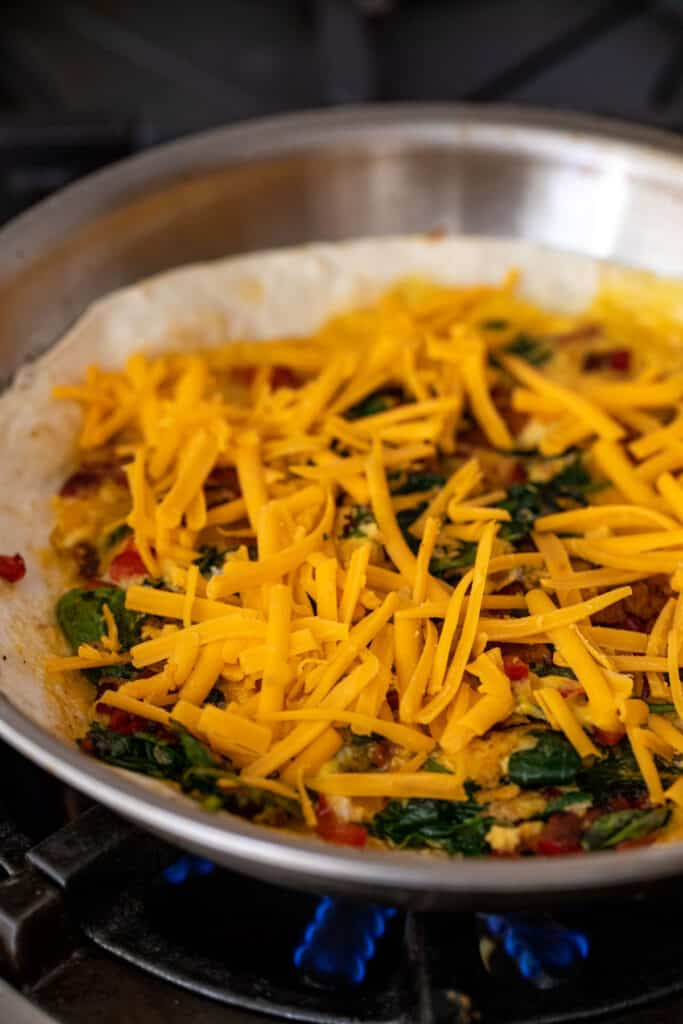 Finishing the breakfast tortilla is easy enough. Add some extra cheese to the egg side and then let it cook for 2-3 minutes so the tortilla gets very crispy and the cheese can melt.
Fold the tortilla in half and then slice it up. Garnish and serve while it's warm and melted!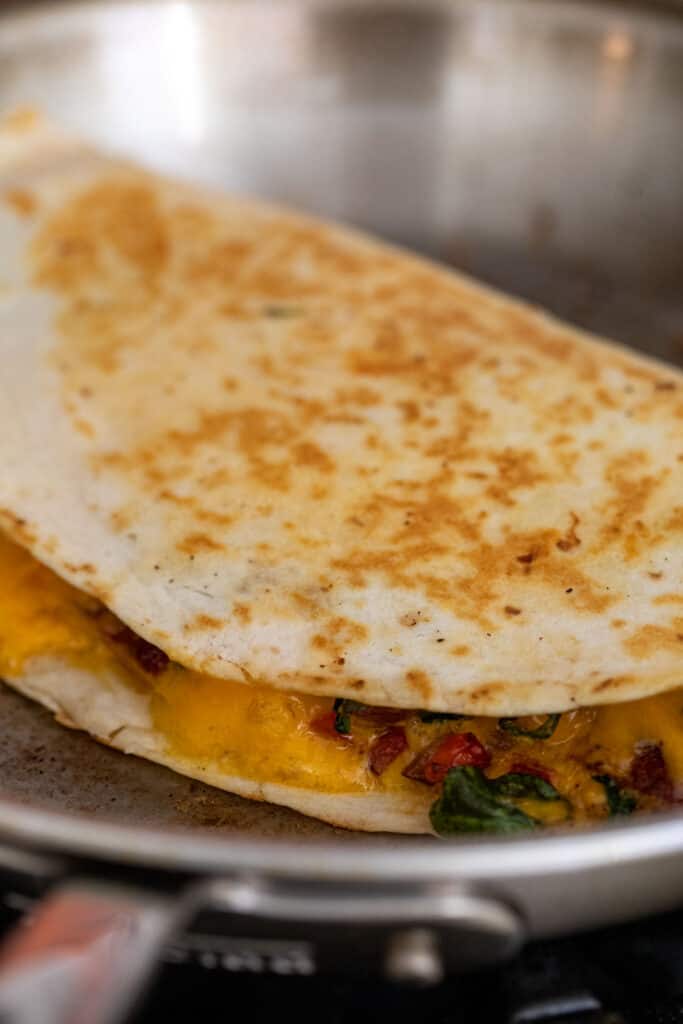 Substitutions for this Breakfast Tortilla
This is a completely flexible breakfast recipe. Here are a few ideas!
Different meats. Instead of bacon, experiment with sausage or ham for the filling.
Experiment with different veggies like onions, jalapenos, tomatoes, bell peppers, or any pepper that would go well with eggs.
Skip the crispy tortilla. Cook the eggs completely and roll it up in a soft tortilla for a breakfast burrito option.
Use different kinds of cheese like Monterey jack or mozzarella.
Really up the Tex-Mex flavors with salsa and avocado.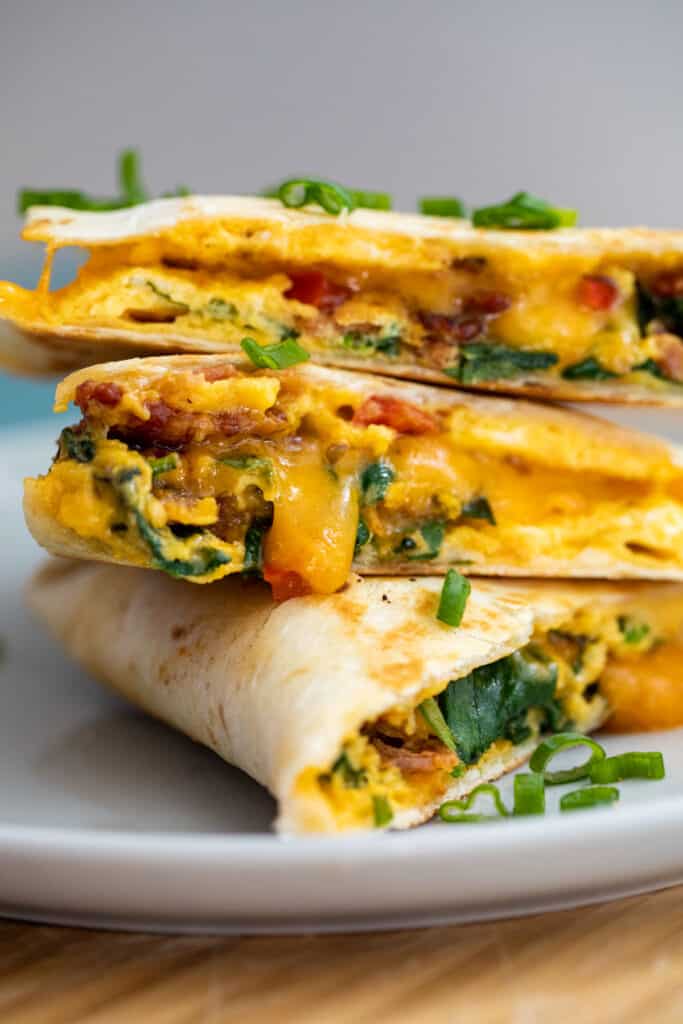 Breakfast Tortilla with Bacon and Cheese
This Breakfast Tortilla hack is one of my favorite breakfasts and a great way to use up leftover bacon and vegetables. Cross between quesadilla and scramble!
Ingredients
2

teaspoons

olive oil

,

divided

2

tablespoons

chopped red peppers

1

strip bacon

,

chopped

½

cup

baby spinach

1

large egg

,

scrambled

½

cup

cheddar cheese

,

divided

1 10

inch

flour tortilla

Salt and pepper

Scallions

,

garnish

Hot sauce

,

garnish
Instructions
Preheat your skillet or griddle to medium-low heat. When it is hot, add 1 teaspoon oil and the peppers. Cook for a minute or two until soft. Then add the bacon and spinach. Continue to cook until spinach wilts. Season with salt and pepper.

Add a second teaspoon of oil to the skillet or griddle. Add scrambled eggs and make sure it covers the diameter of the tortilla. It should be a very thin layer. Top with half the cheese and cover with the flour tortilla. Cook for 2 minutes.

Flip the breakfast tortilla either with a large spatula or by sliding it onto a plate and then flipping it back into the skillet.

Top with last half of the cheese and cook for 2-3 minutes until tortilla is very crispy.

Slide out onto plate and fold in half. Then cut into quarters and serve with scallions and hot sauce.
Nutrition
Serving:
1
Tortilla
|
Calories:
2820
kcal
|
Carbohydrates:
384
g
|
Protein:
85
g
|
Fat:
102
g
|
Saturated Fat:
39
g
|
Polyunsaturated Fat:
21
g
|
Monounsaturated Fat:
29
g
|
Trans Fat:
0.1
g
|
Cholesterol:
235
mg
|
Sodium:
6258
mg
|
Potassium:
1233
mg
|
Fiber:
28
g
|
Sugar:
30
g
|
Vitamin A:
2801
IU
|
Vitamin C:
28
mg
|
Calcium:
1566
mg
|
Iron:
29
mg
Did you make this recipe?
Other great breakfast recipes to start your day
If you are looking for some other great breakfast ideas, I have them all for you! Check out these beautifully cheesy croissant sandwiches which bake in the oven until crispy. These Mushroom Swiss Breakfast Wraps are also always a hit and pretty fast to make.
For something that you can make in advance, check out my Make Ahead Breakfast Burrito Pouches! For a look at the original idea that kind of got me thinking about these, check out these Bacon and Cheese Bread Omelets on Delish!