Have you ever had a time-travel recipe – a recipe that zaps you back in time to your childhood just by the taste or texture? This Chocolate Pudding Cake is a time-travel recipe for me. Every time I make it, The flavor and texture bring me back to my childhood. Of course, I jazz it up a bit with different icing and sprinkles, because you know… evolution, but at its essence, it's the same old pudding cake!
My dad used to call the original version of this cake "Calorie Cake" but that doesn't sound super appealing to me (and also the cake isn't super caloric actually) so I changed up a few of the layers, added loads of sprinkles, and now it's a Confetti Chocolate Pudding Cake!
Old becomes new, yet again.
What pudding works for this cake?
You can technically use any flavor of pudding mix for this cake. I personally prefer chocolate flavor or vanilla pudding flavor, but I've seen it made with banana also which sounds pretty darn good.
The key is to get the instant pudding mix which mixes easily with the milk in the recipe and doesn't require any cooking on the stovetop. I guess technically you could make a homemade pudding for this cake or use the cooked kind of pudding mix, but it's just more work and I'm not sure it would end in better pudding cake results.
How to make the chocolate pudding cake
I asked my mom for this original recipe and she sent me this single card of random words that somehow makes sense to her. How did people ever successfully make recipes?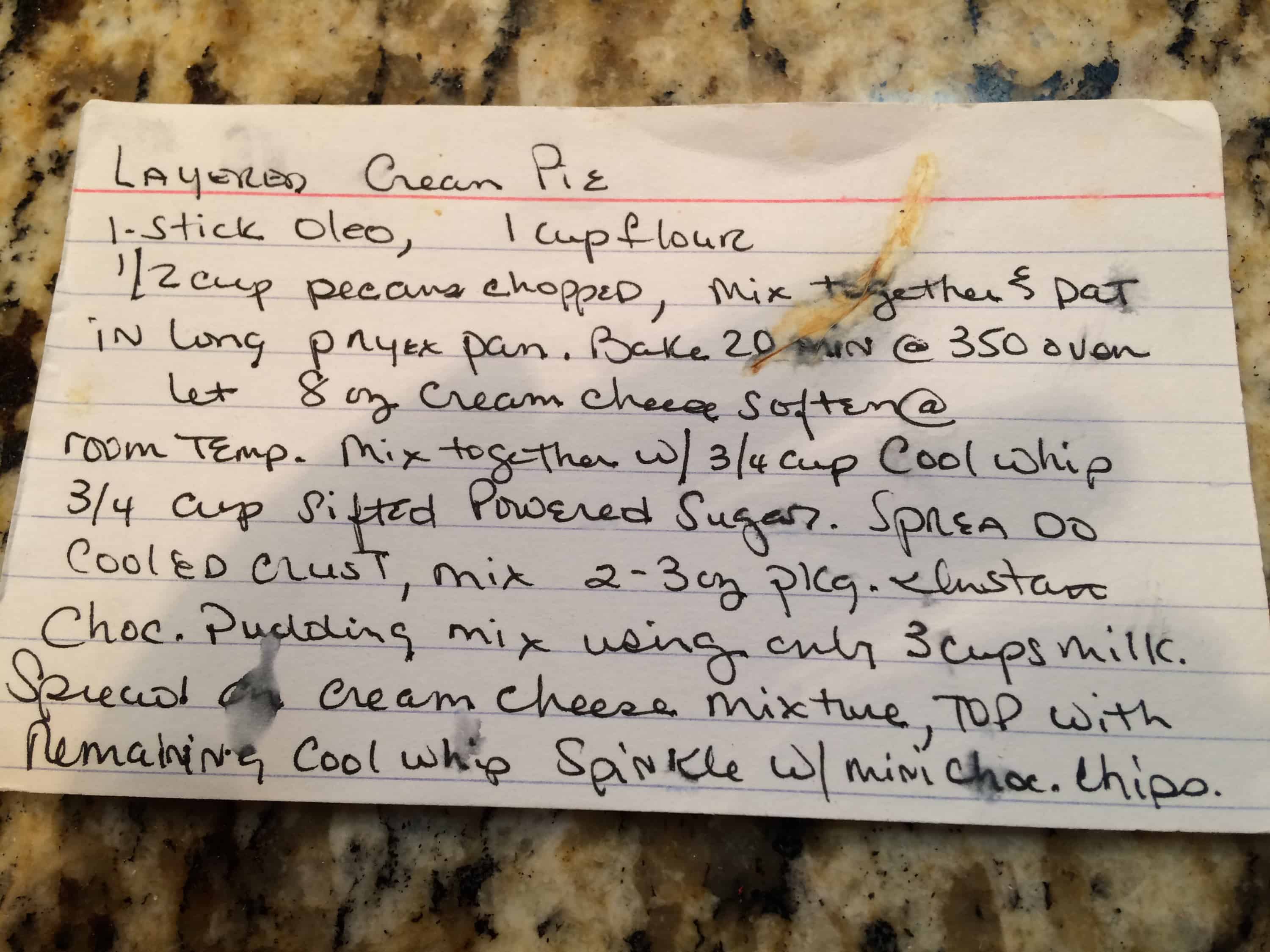 So allow me to translate that a bit into human-speak.
The pudding cake recipe starts with a basic nut crust which is just flour, pecans, some salt, and melted butter. Okay, the original recipe uses Oleo, but butter is better.
Press that mixture into the bottom of your pan. I like to use a 9×13 pan which ends up being pretty thin pieces. If you want a thicker finished cake, use an 8×8 dish or, honestly, you could layer the ingredients in a big bowl (just bake the crust and crumble it in the bottom).
The crust needs to bake for about 20 minutes at 350 degrees F. and then, most importantly, cool completely before you layer anything on it.
As far as the layers go, keep it simple. I didn't make homemade pudding for this. That's not what this recipe is about. It's about ease. So I just use instant chocolate pudding and mix it with milk and mini chocolate chips. The original recipe uses the chocolate chips on top but I like the sprinkles instead so I stir the chocolate chips into the pudding layer.
Then spread that layer on the baked and cooled crust. It's okay if your crust has some gaps in it. No need for perfection here.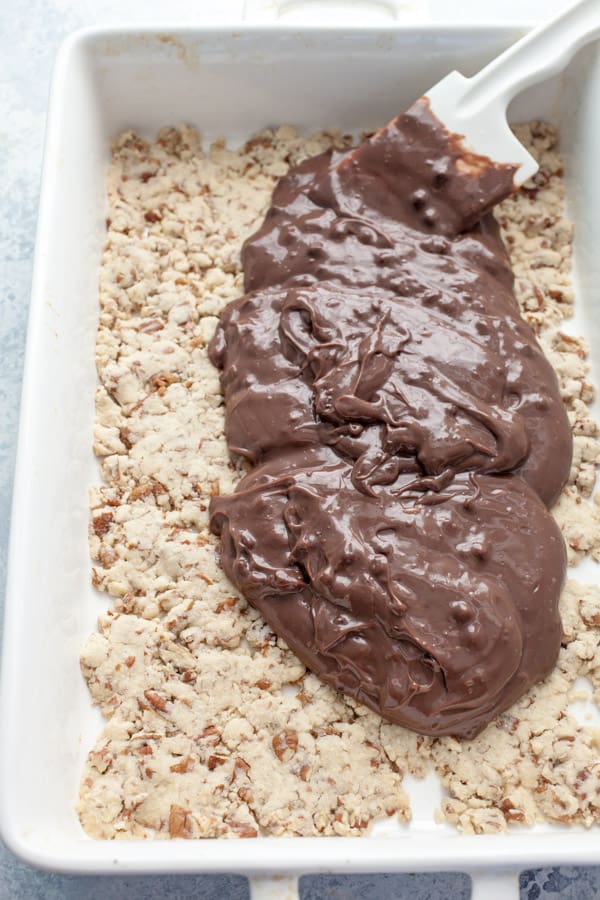 How to make the confetti icing
For the top layer of the pudding cake, which is some sort of delicious cream cheese frosting type situation, beat together cream cheese, powdered sugar, and cool whip. I added some sprinkles to this mixture as well. If you don't have a stand mixer, you can use a hand mixer without issue.
Spread that mixture onto the pudding layer. It'll be hard to get it perfect, but don't worry about it. We'll cover up any layer problems with cool whip.
For the final layer, spread on the rest of your cool whip (or you could make whipped cream from scratch). Then sprinkles and more sprinkles!
The finished cake is surprisingly light and it's the perfect chilled dessert on a hot summer day.
Kids love it and I'd be lying if I said I didn't also love this confetti pudding cake.
You could serve this cake with a scoop of vanilla ice cream if you wanted to add something to it, but it's pretty good on its own as well.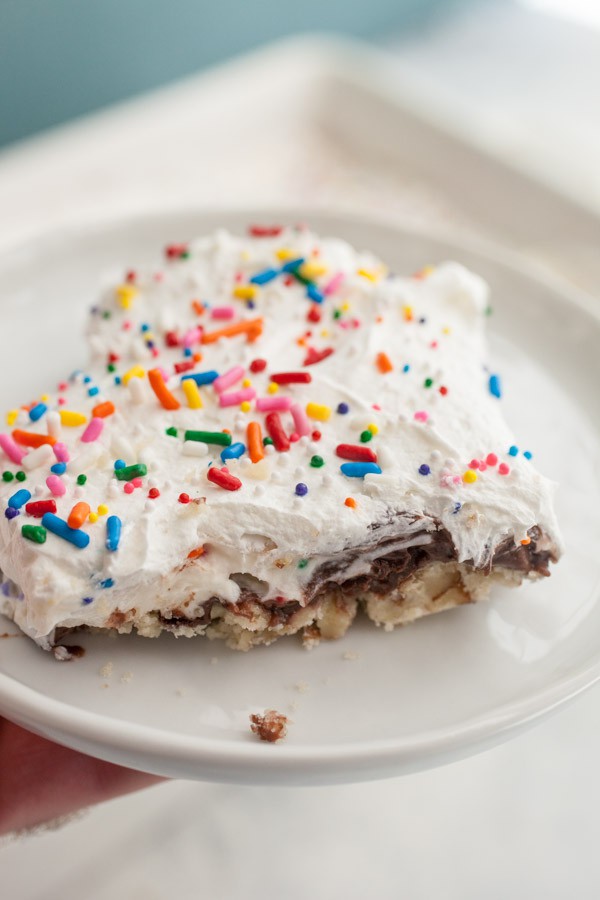 Storing Leftovers
The leftover pudding cake (if you have any) will keep really well in the fridge for a few days. After 3-4 days I find that the frosting starts to break down a bit and the crust gets soggy so probably plan on eating before then, which isn't a huge ask.
Chocolate Pudding Cake with Confetti Icing
This chocolate pudding cake is straight from my childhood. It has simple ingredients, but the combination of chocolate pudding, cream cheese, and cool whip is truly my ideal summer dessert.
Ingredients
Crust:
1

cup

all-purpose flour

¾

cup

minced pecans

½

cup

unsalted butter

,

melted

Pinch

of salt
Pudding Filling:
1

5.5 oz.

package instant chocolate pudding

2½

cups

whole milk

½

cup

mini chocolate chips
Frosting:
¾

cup

Cool Whip

1

8 ounce package cream cheese

3/4

cup

powdered sugar
Toppings:
Leftover cool whip

Sprinkles
Instructions
Preheat oven to

375

°F

. In a medium bowl, stir together flour, pecans, pinch of salt, and melted butter. Press the mixture into your baking dish. I like a 9×13 baking dish but you could make it in a deep 8×8 baking dish. Bake crust for 17-18 minutes at 375 and then let cool completely.

Whip together instant pudding and milk until thick and then stir in mini chocolate chips. When crust is cool, spread pudding onto crust. Chill for 15-20 minutes.

Next, using a hand mixer, whip together cream cheese, 3/4 cup cool whip, and powdered sugar until the mixture is a light frosting. Then stir in about 2 tablespoons sprinkles.

Spread the cream cheese layer on top of the chocolate layer. It's okay if there is some mixing. It doesn't have to be perfect!

Finally, spread on remainder of cool whip on top to make a clean top layer and then sprinkle heavily with sprinkles of your choosing.

Keep chilled until serving time!
Nutrition
Serving:
1
piece
|
Calories:
336
kcal
|
Carbohydrates:
38
g
|
Protein:
6
g
|
Fat:
24
g
|
Saturated Fat:
11
g
|
Polyunsaturated Fat:
3
g
|
Monounsaturated Fat:
7
g
|
Trans Fat:
0.5
g
|
Cholesterol:
43
mg
|
Sodium:
46
mg
|
Potassium:
181
mg
|
Fiber:
2
g
|
Sugar:
12
g
|
Vitamin A:
523
IU
|
Vitamin C:
0.2
mg
|
Calcium:
127
mg
|
Iron:
1
mg
Did you make this recipe?
Here are a few other great recipes to try!