Hey look at that! I made it through half of October before I posted a pumpkin recipe. In the food blog world that's serious restraint, people. This Pumpkin Tapioca Pudding was worth breaking the pumpkin seal for though. It seriously tastes like pumpkin pie in pudding form and is gluten-free!
Tapioca pudding is one of my favorite puddings to make. Once you get the method down it's a very flexible base that you can add almost any flavor to. The one trick is you have to beat egg whites which can be a bit of a workout!
Other than that though, the recipe is really straightforward and it makes enough for a few rounds of dessert. Make this before you get sick of pumpkin!
Pumpkin Tapioca Pudding
This creamy homemade tapioca is almost like pumpkin pie in a jar! It's so creamy and delicious and has just enough spice and sweetness. It is also a great gluten-free dessert!
Ingredients
⅓

cup

pearl tapioca

¾

cup

water

2 ½

cups

milk

1

15 oz. can pumpkin puree

2

eggs

,

separated

¼

teaspoon

salt

½

teaspoon

cinnamon

¼

teaspoon

ground nutmeg

½

cup

sugar

,

divided

½

teaspoon

vanilla extract

Whipped cream

,

for serving
Instructions
Add tapioca and water to a medium saucepan. Let soak for 30 minutes.

In a small bowl beat together egg yolks and pumpkin. Add mixture to tapioca along with milk, 1/4 cup sugar, salt, cinnamon, and nutmeg.

Simmer tapioca mixture over low heat for 10-15 minutes, uncovered, until it starts to thicken.

Meanwhile, beat egg whites with 1/4 cup sugar to soft peaks (a cold clean bowl helps).

Whip 1 cup of the hot tapioca mixture into the egg whites. Then fold the egg white mixture back into the tapioca pot. Stir over low heat for another few minutes.

Remove from heat and let the tapioca cool for a few minutes. Then stir in vanilla.

Serve tapioca warm or chill for later. It'll set up more if you let it chill. Serve with whipped cream.
Nutrition
Serving:
1
cup
|
Calories:
285
kcal
|
Carbohydrates:
48
g
|
Protein:
8
g
|
Fat:
7
g
|
Saturated Fat:
4
g
|
Polyunsaturated Fat:
1
g
|
Monounsaturated Fat:
2
g
|
Trans Fat:
0.01
g
|
Cholesterol:
100
mg
|
Sodium:
236
mg
|
Potassium:
264
mg
|
Fiber:
0.3
g
|
Sugar:
37
g
|
Vitamin A:
406
IU
|
Vitamin C:
0.02
mg
|
Calcium:
212
mg
|
Iron:
1
mg
Did you make this recipe?
Pumpkin Tapioca Pudding
This recipe, of course, starts with tapioca. The first time I made tapioca I thought surely the recipe was a mistake. But yes, 1/3 cup of uncooked tapioca will turn into around 4 cups of finished pudding. It expands like crazy!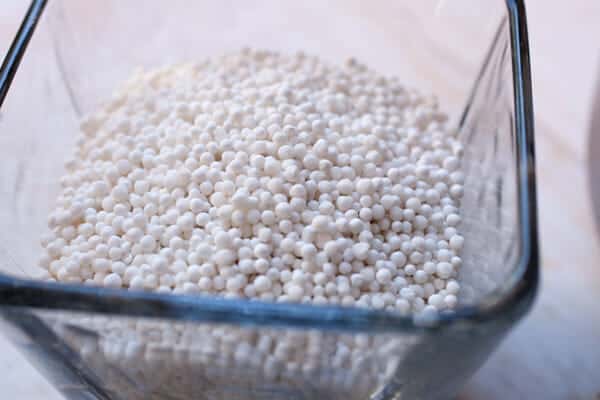 To get the tapioca going, soak it in water for about 30 minutes in the pan you are going to use to cook it in. Don't drain it or anything after it soaks. Just add more stuff to this pan.
Speaking of stuff: pumpkin!
Stir your pumpkin together with the egg yolks. Be sure to buy just pumpkin puree, not pumpkin pie mix which has a ton of other crap in it.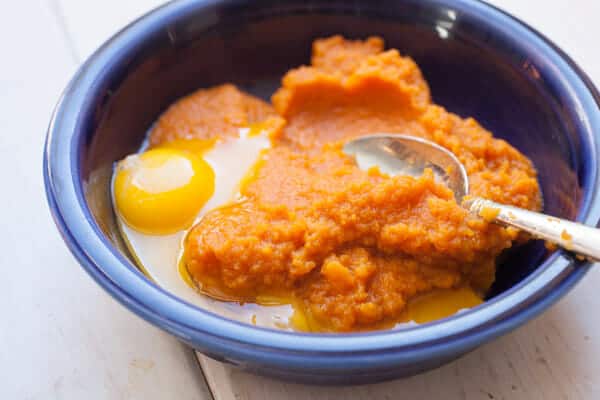 Add the pumpkin mix to the tapioca with the spices, salt, sugar, and milk. Your tapioca will be buried but it'll absorb all this stuff in no time.
Keep this mixture over low heat and bring it to a simmer, slowly. Let it simmer for 10-15 minutes.
Meanwhile, let's talk egg whites! I have a nice copper bowl that helps whipping egg whites. You can also use a hand mixer or stand mixer. Just be sure everything is really clean. If you have any fat in your bowl (egg yolk for example) they will never whip up correctly.
With my cold bowl, I can whip these up with a whisk in a few minutes. Add the sugar to the egg whites also!
Then add about a cup of hot tapioca mixture to the egg whites to bring them up to temperature and then fold the egg whites back into the pudding mixture. This might sound difficult, but it's really not that hard. Just keep your temperature low and you'll be fine.
Simmer that for another few minutes and your pudding is basically done! It should be nice and thick at this point. Let the pudding cool for a few minutes and then stir in the vanilla.
You can serve the pudding warm, but I prefer it cold. It'll set up more as it cools.
I also like to serve mine with a little fresh whipped cream and a sprinkle of extra cinnamon.
This pumpkin tapioca pudding is a great fall dessert. Give it a shot!