PBS aired a show called The Mind of a Chef last year and I quickly fell in love with it. I don't think you can stream it on PBS anymore but I think it's on netflix still.
The show featured David Chang and was narrated by Anthony Bourdain. Each episode would feature a theme and the two of them would work through how chefs think differently about that thing.
My favorite episode was "rotten." It was all about how our perception of rotten food is pretty backward and some of the most delicious things are actually based on rotten items. There were lots of examples in the show like kimchi but the thing that stuck with me the most was bananas. Anyone who has ever made really good banana bread knows that the trick is to use basically rotten bananas. It really brings out the flavors and makes it taste intensely like bananas.
In the show David Chang interviewed his baker for the Momofuku milk bar and she said that it was also really important to use rotten bananas for things like puddings and pies. I made a mental note to try out homemade banana pudding the next time I had some super-rotten bananas. These Banana Pudding Cups are the delicious result. It only took me almost a year to actually do it!
Homemade Banana Pudding Cups
These delicious desserts start with made-from-scratch banana pudding and are topped with a light and fluffy banana whipped cream.
Ingredients
3

very ripe

,

almost rotten bananas

⅓

cup

heavy cream

⅓

cup

milk

½

cup

sugar

2

tablespoons

corn starch

3

large egg yolks

½

teaspoon

salt

1

teaspoon

powdered gelatin

3

tablespoons

unsalted butter

½

teaspoon

yellow food coloring

,

optional

Vanilla Wafers
Banana Whipped Cream:
1

cup

heavy cream

1

cup

powdered sugar

1

ripe banana

,

sliced
Instructions
In a blender, combine very ripe bananas, cream, milk and blend until smooth. Then add sugar, corn starch egg yolks and salt and blend again until smooth.

Transfer pudding mixture to a medium pot and bring to a simmer over medium heat. Stir continuously to prevent scorching. Once pudding mixture is bubbling lightly, cook for a few minutes to cook out corn starch flavor. Pudding should thicken nicely.

Meanwhile, sprinkle gelatin over 2 tablespoons cold water and let sit for five minutes to bloom.

When pudding is thick, remove from heat and return to blender. Add gelatin, butter, and coloring to the pudding and blend until smooth.

Transfer pudding to an airtight container and chill for at least 2 hours.

When you're ready to make cups, whisk together powdered sugar and cream in a mixing bowl until the cream holds stiff peaks. Fold in chopped ripe bananas.

To make a cup, crumble a few vanilla wafers into the bottom of a small cup. Add a few spoonfuls of pudding, followed by a layer of whipped cream. Follow that with more pudding and a final layer of whipped cream. Arrange wafers around the edges of the cup as well.

Chill cups until served.

If you don't want to make the cups, you also just do layers of pudding and whipped cream in a large casserole dish and spread wafers around the edges of the pudding.
Notes
Roughly adapted from Momofuku Milk Bar banana pie recipe.
Nutrition
Serving:
1
Pudding Cup
|
Calories:
638
kcal
|
Carbohydrates:
95
g
|
Protein:
7
g
|
Fat:
42
g
|
Saturated Fat:
25
g
|
Polyunsaturated Fat:
2
g
|
Monounsaturated Fat:
11
g
|
Trans Fat:
0.3
g
|
Cholesterol:
260
mg
|
Sodium:
331
mg
|
Potassium:
546
mg
|
Fiber:
3
g
|
Sugar:
47
g
|
Vitamin A:
1732
IU
|
Vitamin C:
11
mg
|
Calcium:
104
mg
|
Iron:
1
mg
Did you make this recipe?
Banana Pudding Cups
Making the Pudding
Banana pudding was a frequent dessert in my childhood. Of course, I never had it made from scratch. We always used the pudding packs to make it. This homemade version has a lot more depth to it. The flavors are really delicious and the pudding is very filling.
Honestly, these bananas could've been even more rotten. They should be too mushy to eat and you know you're getting close if fruit flies are crowding around them.
Mine were pretty mushy and had an intense banana smell.
Making this pudding is actually pretty easy. You'll need a blender for it, but after that there's not much to know.
Start by blending together the bananas, cream, and milk and then add in the sugar, yolks, salt, and corn starch. The mixture will smell great but won't have that yellow color. Obviously, bananas aren't actually bright yellow so we will have to add that later.
Once all of that is mixed together, transfer the pudding mixture to a medium pot and simmer it over medium heat. Stir it continuously as it cooks to make sure it doesn't scorch and stick.
After a few minutes of bubbling it will start to thicken nicely and hold its shape. I think you can tell from the below photo about what the consistency was on my pudding at this point.
Meanwhile, add a teaspoon of gelatin to two tablespoons of cold water and let it sit for about five minutes. This blooming process will make sure the gelatin doesn't clump when you add it to the pudding.
Gelatin isn't vegetarian but it does make for a really thick and delicious pudding. I think though if you wanted to eliminate it you could just double the corn starch in the recipe and it would thicken nicely.
When your gelatin is bloomed and your pudding is thick, pour the pudding back into the blender and add in the bloomed gelatin, food coloring, and butter. Blend all the together and the butter should melt from the heat of the pudding.
As always, be careful while blending hot stuff. Pulse slowly to start to make sure it doesn't explode out of the blender.
You can leave out the food coloring if you want, but I love the bright yellow coloring.
Transfer the pudding to the fridge to chill for at least two hours and it will set up beautifully.
Banana Whipped Cream
When you're ready to make the Banana Pudding Cups, get this stuff ready for a quick banana whipped cream. The banana for this part should be ripe, but not totally rotten.
Whip together the cream and sugar until it holds stiff peaks and then fold in the bananas.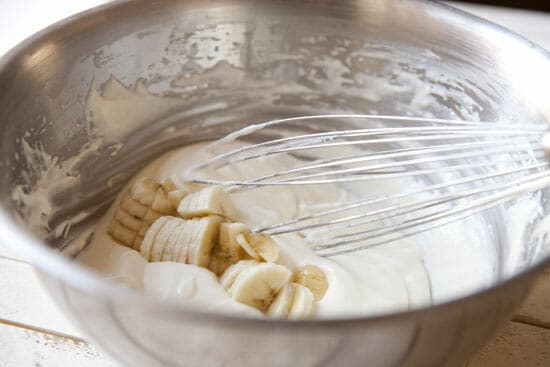 Making the Banana Pudding Cups
You obviously don't have to make these little cups with the pudding. You can just layer the pudding in a casserole dish with the whipped cream if that's more your style.
If you do want to make the cups though, crunch of a few vanilla wafers into four small cups. Then top with a few spoonfuls of pudding.
Top with whipped cream and more pudding.
Then top with a final layer of whipped cream and stick a few wafers around the edges.
Look at that beauty!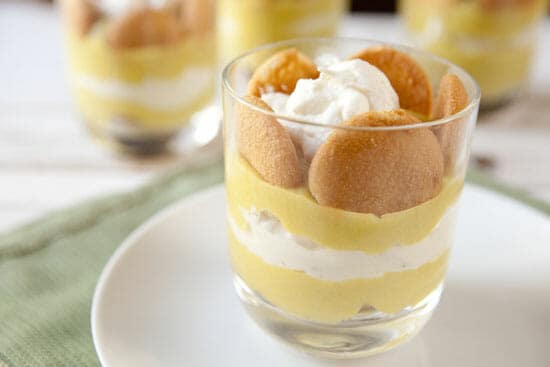 The first bite of one of these Banana Pudding Cups brought me straight back to my childhood, but it was much better than I remember it being. The banana flavor is intense and wonderful.
This is totally worth the time it takes to make if you are a banana pudding fan. Buy some bananas, let 'em rot, and make this in a few weeks!