This Chimichurri Potato Salad was born out of a love/hate relationship.
First, my love of chimichurri sauce. Traditionally, it's a South American topping that's served with big meaty steaks. Like this Argentine steak for example. I love the flavors so much that I wanted to use it for something other than meat, but that could be served with meat.
Second, my hate for super-thick, mayo potato salad. It's just not my thing even though I do love potatoes. Something about eating a lot of mayo on a hot day just doesn't get me excited.
So, by skipping the mayo and subbing it with chimichurri sauce (with Greek yogurt), I solved both issues at once!
Chimichurri Potato Salad
Ditch the bland potato salad this summer. For this version, I roast the potatoes and then toss them in a tangy and spicy sauce.
Ingredients
3

pounds

new

,

red potatoes, diced

3

tablespoons

olive oil

1

teaspoon

kosher salt

2-3

stalks celery

,

diced (don't roast the celery)
Chimichurri sauce:
½

white onion

,

diced

½

red pepper

,

diced

3-4

cloves

garlic

,

minced

⅓

cup

fresh parsley

,

minced

1

tablespoon

fresh thyme

,

minced

1

teaspoon

red pepper flakes

A big pinch salt and pepper

⅓

cup

olive oil

⅓

cup

red wine vinegar

2

cups

Greek yogurt
Instructions
Dice potatoes and toss with olive oil and salt. Roast at 400 degrees for about an hour, stirring halfway through.

Mix all the sauce ingredients together in a big bowl. Stir in roasted potatoes and diced celery.

Let sit overnight if possible or just chill for a few hours.
Nutrition
Serving:
1
Side
|
Calories:
398
kcal
|
Carbohydrates:
45
g
|
Protein:
12
g
|
Fat:
20
g
|
Saturated Fat:
3
g
|
Polyunsaturated Fat:
2
g
|
Monounsaturated Fat:
14
g
|
Trans Fat:
0.003
g
|
Cholesterol:
3
mg
|
Sodium:
436
mg
|
Potassium:
1130
mg
|
Fiber:
6
g
|
Sugar:
5
g
|
Vitamin A:
759
IU
|
Vitamin C:
65
mg
|
Calcium:
119
mg
|
Iron:
3
mg
Did you make this recipe?
Chimichurri Potato Salad
Prepping the Potatoes
You could use any potatoes you wanted for this dish really. I use the red potatoes just because you don't have to peel them. If you use Russet potatoes, you should peel them though just because the skin can be a bit on the thick side.
Assuming you get red potatoes though, just chop them up into about 1/2 inch cubes. They definitely don't have to be perfect!
Toss the potatoes with olive oil and salt and bake them at 400 degrees for about an hour.
Oven Haters Unite! I get that a lot of people don't want to use their ovens in the summer. Trust me I get it.
I roasted my potatoes for this version just to try it out. I like how it makes them slightly crunchy.
You could definitely just boil them though or even grill them.
If you do roast them though, after an hour you'll have something like this!
While the potatoes cook, you can work on the sauce.
Chimichurri Chachacha
There are a ton of variations on chimichurri sauce. You can make them super-spicy or not. I've even seen versions with habanero in it which seems a bit excessive.
For me, I don't like mine really spicy, but I do like it really garlicky! I go heavy on the parsley and garlic for my version.
Just dice everything very fine including the red pepper and onion and then stir it together in a large bowl with the red wine vinegar.
This will smell amazing already.
This mix of veggies and spices pretty much guarantees that you will not have a bland potato salad!
Once all that is ready, you can stir in your Greek yogurt.
In reality, you could of course you mayonnaise if you are super into it. But I really recommend trying the yogurt. It makes the salad nice and tangy rather than just goopy.
I used about two cups of yogurt, but don't be afraid to use more or less depending on the consistency you want.
This was what a spoonful of my sauce looked like.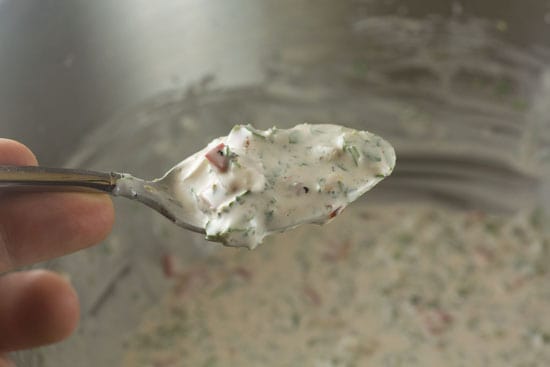 Then I just stirred in all my fresh celery and potatoes.
In my opinion, a good potato salad always has celery. I love the crunch it brings.
Taste the salad and adjust for flavors. You might want a bit more salt and pepper or maybe a dash of hot sauce. Go crazy with it!
If you are going to any sort of barbecue for the 4th of July this week, try this out!
This Chimichurri Potato Salad recipe is one of my favorite potato salad recipes these days.
You might like these other recipes: