If you plan to make this wonderfully sweet and spicy Mango Habanero Baked Brie, just be sure to warn those who are eating it. Grabbing a big chunk of it unaware of the spicy contents can be a bit of a shock!
When I first thought of this mash-up I actually thought it might be too spicy. Habaneros are SO spicy, but they can also have a wonderful fruity flavor and I was hoping the combination of sweet mango and creamy brie cheese would mellow the heat just enough to be delicious.
Turns out it's SO delicious and bordering on addictive. I couldn't stop returning to it.
There's a few tips and tricks to nailing it though so let's dig in!
Making the Mango Habanero Jelly
This is not a jelly that is findable in most stores so we have to make it. It's for the best.
You really just need a small batch of it for the baked brie. I just put some frozen mangos in a pot with minced habanero (be careful!), sugar, water, and a pinch of salt.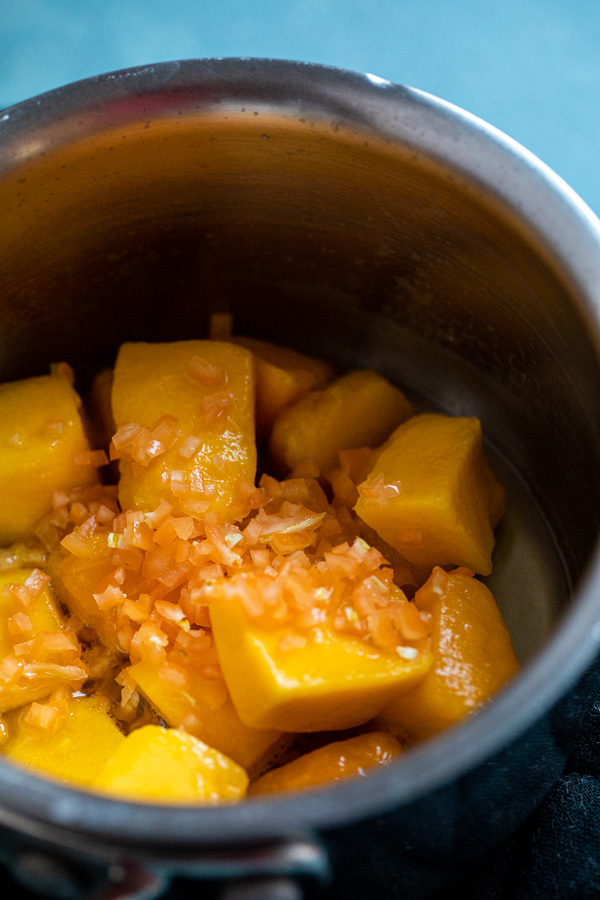 Let those simmer together for a few minutes and mash them with a fork as they cook.
In less than 10 minutes you'll have a wonderful jelly. If you do it right, the jelly in its pure form will be slightly TOO spicy. It'll mellow as it bakes with the brie.
Making the Baked Brie
The trick to making this brie is to make sure the brie and jelly is completely encased in puff pastry so there are no leaks!
Thaw your puff pastry sheet completely and spread about half of the mango jelly on the sheet. Then place an 8-ounce wheel of brie right on top and then add the rest of the jelly. So the jelly is one both sides, not just piled on one side.
Carefully fold up the puff pastry and crimp in closed. Then make sure you flip the puff pastry so the folded side is DOWN on your baking sheet. This will seal the puff pastry as it bakes.
To make sure the puff pastry gets golden brown, brush it with some egg wash (1 egg whisked with 1 tablespoon water). Then it's ready for the oven!
Bake this spicy sweet baked brie at 350˚F for 25-30 minutes until the puff pastry is golden brown.
MOST IMPORTANT STEP: Do NOT cut into the baked brie right away. The brie is basically molten at this point and it'll just flow out and make a huge mess.
Let the brie cool on the countertop for 10 minutes or so that way the cheese can solidify slightly.
It's a hard 10 minutes to wait, but worth it!
Then you can slice into it and be rewarded with beautifully melted brie with spicy mango habanero jelly!
Pile this baked brie on crackers, fruit, or just snag a piece with the puff pastry and eat it as-is!
If you have leftover baked brie (ha!) you can reheat it in a 300˚F oven. Wrap it tightly with foil or parchment paper to prevent the cheese from just leaking everywhere!
Have a great New Year's everybody! See you all in 2021!
Mango Habanero Baked Brie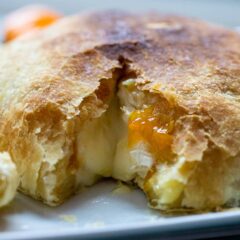 A spicy fruity twist on a classic! This Mango Habanero Baked Brie will bring some heat to your appetizer table! macheesmo.com
Ingredients
6

ounces

frozen mango

1

habanero pepper

,

seeded and minced

¼

cup

water

¼

cup

sugar

Pinch

of salt

8

ounce

wheel of brie

Puff pastry sheet

Egg wash

,

1 egg + 1 tablespoon water

Crackers for serving
Instructions
NOTE: When dealing with habaneros, either use food-safe rubber gloves or be sure to wash your hands very thoroughly after dicing the habaneros. They are very spicy and will burn your eyes/etc if you don't wash your hands.

Preheat oven to 350˚F. In a small saucepan, combine mangos, minced habanero, sugar, water, and a pinch of salt. Cook the mango habanero jelly over medium heat until it breaks down and simmers lightly. As the mixture cooks, use a fork to mash it together to form a jelly. Cook for a few minutes until the mixture thickens (8-10 minutes total cooking). Then remove the mixture from the heat and let cool slightly.

Spread about half of the mango jelly on a sheet of thawed puff pastry, right in the center. Place an 8-ounce wheel of brie in the center of the puff pastry. Top with the rest of the jelly and fold the puff pastry over, completely enclosing the baked brie.

Place the wrapped brie on a baking sheet (parchment paper helps for easier clean-up). Place the wrapped brie folded side down so it seals well. Brush the baked brie with egg wash.

Bake the brie at 350˚F for 25-30 minutes until it's golden brown and flaky.

Let the brie sit at room temperature for about 10 minutes and then serve with crackers and/or fruit.
Nutrition
Serving:
0.25
brie
|
Calories:
273
kcal
|
Carbohydrates:
22
g
|
Protein:
12
g
|
Fat:
16
g
|
Saturated Fat:
10
g
|
Polyunsaturated Fat:
1
g
|
Monounsaturated Fat:
5
g
|
Cholesterol:
57
mg
|
Sodium:
358
mg
|
Potassium:
166
mg
|
Fiber:
1
g
|
Sugar:
21
g
|
Vitamin A:
820
IU
|
Vitamin C:
19
mg
|
Calcium:
112
mg
|
Iron:
0.4
mg
Did you make this recipe?
Here are a few other great holiday appetizers!