Longtime Macheesmo readers will know that I'm married to a Tex-Mex lover and these Carne Asada Lovers are the kind of thing that I've literally served on Valentine's Day. (One year I even made them with heart-shaped chips, but this was before we had kids and frankly I'm just tired now.)
But, the nachos are still on point, and topping homemade chips with carne asada, beans, salsa, veggies, and cheese, is a pretty much guaranteed success.
The best tip for homemade nachos: chips
Let me make the case for why you should fry your own chips for this recipe:
First, when I ran tortilla chips through the homemade trials, it became clear when you should take the time to make your own chips. While you can make microwave nachos using store-bought chips, make a fully loaded nachos situation is much easier with homemade chips.
Second, This is a sturdy nacho dish. The toppings are no joke and if you use flimsy store-bought chips, you'll end up with mostly soggy chips. It'll still taste good, but you'll be disappointed with the chips.
Of course, if you wanted to get cutesy, you could cut your tortillas into rounds or any other chip, but the easiest is to just cut your corn tortillas into sixths. If you are making a full batch of nachos, I'd recommend frying at least 20 tortillas. Once you get the process going, it actually is fast to make them.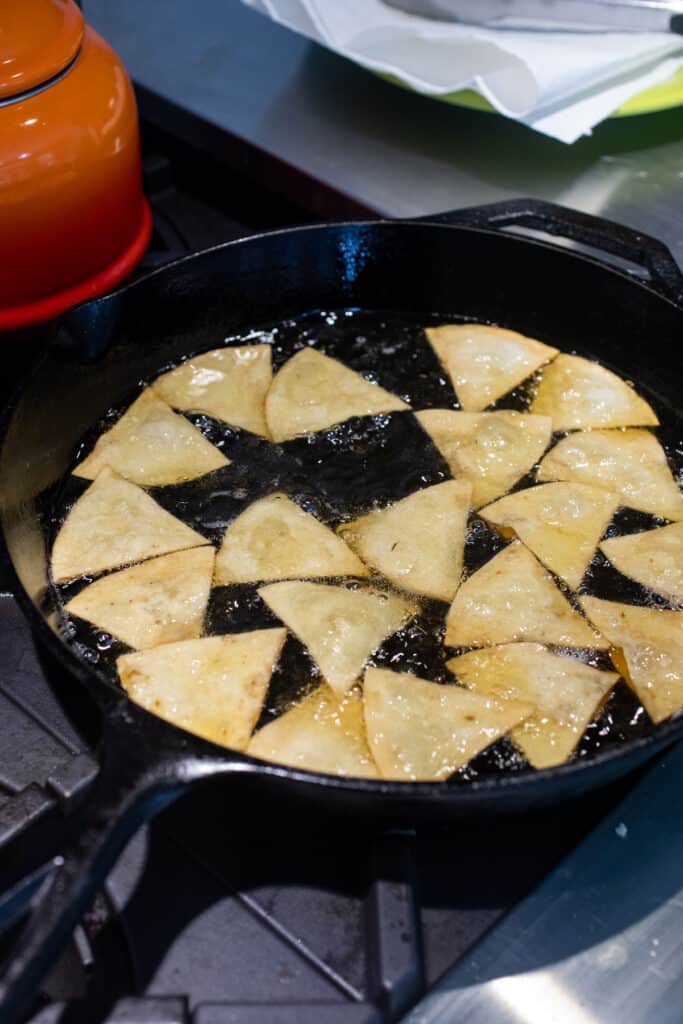 When cooking the chips, remember to add your tortillas in batches and fry them until they are golden brown. This should take 3-4 minutes but basically when the chips stop bubbling, they are done.
Drain the chips and toss them in a bowl with some paper towels. Season them right away with salt. This will be the best chips you can get unless you live close to a Latin grocer that makes fresh chips each day (in which case you can just use those).
Making Quick Carne Asada
You can use a wide variety of steak cuts for this carne asada, but if you're choosing, I'd go with a flank steak cut or skirt steak cut. I've used both in this exact same recipe with great results.
If you are using skirt steak, it's a thinner cut and tends to be longer so you might have to cut it into two pieces if you are cooking it in a skillet. If you use a grill (recommended) then you can toss the whole thing on the grill.
Skirt steak also tends to be slightly cheaper than flank steak so it's my preference if you have a choice.
If you do use flank steak, that's awesome. It will be very delicious, but will probably need an extra minute or two per side since flank steak tends to be thicker than skirt steak. Keep in mind that you are going to be topping nacho with this steak so it's okay if it's slightly undercooked at this point.
This was my finished skirt steak on this particular day, which I grilled for about four minutes per side and then let it rest for 10 minutes before slicing and adding to my nachos.
Once your steak is cooked, you're ready to move onto the other nacho steps!
Building Carne Asada Nachos
asdf
Once you have your steak cooked and the chips made, then you are finally to make some damn good carne asada nachos!
I like to split my toppings into items that I think go well in the oven and items that I add after. Things like cilantro, tomatoes, sour cream, and guacamole, I think should be held back and added after the nacho are baked.
But, items like the carne asada, beans, peppers, salsa, red onion, and cheese (obvs) should be added to the chips in layers before you stick them in the oven.
The worst thing you could do is pile on a big pile of chips and then add the toppings on the top of that. Since these chips are so sturdy, it's a good idea to spread them out in a single layer, top that layer, and then build a layer or two on top of them, making a wonderful nacho stack!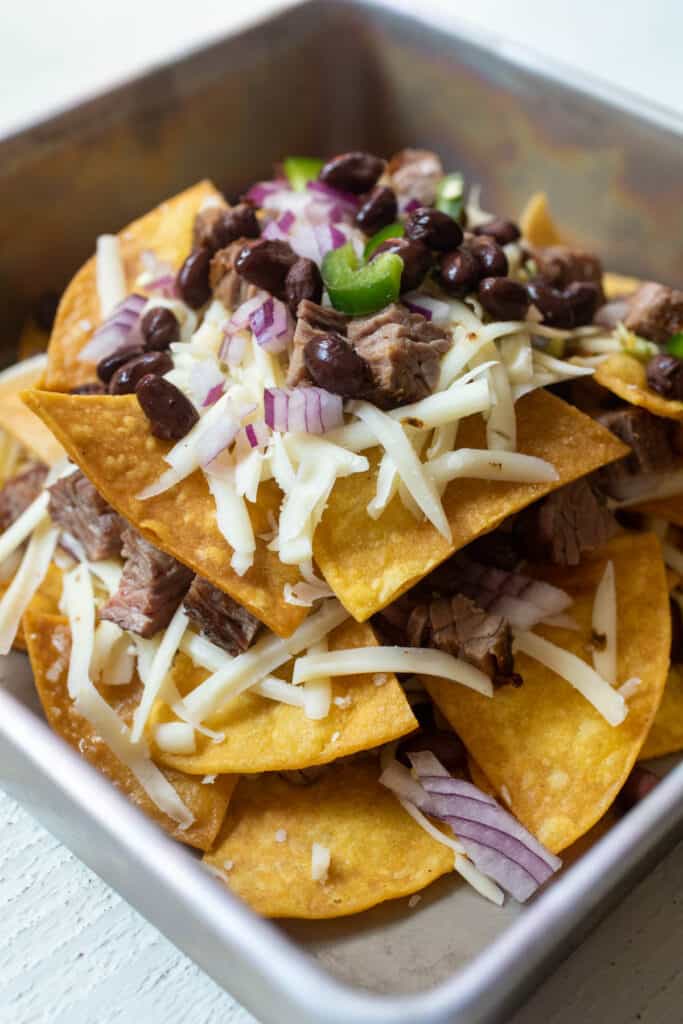 Making these Nachos in advance
It's really easy to make these nachos in advance because you can make the parts in advance and then just pile them up and bake them when you are ready for nachos.
So, the chips can and should be made in advance. The carne asada also keeps just fine in the fridge for up to five days. You can prep the cheese and other toppings a bit in advance as well.
If you do all of that, then the actual step of baking the nachos is just a few minutes.
Finishing the Nachos
When your steak is diced, add it to tortillas together with the drained and rinsed black beans, red onion, jalapeno, tomatillo salsa, and cheese. This is ready to go!
I like to use a baking sheet for my nachos so the nacho end up wider rather than higher.
Top the chips with plenty of the carne asada mixture and then sprinkle on grated Monterey Jack cheese and crumbled cotija cheese.
Pop that whole thing in a 400 degree F. oven for 5-6 minutes until the cheese is just melted and stringy.
Once the nachos come out of the oven, then add the toppings that don't do well with direct heat: cilantro, sour cream, guacamole, tomatoes, etc.
It'll be love at first bite.
Carne Asada Nachos
Carne Asada Nachos! A fun twist on classic nachos with homemade chips and a spicy carne asada topping. Plus, the works on the other nachos toppings!
Ingredients
Carne Asada:
1

pound

flank steak

1

teaspoon

kosher salt

1

teaspoon

black pepper

1

teaspoon

chili powder

1

teaspoon

paprika

¼

teaspoon

garlic powder

2

tablespoons

olive oil
Nachos:
1

15 oz. can black beans, drained and rinsed

½

red onion

,

diced

1

lime

,

juice only

½

cup

tomatillo salsa

1

teaspoon

cumin

8-12

oz.

Monterey jack cheese

,

grated

2-4

oz.

Cotija cheese

,

crumbled

1

avocado

,

toppings

Fresh tomatoes

,

chopped, toppings

Serrano peppers

,

minced, toppings

Sour cream

,

garnish

Cilantro

,

garnish

Corn Tortillas

,

cut and fried

2

quarts

vegetable oil

,

for frying

Kosher salt

,

for seasoning
Instructions
For chips:
Heat oil in a large pot or deep fryer with a thermometer to 350 degrees F. Cut corn tortillas into sixths. Fry chips in batches until they are golden brown and no longer bubbling, about 3-4 minutes per batch. Remove chips with a slotted spoon and transfer to a bowl lined with some paper towels. Season while warm with kosher salt.
For carne Asada:
Preheat oven to 350 degrees F. Mix together kosher salt, pepper, chili powder, paprika, and garlic powder in a small bowl. Drizzle flank steak with olive oil and season well with the spice mix. You can use it liberally to cover the steak, but you may not need all of it.

Heat a cast iron skillet over medium-high heat. Once hot, add flank steak and sear for 4 minutes per side. Then transfer to oven and roast for 5-6 minutes until the steak reaches 135 degrees F. in the thickest part. It's okay if it's undercooked slightly since it will bake again on the nachos.

Let steak rest for 10 minutes and then chop into small chunks.

NOTE: You can also grill the skirt steak or flank steak if you have your grill up and running.
To Make Nachos:
Heat oven to 400 degrees F. Spread chips out in an even layer on a baking sheet. Top chips generously with the carne asada, beans, red onions, cheese, and salsa. The ingredients should be enough to feed four so if you are just making it for two, you might have some leftover.

Sprinkle nachos with grated Monterey jack cheese and crumbled cotija cheese. Bake the nachos until the cheese is just melted, 4-5 minutes. Keep a close eye on it so the cheese doesn't overbake and become hard.

Remove nachos and serve with any and all toppings of your choice!
Nutrition
Serving:
1
Plate
|
Calories:
5044
kcal
|
Carbohydrates:
69
g
|
Protein:
49
g
|
Fat:
518
g
|
Saturated Fat:
90
g
|
Polyunsaturated Fat:
276
g
|
Monounsaturated Fat:
126
g
|
Trans Fat:
3
g
|
Cholesterol:
131
mg
|
Sodium:
1420
mg
|
Potassium:
1061
mg
|
Fiber:
13
g
|
Sugar:
4
g
|
Vitamin A:
1161
IU
|
Vitamin C:
12
mg
|
Calcium:
647
mg
|
Iron:
5
mg
Did you make this recipe?
Here are some other recipes you might like!