I usually think of hash as a leftover dish. I make some version of it pretty regularly with whatever I have in my fridge. It's almost always delicious. (Except that one time. We won't talk about that time.)
But this version is more of a made-from-scratch hash. In other words, what happens if you don't have leftovers, but still want hash? Also, do you ever not want hash? I didn't think so.
The good news is that even though we aren't starting with leftovers, this is a pretty quick hash to toss together. It's a hearty breakfast, no doubt, so plan it around a light lunch. Definitely plan for to make it though. It's spicy, savory, and a great way to start a weekend.
Carne Asada Hash
You'll dream of this hearty, but fast, breakfast after you try it. The perfect mix of tender steak, crispy potatoes, and spicy peppers.
Ingredients
8

ounces

cubed steak

,

sirloin or flank

1

tablespoon

all-purpose spice rub

1-2

tablespoons

olive oil

1

lb.

new potatoes

,

quartered

½

red pepper

,

sliced thin

¼

red onion

,

chopped

2

red jalapeños

,

halved

2

cloves

garlic

,

roughly chopped

2

eggs

,

over-easy or poached

Salt and pepper

Chives

,

garnish
Instructions
Cube steak into 1/4-inch cubes and season well with all-purpose spice rub. Prep other ingredients also by chopping peppers and onions, peeling garlic, and quartering potatoes.

In a large cast iron skillet heat about an inch of water until it's simmering and add potatoes. Simmer potatoes for 6-8 minutes until they are tender, but not falling apart.

Pour water out of skillet and wipe it down to dry it off. Add a drizzle of oil to skillet over medium heat. Add steak and cook for 4-5 minutes until steak is browned and cooked through.

Add peppers, onions, jalapeños, and garlic and cook together for a minute or two.

Push the steak and peppers to the outer parts of the skillet and add another drizzle of oil to the center of the skillet. Add blanched potatoes and cook for 4-5 minutes until they are crisped up on the outside. Season skillet with salt and pepper.

In a separate skillet, cook eggs in a little butter or oil until they are over-easy (or sunny side up or poached).

Serve carne asada skillet with fresh chives and egg.
Nutrition
Serving:
1
Plate
|
Calories:
554
kcal
|
Carbohydrates:
50
g
|
Protein:
35
g
|
Fat:
24
g
|
Saturated Fat:
7
g
|
Polyunsaturated Fat:
2
g
|
Monounsaturated Fat:
12
g
|
Trans Fat:
0.01
g
|
Cholesterol:
245
mg
|
Sodium:
150
mg
|
Potassium:
1629
mg
|
Fiber:
9
g
|
Sugar:
5
g
|
Vitamin A:
1433
IU
|
Vitamin C:
105
mg
|
Calcium:
209
mg
|
Iron:
8
mg
Did you make this recipe?
Carne Asada Hash
If you happened to be making carne asada, for dinner then this would be easier because you could just use that. But it doesn't really make sense to make a full flank steak or something for a hash, so I like to just cube up about 8 ounces of steak and season it well. You could use flank steak or sirloin steak for this.
I used my all-purpose seasoning blend for this dish which is a perfect mix of Tex-Mex flavors.
I recommend prepping all the other ingredients also so everything is ready to go. You can leave the veggies in largish chunks so they don't burn in the skillet. Even the garlic, I recommend leaving in pretty big chunks.
The hard part for a hash like this is the potatoes. The way to make this recipe doable is to quarter new potatoes (or red potatoes) and then blanch them in your skillet for a few minutes until they are tender, but not falling apart. This way you know they are tender in the center and you just have to crisp them up a bit to finish them.
I like to use the same method for my home fries.
When the potatoes are done, drain them and wipe out the skillet so it's dry. Then add a good drizzle of oil and the seasoned steak. Cook it over medium to medium-high heat for a few minutes. Ideally, the cubes will get a little sear on them.
Then add in the peppers and onions and garlic. If the pan seems dry, add more oil, but it should be okay at this point.
Cook those for a minute or two and then scoot everything to outer parts of the skillet so you can add the potatoes to the center. Again, if the pan is dry, add a drizzle of oil before you add the potatoes so they don't stick. Season everything with salt and pepper (or an extra pinch of all-purpose rub).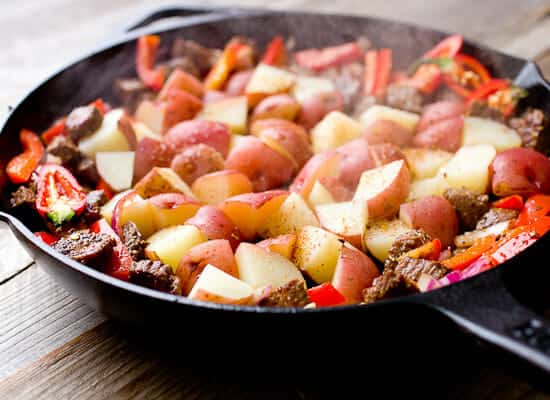 Let the potatoes sit for a few minutes so they crisp up nicely. Then stir everything together and the hash is pretty much done!
Cook a few eggs separately. I like to fry mine in a little butter and then cover them for 20 seconds so they end up being sunny-side up.
Serve this beautiful, peppery hash with some fresh chives and a cooked egg!
This recipe makes two hearty servings. If there's a third person you're feeding, you'll have to hash it out with them. (DAD JOKE.)