Let it be known! For any Tex-Mex dish in existence, there is an equally delicious breakfast version of that dish.
For evidence to back this idea, I offer exhibit A – The Breakfast Nachos.
The topping possibilities are pretty unlimited, but should probably include some sort of egg and cheese, plus some good veggies.
Breakfast Nachos are actually very easy to make and definitely fun to eat. Just be careful or you might find yourself in a very solid food coma for the day.
Breakfast Nachos
Eggs and sausage go great on tortilla chips and make for a fun and easy Tex-Mex twist on breakfast or a delicious brunch dish!
Ingredients
8

ounces

spicy pork sausage

4

large eggs

,

scrambled

¼

red onion

,

diced

1

jalapeno

,

minced

2

cups

pepper jack cheese

,

grated

2

oz.

Tortilla chips

1

Avocado

Cilantro

¼

cup

Salsa

¼

cup

Sour cream
Instructions
Lay out tortilla chips on a baking sheet in an even layer. Top with grated cheese.

In a medium pan, add sausage and begin to brown over medium-high heat. Crumble sausage as it cooks and cook until it's well-browned, about 10 minutes.

Scramble eggs and pour into pan with sausage. Cook until eggs are barely cooked, another few minutes.

Add eggs and sausage to tortilla chips on top of the cheese.

Top with diced veggies.

Bake at 350 degrees for about 10 minutes until cheese is melted.

Top with avocado and cilantro and serve with salsa and sour cream.
Nutrition
Serving:
1
plate
|
Calories:
664
kcal
|
Carbohydrates:
22
g
|
Protein:
31
g
|
Fat:
51
g
|
Saturated Fat:
20
g
|
Polyunsaturated Fat:
7
g
|
Monounsaturated Fat:
20
g
|
Trans Fat:
0.2
g
|
Cholesterol:
263
mg
|
Sodium:
947
mg
|
Potassium:
608
mg
|
Fiber:
5
g
|
Sugar:
2
g
|
Vitamin A:
994
IU
|
Vitamin C:
11
mg
|
Calcium:
501
mg
|
Iron:
3
mg
Did you make this recipe?
Breakfast Nachos
The Prep
There's actually very little prep for these Breakfast Nachos. Feel free to combine them with some of the more advanced nacho techniques I've used over the years like the individually topped chip.
If you're starving though, you can just throw some chips on a baking sheet!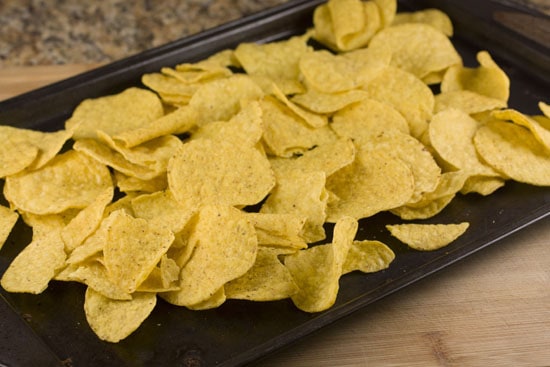 Obviously you could add a lot of veggie toppings to these. I kept it pretty simple though and just diced up a jalapeno and a chunk of red onion.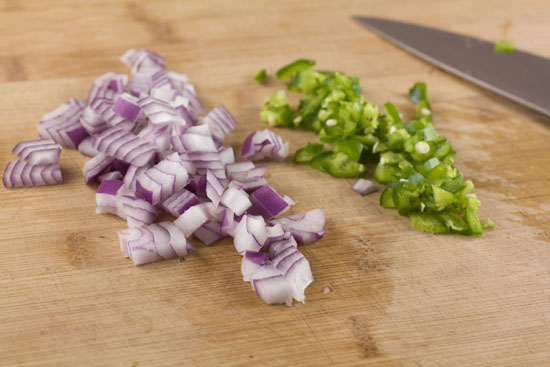 Eggs and Sausage
When it comes to a good hardy breakfast, it's pretty hard to beat eggs and sausage. So that's what I used here! While you could definitely leave off the sausage for a veggie version, I'm not sure I'd leave off the eggs because then you'd just have nachos and not breakfast nachos.
If you are using the sausage though, just add it to a pan over medium-high heat and break it up as it cooks until it's nice and browned.
Then pour in your scrambled eggs! The grease from the sausage will be more than enough to help the eggs cook.
Stir the mixture vigorously as it cooks and it'll just take another minute or so to cook the eggs.
Don't worry if the eggs are slightly under-cooked. We are going to bake them also so it's better to under-cook them a bit at this point.
Finishing the Breakfast Nachos
Nothing rocket science about it. Add your cheese to the tortilla chips. I like a good pepper jack, but feel free to use almost any cheese.
Then add your egg/sausage combo followed by your veggies.
This guy is ready for the oven!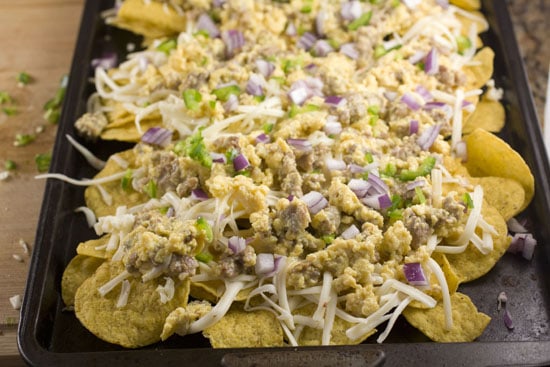 These Breakfast Nachos will need to bake for about 10 minutes.
Meanwhile you can prep your toppings. I think Betsy would leave me if I served nachos without avocado, so I sliced up one.
It is the most marriage saving of all toppings.
As soon as the nachos come out of the oven, top them with some avocado and cilantro (if that's your thing).
I like to serve salsa and sour cream on the side so people can add their own.
This is obviously a pretty filling breakfast, but it really hits the spot on a cold winter morning. Especially if you maybe had a longer than expected night at the bar the previous night!
And yes. We did eat this entire tray of Breakfast Nachos. Do not judge!