You know it's definitely fall because there's a huge pile of squashes and gourds stacked at markets in a decorative fashion that most people walk by. Of course, with a tiny amount of work, the average squash is about as versatile as butter. This Butternut Squash Ziti takes full advantage of how creamy and wonderful butternut squash can be.
I first had the idea for this baked ziti at the store one day. They had a massive display of butternut squash (it being fall and all) so I grab one and thought I'd figure out what to do with it later.
Later came about two aisles down when I spotted some ziti. I figured putting those two things together in a butternut squash baked ziti might just work out.
Turns out I'm still making this recipe many years later and it's a favorite amongst Macheesmo readers!
Roasting the Butternut squash
This recipe is actually pretty hands off. To start you need to roast butternut squash. If you've never done this before, the easiest way to slice a large gourd or squash is to sit it on a sturdy surface and stab it right in the middle with a large knife so the knife is standing straight up in the air, perpendicular to the squash.
Then slowly push the knife down and it should easily slice half the squash open. Repeat on the other side and you'll be all set with two even halves of squash.
Lay these on a baking sheet and poke some holes in the skins with a fork. Take some aggression out!
Bake these at 350 degrees for 45-60 minutes until the squash are super-tender. The cooking time will vary depending on the size of the squash.
When they come out, they'll be really tender and very hot!
These will need to cool for probably 10 minutes until you can handle them.
Can you microwave butternut squash?
In short yes. If you need to speed up the prep time for this dish, this is the shortcut to take. If you slice your butternut squash in half and poke some holes in the skin, then place the squash face down in a microwave-safe dish.
Add about a cup of water to the dish and microwave it on high for five minutes. Test the squash to see if it's tender. It will probably need ten minutes total to get completely tender.
Once the squash is cooked, you can use it in the butternut squash sauce recipe just like the roasted version.
Personally, I think the roasted version has a little more concentrated flavor and ends up being slightly sweeter, but it's a subtle difference.
Making the Butternut Squash Pasta Sauce
When your butternut squash are cool enough to handle, scoop all the meat out with a spoon (discard seeds and guts) and add it to your food processor bowl, or just a big bowl for mashing.
Combine the half and half (or cream), cayenne pepper, nutmeg (optional, but good), and about half of the cheese with the butternut squash. Puree it until smooth and season with a good pinch of salt and pepper.
If it's not really creamy, add a bit more Half & Half or heavy cream. Also, this would be a good time to start tasting the sauce. It should be really smooth and flavorful with just a tiny amount of spice.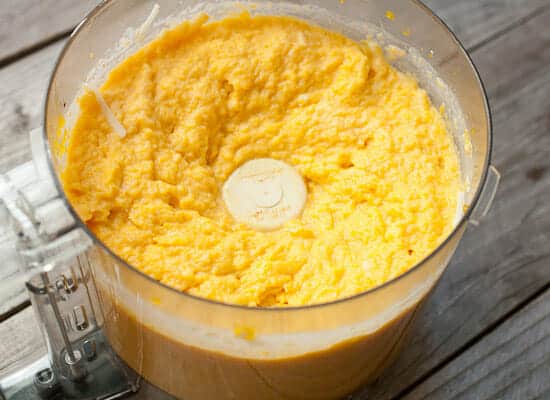 While you're doing all this you should be cooking the ziti in a large pot with salted water. If you've never made ziti before, it's basically like a thick penne pasta which makes it great for baked pasta dishes because the noodles don't fall apart at all.
Mix the butternut squash mixture and the ziti noodles together really well.
Resist eating this as-is because it's really very tasty at this point. If the mixture seems dry, you can add more liquid (cream or water) to thin it out a bit.
Maybe the most important part
Butter a large baking dish (a 9×13 pan to be exact) or a casserole dish! If you don't butter this bad boy really nicely, the ziti will stick badly to the pan.
This is important.
Add all the ziti and smooth it out, then sprinkle on the rest of the cheese.
Bake this delicious thing for about 25-30 minutes or until the cheese is really melted and the ziti is slightly browned around the edges. It'll be really hot at this point. Too hot to eat for sure. Let it cool for a few minutes before eating/serving.YUM.
When you do serve it up though, you'll love it. I promise.
If you've had ziti before you're probably used to a tomato-based thing with lots of mozzarella cheese and trust me I like that just as much as the next guy. But this butternut squash baked ziti is equally delicious… if not more so just because it's so different.
So the next time you pass by that decorative display, mess it up and take one of those beautiful squash home.
Substitutions and Ideas
I kept the recipe for this baked ziti pretty straightforward and simple, but there are lots of easy substitutions you could try to change-up the flavors!
Instead of gruyere cheese, try mixing in ricotta cheese.
Feel free to experiment with add-ins like sauteed spinach, roasted garlic, and even browned Italian sausage.
Use fresh herbs to compliment the squash flavor like fresh sage or fresh rosemary.
Change up the squash you use for this. Try acorn squash or even pumpkin!
Butternut Squash Ziti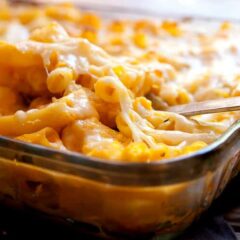 This Butternut Squash Ziti is a twist on the traditional baked ziti dish. Nix all the tomatoes. Add in tons of butternut squash. Cover it in cheese and dig in!
Ingredients
3

cups

roasted butternut squash

,

about 1 med. squash

1

lb

ziti pasta

1

cup

Half & Half

½

teas

cayenne pepper

½

teas

ground nutmeg

8

oz.

Gruyere cheese

,

grated

1

tbsp

butter

Salt and pepper

,

to taste
Instructions
Preheat oven to 350˚F. Slice the butternut squash in half lengthwise and lay skin-side up on a large baking sheet. Poke a bunch of wholes in the skins with a fork and bake at 350 degrees until the squash is very tender, 45-60 minutes.

Let squash cool for a few minutes and then scoop squash into a large bowl (or food processor bowl)

Add half and half, nutmeg, cayenne pepper, and 1/2 of the grated cheese and process until smooth. If you don't have a processor you can just mash well to combine everything. If the mixture looks too thick, you can add 1/2 cup of pasta water to thin it out.

Cook ziti according to packaging, drain, and combine ziti and butternut squash mixture.

Butter a 9×13 baking dish very well.

Add ziti mixture to baking dish and sprinkle on rest of cheese. Bake at 350 degrees until cheese is melted and ziti is slightly brown around edges, about 25-30 minutes.

Cool for a few minutes and serve it up!
Notes
Leftovers keep well in the fridge for five days. Reheat in the microwave or in a 350˚F oven until warmed through and melted.
Nutrition
Serving:
8
servings
|
Calories:
404
kcal
|
Carbohydrates:
50
g
|
Protein:
17
g
|
Fat:
15
g
|
Saturated Fat:
9
g
|
Polyunsaturated Fat:
1
g
|
Monounsaturated Fat:
4
g
|
Trans Fat:
0.1
g
|
Cholesterol:
46
mg
|
Sodium:
383
mg
|
Potassium:
378
mg
|
Fiber:
3
g
|
Sugar:
4
g
|
Vitamin A:
6052
IU
|
Vitamin C:
11
mg
|
Calcium:
357
mg
|
Iron:
1
mg
Did you make this recipe?
Here are a few other great squash recipes!