The Winter Olympics are right around the corner and I'm all kinds of nervous. I'm nervous about the safety of the athletes for, I think, obvious reasons.
But I'm always nervous during the Winter Games. The sports are so much more intense than the summer games, in my opinion. Athletes flying down ice-covered mountains going 70 miles an hour? It's utter craziness. They are far and away the most exciting and scary athletic competitions to watch.
To get in the mood, I wanted to make something warming and delicious from the Eastern European world and pierogies were an obvious choice. In typical Macheesmo fashion, even though I've never made them before I decided to ditch the traditional and fill my version with a sweet potato filling.
These Sweet Potato Pierogi were, umm, damn good.
Sweet Potato Pierogi
A delicious change on the traditional. Sweet potato filling stuffed inside homemade pierogi dumplings.
Ingredients
Pierogi Dough:
1

large egg

2

tablespoons

sour cream

1

cup

milk

1

cup

warm water

5

cups

all-purpose flour

Cornmeal or semolina flour for dusting
Filling:
2

medium sweet potatoes

,

cubed

4

oz.

cream cheese

Salt and pepper
Cooking:
Unsalted butter

Salt

Parsley

,

for garnish
Instructions
For the dough:

Whisk together egg, sour cream, milk, and water in a large bowl. Once combined add flour a cup at a time until dough comes together in a ball.

Knead dough for 10-12 minutes until it's very soft. If the dough is super sticky add more flour in 1/4 cup batches. Once dough is in a smooth ball, dust with semolina flour or corn meal, cover with plastic wrap, and let rest for 45-60 minutes.

For filling:

Peel and cube sweet potatoes and boil in salted water until tender, about 10 minutes. Drain potatoes, add cream cheese and a pinch of salt and pepper and mash until smooth. Remove from heat and let cool.

To make Pierogi:

Cut dough into quarters and keep covered so dough doesn't dry out. Working with one quarter at a time, roll the dough out on a lightly floured surface into a large round. Cut as many 3 inch circles out of the dough as possible. You should be able to get about 18 from each quarter of dough.

Place a small dollop of filling on each round and fold up and crimp it into a half-circle. Crimp the edges with your fingers to seal the pierogi and place finished pierogi on a baking sheet dusted heavily with corn meal or semolina flour. Shape all pierogi before cooking.

To cook pierogi:

Boil pierogi in lightly simmering, salted water. They will sink, and then float. Once they float, let them cook for about 2 minutes. Then drain them.

In a large non-stick skillet, add 2-3 tablespoons unsalted butter over medium heat. Once melted and bubbling, add boiled pierogi in a single layer. Let fry in the butter until crispy. That should be about 3 minutes on the first side and then cook for another minute or so on the second side.

Serve pierogi immediately drizzled with butter and garnished with fresh parsley and a pinch of coarse salt.
Nutrition
Serving:
8
pierogi
|
Calories:
380
kcal
|
Carbohydrates:
74
g
|
Protein:
13
g
|
Fat:
3
g
|
Saturated Fat:
1
g
|
Polyunsaturated Fat:
0.5
g
|
Monounsaturated Fat:
1
g
|
Trans Fat:
0.003
g
|
Cholesterol:
28
mg
|
Sodium:
154
mg
|
Potassium:
370
mg
|
Fiber:
4
g
|
Sugar:
5
g
|
Vitamin A:
8123
IU
|
Vitamin C:
1
mg
|
Calcium:
123
mg
|
Iron:
4
mg
Did you make this recipe?
Sweet Potato Pierogi
Pierogi Dough
Having never made pierogi before, I wasn't exactly sure how the dough would work out so I just used a Martha recipe. It turned out perfectly. The dough was easy to work with and shape and the end pierogi were light and fluffy.
It's an enriched dough so it starts with an egg, some milk, and some sour cream whisked with water.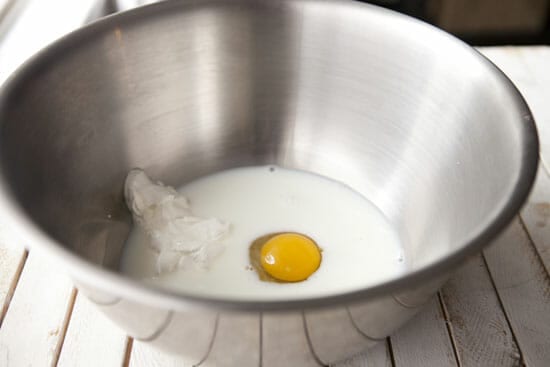 After that is all mixed together, start adding the flour by the cup until the dough forms a loose ball. Then start kneading it! You'll need to work the dough for 10-12 minutes until it's really soft and flexible. If the dough is too sticky at any point, add more flour.
Eventually you'll have a nice smooth ball of dough.
Let this rest, covered with plastic wrap, for about 45-60 minutes. There isn't any yeast in the dough so it won't rise, but it will relax and the gluten will develop a bit.
After a rest, cut the dough into quarters and dust really heavily with cornmeal or semolina flour. I used semolina because it's what I had. Either will totally work.
As you roll out one quarter of dough, be sure to keep the rest of the dough covered so it doesn't dry out.
When you roll out the dough, do so on a lightly floured surface and roll it out into a thin round. Then cut as many small circles (about 3 inch diameter) as you can get. You should be abel to get around 16-18 pierogi from each quarter of dough.
Filling and Cooking
While the dough is resting, you can quickly make the filling for the Sweet Potato Pierogi.
I peeled a few sweet potatoes and cubed them. Then boil the sweet potatoes in salted water until they are tender and mash them with some cream cheese and salt and pepper.
The finished Sweet Potato Pierogi filling will be on the wet side, but it will thicken a bit as it cools. And you should let it cool before filling just because it will be easier to work with.
Once your pierogi rounds are punched and the filling is done, just add a small dollop of filling to each one. Then working with one at a time, pinch the little dumplings closed.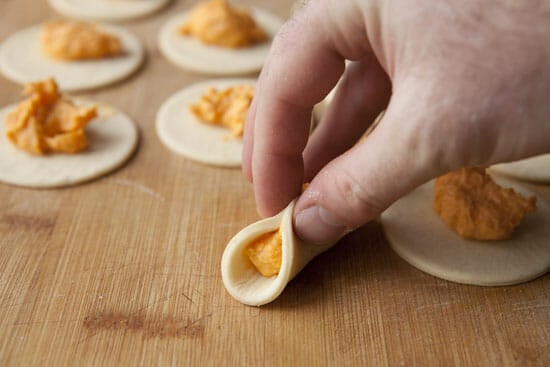 Pinch around the edges to seal in the filling and you're all set.
No doubt, this is a bit of work, but the dough is easy to work with.
Once each one is shaped, transfer it to a baking sheet heavily dusted with cornmeal or semolina flour to keep them from sticking.
I recommend shaping all the pierogi before you worry about cooking them.
Once they are shaped, you can freeze any that you aren't going to cook immediately. Freeze them on a baking sheet first and then transfer them to a freezer-safe bag.
If you want to cook them though, portion out as many as you need and boil them in salted, simmering water until they float. Once they are floating, let them continue to cook for about two minutes just to make sure they are cooked through.
Then drain the pierogi.
You could serve them soft like this, but I highly recommend crisping them up in a bit of butter.
Melt a few tablespoons of unsalted butter in a skillet over medium heat. Then add the drained Sweet Potato Pierogi and let them fry in a single layer for about 3 minutes on the first side. Flip them and let them fry or another minute or so on the second side.
Golden brown and crispy!
Once they are crisped, serve them immediately drizzled with a bit of the melted butter in the skillet and garnished with fresh parsley.
Sweet Potato Pierogi are hearty fair for sure. Essentially carbs in carbs.
If you happen to be flying down a mountain at breakneck speeds, this is the kind of thing you would want to have waiting for you at the bottom.
This and a cold beer, of course.