Breakfast is often a nuisance for many aspiring home cooks. I mean, everyone has to eat it, but it sometimes just gets in the way – especially if you have other great meals planned for the day. This Vegetarian Strata is a nice option though because you make it entirely in advance and it bakes into a delicious and warming breakfast.
While many strata recipes include meat, I keep this version vegetarian and pack it full of veggies with broccoli and tomatoes. I add two kinds of cheese because, well, cheese.
After an overnight soak, it bakes up into a fluffy, almost pancake-like breakfast casserole that is a perfect savory way to start the day.
What is a Breakfast Strata
Strata, if you don't know, is a classic baked dish that usually involves layers of custard mixture, veggies, and cheese. You could add meat to it, but my favorite strata recipes are always heavy on the veggies.
Different strata recipes will use different bread. I've seen everything from croissants to crusty old bread. Personally, I like slightly stale, but good quality, bread.
The best thing about this Vegetarian Strata dish? You make it the day before so breakfast is as easy as popping it in the oven. What's better than that?
Making the custard base for the veggie strata
Leftover bread (or rolls) that are a bit stale are the perfect item for this Vegetarian Strata. Using really fresh bread is actually not great because the bread will get too mushy. If you only have fresh bread and can't wait, I recommend drying out the bread for 10-15 minutes in a 250 degree F. oven.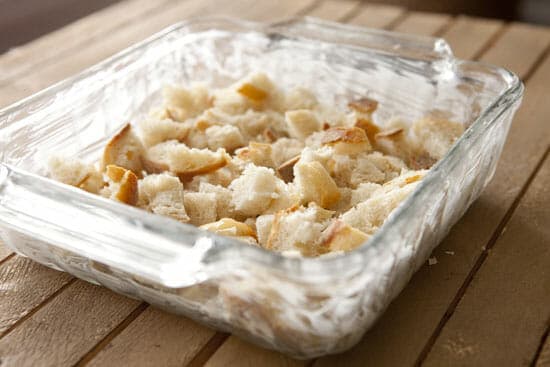 Then cube up your bread pieces into small 1-inch cubes and measure out two cups. Add that to an 8×8 baking dish that's been nicely buttered or you can rub some olive oil on the dish.
Now for the custard mixture. This is as easy as whisking together the eggs with the milk and a pinch of salt and pepper. When this soaks into the bread and bakes it'll turn light and fluffy and be really delicious as a base layer for the veggies and cheese.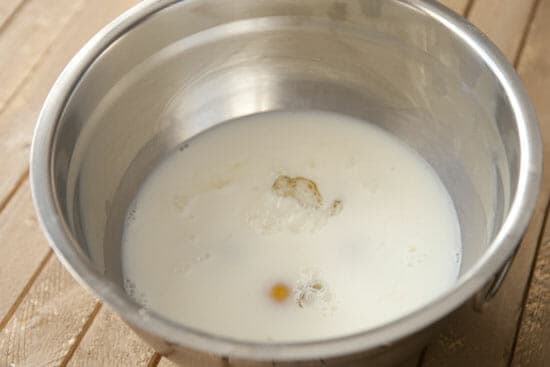 On top of the bread layer, sprinkle about 3/4 cup of cheddar cheese. You don't need to over-do it on the cheese here.
Preparing the Veggie Ingredients
The next layer you should add to your strata is the vegetables. I use a mix of grape tomatoes and broccoli. I'm usually not one for using fresh tomatoes in the winter, but the little grape tomatoes are usually ripe and fine in the stores these days. They aren't perfect summer quality, but they will totally work for this Strata dish.
Make sure to cut the florets really small for the broccoli so you can spread them around evenly. If you're not a broccoli fan you could double the tomatoes or use any other sturdy green.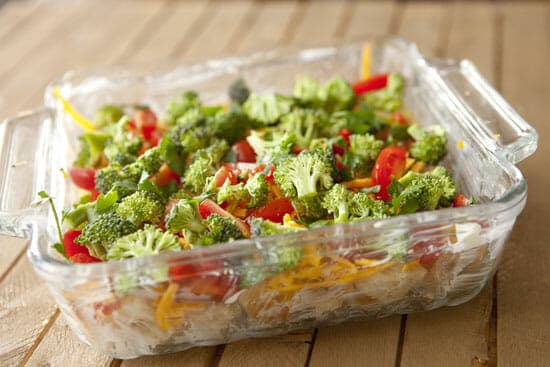 NOTE: I don't find it necessary to cook the veggies before adding them to the strata. The strata needs a lot of baking time and the moisture from the custard will soften up the veggies just fine.
Instructions for finishing the Strata
The last step before baking is to pour all the custard mixture over the veggies. It will drain through the veggies and soak into the bread which is exactly what you want.
Dot the veggies with some ricotta cheese and the last of the cheddar.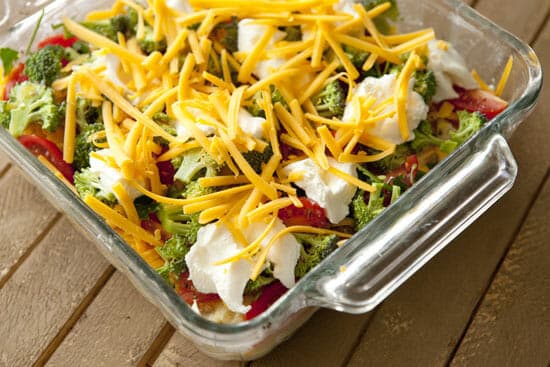 Cover the Vegetarian Strata with plastic wrap and stick it in the fridge overnight.
What happens overnight?
Magic. That's what. The bread soaks up all that delicious egg mixture and almost turns into a solid layer. Think savory bread pudding.
The next morning, take the strata out about 30 minutes before you want to bake it just to take the chill off and preheat the oven to 350 degrees F.
Before baking, sprinkle the strata with some fresh parsley and some herbs de provence if you have them.
Bake this vegetarian strata in a casserole dish until the center is set and the edges are browned. It'll need to bake for about an hour.
Once the strata has cooled a bit, slice it up and serve it.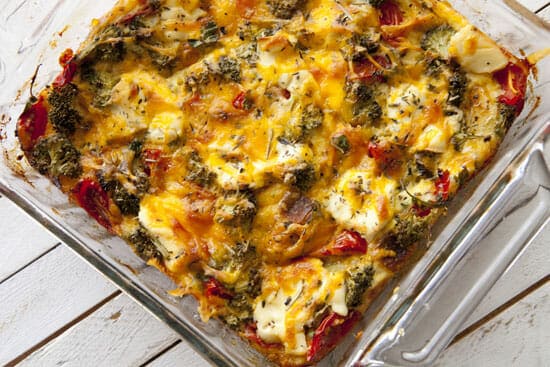 This recipe feeds four hungry souls, but you can easily double it and bake it in a 9×13 dish.
It actually turns out to be a much lighter dish than you would think. As you might imagine, I doused mine in hot sauce, but that's just me.
Strata substitution ideas
As you might imagine, this is actually a fairly flexible recipe. Here are some substitution ideas!
Think about different cheeses that would work or just use what you have. I've made stratas with gruyere cheese, goat cheese, or even with a sprinkle of parmesan cheese on top.
Go crazy with the vegetables. Onions, red bell peppers, slivered kale, mushrooms, pesto, and spinach are all good options.
Add some meat! I like my strata vegetarian, but if you wanted to add some bacon, sausage, or ham, it'll be great. Just make sure to cook the protein before adding it to the strata.
Make it sweet! Skip the veggies and double the bread. Add a dash of vanilla, cinnamon, and a few tablespoons of sugar to the custard and you will basically have a baked french toast version!
Storing and reheating the vegetarian strata
This strata reheats beautifully, as you might imagine. Store it in the fridge for 5 days and reheat either in the microwave or in a 350˚F oven until it's warmed through.
You can also freeze this strata with good results. Just get it as air-tight as possible and it'll freeze for up to three months. Thaw before reheating and serving for best results.
If you have a hole in your breakfast or brunch meal plan, toss this Broccoli Strata together the night before.
Instead of stressing it… strata it! (See what I did there?)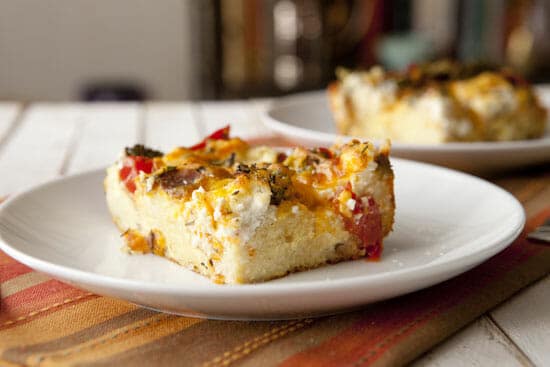 Vegetarian Strata with Broccoli and Tomatoes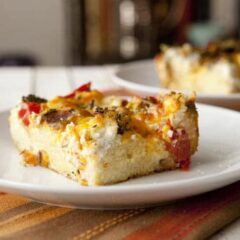 This vegetarian strata is great for breakfast or brunch. Make it up the day before so breakfast is as easy as popping it in the oven.
Ingredients
2

cups

bread

,

cubed

1

tablespoon

unsalted butter

1

cup

cheddar cheese

,

grated

½

cup

cherry tomatoes

,

quartered

½

cup

broccoli

1

tablespoon

fresh parsley

4

large eggs

1 ½

cups

milk

½

teaspoon

salt

2

ounces

ricotta cheese

½

teaspoon

herbs de provence
Instructions
Butter an 8×8 baking dish. Rip up a few slices of bread and measure out two cups of cubed bread. Press the bread into the baking dish.

Top the bread with 3/4 of the cheddar cheese, broccoli florets (cut into small pieces) and quartered cherry tomatoes.

Whisk together eggs, milk, and a pinch of salt and pepper. Pour custard mixture over the veggies and bread. Try to distribute it evenly over the baking dish.

Top strata with dollops of ricotta cheese, the extra cheddar cheese, parsley, and herbs de provence.

Wrap the strata with plastic wrap and store in the fridge overnight. Remove from the fridge 30 minutes before baking.

Bake strata at

350

°F

. for about an hour until the cheese is melted and custard is set in the center.

Let the strata cool briefly, but serve warm. You can double the recipe for an 9×13 baking dish.
Nutrition
Serving:
1
piece
|
Calories:
410
kcal
|
Carbohydrates:
42
g
|
Protein:
20
g
|
Fat:
18
g
|
Saturated Fat:
8
g
|
Polyunsaturated Fat:
2
g
|
Monounsaturated Fat:
4
g
|
Trans Fat:
0.1
g
|
Cholesterol:
145
mg
|
Sodium:
769
mg
|
Potassium:
329
mg
|
Fiber:
3
g
|
Sugar:
8
g
|
Vitamin A:
654
IU
|
Vitamin C:
9
mg
|
Calcium:
351
mg
|
Iron:
4
mg
Did you make this recipe?
Here are a few other recipes you might like!