This might sound weird, but sometimes I have an intense craving for vegetables. Like a pregnant woman with pickles, I just need them and I want them to be crunchy and raw and stacked as high as possible.
A salad would be an obvious solution to my cravings, but it can be hard to get excited over salad as any red-blooded American can attest.
You can get excited about this Vegetarian Bagel Sandwich though. I don't think I need to say much else about it. Just look at the colors. It's obviously packed full of crunchy vegetables and is a great way to start your day.
Big Veg Bagel Sandwiches
Bagels topped with a delicious goat cheese spread and stuffed with lots of thinly sliced crunchy vegetables.
Ingredients
8

ounces

goat cheese

3

scallions

,

chopped

1

tablespoon

honey

1

golden beet

,

sliced thin

½

cucumber

,

sliced thin

4

radishes

,

sliced thin

¼

red onion

,

sliced thin

½

green pepper

,

sliced thin

Sprouts

Salt and pepper
Instructions
Chop scallions finely and mash them into goat cheese with honey.

Prepare all veggies, slicing them very thin. I like to use a mandoline slicer for this, but you could just chop them as thin as possible with a knife also.

Slice bagels in half and toast in a 350 degree oven about 8 minutes.

Slather bagels with the goat cheese mixture and let people pile on the toppings that they want!

Slice the sandwiches in half for easier eating.
Nutrition
Serving:
1
Sandwich
|
Calories:
188
kcal
|
Carbohydrates:
9
g
|
Protein:
11
g
|
Fat:
12
g
|
Saturated Fat:
8
g
|
Polyunsaturated Fat:
0.3
g
|
Monounsaturated Fat:
3
g
|
Cholesterol:
26
mg
|
Sodium:
229
mg
|
Potassium:
205
mg
|
Fiber:
2
g
|
Sugar:
8
g
|
Vitamin A:
765
IU
|
Vitamin C:
17
mg
|
Calcium:
99
mg
|
Iron:
2
mg
Did you make this recipe?
Vegetarian Bagel Sandwich
The Spread
Putting veggies on a bagel is nothing new, but I'm pretty sure this Vegetarian Bagel Sandwich has more veggies than I've ever personally seen piled on a bagel. And while you could just leave it at that, I think the sandwich really benefits from some creamy element as well.
All you need are these three things to get the job done.
I used goat cheese for my version, but cream cheese would work just as well.
Dice the scallion finely and then mash it into the cheese with the honey. The honey might sound like a weird addition but it gives the sandwich a tiny bit of sweetness that works perfectly. Just go with it and thank me later.
The Veggies
You maybe noticed from the first photo but there are some serious vegetables on this sandwich and all of them are sliced nice and thin.
These are the veggies I started with: peppers, cucumber, red onion, radishes, and a big golden beet.
When it comes to slicing all this stuff, you have two options.
Option slow: Take out your knife and get to work. Slice the stuff as thinly as possible which is going to take some time unless you're a professional. The beet will be especially tricky because it's very solid and very hard to cut into thin slices.
Option fast: Get a mandoline which will cut your slicing time down to about two minutes for everything.
To be honest, I wouldn't recommend buying a mandoline just for this meal. You can definitely make it happen with a knife and it's good chopping practice.
But if you find yourself loving this sandwich and making it regularly, it might be a good investment. Plus you can use it to chop all kinds of things (homemade chips, for example).
The only tip on using the mandoline? Please use the safety guard. It's not there for looks. It's there because you could very likely chop off 1/16 inch of your finger without it.
Slice slice slice.
The beet is the trickiest thing on the plate to slice. Peel it first and then run it through so you get nice thin pieces.
I used a golden beet so it wouldn't stain everything bright red. Use whichever one you can find though.
Pile all these veggies on a big plate so people can help themselves to the fixings they want!
The Bagels
When it comes to bagels, I like everything bagels. The only real tip for these sandwiches though is to stay in the savory world. Cinnamon raisin wouldn't be the best choice.
I toasted my bagels in the oven for about eight minutes because I was making a bunch of these.
When your bagel is toasted, slather it with the goat cheese mixture and pile on those veggies!
Gotta love the colors on this.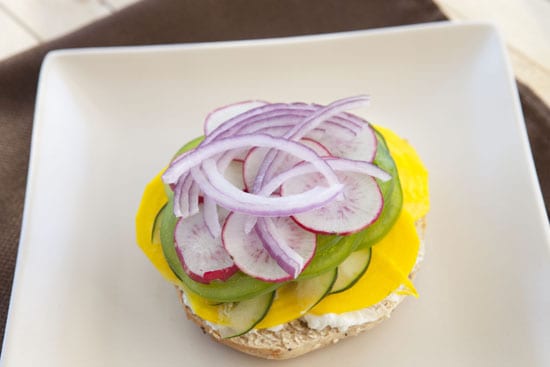 Top the sandwich and slice it in half which just makes it easier to eat. Feel free to hit the sandwich with a pinch of salt and pepper also.
Most likely, you'll have some leftover sliced veggies. Hang onto them obviously and use them in one of those boring salad things later in the week.