I am frequently looking for a quick and filling dish to make for breakfast. Especially on the weekends, something like this fast Baked Egg Casserole Dish can be the perfect start to your day. It has very few ingredients and can almost be made on a whim.
It's a play on a classic baked egg dish, except I added some crusty bread around the edges and layered the eggs over a simple tomato sauce, almost like a Shaksuka.
This baked egg casserole was the result!
The good thing about this dish is you can throw it together in just a few minutes, stick it in the oven, shower and get ready for the day, and then it'll be ready when you are!
Making the Tomato Sauce
Really the only thing you have to make for this dish is the sauce and if you were in a pinch you could definitely use jarred sauce or your favorite tomato pasta sauce. I would probably choose Raos if you are using store-bought sauce.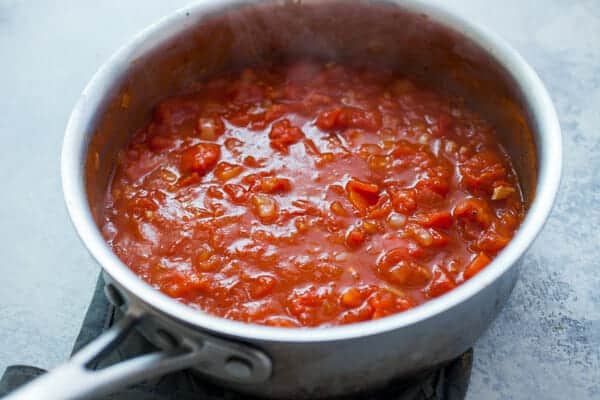 If you want to make your own though, just add a tablespoon or two of olive oil to a skillet over medium-high heat and then add your diced onion. Once it's translucent, add your garlic and tomatoes and a pinch of salt and cook for a few minutes until it looks like a rustic sauce. There's a bunch of variations you could make on this if you wanted but this is the simplest version.
You could add some crushed red pepper or some Parmesan cheese to kick up the flavor a bit if you were so inclined.
You could easily make this sauce in advance and store it in the fridge until you need it.
Assembling the Baked Egg Casserole
The first thing you'll need is some good, crusty bread. I've used a few slices of no-knead bread in the past, but any rustic loaf will work. The bread is going to be partially covered in sauce and baked so if you use a flimsy white bread it'll just fall apart.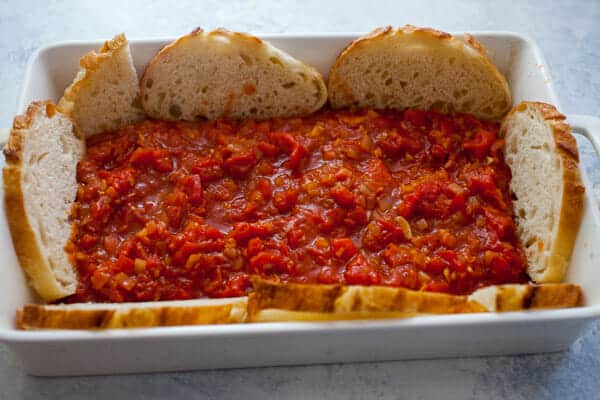 If you have large slices like I did, you'll need to chop them in half to fit them around the edges of your casserole dish. Just do whatever works though depending on your dish and your bread.
Then pour all your tomato sauce into the bottom of the dish. Crack six eggs on top and try to space them out evenly. Sprinkle the fresh thyme on top along with a drizzle of olive oil and a pinch of salt and pepper. You could again add some grated cheese here if you wanted, but I wanted to keep this version simple.
Baking the Casserole
Bake the egg casserole at 350 degrees for about 25-30 minutes until the whites are set on the eggs. My yolks were slightly runny after 30 minutes. If you wanted to have firm yolks, bake the dish for another 5-10 minutes. If you made the tomato sauce in advance and it is cold, you might need to add five minutes onto the cooking time as everything will be very chilled.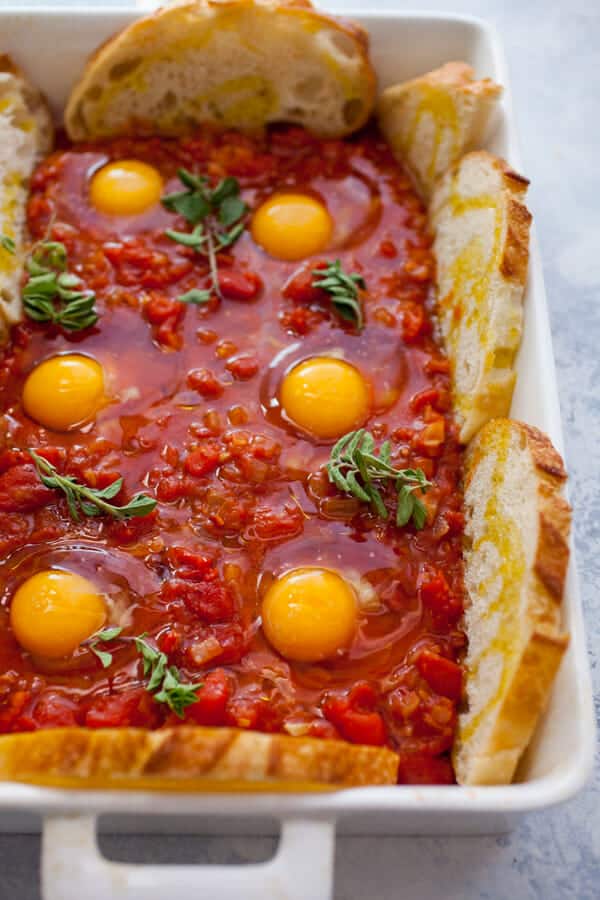 After it comes out of the oven, spoon up a slice of toast with each egg and some sauce.
It's amazing what just a few simple ingredients can do. This was a fantastic brunch dish. I actually had three eggs it was so good.
If you're ever looking for a quick and simple brunch meal, give Baked Egg Casserole with Bread a shot!
What to serve with this Baked Egg Recipe
​This is kind of an all-in-one meal, but if you are looking to round out the table, you could serve it alongside some crispy bacon (like this candied sriracha bacon). Since this is a heavier dish, you could also serve it with something light like a fruit salad or fruit kabobs.
Substitutions and Ideas
This is a very simple dish and it works great as a simple dish, but if you wanted to add to it, there are many ways to change it up or make it more complex. Here are some ideas!
Add some extra vegetables to the egg mixture like sliced bell peppers, mushrooms, green onions, or even red potatoes.
Instead of crispy bread, line the baking dish with hash browns for a different twist!
To make a smaller version of this casserole, add to eggs and about a cup of sauce to a cast iron skillet or large skillet.
Serve the eggs with some ham, sausage, or other protein.
Making these baked eggs in advance
I actually don't recommend making this dish in advance. It's really hard to reheat the eggs and make them as good as straight out of the oven and the bread around the edges gets way to soggy if you stick it in the fridge.
That said, if you happen to have leftovers of this baked egg casserole, you can reheat it in the microwave for 30-45 seconds and it's a perfectly adequate breakfast!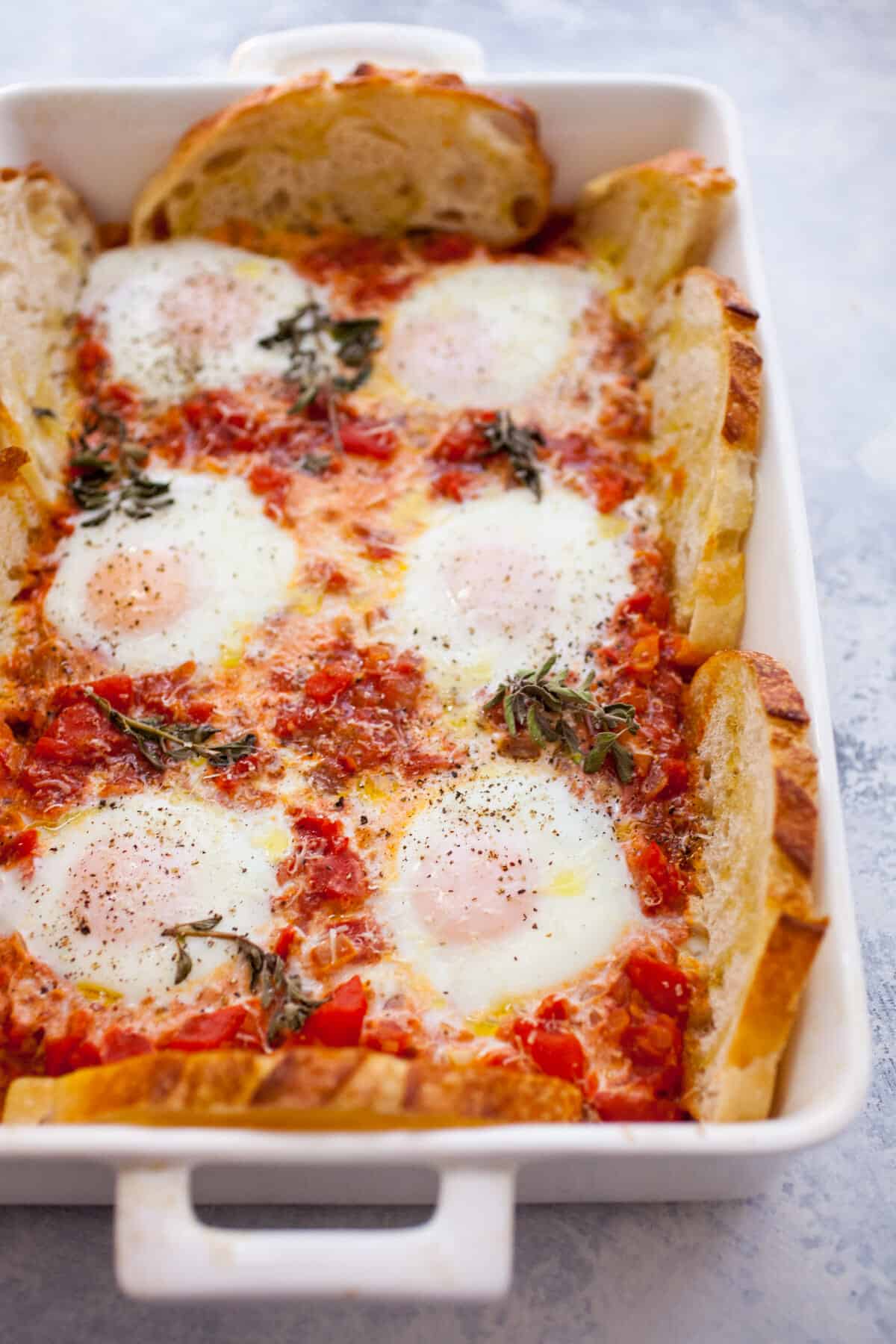 Baked Egg Casserole
Tomato sauce with eggs on top is baked with toast to make for a delicious brunch or breakfast dish.
Ingredients
1

28 ounce

can diced tomatoes

½

onion

,

diced

1

clove

garlic

,

or more minced

2

tablespoons

olive oil + some for drizzling

1

Tablespoon

fresh thyme

,

you could use dried in a pinch or a different fresh herb like oregano

6

large eggs

Crusty bread

Salt and pepper
Instructions
For sauce, add a few Tablespoons of oil to a skillet over medium-high heat. Add the onions and cook until translucent, about 4-5 minutes. Then add garlic and tomatoes and a pinch of salt and pepper.

Cook this down for a few minutes. It's a pretty rustic sauce. No need for it to be completely smooth. Feel free to add some crushed red pepper and/or Parmesan as well.

Slice a few slices of very hearty, rustic bread and line the edges of a casserole dish with the bread slices.

Pour your tomato sauce in the bottom of your casserole dish.

Crack six eggs on top of the tomato sauce. Sprinkle on fresh thyme and a good pinch of salt and pepper. You could add some Parmesan cheese also if you wanted.

Bake this at 350 degrees for about 20-25 minutes. If you want the yolks firm, cook for another 10 minutes.

Serve immediately and make sure each serving gets some bread, sauce and egg.
Nutrition
Serving:
1
Plate
|
Calories:
165
kcal
|
Carbohydrates:
2
g
|
Protein:
9
g
|
Fat:
13
g
|
Saturated Fat:
3
g
|
Polyunsaturated Fat:
2
g
|
Monounsaturated Fat:
8
g
|
Trans Fat:
0.03
g
|
Cholesterol:
246
mg
|
Sodium:
95
mg
|
Potassium:
125
mg
|
Fiber:
0.5
g
|
Sugar:
1
g
|
Vitamin A:
440
IU
|
Vitamin C:
4
mg
|
Calcium:
49
mg
|
Iron:
2
mg
Did you make this recipe?
Here are a few other great breakfast recipes!