When I was growing some mushrooms ast week I spent some time thinking about what I was going to actually make with my mushrooms. While I ultimately settled on a galette, I also had my eye on a very strange recipe that I'd never heard of before: Mushroom custard.
The idea just seemed weird to me. But after I got to thinking about it, mushrooms usually work well in cream-based things. I love them in omelets and cream of mushroom soup is one of my favorite things in the world.
So while I passed on the recipe originally, I kept thinking: Man. I really want to bake some mushrooms in a custard.
And so I did. And it was good.
Baked Mushroom Custards
Mushrooms sauteed and baked in a creamy and rich custard. Perfect with a big slice of crusty bread!
Ingredients
8

ounces

assorted mushrooms

,

I used a mix of cremini and shiitake

2

Tablespoons

butter

2

Tablespoons

shallot

,

diced fine

2

Cups

cream

,

half and half, milk, or a mix

2

sprigs fresh thyme

2

eggs

2

egg yolks

½

Teaspoon

cayenne pepper

Salt and pepper
Instructions
Gently rinse mushrooms and slice them. Also dice your shallot.

Add butter to a large skillet over medium heat. Once melted, add shallot. Cook until soft and fragrant, about 2 minutes. Then add the mushrooms and continue to cook until they are soft and they lose some of their moisture.

Pour in dairy. I used all cream. Also toss in a few thyme sprigs. Add back to heat and continue to cook until dairy is steaming. Stir for a few more minutes, then remove from heat and let cool slightly.

In a medium bowl, whisk eggs, yolks, cayenne, and a pinch of salt and pepper.

Slowly whisk in cream mixture into egg mixture (don't pour egg mixture into cream mixture). Pour slowly and whisk whisk whisk.

Once combined, pour custard mixture into ramekins.

Add ramekins to a large baking dish and pour boiling water around the ramekins. The water should come half-way up the dishes.

Bake at 300 degrees until custard is lightly set. This will probably be between 30-45 minutes. It'll take longer if you baked it in a large dish or if you are using milk instead of cream.

Serve warm with crusty bread!
Nutrition
Serving:
1
Ramekin
|
Calories:
533
kcal
|
Carbohydrates:
7
g
|
Protein:
10
g
|
Fat:
53
g
|
Saturated Fat:
33
g
|
Polyunsaturated Fat:
3
g
|
Monounsaturated Fat:
14
g
|
Trans Fat:
0.2
g
|
Cholesterol:
329
mg
|
Sodium:
116
mg
|
Potassium:
360
mg
|
Fiber:
1
g
|
Sugar:
5
g
|
Vitamin A:
2301
IU
|
Vitamin C:
3
mg
|
Calcium:
110
mg
|
Iron:
1
mg
Did you make this recipe?
Prepping the 'Shrooms
As far as I can tell, you can use almost any mushroom for this recipe. I'm not sure I'd use the white button mushrooms though just because they tend to not have a really full earthy flavor. So I went with a mix of cremini and shiitake mushrooms which definitely did the trick.
Gently rinse off all your mushrooms to remove dirt and then slice them up. You can keep the slices pretty thick.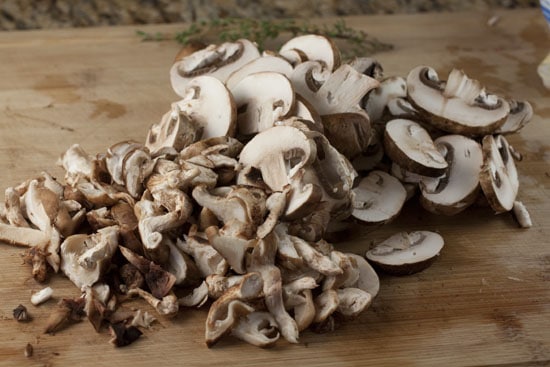 Add your butter to a large skillet over medium heat and then add the shallot.
Once the shallot is getting soft (maybe 2 minutes) add the mushrooms and continue to cook until they they lose their water and start to soften. This should take about 5 minutes.
Next, add your liquid to the mushrooms. I used 2 Cups of cream for mine because that's how I roll. If you want a slightly lighter custard, feel free to use half and half or even milk. You could also do a mix. Whatever you are using though, pour it in now along with a few sprigs of fresh thyme.
Stir this over the heat until the cream starts to steam. Keep stirring for a few more minutes and then remove it from the heat and let it cool slightly.
The Custard
This is a really easy custard to throw together. Once your cream/mushroom stuff is done and cooling, just whisk together your eggs and yolks with some cayenne and a pinch of salt and pepper.
The cayenne is really important in my opinion. It gives a really nice, subtle heat to the dish.
Once your eggs are whisked, slowly pour your cream mixture into the egg mixture – whisking constantly. Pour slowly at first and whisk whisk whisk so the eggs don't curdle.
Once the custard mixture comes together, you have two options. You could pour it into one large casserole dish and bake it like that or you can pour it into 4 smaller ramekins for individual servings.
I went the individual route.
Whether you go big or small on the baking dish, you need to bake these guys in a water bath. So add them to a larger dish and then, right before you put it in the oven, pour boiling water around the dishes. The water should go about half-way up the dishes.
Bake this whole thing at 300 degrees for about 30 minutes. Note that this time can vary pretty substantially. If you are using a larger baking dish, you'll need to bake it for longer (40 minutes probably). If you are using milk or half and half instead of cream, you'll also need to bake it longer. So if you're using a large dish and all milk, you might need to bake it for 45-50 minutes to get the custard to set.
When it's done, it should be slightly jiggly. These guys are perfect (I realize you can't see the jiggling.)
In my opinion these are best served warm or at room temperature. Apparently there are people that like them cold, but that just seems weird to me.
I also recommend serving them with a big slice of crusty bread.
This turned out to be a really delicious and unique dish. I wasn't sure that I would like it, but it tasted a lot like cream of mushroom soup which is just fine by me!
If you're a mushroom fan or just up for something different, give this a shot!