As I get older, I find more ways to bond with my dad. We are very different people and have had very different lives, but one thing that we've always enjoyed together is spicy food. One of our mutually favorite snacks is jalapeño poppers, but the full fried version is quite a process. So, I came up with these easy Baked jalapeño poppers!
It's not unheard of for me to eat a dozen of these by myself. They are that good!
Sometimes I'll make complicated versions of poppers with shrimp or cook them in a smoker or over the grill. Sometimes they are fried or baked, but they always have cheese.
These baked jalapeño poppers are my introduction to those that are unfamiliar with the joys of a bacon-wrapped, cheesy and just-spicy-enough popper. Make them for a game. Make them to share. Or just make them for your damn self because they are really good.
Baked Jalapeño Poppers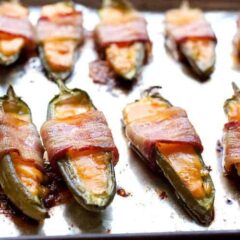 These little guys are easy to make and SO addictive. Make a big batch of these for your next game day celebration.
Ingredients
8

large jalapeños

,

halved and seeded

6

ounces

sharp cheddar cheese

,

divided

8

strips bacon

,

halved
Instructions
Preheat oven to

400

°F

. Line a baking sheet with foil.

Split jalapeños down the center. Leave the stems intact. Scoop out seeds. WASH HANDS!

Cut cubes of cheese to fit in each half of each jalapeño.

Cut bacon strips in half and wrap each jalapeño with bacon. Make it so the seam of the bacon wrap is on the bottom of the jalapeño so the bacon stays closed as it bakes.

Bake poppers for 20-25 minutes at 400 degrees F. until bacon is crispy, pepper is blistered, and cheese is very melted. If you have thick bacon, you might need to bake for an extra 5-10 minutes.

Let poppers cool for a few minutes before serving. Reheat poppers in a 350 degree oven.
Nutrition
Calories:
365
kcal
|
Carbohydrates:
3
g
|
Protein:
16
g
|
Fat:
32
g
|
Saturated Fat:
14
g
|
Polyunsaturated Fat:
3
g
|
Monounsaturated Fat:
11
g
|
Trans Fat:
0.1
g
|
Cholesterol:
72
mg
|
Sodium:
570
mg
|
Potassium:
189
mg
|
Fiber:
1
g
|
Sugar:
1
g
|
Vitamin A:
744
IU
|
Vitamin C:
33
mg
|
Calcium:
306
mg
|
Iron:
0.3
mg
Did you make this recipe?
How to Make Jalapeño Poppers in the Oven
There are very complicated popper recipes out there. If you want to get into it, I usually recommend starting with a cream cheese base and then adding flavors you like.
The one problem with cream cheese though is that it can get too melted. You have to be a bit careful with how you cook it.
Using cheddar though is a lot easier to work with. All you need is three things: good sharp cheddar, BIG jalapeños, and bacon.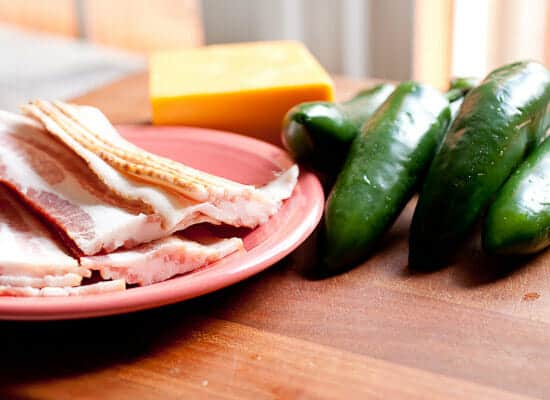 To prep the peppers, cut the jalapeños in half longwise, but leave the stems on. If you cut the stems off, the cheese will just ooze out of the back of the peppers. NO GOOD.
Then scoop out the seeds and most of the white pith of the pepper. This will make the peppers more mild since most of the capsaicin is in the pith.
Then just cut up some cubed cheddar that fits in the pepper!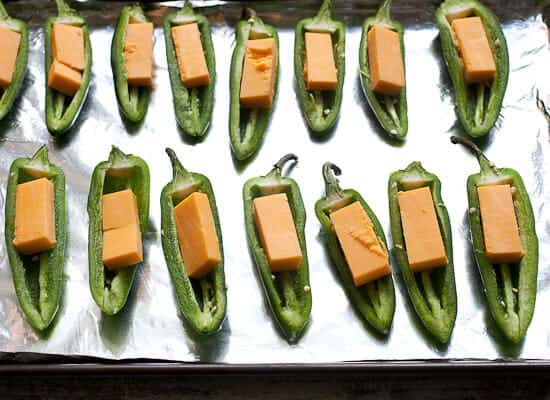 For these, I don't recommend using grated cheese. Grated cheese melts faster and that's actually bad for this recipe. These bake for a while and you it's better to have blocks of cheese in there.
Then, just wrap each pepper with half a strip of bacon. The only trick here is to wrap it so the ends of the strip are under the pepper. This will keep the bacon wrapped around as it bakes.
Place all the finished peppers on a baking sheet lined with foil!
NOTE: Remember to wash your hands after handling all those peppers!
Finishing the Homemade Jalapeño Poppers
Bake these beauties at 400° F. for at least 20 minutes. They will most likely need 25 minutes and may need up to 30 if you use thick bacon.
As the jalapeno poppers bake, here are some things that might happen.
The bacon might slip off a few peppers. Don't worry about it.
The cheese might explode out of a few peppers. Don't worry about it.
The peppers and/or cheese might stick to the foil a bit. Don't worry about it.
Get it? At the end of the day, even with all that, these will be very delicious. Just let them cool for a few minutes before chomping into one!
I usually stop myself after 4-5 of these, but I'm not sure what the upper limit is for me. I could eat a bunch of them!
Don't think you need to set up a fryer or have some fancy prep method to make good poppers. These easy baked jalapeño poppers are very delicious and Macheesmo (and Dad-of-Macheesmo) approved!
Here are a few other great Game Day Party Appetizers!