There is a very fine line between some soups and some dips. Sometimes I like to walk that line and sometimes I like to dance back and forth across it, creating dishes that you'll want to dip bread in or chips in or eat with a freakin' spoon.
The only reason this Broccoli and Cheddar Queso isn't a soup is that it's just too thick. You couldn't eat a bowl of it by yourself or at least you shouldn't eat a bowl of it by yourself. So we'll call it a dip and proceed.
Roasted Broccoli Queso
A quick and delicious homemade queso dip with roasted broccoli and cheddar cheese. Served with toasty bread or thick chips.
Ingredients
2

cups

chopped broccoli

,

roasted

¼

large white onion

,

grated

1

4-ounce

can diced green chiles

¼

cup

unsalted butter

¼

cup

all-purpose flour

2

cups

warm milk

8

ounces

cheddar cheese

,

grated

Salt and pepper

Olive oil

,

for broccoli

Crusty bread or chips for dipping
Instructions
Preheat oven to 350 degrees Fahrenheit. Chop broccoli into big florets, drizzle with olive oil and sprinkle lightly with kosher salt and pepper. Bake broccoli for 20 minutes, stirring ever 8-10 minutes.

In a medium pot, melt butter over medium heat. Then add onions and peppers and cook until onions are soft, about 5 minutes.

Whisk in flour into the onions to form a light roux. Cook for a minute or two to cook out flour taste.

Whisk in warm milk slowly. The mixture should thicken into a nice cream sauce.

Add grated cheese and stir until melted. Reduce heat to low and keep warm.

When broccoli is done roasting, cut into very small florets. Then fold broccoli into the cheese sauce.

Season queso with salt and pepper.

Serve queso immediately with crusty bread or tortilla chips.
Nutrition
Serving:
1
bowl
|
Calories:
302
kcal
|
Carbohydrates:
11
g
|
Protein:
13
g
|
Fat:
23
g
|
Saturated Fat:
14
g
|
Polyunsaturated Fat:
1
g
|
Monounsaturated Fat:
5
g
|
Trans Fat:
0.3
g
|
Cholesterol:
68
mg
|
Sodium:
290
mg
|
Potassium:
262
mg
|
Fiber:
1
g
|
Sugar:
5
g
|
Vitamin A:
936
IU
|
Vitamin C:
27
mg
|
Calcium:
386
mg
|
Iron:
1
mg
Did you make this recipe?
Broccoli and Cheddar Queso
Roasted Broccoli
There are a bunch of ways to prepare broccoli and I prep the stuff differently depending on the dish. Sometimes I'll steam it or blanch it, keeping it bright green and slightly crunchy. But for this Broccoli and Cheddar Queso, I wanted to intensify the broccoli flavor and also pull out as much moisture as possible. So I decided to roast it.
I just chopped my broccoli into florets and then drizzled them with olive oil and a pinch of salt and pepper.
Roast the florets for about 20 minutes at 350 degrees. Stir them a few times as they bake to make sure they don't just burn on one side.
When the broccoli is done roasting, let it cool so you can handle it and then chop it into smaller pieces. I like to use the natural breaks in the broccoli to chop it into tinier florets.
This is ready to mix into the queso now! Luckily, while the broccoli is roasting you should be able to complete the queso.
The Queso
This Broccoli and Cheddar Queso starts with a really basic queso. Besides some milk and butter you just need some diced peppers, an onion, and lots of grated cheese!
Add the butter to a medium pot over medium heat and once it's melted, add in the onions and green peppers. Grating the onions helps them melt into the dip a bit so you don't have any huge onion chunks. Not an essential step, but it's a nice touch.
Cook this until the onions soften, about five minutes. Then add the flour and whisk it into the onions and peppers, forming a roux.
Continue to cook this for another minute or two until the flour is a very light tan color. It will help cook some of the flour taste out of the roux.
Then slowly whisk in the warm milk and it should thicken immediately.
Once all your milk is whisked in, add in that cheese!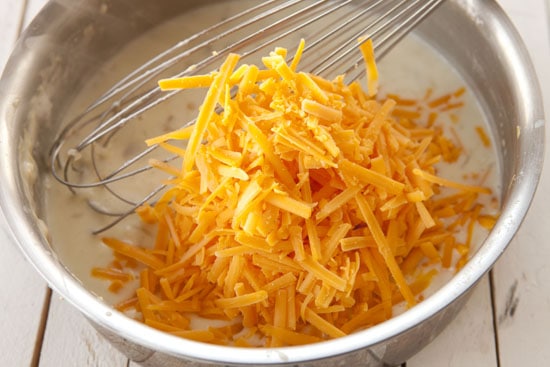 Once the cheese is melted your queso is basically done. Don't forget to season it with salt and pepper.
Gently stir your broccoli into the queso and you're ready to rock.
You could serve this with almost any bite-sized snack. It would be good with raw veggies like carrots, pita chips, tortilla chips, or little toasts.
I just toasted some bread and cut it into pieces for my version.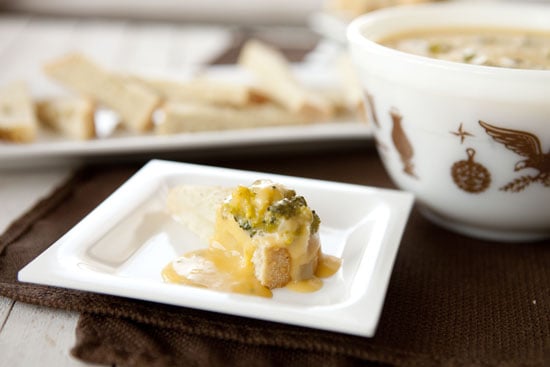 Whether you call it a dip or a soup, it's messy. And delicious.
I think I could even get a few broccoli haters I know to give this a shot.
Here are a few other great broccoli recipes!