My dad passed away about a year ago and I've been cooking through some of his favorite recipes. Shrimp Jalapeno Poppers were always one of his favorite appetizers.
He had a casual way of making these poppers which basically involved stuffing an entire shrimp into a jalapeno with cream cheese, wrapping it in bacon, and grilling it into submission.
While I've kept the spirit of his recipe with my version, I updated it a little bit to be slightly easier to eat and also baked instead of grilled in case you don't have access to a grill.
It's a really nice twist on the classic jalapeno popper though and one I hope you try!
What Jalapenos work best for poppers?
I wish I knew some magic test to tell the heat level of jalapenos, but I don't. I will say that in my experience the larger peppers tend to be milder while the smaller peppers are hotter. This is not a hard and fast rule though and occasionally you can get a surprise spicy guy!
But, I do prefer the larger jalapenos for these poppers because you really want a large enough space to stuff the peppers with lots of cheese and shrimp.
If I were just using cheese for these poppers then the smaller jalapeno peppers would be okay, but we need room for the shrimp so bigger truly is best for these.
What shrimp work well for jalapeno poppers?
Okay! Let's move on to the shrimp for this recipe. I like to chop up my shrimp for the filling so you don't have to worry about biting through a whole shrimp.
Because I chop them up, the size of the shrimp is not a huge deal so I would go with medium shrimp or whatever is on sale. Don't get the large or jumbo shrimp. You'll just be paying more for what should be saved for shrimp cocktails!
Personally, I like to buy shell-on shrimp as I find them to be fresher but if you are in a hurry you can use peeled raw shrimp for this recipe as well.
How to cook the shrimp
If you need to, peel your shrimp and remove the tails. Then add them to a bowl with olive oil, chili powder, garlic powder, salt, and pepper, and combine well.
Let the shrimp marinate for a few minutes and then add them to a large skillet over medium high heat. Cook the shrimp for 2-3 minutes per side until they are just cooked through.
Remove the shrimp from the skillet, chop them up into bite-sized pieces and add them to your popper filling.
Stuffing and baking the jalapeno poppers
Besides the chopped shrimp, I like to use a mix of softened cream cheese and sharp cheddar cheese for my filling. Check out the substitution ideas below for other filling ideas.
Once you have cooked and chopped your shrimp, add them to a bowl and mash them together with the cheeses.
To prepare the jalapenos, slice them in half longwise through the stem of the pepper, but leave the stem attached. Cut out the seeds and pith of the pepper, leaving a clean cavity. Some people prefer to leave the peppers whole, wrap with bacon, and secure with a toothpick but I like the half pepper version for these.
When it comes to stuffing the peppers, I'm a fan of the more is more strategy. You can really stuff these until they are near-bursting! It's okay if the stuffing is mounded up on the pepper or even slightly over-hanging on the pepper. It's all good!
When you're ready to bake these, dust them with breadcrumbs for a little crispy topping and bake them in a 400˚F oven for 25 minutes until they are golden brown on top.
These poppers will need cool for a few minutes before you bite into them as they will be really hot!
Making these in advance and reheating the poppers
These shrimp-stuffed jalapenos actually reheat really well! If you make them in advance store them in the fridge (try not to stack them or they will stick together).
When you want to heat them up, lay them out on a baking sheet and warm them up in a 350˚F oven until the cheese is melted and they are warmed through.
These shrimp jalapeno poppers keep great in the fridge for a few days!
Some substitutions and ideas
There are many jalapeno popper recipes out there and many of them are sort of interchangeable. Here are a few ideas for these if shrimp isn't your favorite ingredient!
If you are grilling these, you can leave the jalapenos whole for a larger popper!
Wrap the jalapenos in bacon for a crispy exterior crust.
Change up the cheeses in the popper. Try gouda or Monterey Jack!
Try different spice mixes. Old bay would be nice with the shrimp.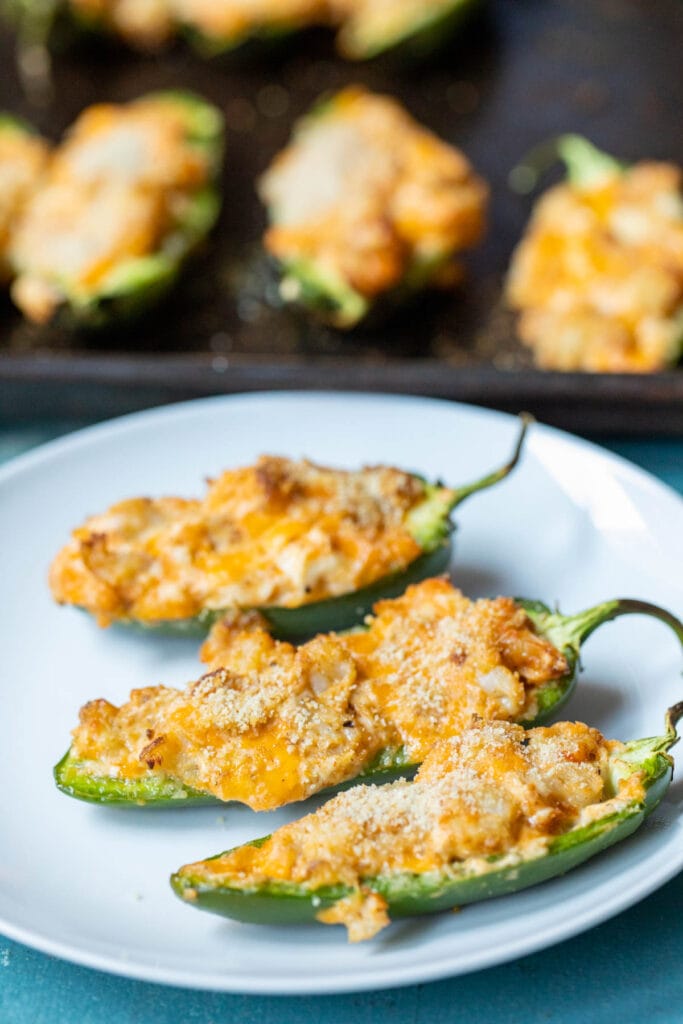 Shrimp Jalapeno Poppers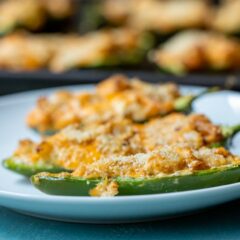 These shrimp jalapeño poppers are a fun twist on the classic jalapeno popper. This baked version is easy to make and as delicious as a fried version!
Ingredients
1

pound

medium shrimp

,

peeled and cleaned

2

tbsp

olive oil

1

teas

chili powder

½

teas

garlic powder

½

teas

ground cumin

¼

teas

kosher salt

¼

teas

black pepper

10

jalapenos

,

halved and cleaned

8

oz

cream cheese

,

softened

4

oz

sharp cheddar cheese

,

grated

½

cup

breadcrumbs

,

topping
Instructions
Preheat oven to 400˚F. Peel and clean shrimp and add them to bowl with olive oil, chili powder, garlic powder, cumin, salt, and pepper. Stir to combine.

Cook the shrimp in a large skillet over medium-high heat for 2-3 minutes per side until just cooked through. Then remove shrimp and roughly chop.

Add chopped shrimp to a bowl with cheeses.

Prepare peppers by slicing them in half through the stem and cutting out the seeds. Fill pepper cavity with cheese mixture. Stuff them full and sprinkle peppers with breadcrumbs.

Place the stuffed peppers on a baking sheet and bake at 400 degrees F for 20-25 minutes until golden brown and cheese is bubbling.

Let shrimp poppers cool slightly before serving, but serve warm.
Nutrition
Serving:
1
popper
|
Calories:
80
kcal
|
Carbohydrates:
4
g
|
Protein:
8
g
|
Fat:
4
g
|
Saturated Fat:
1
g
|
Polyunsaturated Fat:
0.3
g
|
Monounsaturated Fat:
2
g
|
Trans Fat:
0.001
g
|
Cholesterol:
44
mg
|
Sodium:
195
mg
|
Potassium:
123
mg
|
Fiber:
0.4
g
|
Sugar:
1
g
|
Vitamin A:
169
IU
|
Vitamin C:
8
mg
|
Calcium:
101
mg
|
Iron:
0.4
mg
Did you make this recipe?
Here are a few other great popper recipes!