Avocado toast is all the rage on any social media platform and also in any trendy coffee shop. I'm always a fan of a good avocado toast, but I also love plain old toast with butter. So why not combine them? This Avocado Butter Spread is exactly that!
It takes literally minutes to make and is a great thing even kids can make. Once it's made, you can smear it on any kind of toast for a quick flavor upgrade. Slide a few eggs on top if you have them or just enjoy it plain!
Give it a shot and I think you'll find it a nice, and simple, upgrade on the classic avocado toast!
How to pick ripe avocados
Picking a ripe avocado can be tricky. You can't really go by color although unripe avocados will tend to be a lighter green color. That's not always true though so you have to test further.
A ripe avocado will give if you press on the skin of the avocado slightly. If it gives very easily then it is probably overripe and brown on the inside.
You can also take off the small stem of the avocado and if the undersection of flesh is green, then your avocado isn't overripe.
What kind of butter to use for this spread
I'm not going to be a butter gatekeeper here, but I would recommend using a salted butter. Unsalted butter is great for baking but for a recipe like this the salt in the butter is a wonderful addition to the spread.
If you do use unsalted butter, you will probably want to add a pinch of salt to your finished avocado butter spread.
How to Make the Avocado Butter Spread
There are two methods on how to make this spread. The easiest way is to add your ripe avocados and butter to a food processor and pulse it until it's smooth. Done deal!
The second way involves a bit more manual labor. But basically, you just smash it together with a fork!
When it comes to ingredient ratios, I like to start with half a cup of butter for each large ripe avocado. This means a little more avocado than butter in your ratio and you could adjust to your liking.
The thing about the smashing method is that you won't be able to get it as smooth as with the food processor version. This shouldn't be a surprise. I like both methods just fine! The smashed version is just a bit more rustic.
How to Serve the Avocado Butter Spread
This avocado butter is best served at room temperature so if you are taking it out of the fridge, it's best to let it sit for 30 minutes to warm up slightly and it'll be easiest to spread.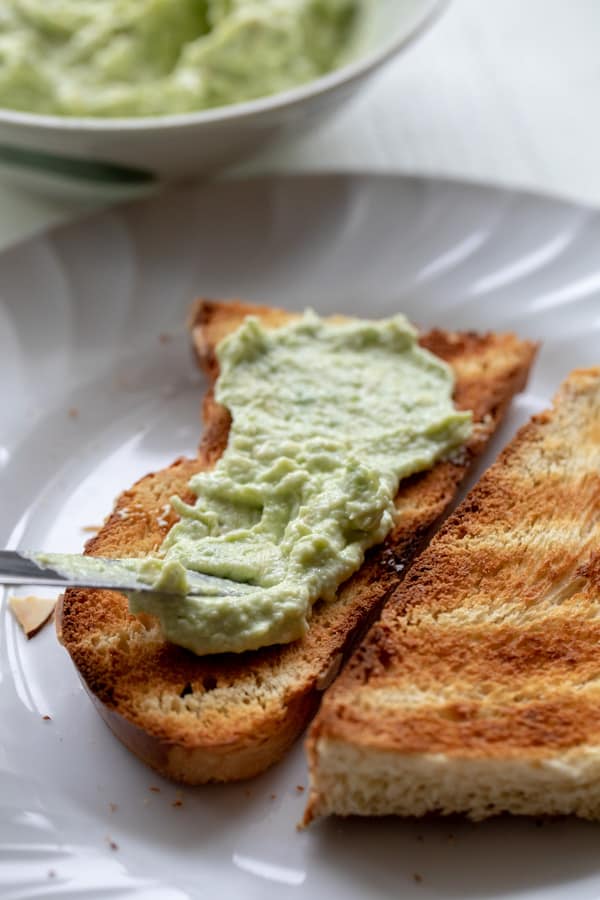 This spread was absolutely made for toast. I like it with an egg on top, but just the spread on toast is really delicious.
Or, of course, you can take it all the way with eggs, hot sauce, and thyme or cilantro. AMAZING!
If you're looking for an easy upgrade to the morning toast right now, this is a must-try!
This would also be great on any muffin-like these Banana Poppy Seed Muffins or these Brown Butter Zucchini Muffins!
How to store avocado butter
This avocado butter will store well in the refrigerator for a few days. To help prevent it from browning, you can add some lemon juice to the top of the spread and cover it with plastic wrap.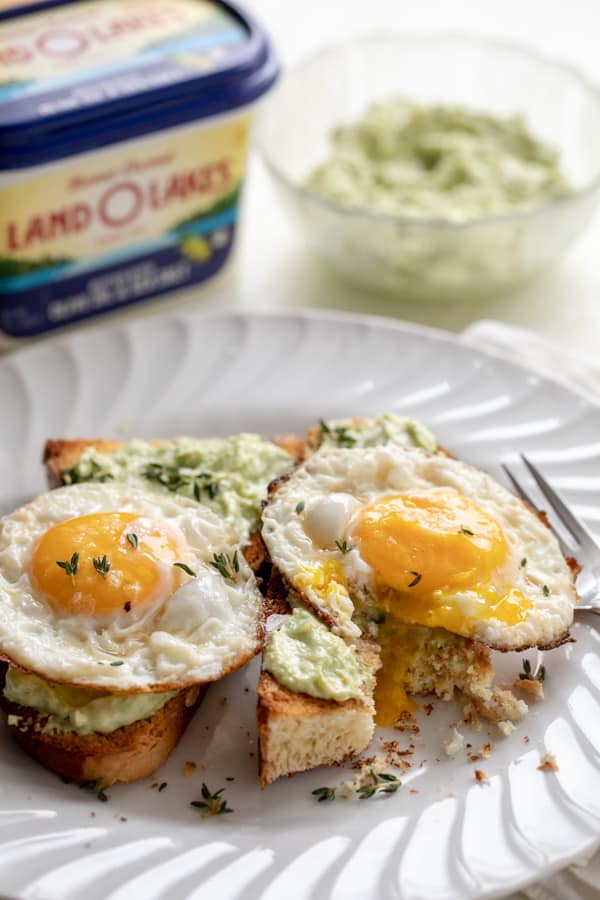 Avocado Butter Spread
This easy two-ingredient topping is perfect with eggs or just with some fresh cilantro and hot sauce on toast! Avocado Butter Spread for the win!
Ingredients
1

ripe medium avocado

½

cup

salted butter
Other Ingredients:
Crusty Bread

Eggs

Cilantro

Hot Sauce
Instructions
Method one:

Dice avocado and add it to a small food processor with the Butter. Process until it's smooth.

Method two:

Dice avocado and add it to a bowl with Butter. Mash together well with a fork until smooth. It won't get as smooth as the food processor version, but will still be delicious!

Serve avocado butter spread on toast with eggs, cilantro, and hot sauce.

Leftover avocado butter spread will keep well in the fridge for 2-3 days. Cover with plastic wrap directly on the spread to prevent browning.
Nutrition
Serving:
0.25
cup
|
Calories:
284
kcal
|
Carbohydrates:
4
g
|
Protein:
1
g
|
Fat:
30
g
|
Saturated Fat:
16
g
|
Polyunsaturated Fat:
2
g
|
Monounsaturated Fat:
11
g
|
Trans Fat:
1
g
|
Cholesterol:
61
mg
|
Sodium:
186
mg
|
Potassium:
251
mg
|
Fiber:
3
g
|
Sugar:
0.4
g
|
Vitamin A:
782
IU
|
Vitamin C:
5
mg
|
Calcium:
13
mg
|
Iron:
0.3
mg
Did you make this recipe?
Here are a few other great simple breakfast recipes!
If you're looking for a few other great breakfasts to try that are fast and delicious, check out this fun breakfast tortilla recipe which is cheesy and easy to make. For something equally hearty, check out this Honey bacon Breakfast Skillet which is buried in the Macheesmo archives but always a winner. I also like this Breakfast Salmon Sandwich which is kind of an open-faced sandwich that is always a winner. For something on the lighter side, I love these Egg White Muffins from Kirbie Cravings