My 1-year old would definitely pop positive on a drug test this week. Luckily, as far as I know, they don't give babies drug tests unless something has gone terribly wrong.
It's well known that while you would have to eat an insane amount of poppy seeds to get loopy, a decent amount of them can cause a false-positive on a drug test! (Reference Mythbusters)
Even if you did, these banana poppy seed muffins are totally worth it (Okay, probably not). They have just enough sweetness and are really fluffy and soft thanks to the ripe bananas.
My little Dude and I will split one for breakfast (and then maybe I'll have a whole second muffin because I'm an adult and can do what I want).
Banana Poppy Seed Muffins
These easy muffins are half banana bread and half poppy seed muffin. They are perfectly fluffy and great for kids!
Ingredients
2

cups

all-purpose flour

1

tablespoon

baking powder

½

teaspoon

salt

½

teaspoon

cinnamon

½

cup

brown sugar

2

very ripe bananas

,

1 cup mashed

2

large eggs

½

cup

milk

¼

cup

unsalted butter

,

melted and cooled

¼

cup

poppy seeds

Butter for muffin tin
Instructions
Preheat oven to 375 degrees F. In a large bowl whisk together all-purpose flour, baking powder, salt, and cinnamon.

In a medium bowl, mash bananas well until they are almost no lumps. Add in sugar and continue to mash until well combined. Then stir in eggs, milk, and melted butter.

Stir wet ingredients into the dry ingredients. Add poppy seeds and stir until combined. If batter is very thick and not pourable, add more milk by the tablespoon to loosen it.

Divide batter into 12 muffin tins (greased with butter). Fill muffin tins almost to the top.

Bake muffins at 375 degrees F. for 20 minutes.

Finished muffins should be browned on the edges and puffed in the center. Feel free to test one with a tester. The center should be completely set in each muffin.

Let muffins cool for a few minutes, then remove and serve warm. Store extra muffins in an air-tight container in the fridge for 4-5 days.
Nutrition
Serving:
1
Muffin
|
Calories:
190
kcal
|
Carbohydrates:
31
g
|
Protein:
4
g
|
Fat:
6
g
|
Saturated Fat:
3
g
|
Polyunsaturated Fat:
1
g
|
Monounsaturated Fat:
1
g
|
Trans Fat:
0.2
g
|
Cholesterol:
39
mg
|
Sodium:
221
mg
|
Potassium:
147
mg
|
Fiber:
2
g
|
Sugar:
12
g
|
Vitamin A:
188
IU
|
Vitamin C:
2
mg
|
Calcium:
119
mg
|
Iron:
2
mg
Did you make this recipe?
Banana Poppy Seed Muffins
Find some ripe 'nanners for these muffins. They should be nicely browned on the outside. Even if they are a bit over-ripe that's just fine.
Mash them up!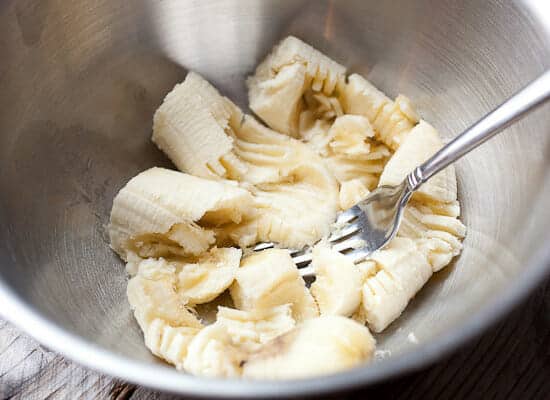 Add the sugar to the bananas and mash them well until they form a fairly smooth paste. Then add the other liquid stuff.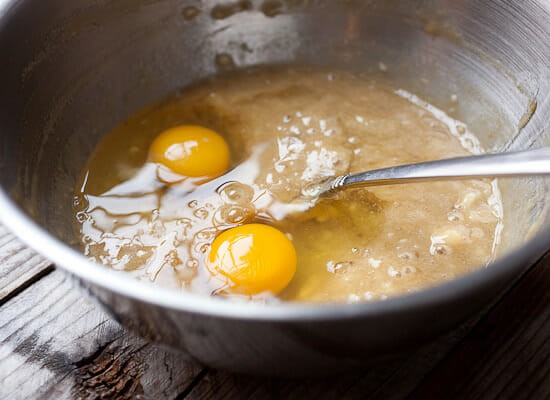 On the other end, the dry stuff is pretty standard. Flour, baking powder, salt, and cinnamon. Done deal.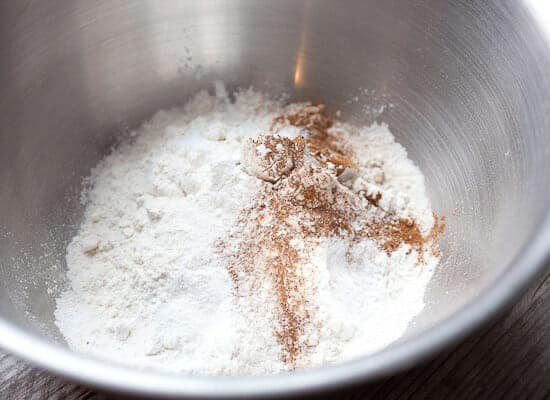 Oh… and poppy seeds obviously! Poppy seeds are really good for you actually and are packed with protein and calcium.
But seriously, it's probably best to go light on them if you are expecting a drug test anytime soon.
Poppy Seed Tip: Don't buy poppy seeds in the spice section! You can find them much cheaper at most wholesale locations.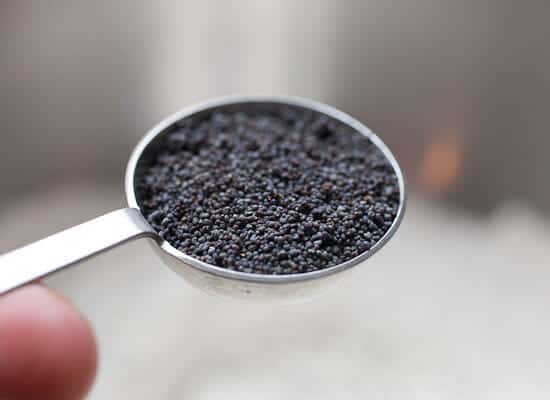 Stir the wet ingredients into the dry ingredients and then add in the poppy seeds.
The finished batter should be thick, but pourable. If it seems too thick, then add more milk.
This was my finished version.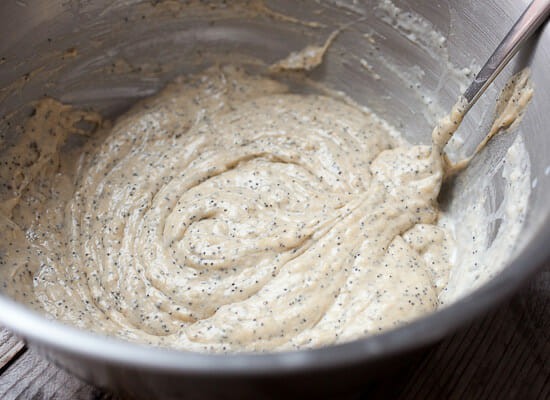 Baking the Muffins
Divide the batter into 12 muffin tins (buttered). You can fill them pretty high.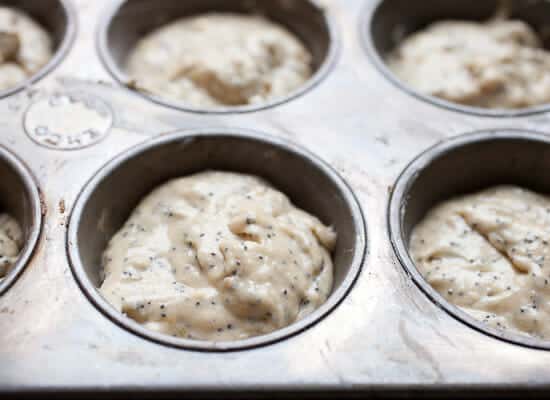 Bake the banana poppy seed muffins at 375 degrees F. for about 20 minutes until they are browned on the outer parts and puffed in the center.
Let them cool for a few minutes before popping them out.
Want a different banana bread flavor? Try this Pistachio Banana Bread with Pomegranate!
These are so good warm with a little butter.
They also keep great in an airtight container for the week (in the fridge). I like to pop one in the microwave for 10 seconds just to warm it up.
I love having one as an after dinner treat, actually.
Who doesn't love a good muffin?!