I hope you all had a fun and safe new years!
I'm focusing on really healthy, cleansing recipes to kick off 2014 right. That said, I did eat chicken and waffles yesterday so I'm a bit behind and need to play some catch up with the whole healthy eating thing.
Minestrone soup is a classic healthy Italian soup that I tend to adjust depending on the season. If I'm making it in the summer, I'll use really fresh summer veggies like green beans and maybe ramps. In the winter though, I make it a bit more hearty with red potatoes and kale.
Minestrone typically has some sort of pasta as a base as well and I chose macaroni for this version just because I like the way macaroni minestrone sounds. Am I right? Macaroni minestrone.
Macaroni Minestrone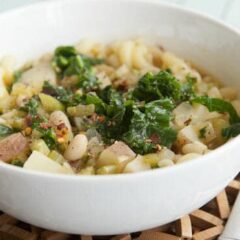 A veggie packed minestrone soup base ladled over macaroni. This soup is a fun update of the Italian classic.
Ingredients
1

pound

macaroni

,

cooked al dente

3

tablespoons

olive oil

1

sweet onion

,

diced

3

stalks celery

,

diced

3

cloves

garlic

,

minced

1

teaspoon

dried thyme

1

teaspoon

red pepper flakes

,

optional

1

bay leaf

1

Parmesan rind

,

optional

1

pound

red potatoes

,

½-inch pieces

6

cups

vegetable stock

1

bunch kale

,

slivered

1 15-

oz.

can white beans

Salt and pepper
Instructions
Cook macaroni according to package. Once cooked, drain, rinse with cold water, and toss with a tablespoon of olive oil to keep the pasta from sticking.

In a large sturdy pot, like a Dutch oven, add olive oil over medium-high heat. Add onions, celery, and garlic and cook until veggies are soft, about 4-5 minutes.

Add thyme, bay leaf, red pepper flakes, and Parm rind and cook for another 30 seconds.

Add stock and diced potatoes, cover, and bring to a simmer. Cook until potatoes are soft, about 10 minutes. If the soup looks very thick at this point, feel free to add a bit more liquid, water or stock.

Add kale and beans and cook until kale is wilted, just a minute or two. Season the soup with salt and pepper.

To serve, spoon some macaroni into each bowl and ladle the soup over the pasta.

Store any leftovers (pasta and soup) separately so the soup doesn't get too thick.
Nutrition
Serving:
1
Bowl
|
Calories:
389
kcal
|
Carbohydrates:
70
g
|
Protein:
13
g
|
Fat:
7
g
|
Saturated Fat:
1
g
|
Polyunsaturated Fat:
1
g
|
Monounsaturated Fat:
4
g
|
Cholesterol:
0.1
mg
|
Sodium:
736
mg
|
Potassium:
730
mg
|
Fiber:
6
g
|
Sugar:
6
g
|
Vitamin A:
1179
IU
|
Vitamin C:
14
mg
|
Calcium:
93
mg
|
Iron:
3
mg
Did you make this recipe?
Macaroni Minestrone
Soup Veggies
This Macaroni Minestrone is a really basic, clean soup but there are some tricks to make it top notch. For starters, you'll need some onions, celery and garlic. No need to be super-particular dicing these.
Like I said, to make this version winter-hearty I cubed up about a pound of red new potatoes as well. About a 1/2-inch dice is good.
Go ahead and chop up the kale as well although you won't use it until the very end of the soup.
The Macaroni Trick
One mistake that people sometimes make when they make minestrone is they cook the pasta in the soup. This creates some problems. For one, you can overcook the pasta because you have no control over it really. Second, it will make the soup thick and starchy which isn't great.
Instead, just cook the macaroni separately! Make sure not to overcook it and when it's done, drain it and rinse it really well with cold water. The cold water will stop the cooking and then toss it with a tablespoon of olive oil which will keep the pasta noodles separate. If you don't do this, they will just stick together in a huge clump.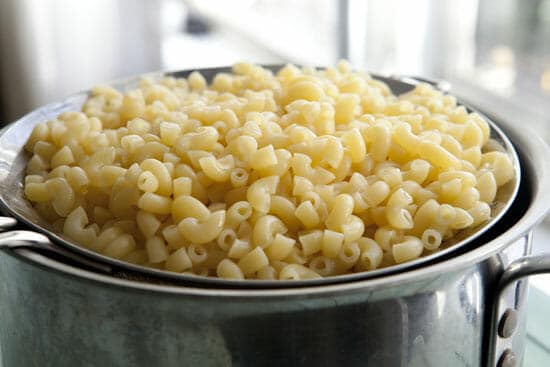 Making the Soup
This Macaroni Minestrone is a pretty easy soup to throw together once you have everything chopped. Add a drizzle of olive oil to a sturdy pot and then add in the celery, onions, and garlic. Cook over medium-high heat until the veggies are soft and then add the spices and Parmesan rind. If you don't have a rind that's fine, but I like to save mine in the freezer for soups like this.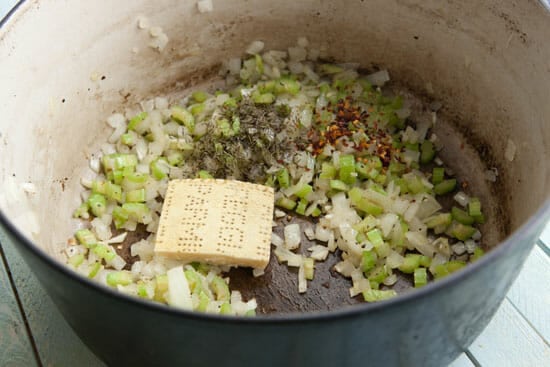 Add the potatoes and stock next and bring it to a simmer. Let the potatoes cook until they are tender, about 10 minutes, and then stir in the white beans and kale.
Cook it until the kale is wilted and then season the whole pot with salt and pepper.
Serve It Up
You may be tempted to stir the macaroni into the soup at this point, but resist! Instead, spoon in some macaroni into each serving bowl like so…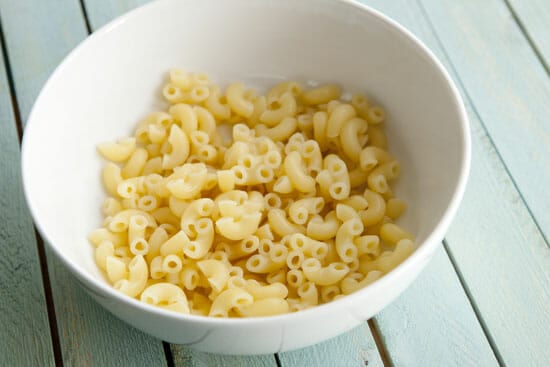 Then ladle the soup base over the pasta. This will make sure that the pasta is cooked perfectly and also that your soup stays nice and clean.
I garnished my Macaroni Minestrone with a little extra red pepper flake for good measure.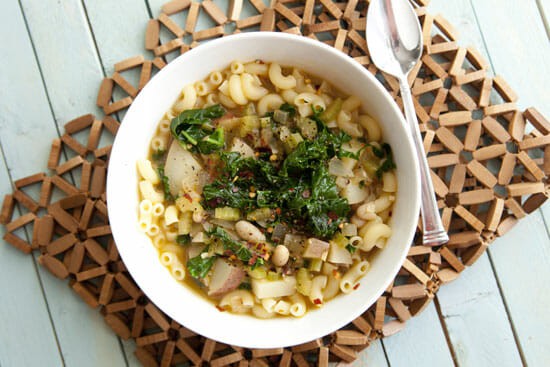 Unless you are the Duggars you will almost certainly have leftovers of this meal. Again, I highly recommend storing any leftovers (pasta and soup) separate and then combining them by the bowl as you reheat it. This will keep the soup liquid. If you combine them then you'll have a big block of soggy pasta soupish stuff.
There you have it! Macaroni Minestrone!
Make it and start your year off on a healthy foot.