As the holidays approach, one thing I always try to make each year is a big batch of real, authentic eggnog. It's not everybody's cup of drink, for sure, but those who love it, really love it. Count me in that group! This Rum Flip Cocktail is in the style of eggnog but is an entirely different beast.
This cocktail is a lesser known cocktail but the flavors are really great and it's a nice change-up from normal holiday rum cocktails.
While eggnog can be a bit of a production to make, this Rum Flip cocktail is fast and you can make one or a bunch depending on how you are feeling and who you have over. Unlike some cocktails that just use the egg white, this actually uses the whole entire egg, much like egg nog. It makes the finished cocktail super creamy and almost tastes like boozy, melted ice cream.
CHEERS!
What is a flip cocktail?
A flip cocktail is just a cocktail that is shaken that usually uses a whole egg. If you're not used to it, it might sound crazy to put a whole raw egg in a cocktail, but bartenders have known this trick forever and it ends up giving you a really creamy and delicious cocktail.
Think boozy melted ice cream in cocktail form!
Ingredients you'll need for this cocktail
The ingredient list for this cocktail is pretty short. Basically you need:
An Egg. You use a whole egg for this cocktail, not just the egg white like in these egg white cocktails.
Good rum. I recommend using a good aged rum for this cocktail (not a cheaper light rum). The first time I made it I used Don Q, which makes a great aged rum.
Brown sugar. This gets emulsified in with the cocktail, giving it some sweetness but also a subtle molasses flavor.
Cinnamon and nutmeg. It wouldn't be a good holiday cocktail without some cinnamon and freshly grated nutmeg!
Water. Water is important in this cocktail and most of it will come from the melted ice as you shake the cocktail but if the cocktail seems too thick, you can add an extra 1/2 ounce of water and shake it more to thin it out a bit.
Making this Rum Flip Cocktail
This would be a good time to do my obligatory disclosure that this drink does contain raw eggs. You may have guessed this by the following photo which is of a raw egg and rum in a glass.
Generally, I have no problem consuming raw eggs, but if it bothers you, you can find pasteurized eggs or this drink just might not be the one for you!
Assuming you want to press on though, you just need to really shake the rum with the egg. I like to shake it first with just the egg and rum, generally called a dry shake, to get them emulsifying. Then you can add the ice and shake for at least 30 seconds.
Use your muscles to shake this cocktail everybody. You want to really whip these together so they turn frothy and creamy smooth. 30 seconds minimum is your full-throttle shaking time here.
After you add the ice, keep shaking for another 30 seconds wouldn't hurt. This will chill the drink but also add some water to it which is needed, believe it or not.
Strain this lovely thing into your cocktail glass of choice (a coupe glass is nice).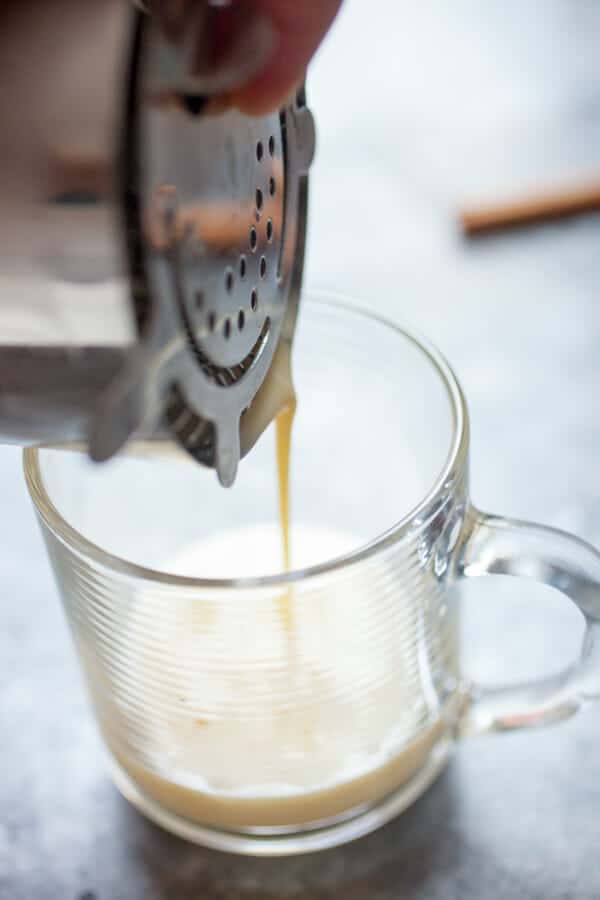 I love how it turns frothy on top. Garnish this drink with cinnamon and nutmeg and you're ready to go!
Welcome to the holiday season, everybody! Make this RUM FLIP if you're an eggnog lover. I think you'll find it much easier and equally wonderful.
Rum Flip Cocktail
A classic, simple, and delicious cocktail that's creamy and almost like eggnog. Perfect for the holidays!
Ingredients
1

large fresh egg

2

oz.

aged Rum

1

teaspoon

brown sugar

Dash cinnamon

Dash ground nutmeg
Instructions
Add egg and rum to a shaker with sugar. Shake vigorously for 30 seconds until frothy.

Add ice to the shaker and shake a second time for 15-20 seconds to chill and add some water to the cocktail.

Strain cocktail into a glass and sprinkle with cinnamon and ground nutmeg.

Drink immediately.
Nutrition
Serving:
1
cocktail
|
Calories:
209
kcal
|
Carbohydrates:
4
g
|
Protein:
6
g
|
Fat:
4
g
|
Saturated Fat:
1
g
|
Polyunsaturated Fat:
1
g
|
Monounsaturated Fat:
2
g
|
Trans Fat:
0.02
g
|
Cholesterol:
164
mg
|
Sodium:
64
mg
|
Potassium:
67
mg
|
Sugar:
4
g
|
Vitamin A:
238
IU
|
Calcium:
28
mg
|
Iron:
1
mg
Did you make this recipe?
Here are a few other great recipes to try!