As a bartender in a previous life, the daiquiri cocktail is something that makes me truly sad. Call me old fashioned but the kids these days have completely ruined the daiquiri.
What used to be a classy, elegant and simple cocktail is now something bright red, fruity, and generally served out of a frozen machine.
So let's revive a classic. The original daiquiri has really just three ingredients. It definitely should not contain any mixes. It should be light and super-chilled.
While I'll admit that the new fruity version of this drink can go down smooth on a sweltering summer day, I think you'll find that this classic daiquiri cocktail can hold its own as well.
Classic Daiquiri Cocktail
All you need for this classic delicious cocktail is a few things you probably already have. Make the real version and cheers to summer!
Ingredients
2

oz.

light rum

¾

oz.

simple syrup

¾

oz.

fresh lime juice
Instructions
For simple syrup (make in advance): Add water and sugar to a small pot over medium heat. Stir regularly and bring to a slight simmer. Remove from heat and let cool completely before using.

TIP: If you're in a rush, you can transfer the hot simple syrup to a metal mixing bowl and place the bowl in a larger bowl full of ice water. Stir the simple syrup and it will chill in a few minutes.

To make a cocktail: Combine ingredients in a cocktail shaker with a good amount of ice. Shake vigorously for 30 seconds. Strain into a chilled glass.
Nutrition
Serving:
1
Cocktail
|
Calories:
552
kcal
|
Carbohydrates:
126
g
|
Protein:
0.04
g
|
Fat:
0.4
g
|
Sodium:
9
mg
|
Potassium:
22
mg
|
Fiber:
0.04
g
|
Sugar:
126
g
|
Vitamin A:
5
IU
|
Vitamin C:
3
mg
|
Calcium:
21
mg
|
Iron:
0.5
mg
Did you make this recipe?
The Daiquiri Cocktail
You need sugar for this drink to be balanced correctly. Unfortunately, you can't really just spoon in some sugar into a cocktail shaker and get a good result. It needs to be in a syrup first.
1 part sugar to 1 part water will get you a good simple syrup. Heat it until the sugar is dissolved and then let it chill!
I keep it in a little squeeze bottle for quick cocktail making!
If you're a poor planner, but still want to make simple syrup, you can very rapidly chill it down by transferring it to a metal mixing bowl and placing that bowl in an ice bath. The heat transfer will chill down hot syrup in just a few minutes.
What else do you need for this? RUM and lime. That's it.
Here's my only real rule about this cocktail. I don't really care what kind of rum you pick. I've made it with a wide range of rums, although light works best.
BUT, under no circumstances should it be made with pre-squeezed bottled lime juice. STAY AWAY. There are so few ingredients to this that the fresh lime is very noticeable. Depending on how juicy your limes are, about 1/2 of a lime should be enough for one cocktail.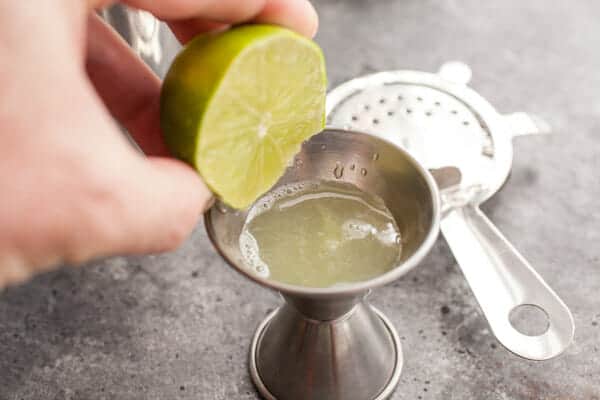 You know a daiquiri has been made well if it's a light, cloudy color with just the slightest hint of green to it. You get that by shaking the crap out of it. Lots of ice and shake vigorously for about 30 seconds. This chills the cocktail and also adds some water to it which it actually needs.
Then strain it into a chilled glass and you are in serious business.
As with most good cocktails, the number of ingredients isn't important but the way you treat them is. Use fresh limes, buy a decent rum, and shake shake baby.
Leave the bright red daiquiri mix for the college kids.