One of my favorite happy hour cocktails or nightcaps is old fashioned. I guess that makes me old, but hey.. I'm almost 40 so I'll own it. They are just the perfect mix of sweetness, booziness, and relatively easy to make. For the St. Patricks Day holiday I thought I'd make an Irish Old Fashioned Cocktail!
This is an easy twist on the classic, but the flavors are a bit different than the standard. The good news is that if you can make a good standard old fashioned cocktail you can make a good Irish Old Fashioned cocktail and vice-versa!
Ingredients in an old fashioned cocktail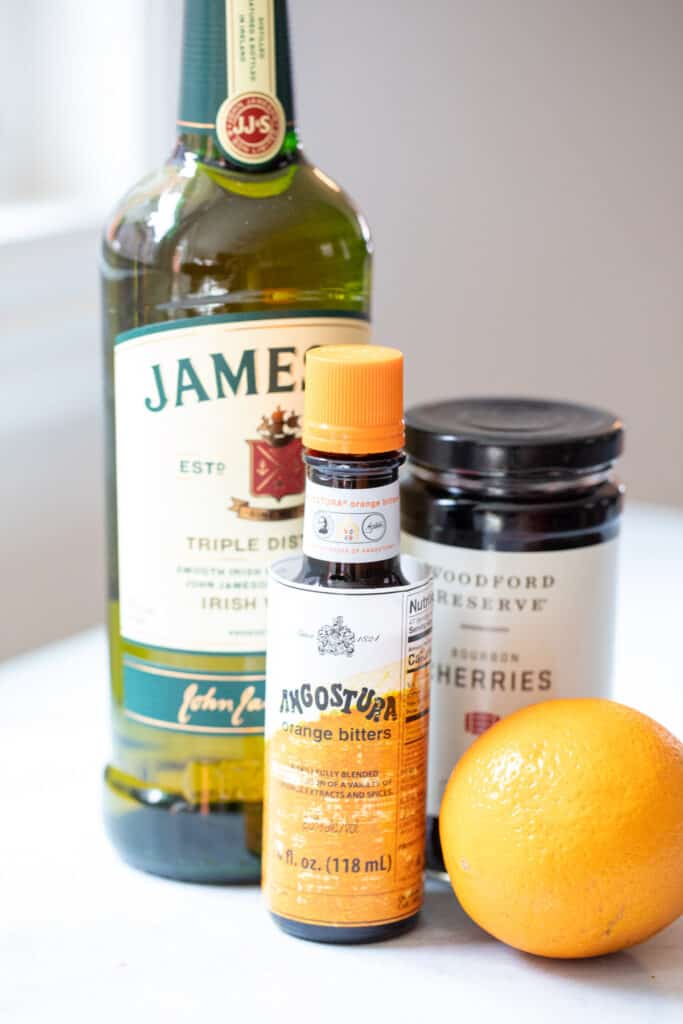 These are the basic ingredients you need for a standard old fashioned cocktail.
Whiskey. I like a good bourbon or rye in my traditional old fashioned.
Bitters. If you've never used bitters before, I highly recommend picking up a bottle for a few bucks. They are very aromatic and are great in a huge range of cocktails.
Sugar. Muddling some fruit with sugar is a great way to start an old fashioned. Sometimes you can use simple syrup if you have it, but it will water down your cocktail a bit more so I like just sugar.
Cherry. A good cherry is a great garnish.
Fresh ice. Use good ice if you can for your old fashioned. You want a large ice cube so it doesn't melt too fast.
How to make an Irish old fashioned
The big change for an Irish old fashioned is I like to use an Irish whiskey instead of bourbon. I chose Jamesons for my cocktail, but there are a few good Irish whiskeys that are available in the US.
Also, instead of standard angostura bitters I like to use orange bitters for a little orange flavor boost in the cocktail.
Start the cocktail by muddling a teaspoon of sugar with a few dashes of orange bitters and a small piece of orange rind. The sugar won't be completely dissolved but should be in a paste. You can also add a very small splash of soda water to the drink at this point if you want a lighter old fashioned.
Then add the whiskey and ice and stir really well for 15-20 seconds to combine everything and chill the drink. A spoonful of cherry juice is a nice addition if you want the drink slightly sweeter.
Garnish the drink with a cherry and orange twist. It helps to squeeze the orange peel around the edge of the glass to express the oils in the peel.
Serve it immediately and cheers!
Serving the Irish Old Fashioned
I recommend serving this Irish Old Fashioned in a traditional rocks glass. It truly is the best for a cocktail like this because it's wide and you can put a big chunk of ice in it.
I don't like to shake and strain my old fashioned like some cocktails because it waters them down too much. Instead, stirring the cocktail with a bar spoon and a big ice cube is a good way to chill the drink a little bit. (If you want to take this completely over the top, be sure to check out my tutorial on making clear ice, which I'm too lazy to do most days, but does work great.)
Irish Old Fashioned Cocktail
The Irish old fashioned cocktail is a drink made with Irish whiskey, sugar, and bitters. Learn how to make a delicious Irish old fashioned cocktail.
Ingredients
1

teaspoon

sugar

1

small orange rind

5

dashes orange bitters

2

ounces

Irish whiskey

Dash of cherry juice

,

optional

Ice

,

for serving

Cherry

,

garnish
Instructions
Muddle sugar with bitters and a small piece of orange peel until it turns into a paste.

Stir in whiskey and a spoonful of cherry juice if you want it a little sweeter.

Add ice and stir for 20 seconds.

Serve garnished with cherry.
Nutrition
Serving:
1
Cocktail
|
Calories:
196
kcal
|
Carbohydrates:
10
g
|
Protein:
0.2
g
|
Fat:
0.04
g
|
Sodium:
0.4
mg
|
Potassium:
26
mg
|
Fiber:
1
g
|
Sugar:
6
g
|
Vitamin A:
50
IU
|
Vitamin C:
16
mg
|
Calcium:
19
mg
|
Iron:
0.1
mg
Did you make this recipe?
Snacks to make alongside this cocktail
This is a classic cocktail recipe and isn't hard to make by any means. It should be in your cocktail line up for sure!
If you are looking for a few snacks to serve alongside this cocktail, I'd check out this Italian Hoagie Dip as a hearty appetizer (although not Irish) or these Stuffed Artichokes for a delicious green treat! These Reuben Crescent rolls from Simple Joy also caught my eye!