The Monte Cristo Sandwich is squarely in that category of dishes that used to be classic and on almost any diner menu, but can now actually be tough to find. In fact, I can't really remember the last time I saw one on a menu.
This is fine though. You probably shouldn't be ordering it in a restaurant anyway for the same reason that you shouldn't order a ham and cheese. Just save your money and make the sandwich at home.
This sucker might look more complicated than that, but if you can make a ham and cheese sandwich and french toast, then you can make a Monte Cristo Sandwich. There're a few little tricks though that makes all the different. (SPOILER: Third piece of bread!)
Classic Monte Cristo Sandwich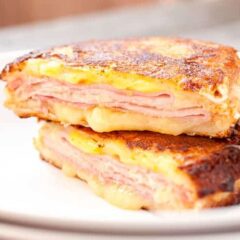 How to make the perfect classic Monte Cristo sandwich. Ingredients are simple. It's all about the method! You'll never make a normal grilled cheese again!
Ingredients
3

slices

white sandwich bread

¼

pound

ham

,

or turkey

½

cup

grated gouda cheese

2

teaspoons

mayonnaise

,

opt.

1

large egg

2

tablespoons

milk

1

teaspoon

paprika

Salt and pepper

2

tablespoons

butter

,

for cooking
Instructions
Lay out three slices of sandwich bread. Split grated cheese between two slices of bread. (You can sub smoked gouda if you want). Top cheese with sliced ham.

Lightly spread mayo on BOTH sides of the third piece of bread. Place the mayo piece of bread on top of one of the two sides. Then flip the other ham/cheese side on top so the mayo piece of bread is in between the two sides, creating a two layer sandwich. The cheese should be on the outsides of the sandwich.

Slices the ends off the sandwich and press it with some weight to really compact the layers. You can just cover it with a flat plate or cutting board and press on it gently for a few seconds.

Whisk together the egg, milk, paprika, and a pinch of salt and pepper.

Heat butter in a small skillet over medium heat.

When butter is melted, dredge pressed sandwich in the egg mixture, coating all sides. Immediately move sandwich to the skillet. Cook for 3-4 minutes per side until sandwich is golden brown. Also, upend the sandwich to cook on the ends for about 15 seconds per side.

Sandwich is done cooking when it is a dark golden brown and cheese is completely melted. Cut sandwich in half and serve immediately!
Nutrition
Serving:
0.5
sandwiches
|
Calories:
620
kcal
|
Carbohydrates:
21
g
|
Protein:
34
g
|
Fat:
44
g
|
Saturated Fat:
23
g
|
Polyunsaturated Fat:
5
g
|
Monounsaturated Fat:
14
g
|
Trans Fat:
0.5
g
|
Cholesterol:
218
mg
|
Sodium:
1489
mg
|
Potassium:
357
mg
|
Fiber:
1
g
|
Sugar:
4
g
|
Vitamin A:
1321
IU
|
Vitamin C:
0.01
mg
|
Calcium:
534
mg
|
Iron:
3
mg
Did you make this recipe?
Classic Monte Cristo Sandwich
The Two Tricks of Monte Cristo
I made this sandwich in various configurations about five times over the last week or so. The truth is that it's always pretty delicious, but there are a few tricks to make it even more delicious, which you might as well do.
Trick one is to actually use three slices of bread and make a double decker sandwich. On each side is some good cheese (I like a gouda/smoked gouda mix, but swiss or Gruyere would be great also). There's also a slice of ham on each side.
In the middle is a piece of bread that has been barely brushed with mayonnaise. You could also use mustard, but you need something for the ham to grab onto.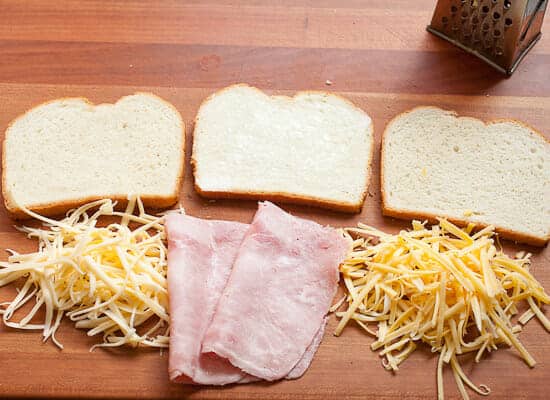 Stack this stuff up! Make sure that the cheese is on the outer most parts of the sandwich. SO: BREAD-CHEESE-HAM-MAYOBREAD-HAM-CHEESE-BREAD. Get it?
Trust me on this next part: Cut off the edges.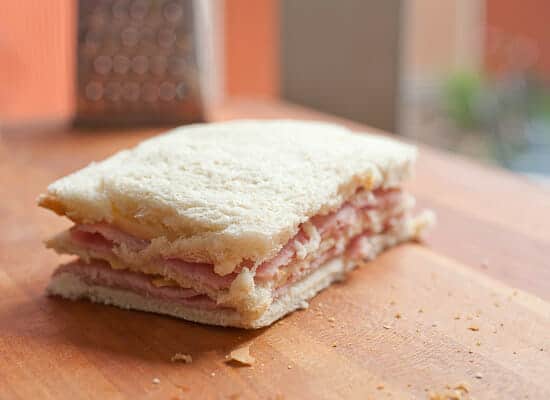 TRICK TWO of Monte Cristo: Press this sucker. I tried a version without doing this and the sandwich doesn't have the same integrity. Also the bread soaks up too much of the custard mixture later.
By pressing it though, it turns nice and dense. It also turns a two layer sandwich into the thickness of a one layer sandwich. The middle piece of bread almost disappears in the final sandwich.
It doesn't really matter how you press it. I did one version with just a cutting board on top of the sandwich and I pressed down on the cutting board for 10 seconds. I also did one version with this weird setup. Whatever works!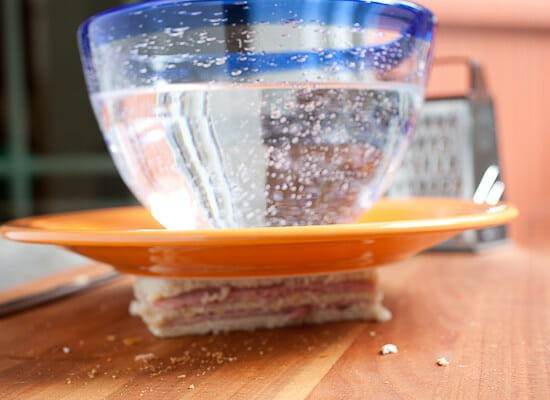 Cooking the Monte Cristo Sandwich
So now you have a really dense sandwich. Time to cook it.
In a small bowl, stir together the egg, milk, paprika, and a pinch of salt and pepper.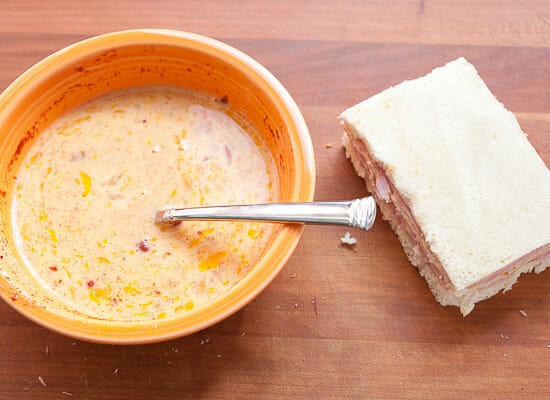 Dip the sandwich in this mix and just coat it well. The egg mixture will stay in a thin layer, but won't really soak in much because of all the pressing.
Cook this in butter please. Okay… you could use oil if you want (olive oil or coconut oil would be good), but butter just makes for such a delicious final product. Melt a tablespoon or two in a small skillet over medium heat.
Cook the sandwich for about four minutes per side. Also be sure to stand the sandwich on the ends for a few seconds to sear the edges of the sandwich.
Look at this sucker. It's a thing of beauty.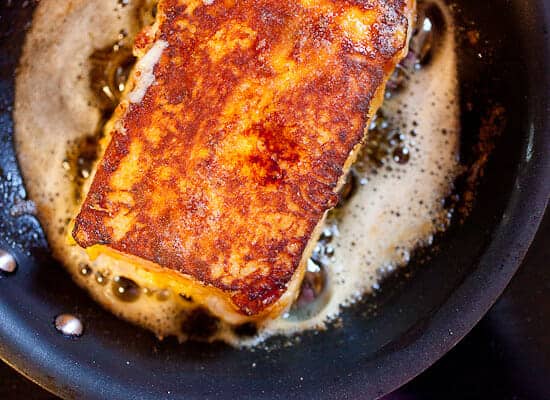 After the sandwich comes out of the skillet, I recommend transferring it to a few paper towels to let any extra grease drain off.
This one turned out particularly good.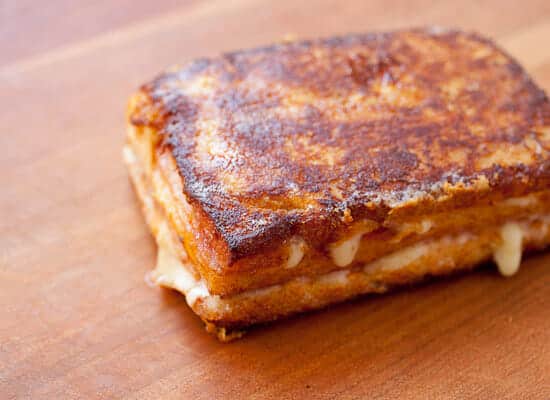 I like to slice mine in half to show off the goodness. In the below photo notice how the middle piece of bread is almost invisible? It basically acts as glue to hold the whole thing together. When you're eating it, you don't even notice it.
But, I must say I tried a version without the third piece of bread and it just didn't seem as complete. The sandwich fell apart and was on the thin side.
The next time you're getting a grilled cheese craving (like, now, right?!) try this out.
The Monte Cristo needs a comeback.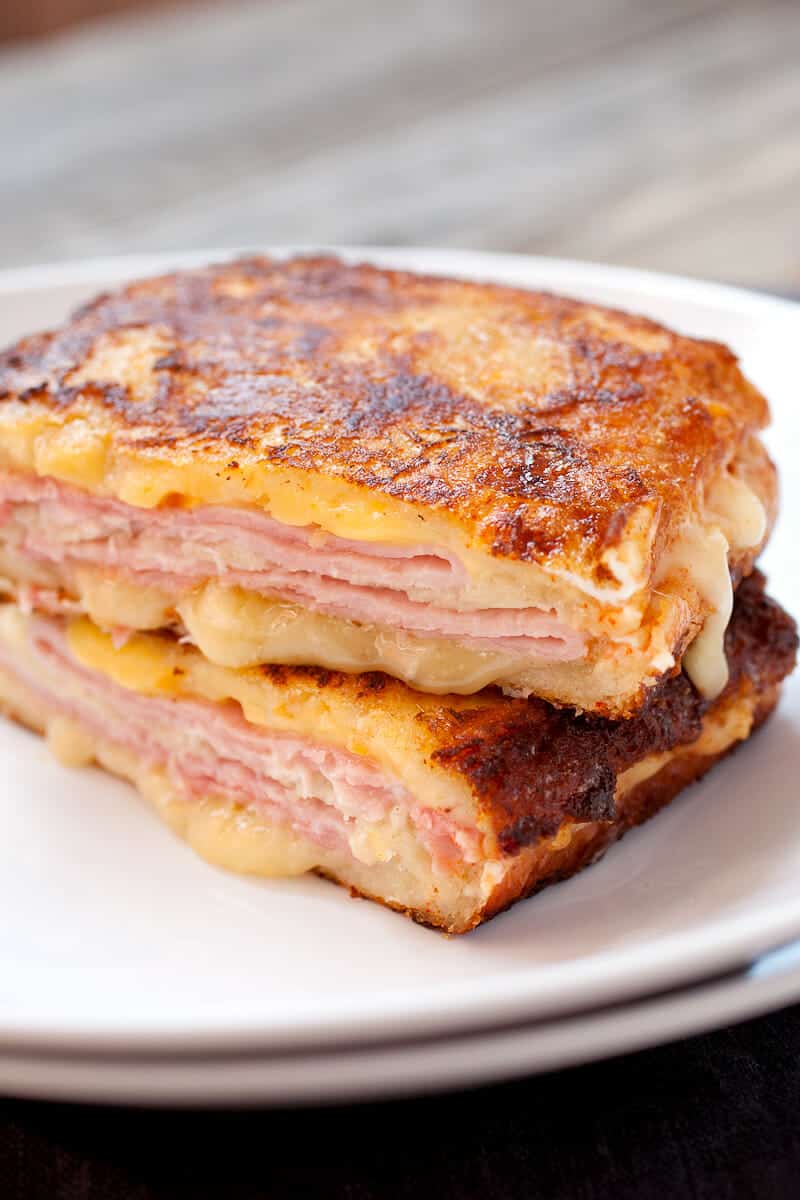 More Delicious Sandwiches!