Welcome to Spring Cookbook Week on Macheesmo! I'll be posting recipes from five cookbooks this week and giving away copies! All winners will be announced next Friday (06/05).
Ever since I watched April Bloomfield on Season two of Mind of a Chef, I've had a mild chef-crush on her. She's obviously very focused on her craft and one of the best new chefs out there these days (in fact she won New York's Best new Chef James Beard Award). She's opened a number of restaurants, none of which I've had the pleasure of eating at, but I'm sure they are wonderful.
Mostly though, I just like her approach to food. She's fussy about using good ingredients, but her tone and attitude is casual. She seems like the kind of chef who would definitely scold you for using sub-par butter, but at the same time not give you much grief if you served her a sandwich on paper plates. As long as the sandwich was good.
And, in fact, it was a sandwich that caught my eye in her new cookbook, A Girl and Her Greens. A sandwich that is so many things at once. For one, I like that it uses only fresh, crispy veggies. There's no meat and I didn't miss it. It has plenty of delicious touches and elements that makes it a joy to make and eat, especially on a hot summer day.
Salad Sandwiches
Salad sandwiches inspired by April Bloomfield. A great use for in-season crispy veggies plus a tangy salad cream dressing.
Ingredients
Salad Cream:
6

large egg yolks

,

med boiled

¼

cup

olive oil

¼

cup

cream

2

tablespoons

red wine vinegar

1

tablespoon

Dijon mustard

1

clove

garlic

,

minced

1

teaspoon

flaky sea salt

Small handful tarragon
Salad Sandwiches:
8

slices

soft white sandwich bread

1

large tomato

,

sliced thick

1

medium cucumber

,

thin sliced

1

small red onion

,

sliced thin

4

radishes

,

sliced thin

6

Egg whites

,

boiled (from salad cream)

1

small head crispy lettuce

Fresh lemon juice

Good olive oil

Soft butter

Flaky sea salt
Instructions
For Salad Cream:
Add eggs to a pot of boiling water and simmer, covered for 10 minutes. Rinse eggs with cold water and peel them. Cut the eggs in half and separate yolks and whites. Save whites for sandwiches.

Add yolks to a small food processor with other salad cream ingredients and pulse until smooth. Some small chunks are just fine though. Taste the salad cream and adjust to your liking.
For Sandwiches:
Slice tomatoes thick and spread out on a plate with onion and cucumber. Sprinkle veggies with fresh lemon juice, olive oil, and with a little salt. Let sit for a few minutes.

Lightly butter four pieces or white sandwich bread. Then lay on tomatoes and slivered lettuce. Drizzle each sandwich with salad cream.

Top sandwiches with sliced onion, radishes, chopped egg whites, cucumbers, and any other crunchy veggies you might like.

Top each sandwich with a second piece of bread and press down on it lightly to compress the sandwich. Eat immediately!
Nutrition
Serving:
1
sandwich
|
Calories:
465
kcal
|
Carbohydrates:
34
g
|
Protein:
17
g
|
Fat:
29
g
|
Saturated Fat:
8
g
|
Polyunsaturated Fat:
4
g
|
Monounsaturated Fat:
15
g
|
Trans Fat:
0.01
g
|
Cholesterol:
308
mg
|
Sodium:
405
mg
|
Potassium:
432
mg
|
Fiber:
4
g
|
Sugar:
7
g
|
Vitamin A:
923
IU
|
Vitamin C:
10
mg
|
Calcium:
143
mg
|
Iron:
3
mg
Did you make this recipe?
Salad Sandwiches
Salad Cream
Shoving a bunch of crispy veggies between two pieces of bread is an okay idea, but it's a bit lacking. You actually need some fat to pull everything together. That's where this salad cream recipe comes in. It's the perfect thing. Think of it like a cross between a salad dressing and a good homemade mayo.
It starts with six large eggs. Boil the eggs for 10 minutes so they are almost hard-boiled but will still be a tiny bit runny in the middle. Then peel and chop them in half.
You just need the yolks for the salad cream but save the whites for the actual sandwiches! April says to cook full eggs for the sandwiches, but I just chopped up the whites and used those.
To finish the cream, add the yolks to a food processor with all the other salad cream ingredients and buzz it up.
The finished cream will have a beautiful color and be silky smooth. I could've eaten it with a spoon!
Prepping the Veg
This sandwich is mostly vegetables so it's important to treat them right. For the cucumbers, onions, and tomatoes, lay them out flat on a few plates and sprinkle them with some flaky sea salt, a squeeze of lemon, and a small drizzle of good olive oil. Basically, you want to season each layer of the sandwich.
Besides those, I also added some crunchy radish to mine and crispy lettuce.
April encourages you to use the best veggies you can find for this sandwich. Whatever is fresh in your market that would be good in a salad will be good on this sandwich.
Making the Sandwiches
Order is somewhat important here. For starters, use a soft sandwich bread. There's something nice about having a soft bread around super-crispy veggies. It's a great contrast in texture.
Lightly butter some of the bread. I used a nice salted butter.
Then layer on some tomatoes and slivered lettuce. Drizzle on some of that delicious salad cream on top.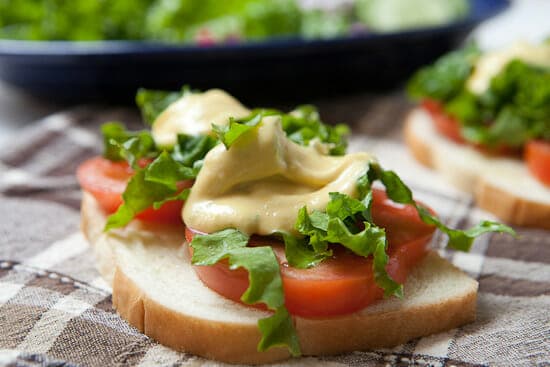 Then all the other veggies, the chopped egg, and maybe more salad cream.
It's so colorful!
Top each sandwich with another slice of bread and press down on it slightly to compress the ingredients.
Eat these sandwiches as soon as they are made. If they sit for even five minutes, you're doing it wrong!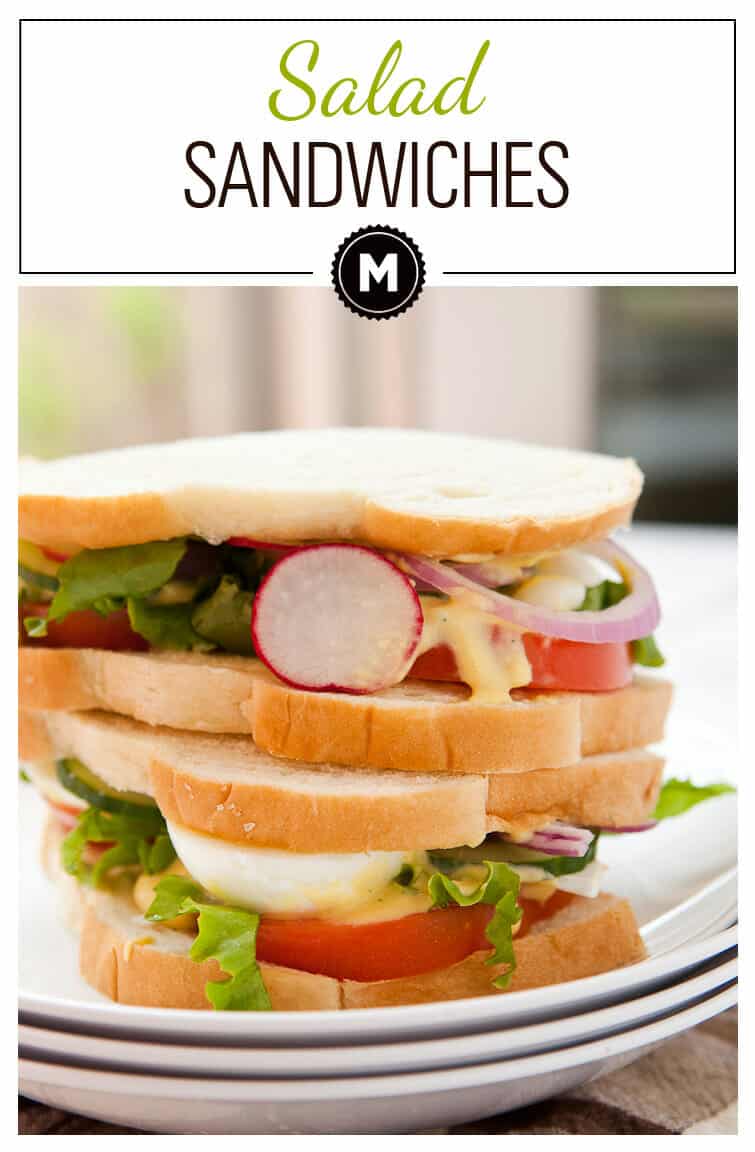 A Girl and Her Greens Giveaway
I loved many things about this book, but mostly it's a joy to read April's recipe directions. She won't just say something silly like "20 carrots", but "20 small carrots (the size of pointer fingers), scrubbed well but unpeeled and all but 1/2 inch of the tops removed." I'm not sure you can get more specific about carrots. I know exactly what she wants me to use!
On the other end, the writing is friendly. Phrases like "Eat straightaway", "Pop it in your mouth", and "so good you'll want quite a lot" bring a smile to my face.
Oh… and the recipes! They are centered around vegetables and vegetables have never looked so good. A random assortment includes "Winter-squash pancakes", "Swiss Chard Cannelloni", and a few different versions of polenta that all look wonderful.
With the lovely illustrations, beautiful photos, and awesome eats, this is a really fun cookbook and a breath of fresh air in the cookbook world.
I'm giving away two copies today! Use the widget below to enter or just leave a comment!