Thanksgiving just wouldn't be Thanksgiving without pie. I always end up making more than one because A) I love making pies and B) people prefer different things. Some people are hardcore apple pie fans and nothing else matters. Some like a traditional pumpkin pie.
Wouldn't it be nice in this crazy hectic world we live in to at least be able to eat (and serve) the pie that would create the most happiness? That's where this Tri-Pie comes in! It's three pies in one, baked at the same time, in one giant pie crust. Interestingly, all of the fillings cook about about the same time so this completely works without too much fuss!
Of course, you do have to make three different fillings and one huge crust (or you could crimp a few storebought crusts together), but the results are pretty show-stopping, in my opinion, and will please your most indecisive guests. After all, if you can't pick one flavor, you can have a little of each!
Thanksgiving Tri Pie
For the indecisive pie lover, here's three pies in one: Apple, Pumpkin, and Pecan all baked together!
Ingredients
All-Butter Crust:
3 ¾

cups

all-purpose flour

1 ½

teaspoon

kosher salt

1

tablespoon

sugar

1 ½

cups

unsalted butter

,

chilled

2

cups

water

¼

cup

apple cider vinegar

2

cups

ice
Apple Filling:
5

gala apples

,

peeled, cored and sliced

½

cup

sugar

1

teaspoon

kosher salt

1

teaspoon

cinnamon

2

tablespoons

all-purpose flour

1

tablespoon

lemon juice
Pumpkin Filling:
1

15 oz. can pumpkin puree

1

14 oz. can sweetened condensed milk

2

large eggs

1

teaspoon

cinnamon

½

teaspoon

ground nutmeg

½

teaspoon

salt
Pecan Filling:
½

cup

butter

1

cup

brown sugar

½

cup

corn syrup

2

teaspoons

vanilla

1

orange

,

zest only

¼

teaspoon

kosher salt

2

large eggs

1 ½

cups

pecans
Instructions
For the crust:
Combine flour, sugar, and salt in a medium bowl. Add cubed cold butter to the dry mix and coat the butter cubes with flour. Then use a pastry cutter, fork, or your fingers to work the butter into the flour mixture until it's in pea-sized pieces.

Combine water, apple cider vinegar, and ice in a separate bowl. Add the liquid to the dry stuff a tablespoon at a time until the dough just comes together with some crumbs on the edges. You should need about 1/2 cup of the liquid.

Shape the dough into two round discs, adding more liquid in small drops if needed to get the dough to stick. Once the dough is in a solid disc, wrap it in plastic wrap and store it in the fridge for at least an hour, but overnight is best.

When ready to make pie, Preheat oven to 425 degrees F.

Roll each pie crust out on a lightly floured surface until it's in a rectangle that fits in your sheet pan with an inch or so overhanging around the edge. Repeat with second pie crust disc. Trim off about an inch thick strip from each piece which will be the dividers between the pies. Use a fork to crimp the pie crusts together in the sheet pan (trim the crusts if you have a lot of overlap but some is okay). Crimp around the edges as well. Carefully place the divider strips in the sheet pan and crimp them into place so they stand up.

Gently cover the entire crust with foil (sprayed with nonstick spray on the side touching the crust). Press the foil to shape the crusts and then fill each pie section with dried beans or pie weights.

Bake the crust at 425 degrees F. for 12 minutes. Then carefully remove the beans and foil.
For the fillings (do this while the crust rests in the fridge or bakes).
Peel apples, core them and slice into segments. Then toss with sugar, salt, cinnamon, flour, and lemon juice. Let drain in a colander until ready to use in the pie.

For the pumpkin, stir together all ingredients in a medium bowl. Whisk well to combine until the mixture is very smooth.

For pecan, melt butter, sugar, and corn syrup over low heat until it's warm and the sugar is melted. Remove and let cool. Then add vanilla, orange zest, salt, and eggs.
Baking the Tri Pie
When the pie crust is done pre-baking, add each filling to a section of the tri pie. Add pecans to the pecan section after you pour the filling in. You can fill up each section almost to the top. You might have some filling leftover for the pumpkin and pecan sections.

Carefully transfer the tri pie to a 350 degree oven and bake for 45-50 minutes until each pie section is cooked through.

Let the tri pie cool for at least half an hour before slicing into it!
Nutrition
Serving:
1
Piece
|
Calories:
859
kcal
|
Carbohydrates:
107
g
|
Protein:
9
g
|
Fat:
46
g
|
Saturated Fat:
25
g
|
Polyunsaturated Fat:
4
g
|
Monounsaturated Fat:
14
g
|
Trans Fat:
1
g
|
Cholesterol:
163
mg
|
Sodium:
946
mg
|
Potassium:
248
mg
|
Fiber:
5
g
|
Sugar:
65
g
|
Vitamin A:
1326
IU
|
Vitamin C:
12
mg
|
Calcium:
85
mg
|
Iron:
3
mg
Did you make this recipe?
Let me start by saying that I realize this is no small endeavor. If anyone out there actually makes this sucker, please do send me a picture, or tag me on instagram or something! (@macheesmo)
I'm completely okay with using store-bought crust here, but I love making pie crust so I made a triple batch of my favorite pie crust so I would have plenty to work with.
Instead of cutting the butter in with my fingers, I froze the butter and grated it. Looked like mozzarella, but made a really good crust!
Stir that in with the flour and salt and then slowly add in the liquid until the pie crust comes together. Try not too add too much or overwork the crust.
I shaped my crust into two big discs and then wrapped them in plastic and let them chill for about an hour.
Now it's time to shape! I used a large 11×17 baking sheet for my tri pie. Start by rolling out both the crusts and cut off a long strip off of each piece of crust that's about an inch thick (that will be the divider between the segments).
Then you can place your crust in your pan and crimp it along the edges. Crimp the two pieces together two obviously to form a single large crust.
Then you can add in your section dividers. They should stand up if you crimp them along the bottom and at the ends.
Making sure your crust is right is the hardest part of this recipe so take your time here. It's not a thing you want to rush.
Unfortunately, and annoyingly, you need to pre bake this crust before you add the filling. This will involve a crazy set-up. It's possible there is an easier way to do this, but this is what I came up with. It involved some nonstick spray and foil (spray the side touching the crust so it doesn't stick). Then carefully shape the foil around the crust and fill each segment with some dried beans.
I could've used more beans, but this was all I had.
Bake the crust at a preheated 425 degrees F. for about 12 minutes. Then you can peel off the foil.
Looking good!
Some people might think that making three fillings is the hard part, but the crust is much harder. Apple pie is just peeled and cored apples tossed with some sugar and spices.
Pumpkin pie is everything whisked together.
The pecan base you need to cook gently on low until the sugar, butter, and corn syrup are together but then it's just stuff whisked together as well.
All in all, it took me about 20 minutes to make all three fillings and I just did them while my crust was chilling.
Now pick a segment and fill it up! Because of the proportions, you might have some leftover pumpkin or pecan filling. Don't forget to add your pecans once you pour in the pecan mixture!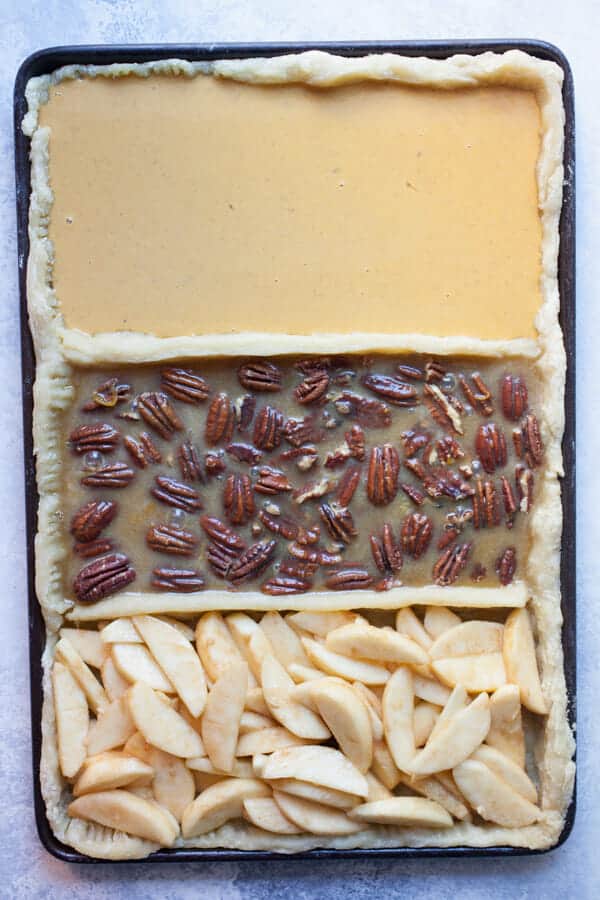 This will need to bake at 350 degrees F. for 45-50 minutes. Believe it or not, everything cooks fine together! I thought about adding a top crust to the apple section because I had never baked an open-faced apple pie like this, but it worked fine!
Let this beauty cool for 30 minutes at least before cutting into it. I was shopped at how well each section came out!
You really can make everyone happy this Thanksgiving, at least when it comes to pie!
Make the TRI PIE and have a very happy Thanksgiving!