Guys! I have a very important rule of cooking for you today.
Just because you are bad at making something doesn't mean you shouldn't make it.
This rule is brought to you today by the subject of gnocchi… those seemingly simple clouds of Italian lore.
For some reason, I just lose my patience with them. I know you are supposed to carefully shape each one, making perfect little fork tine marks on each measured thing. But, I lose my mind after doing this like a dozen times and just want to put the damn things in my mouth.
So, it results in me being pretty bad at shaping gnocchi.
I'm hoping you guys forgive me for the gnocchi mutilations you might see in this post. I promise they are delicious in this Butternut Squash Gnocchi, even if malformed.
Butternut Squash Gnocchi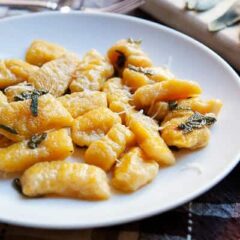 Fluffy homemade gnocchi made with roasted butternut squash and served with a simple and delicious butter and sage sauce.
Ingredients
1 ½

cups

roasted butternut squash

,

mashed

1 ½

cups

Russet potatoes

,

mashed

1

large egg

½

cup

Parmesan cheese

,

grated

¾

teaspoon

kosher salt

½

teaspoon

ground nutmeg

½

teaspoon

ground black pepper

1 ½

cups

all-purpose flour

,

plus extra for shaping
Sage Butter sauce:
½

cup

unsalted butter

4-6

leaves

fresh sage

Pasta water

Parmesan cheese

,

for garnish
Instructions
Preheat oven to 350 degrees F. Cut squash in half down the middle. Roast the squash, cut-side up, for 50-60 minutes until the flesh is fork tender.

When squash is roasted, remove from oven and let cool briefly. Then scrape out flesh with a fork and measure out amount for recipe and place in a bowl. Mash the squash well.

Meanwhile, peel and chop 2 Russet potatoes. Boil the potatoes in salted water for 10-12 minutes until they are really tender. Then mash the potatoes and measure out amount for recipe. Add to the bowl with the squash.

Let the squash and potato mixture cool for a few minutes and then stir in egg, seasonings, cheese, and flour last. Mix dough with your hands until it's combined, but not sticky. Depending on how moist the squash and potato was, you might need to add more flour.

Cut dough into quarters and roll out a quarter at a time on a floured, clean surface. Roll it out into a long rope about ½-inch in diameter. Then cut the gnocchi into ½ inch dumplings. Use a fork to press some depressions into each gnocchi. Then add the shaped gnocchi to a baking sheet covered with flour. Repeat with all the dough until your gnocchi are done.

At this point you can freeze the gnocchi on the baking sheet and then transfer them to a freezer-safe bag or cook them immediately in salted, simmering water for 5-6 minutes. The gnocchi might not be cooked through even after floating.

To make sauce for one serving of gnocchi (one quarter of the dough), add two tablespoons of butter to a small skillet over medium heat with about a teaspoon of minced sage (one big leaf). Let the butter melt and bubble for a minute or two. Then add boiled gnocchi to the skillet. Let cook, undisturbed for a few minutes until gnocchi start to crisp.

Add 1-2 tablespoons of pasta cooking water to the skillet to form a light sauce. Swirl to combine butter, pasta water, and pasta.

Serve gnocchi right away garnished with Parmesan cheese.
Nutrition
Serving:
1
Bowl
|
Calories:
509
kcal
|
Carbohydrates:
53
g
|
Protein:
13
g
|
Fat:
28
g
|
Saturated Fat:
17
g
|
Polyunsaturated Fat:
1
g
|
Monounsaturated Fat:
7
g
|
Trans Fat:
1
g
|
Cholesterol:
110
mg
|
Sodium:
661
mg
|
Potassium:
507
mg
|
Fiber:
3
g
|
Sugar:
2
g
|
Vitamin A:
6450
IU
|
Vitamin C:
14
mg
|
Calcium:
203
mg
|
Iron:
3
mg
Did you make this recipe?
Butternut Squash Gnocchi
Roasting Time
This Butternut Squash Gnocchi recipe has a sort of long prep time mainly because you have to roast a squash. The bad news is that this takes about an hour. The good news is that you can go do any number of other things while it roasts. It will roast just fine even if you aren't staring at it through the oven glass door.
Roast the squash cut-side up for about an hour until it's really tender. You should be able to easily scrape it with a fork.
You won't need more than 1/2 of a squash for this recipe so you can let the other half cool and then wrap and freeze it for later. Squash freezes perfectly for stuff like soups and, well, gnocchi.
Making the Dough
I don't find this dough to be too hard to make, but it's really just a patience issue when it comes to shaping the little suckers.
Mash and measure out your squash and potatoes. The potatoes are pretty important to the recipe because they have some starch to keep the gnocchi together. Just boil the potatoes in salted water and then mash them up like you would for mashed potatoes.
You can use a potato ricer if you have one or just mash them with a fork or a potato masher.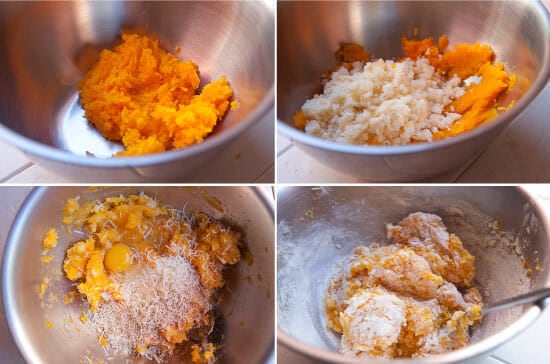 Then add in the seasonings, egg, and cheese, followed by the flour. You want just enough flour to hold the dough together, but it shouldn't be a really dry dough. I gave a good starting point in the recipe but you might need a bit more if your potato or squash is really wet.
Shaping Pillows
Here's the part where I start to lose my mind. (Don't worry. It's worth it.)
Cut the dough into quarters and then roll out the dough on a lightly floured surface until it's in a long strand. It might be too fragile to actually roll out, but you should be able to shape it into a strand of some sort.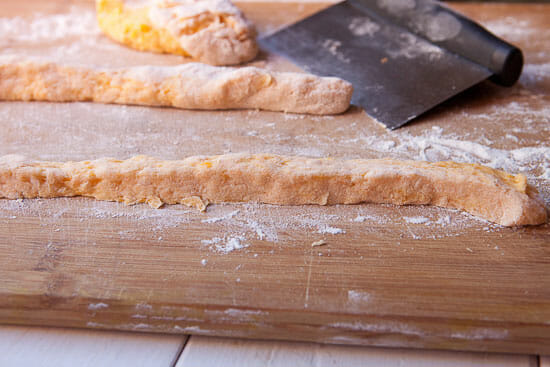 Then just chop it up into little 1/2-inch dumplings.
To be honest, you could just quit here if you wanted.
If you want to get official though, then you need to roll your fork across each individual gnocchi. Some will work better than others. The far gnocchi in the bottom right is damn near perfect.
Some are utter disasters.
They all cook the same though. Don't freak out about it unless you are opening an Italian restaurant.
Cooking the Gnocchi
Once you have rolled, cut, and shaped all the Butternut Squash Gnocchi, you have two options.
Option 1) Freeze them! Freeze the little guys on the baking sheet with flour and once they are frozen transfer them to a freezer-safe bag. They will keep fine in the freezer for months.
Option 2) Cook them! Bring some salted water to a simmer and add the little dumplings. These will need to boil for 5-6 minutes to cook through.
The best sauce for these Butternut Squash Gnocchi is a simple butter and sage sauce.
Add a few tablespoons of butter and fresh sage to a skillet over medium heat.
When the butter is melted, add the drained, cooked gnocchi and let the gnocchi crisp up in the butter for 1-2 minutes over medium heat.
If the skillet is really dry, add a tablespoon or two of pasta water to the skillet to make a light sauce.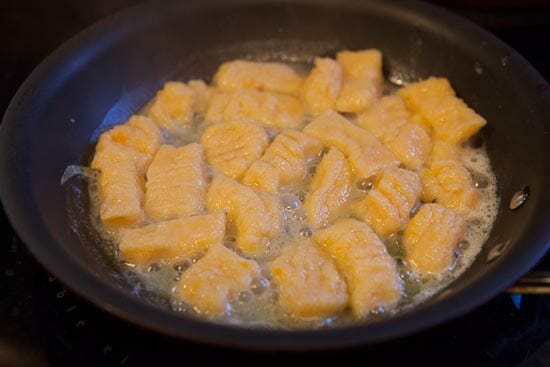 When the gnocchi has crisped up in the pan a bit, swirl it all together and serve it garnished with Parmesan cheese and fresh sage.
Even though I really dislike shaping gnocchi for some reason, I still make them because they are just so good. They are pretty hard to actually mess up even if they turn out not looking restaurant quality.
Trust me when I say that your family will gobble them up.
Repeat after me: Take a deep breath. Roast a squash. Make some gnocchi. Don't stress about the fork thing. Eat it all.