I'm always surprised that more people don't use orzo so here's my latest plea to get you to purchase and make some of what is quickly becoming one of my favorite pasta shapes. I like it because it's flexible enough to serve with sauce, like spaghetti, but also works great in pasta salads, like this sun-dried tomato orzo salad.
I once Googled "How many pastas are there?" and was given an answer of 350 pastas. That seems a bit on the short end to me. I feel like I have that many pasta options just in my local grocery store these days! The point is that if you are just sticking with your normal few favorites, you are probably missing out.
This is a fast recipe, but the flavors are BIG. The key to making it work is to find the jars of sun-dried tomatoes in oil and use the tomatoes AND the oil in the jar for the pesto.
What is Orzo and how to cook it
Some people think that orzo is a grain because of its shape, but it's a straight-up pasta. That means it is not gluten-free, in case your guests ask.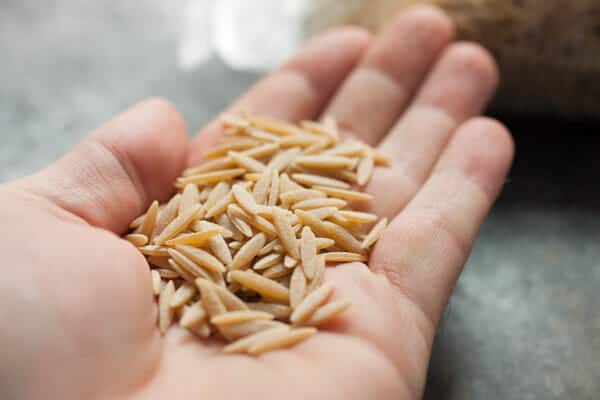 As with all pastas, orzo is best cooked in salted, boiling water. It cooks very fast and will be done in 6-8 minutes. I recommend testing the orzo for doneness and when it has just a tiny bite to it (al dente) drain the orzo and rinse it with water to stop the cooking. You can also toss it with some olive oil to keep it from sticking.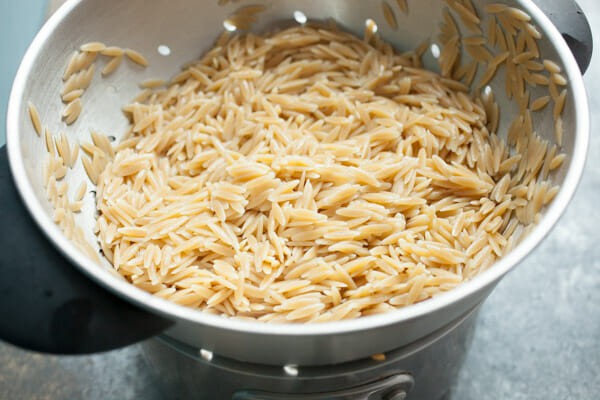 Orzo is one of my favorite pastas to use in salads (although I'm made some mistakes cooking orzo over the years). I've had more successes than failures though like this Eggplant Orzo Bake.
What kind of sun-dried tomatoes work well?
There are a few different kinds of sun-dried tomatoes available at most stores these days. I would NOT use the packaged dried tomatoes for this recipe. Instead, make sure to get the sun-dried tomatoes that are jarred and packaged in oil.
You can either use the whole tomatoes (and dice them) or sometimes find pre-diced tomatoes in oil. Either option is fine.
The benefit of using these jarred sun-dried tomatoes is that you can use the oil and the tomatoes!
Instructions for Sun-Dried Tomato Orzo Salad
Once you have cooked the orzo, reserve some of the pasta water and then drain and rinse the pasta to stop the cooking.
Meanwhile, the pesto for this is embarrassingly easy. Grab an 8 oz. jar of the sun-dried tomatoes in oil and add the entire jar (plus oil) to a food processor with nuts, garlic, and lemon juice.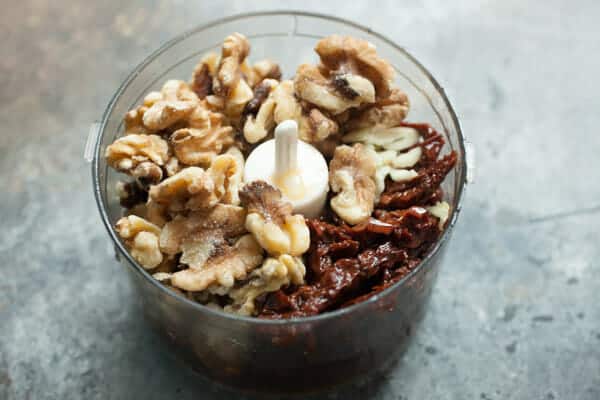 Pulse that up and you are in business!
Stir the sun-dried tomato pesto in with the orzo. If it seems dry at all, add reserved pasta water by the 1/4 cup until it smooths out. The sauce should barely coat all the pasta.
Then fold in some fresh baby arugula. This works best if the pasta isn't hot as that will just completely wilt the arugula. Room temperature is good.
Don't forget the parm. Lots of parm!
Season this thing with salt and pepper to your liking and you're in business. It works great as a hearty side dish or a weekday lunch option!
The pasta itself stores really nicely. One tip though… if you are planning on storing it for longer than a day or two, I'd recommend NOT adding the arugula until you are ready to eat it because it'll just wilt and get sad.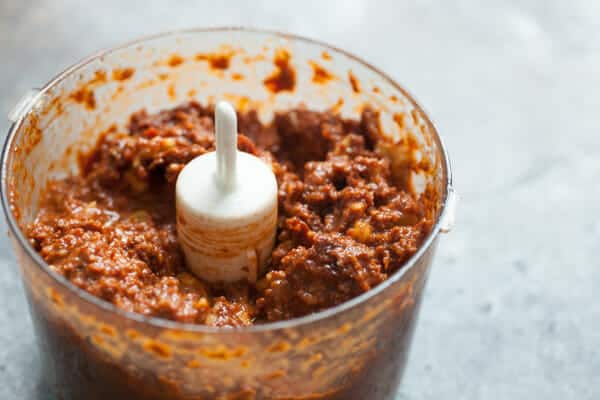 If you're like me, you love a good pasta salad and especially an orzo pasta salad! This one checks all the boxes!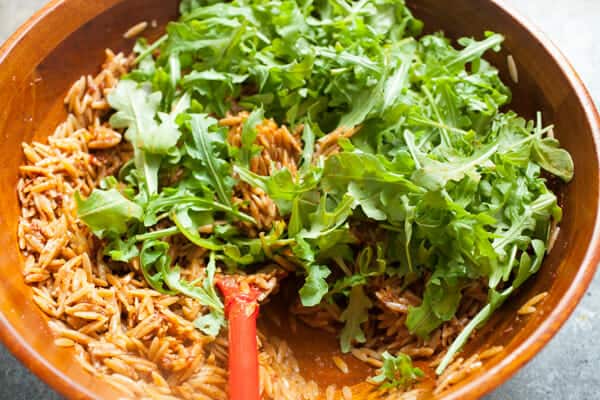 Substitutions and Ideas
You could take this salad a lot of different ways!
Add other vegetables to it. Peas are a good idea along with herbs like fresh parsley.
Instead of a pesto, use a basic vinaigrette as a dressing with dijon mustard, shallot, balsamic vinegar, and olive oil.
Add more protein to the orzo salad with grilled chicken or sausage
Tips on storage for this sun-dried tomato orzo salad
This orzo salad keeps really well for easy lunches. It will keep fine in the fridge for up to a week. If you are using the baby arugula in the salad, I recommend keeping it separate. It will wilt if you store it in the salad.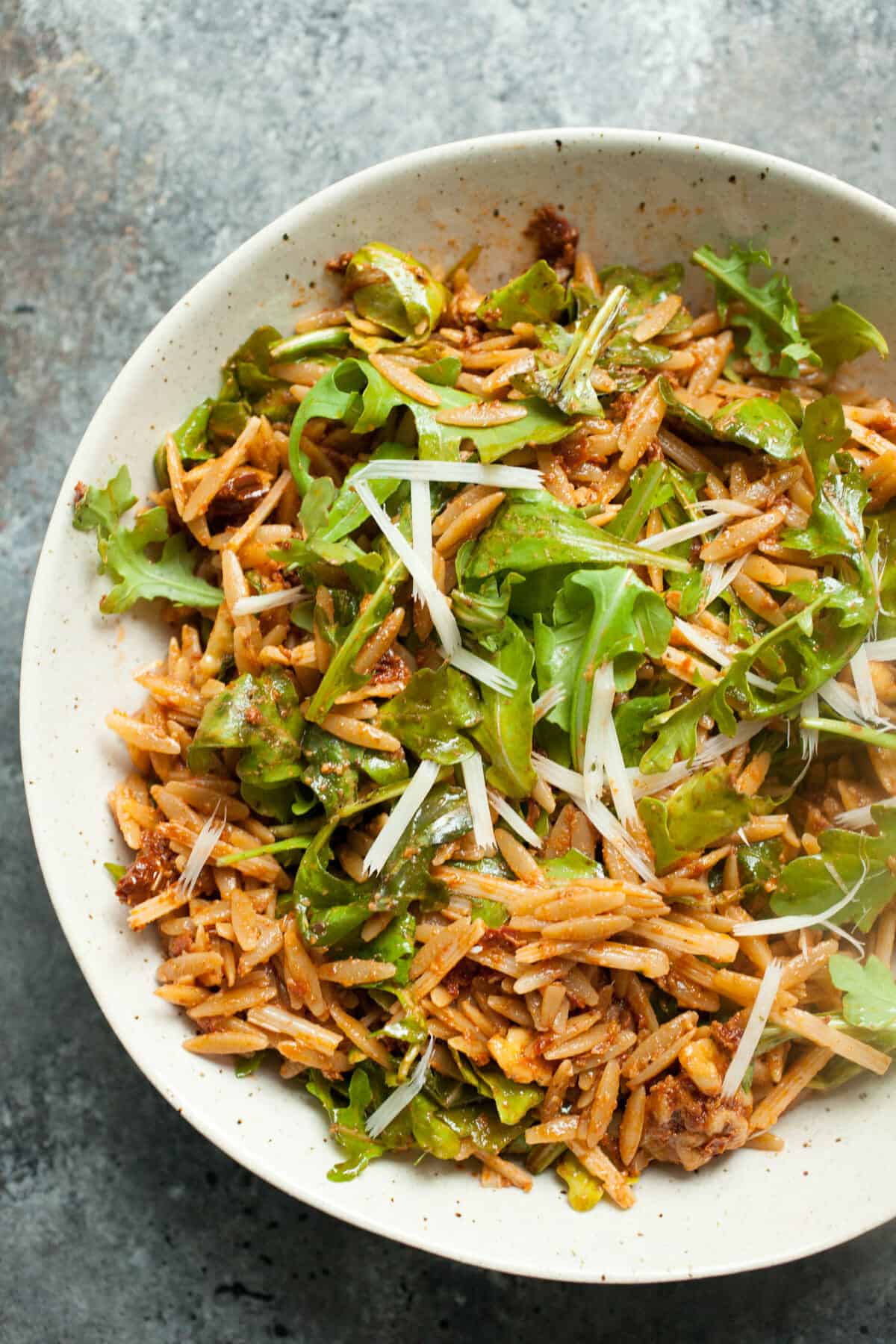 Sun-Dried Tomato Orzo Salad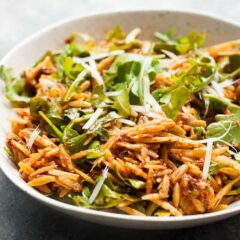 I don't think you could pack any more flavor into a pasta salad. A great side dish or a really nice weekday lunch option.
Ingredients
16

oz.

orzo pasta

,

cooked, drained and rinsed

1

cup

reserved pasta water

,

might not use all of it

8

oz.

sun-dried tomato in oil

1

lemon

,

juice only

1

clove

garlic

⅓

cup

walnuts

4

oz.

Parmesan cheese

,

shredded

4

oz.

Baby arugula

Salt and pepper
Instructions
Cook orzo pasta according to instructions in salted water. When pasta is al dente, reserve some of the pasta cooking water, drain and rinse the pasta with cold water.

In a small food processor, combine the jarred sun-dried tomatoes plus any oil in the jar, garlic, lemon juice, and walnuts. Pulse until mixture is in a rough paste.

Stir sun-dried tomato mixture into the orzo. If the mixture seems dry, add pasta water by the 1/4 cup until it smooths out.

Finally, fold in fresh arugula and parmesan cheese. Taste and season with salt and pepper to your liking.

Serve at room temp or chilled. Leftover pasta salad will keep great for 4-5 days. If you are storing for more than 24 hours, leave out the arugula until you are eating it so it doesn't get too wilted.
Nutrition
Serving:
1
bowl
|
Calories:
488
kcal
|
Carbohydrates:
69
g
|
Protein:
20
g
|
Fat:
16
g
|
Saturated Fat:
4
g
|
Polyunsaturated Fat:
4
g
|
Monounsaturated Fat:
5
g
|
Cholesterol:
13
mg
|
Sodium:
414
mg
|
Potassium:
903
mg
|
Fiber:
6
g
|
Sugar:
3
g
|
Vitamin A:
1088
IU
|
Vitamin C:
51
mg
|
Calcium:
300
mg
|
Iron:
3
mg
Did you make this recipe?
More Delicious Recipes to Try!