It's Halloween this weekend, which is one of my favorite holidays, especially now that I have kiddos. It's always fun to see them run around and eat more sugar than they should. To counteract all the sweets, these Halloween Deviled Eggs are actually healthy, filling, and spooky at the same time!
Since the beginning of this website, I've always tried to make some fun appetizers or drinks for Halloween. You can see the full archives here, but these Halloween deviled eggs are one of my favorite Halloween Recipes that is also very practical and easy to make (unlike possibly my homemade worms). They look so bright and colorful, but also kind of scary! I really like the coarse toppings of black salt and sesame seeds that give them a more rotten appearance.
These are easy to make and deviled eggs are always a hit so if you are having a Halloween party, add these Deviled Putrid Eggs to your spread!
Making Hard Boiled Eggs
Eggs are the first step to these Halloween Deviled Eggs, obviously. I keep my hard-boiled eggs simple. This is how I do it. Place eggs in a pot covered with a few inches of cold water. Then I cover the pot and bring the water to a rapid boil over high heat. Once the water is boiling, I kill the heat and let the eggs sit for 12 minutes. Boom. Done!
Slightly older eggs will actually peel more easily and eggs are easier to peel if you start with the fat end of the egg.
If you do it right, you'll have perfectly set yolks and whites and hopefully no green or brown rings around the yolks. If you want your deviled eggs a little creamier and richer you can actually pull the eggs around 10 minutes and the yolks will be 90% set, which works great in a sauce like the deviled egg filling.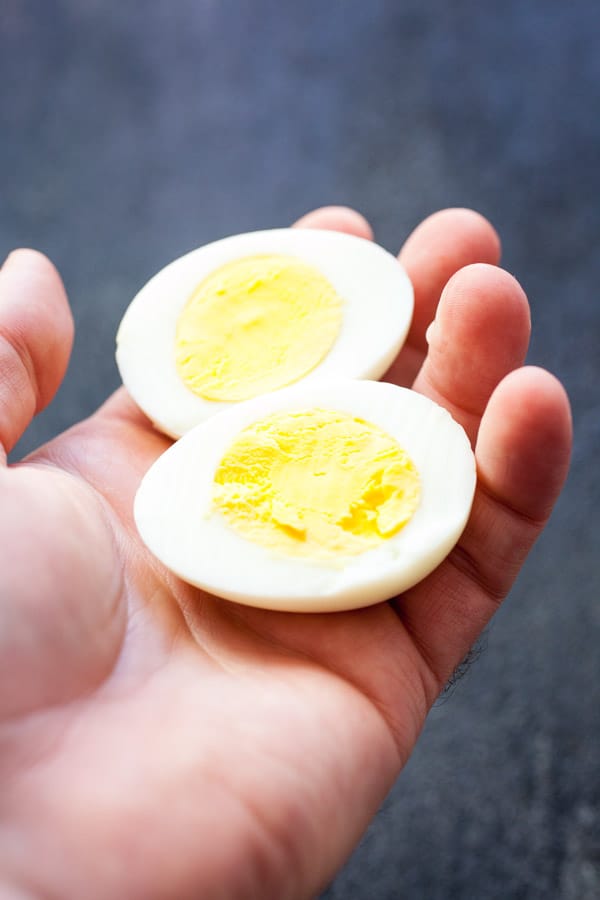 Making the Putrid Filling
Now let's talk filling for these Halloween Deviled Eggs! Mayonnaise and mustard are standard deviled egg filling ingredients, but I added some avocado to my yolk which makes it really creamy and I thought would make it green, but avocado isn't actually all that green so I ended up adding some green food coloring as well.
Of course, you don't have to use food coloring. I just thought it looked better with some bright green color to it!
As far as mixing goes, I used a stand mixer with a paddle attachment but you could use a hand mixer or just mash it together with a big fork in a large bowl! However you do it, make sure to really mix the filling well so it is very creamy.
I season my filling with just a pint of salt, but you could up the flavors with some garlic powder or other seasonings if you wanted.
How to finish the deviled eggs
To keep the filling clean, I use a piping bag to squeeze the egg yolk filling into the egg white shells, but you could scoop it in with a spoon if you want! If you don't have a piping bag, you can use a quart-sized plastic bag and just snip the tip of the bag off with some scissors.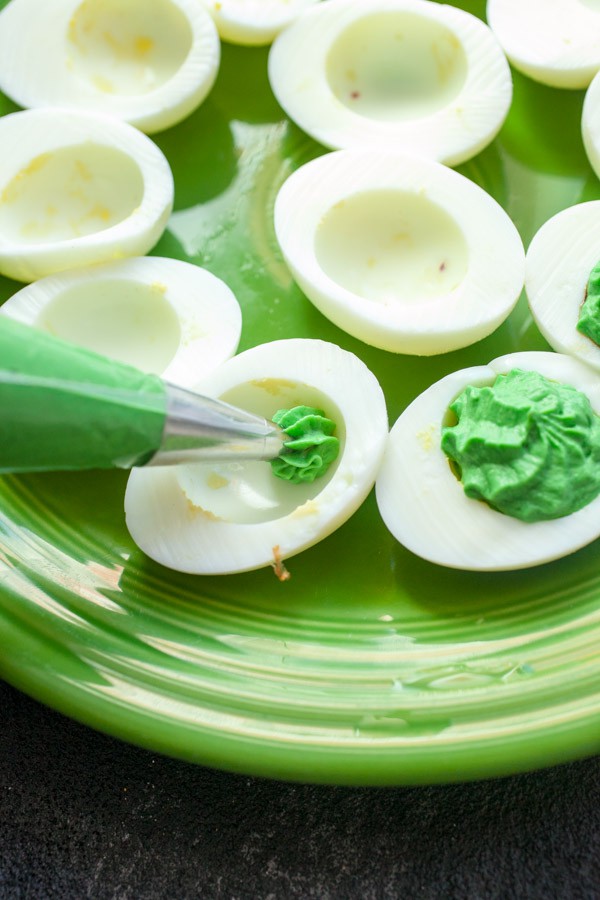 Then for the fun toppings! I added a drizzle of balsamic vinegar, sesame seeds, and black sea salt. This gives the eggs some nice texture and also looks cool! Raid your pantry and find some fun toppings to add to these Halloween Deviled Eggs!
A few other ideas I came up with for toppings might include a sprinkle of paprika, crunchy crumbled bacon bits, or diced black olives. All of those would be great flavors in a deviled egg.
Give this recipe for putrid eggs a shot this Halloween. It'll freak out the kids if nothing else!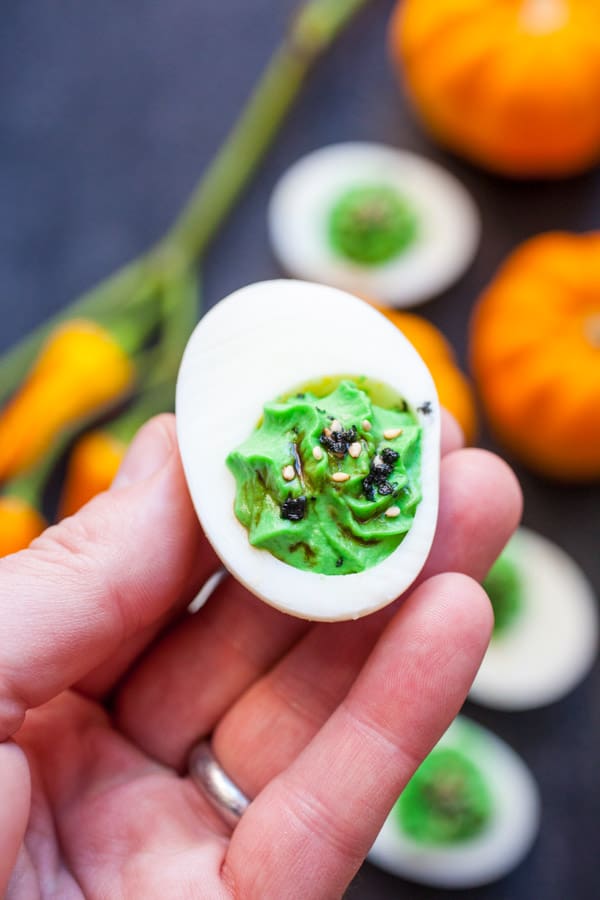 Can you make these deviled eggs in advance?
You can make the full deviled eggs an hour or two before serving them without issue. If you are holding the deviled eggs longer than that, I would recommend storing the filling in an air-tight bag in the fridge. Keep the white egg shells separate and then you can finish the Halloween deviled eggs right before serving them. That's the best way to keep the filling nice and fresh.
Putrid Eggs
Spooky putrid eggs are a fun Halloween appetizer, plus they also happen to be delicious!
Ingredients
6

large eggs

,

hard boiled

½

ripe avocado

2

tablespoons

mayonnaise

1

tablespoon

dijon mustard

Green food coloring gel

Roasted sesame seeds

,

garnish

Black sea salt

,

garnish

Balsamic Vinegar

,

garnish
Instructions
To make easy hard-boiled eggs, add your eggs to a large pot with cold water. Make sure the water goes a few inches over the eggs. Cover the pot and place over high heat to bring the pot to a boil. Once the water is boiling, turn off the heat, keep the pot covered, and let eggs cook for 12 minutes. Then drain eggs, rinse with cold water to cool them off, and peel them for the deviled eggs.

Slice peeled eggs in half and remove yolk. Add yolk to a bowl for mixing (I like to use a stand mixer to get the filling very smooth).

Add mayo, mustard, and half a very ripe avocado to the bowl. Mix well until smooth. Then season with a pinch of salt and color with green food coloring!

Pipe the filling into the white egg halves. Then drizzle with a few drops of balsamic vinegar and garnish with black sea salt and sesame seeds!

Serve immediately or chill and serve within a day or two.
Nutrition
Serving:
1
Deviled Egg
|
Calories:
61
kcal
|
Carbohydrates:
1
g
|
Protein:
3
g
|
Fat:
5
g
|
Saturated Fat:
1
g
|
Polyunsaturated Fat:
2
g
|
Monounsaturated Fat:
2
g
|
Trans Fat:
0.01
g
|
Cholesterol:
83
mg
|
Sodium:
60
mg
|
Potassium:
73
mg
|
Fiber:
1
g
|
Sugar:
0.2
g
|
Vitamin A:
133
IU
|
Vitamin C:
1
mg
|
Calcium:
14
mg
|
Iron:
0.5
mg
Did you make this recipe?
Here are a few other Halloween Treats Recipes
I pride myself on my savory Halloween recipes so you should check out my baked brains brie recipe, my baked bat wings recipe, or my zit ravioli if you are feeling ambitious! Other ideas would be this awesome Puking Pumpkin Guac recipe from Don't Go Bacon My Heart!