It's very well-documented that bats are one of the most delicious of winged animals. Hanging upside down all day really makes their wings very tasty and tender.
The problem, of course, is getting bats. A bat hunter must be very careful as bats are known to suck the blood of any aggressor.
So proceed with caution.
I happen to be a very skilled bat hunter so it was no problem for me to bag a few dozen with the help of my faithful hunting dog, Porter.
Bat Wings
Roasted bat wings for your Halloween guests!
Ingredients
2-3

pounds

chicken wings

,

with tips

1

cup

soy sauce

¼

cup

black bean sauce

¼

cup

tamarind paste

,

or oyster sauce

¼

cup

brown sugar

1

Tablespoon

chili garlic sauce

2

Tablespoons

black food coloring

,

equal parts red, green, blue, yellow
Instructions
Mix all ingredients except chicken wings in a medium bowl. Whisk well to make sure everything is combined.

Reserve ¼ cup of the marinade for basting later. Pour all the rest of the marinade into a large plastic bag with the chicken wings and seal tightly.

Let wings marinate for 2 hours in the fridge. If possible. flip them every 30 minutes to make sure they are getting coated evenly.

Preheat oven to 375 and line two baking sheets with parchment paper.

Remove wings from marinade (discard marinade) and shake extra marinade off the wings. Then lay them on baking sheets.

Bake wings for 30-35 minutes until wings are dark black and cooked through. The juices should run clear.

Baste wings once halfway through cooking and then again when the wings come out with reserved marinade.

Serve immediately!
Nutrition
Serving:
0.25
Pounds
|
Calories:
401
kcal
|
Carbohydrates:
25
g
|
Protein:
30
g
|
Fat:
20
g
|
Saturated Fat:
6
g
|
Polyunsaturated Fat:
4
g
|
Monounsaturated Fat:
8
g
|
Trans Fat:
0.2
g
|
Cholesterol:
94
mg
|
Sodium:
3544
mg
|
Potassium:
379
mg
|
Fiber:
2
g
|
Sugar:
20
g
|
Vitamin A:
182
IU
|
Vitamin C:
1
mg
|
Calcium:
43
mg
|
Iron:
3
mg
Did you make this recipe?
A Confession
Ok. They aren't really bat wings. I don't imagine I would be any good searching through caves for bats and Porter would be even worse. His Velcro fur would have all kinds of strange dirt and bat poop in it by the time we were done.
Plus, I'm pretty sure he's scared of the dark.
But bat wings are still awesome to serve for Halloween. You can fake out most people by using chicken wings and lots of dark marinade. It also happens to be a very flavorful marinade!
I was worried that the saltiness and flavor of this marinade would be completely overpowering, but it works really well actually.
It's really important to add some sweetness to the marinade though to counteract some of the salty flavors.
So don't forget the brown sugar.
This marinade is pretty dark as it is, but I wanted to make sure my wings were as black as possible so I mixed up some actual black food coloring to add to the marinade to give the wings a little extra color.
This is optional. It doesn't affect the flavor at all, just the color.
You won't be able to find black food coloring, but it's pretty easy to make if you recall from 3rd grade art class that black is just all the colors mixed together. I did about 15 drops of each color and got exactly black.
Whisk this all together with your other marinade ingredients and you'll have this really dark marinade that's very flavorful. I wouldn't recommend trying it on it's own. I did and my face was puckered up for the next two hours.
Reserve about 1/4 cup of this marinade for basting later.
Marinading the Chicken
Add the chicken wings to a large plastic bag with all the marinade except the bit that you reserve for later. Try to get out as much air as possible and seal up the bag nice and tight.
Let these guys marinate for about 2 hours and, if you can, flip them every 30 minutes or so. That's make sure that the wings are coated evenly with the marinade.
Cooking the wings
It's really important to bake these guys on some parchment paper. The marinade is pretty sticky and if you bake it just on baking sheets you'll have a big sticky mess on your hands.
Throw down some parchment paper and you'll be all set.
The other important part about these wings is to make sure you shake off a lot of the extra marinade from the wings. It's really strong and you don't want it caked on the wings.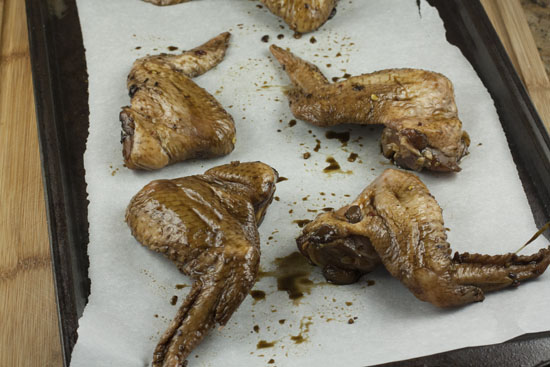 Bake these guys at 350 degrees for about 35 minutes.
Halfway through the baking time and also at the end give them all a quick (and light) baste of the reserved marinade. This will just make the color and flavor a lot deeper.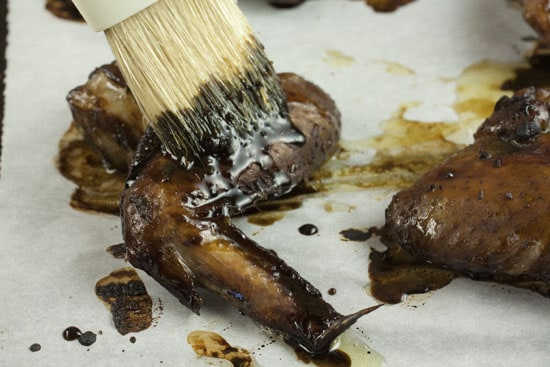 Once these guys come out of the oven, it's best to serve them right away. Cold wings generally aren't that appealing to people.
Although flies will probably eat them no matter what.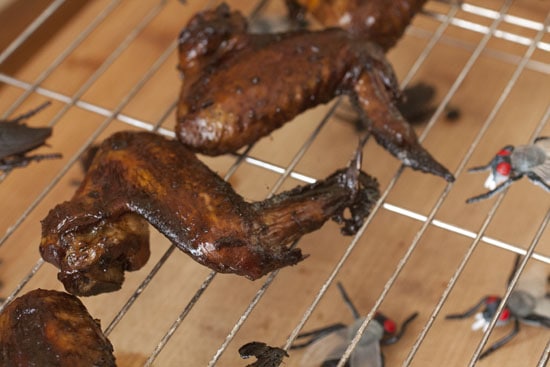 If I were going to serve these bad boys at a party, I'd be sure to label them "Bat Wings" just to add to the illusion a bit.
Besides being kind of cool looking, they also happen to be delicious.
If you can't get your hands on some real bat wings, these will do the trick.