I, along with millions of other Americans, grew up on instant rice. What's not to love about it? It's ready in seconds and can be used in a million different ways.
But, that speed and convenience obviously comes at a cost.
First, instant rice literally just costs more. A pound of instant white rice will run you $3-$4 in most grocery stores. Meanwhile a pound of normal rice is usually around $1. That's a 300% markup!
Second, instant rice gets beat up during the processing. Most manufacturers, cook it, steam it, and dehydrate it so that all you have to do is pop it in some water and it's done. Because they do this on such a massive scale, some quality and texture is lost in the process.
But, there's good news! We can have our instant rice and eat it too! It's actually pretty easy to make rice at home in large batches and if you freeze it correctly, you basically end up with instant rice!
Here's my version for brown rice, but once you get the method down you can use any rice except risotto.
Instant Brown Rice
Knowing how to make instant rice from a sturdy rice is a great meal planning tip. It's easy to make in bulk, is healthier than store-bought instant rice, and reheats perfectly!
Ingredients
1

pound

brown rice

Plastic wrap

A freezer
Instructions
Add rice to a large pot and rinse with cold water a few times. Then fill pot with water and bring to a simmer over high heat (uncovered).

Let the rice simmer, stirring occasionally to separate the grains, until it is cooked through but has a small bite to it (al dente). This should take 15-20 minutes and you'll only know it's ready by tasting it.

When rice is done, strain rice through a metal mesh strainer and return immediately to the hot pot. Return pot to hot stove, but turn off heat immediately. Cover rice and let it steam for 5 minutes.

Fluff rice with a fork and then let it cool completely to room temperature.

Portion rice out in 3/4-1 cup servings and wrap portions tightly in plastic wrap. Then store these bundles in a large freezer safe bag. Press out as much air as possible from the bag and freeze.
To Reheat:
Unwrap a rice bundle and add to a bowl with a tablespoon of water and a pat of butter (optional). Microwave on high for 60-90 seconds until rice is steaming hot.
Nutrition
Serving:
1
Bowl
|
Calories:
274
kcal
|
Carbohydrates:
58
g
|
Protein:
6
g
|
Fat:
2
g
|
Saturated Fat:
0.4
g
|
Polyunsaturated Fat:
1
g
|
Monounsaturated Fat:
1
g
|
Sodium:
3
mg
|
Potassium:
203
mg
|
Fiber:
3
g
|
Calcium:
25
mg
|
Iron:
1
mg
Did you make this recipe?
Why Go Through the Trouble?
Some of you might question this process, but I do think it's worth it if you regularly eat rice. Processed instant rice gets mushy easily, but homemade instant rice tastes almost identical to rice cooked from scratch. It's not as harsh of a process as what most brands use (I think it's the dehydration that really saps the life out of the rice, but that's just my theory).
If you eat rice regularly though, it is a pretty good way to trim some bucks off your grocery bill with very little extra effort. Basically just transition to only cooking rice in 1-2 pound batches and then use this method to store the leftovers!
How to Make Instant Rice
To make a sturdy rice like brown rice "instant", you obviously need to cook it first.
I recommend rinsing the rice well in cold water first.
Then completely ignore any packaging instruction related to water amounts. Just fill the pot up with water and bring it to a boil.
Essentially, cook the rice like you would cook pasta.
Stir the rice to make sure the grains don't stick together and simmer it for 15-20 minutes (for brown rice). If you're using white rice, it'll take less time, probably 5-10 minutes depending on grain.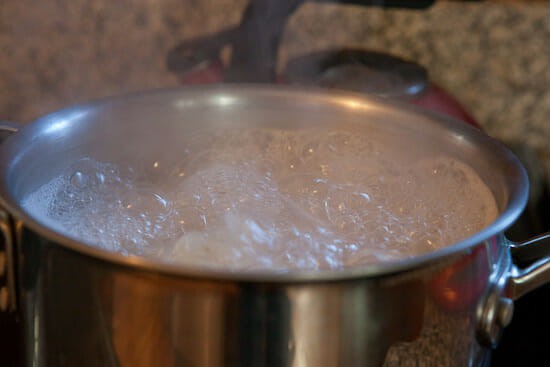 The Key to Good Rice
The key to this method is that there is no surefire way to know when the rice is done. The only way to know is to taste it occasionally. Scoop out a few grains every few minutes and taste them!
The grains should be mostly cooked, but have a very tiny bite to them. It should be similar to cooking al dente pasta.
When the rice reaches that point, strain it all using a colander or a wire mesh strainer. A strainer is best so grains can't drain through the holes.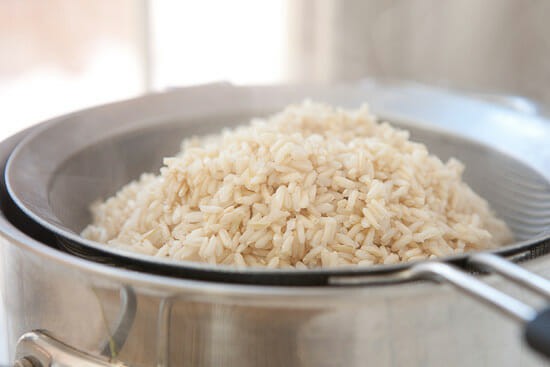 Work quickly now!
As soon as your rice is strained, return it to the hot pot, cover it, and let the rice steam for five minutes.
Now the rice is done!
At this point you could eat the rice just like this. It's how I always cook rice now. But assuming you don't need a pound or two of rice, let's talk storage.
Freezing the Rice
There are a few keys to making this work. First, make sure the rice cools completely. You don't need to dehydrate it, but make sure it's cool so it doesn't create condensation in the freezer.
Then portion out 3/4-1 cup servings and wrap them up in plastic wrap.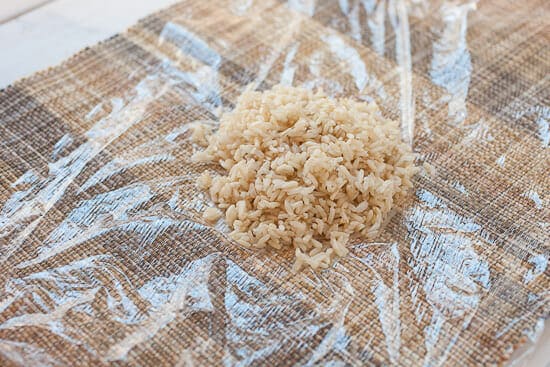 Wrap the rice really tightly in bundles to get out as much air as possible.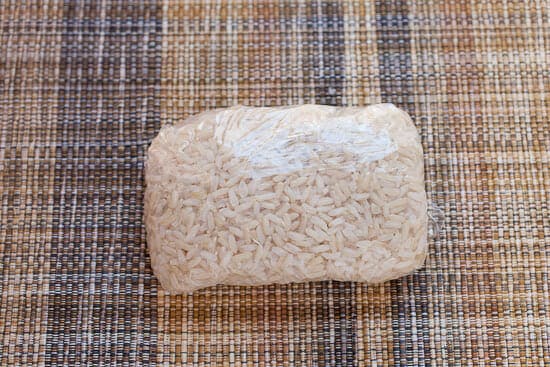 Then store those bundles together in a freezer safe plastic bag!
You should be able to get 6-8 bundles out of a pound of rice.
These will freeze beautifully. If you reheat them correctly, it's pretty impossible to tell reheated rice from just cooked rice.
Reheating the Rice
When you are ready to reheat the rice, just unwrap a bundle and stick it in a bowl with a tablespoon of water. You can also add a little butter if you want. Optional, but you know I do it.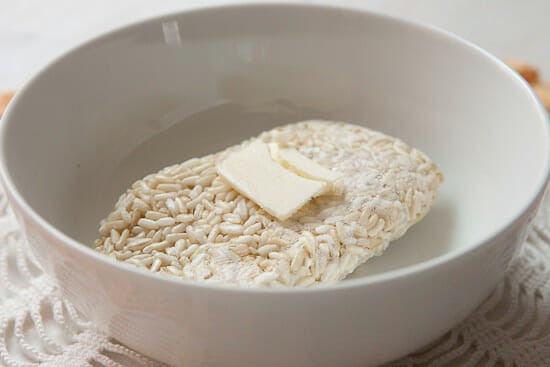 Cover the bowl and microwave it on high for 60-90 seconds. Then fluff the rice with a fork and it's ready to go!
That's all you need to know!
Make instant rice anytime using any rice! Ditch the boxed stuff!