I'm always on the look out for quick and healthy weekday breakfasts and this Spaghetti Squash Breakfast Skillet is my latest find.
It's a low-carb way to start the day that is very filling and easy to make since you make the spaghetti squash in advance. Bonus points because it requires almost no chopping and is ready in under 10 minutes.
What is a Spaghetti Squash?
A spaghetti squash is a type of gourd that is becoming more common. You should be able to find one at almost any big grocer these days, although it might be a bit buried behind a mound of butternut squash!
The cool thing about spaghetti squash is after you cook them you can shred the meat of the gourd with a fork and it looks like, you guessed it, spaghetti!
How to Cook Spaghetti Squash in the Microwave
You absolutely can roast the spaghetti squash in the oven for 45-60 minutes and it'll be tender, but for a quick shortcut, you can cook these in the microwave.
Cut them in half down the middle and scoop out the seeds. Then poke some holes in the skin and microwave them on high for 5-8 minutes. I usually check mine after 5 minutes but most of the time it needs a few extra minutes to be fork tender.
Let the squash cool and then you can use a fork to shred it up into spaghetti-like strands!
For this breakfast skillet, you should prepare the spaghetti squash in advance and wrap it tightly in plastic wrap and store it in the fridge until you are ready to make breakfast.
The squash will keep longer and better as a full squash rather than as strands.
Making the Breakfast Skillet
You wake up and you're hungry! This skillet is just minutes away.
Grab some of your cooked spaghetti squash from the fridge and spread it out in a skillet over medium heat with a drizzle of oil.
I like to add some scallions to mine as well as seasoning it with red pepper flakes, salt, and pepper.
As the squash begins to cook, don't mess with it too much. Just let it get brown around the edges.
One optional trick: I like to add some Parmesan cheese to my skillet which gets nice and crispy around the edges.
Now it's time to add the eggs! Make some wells in the center and crack in a few eggs.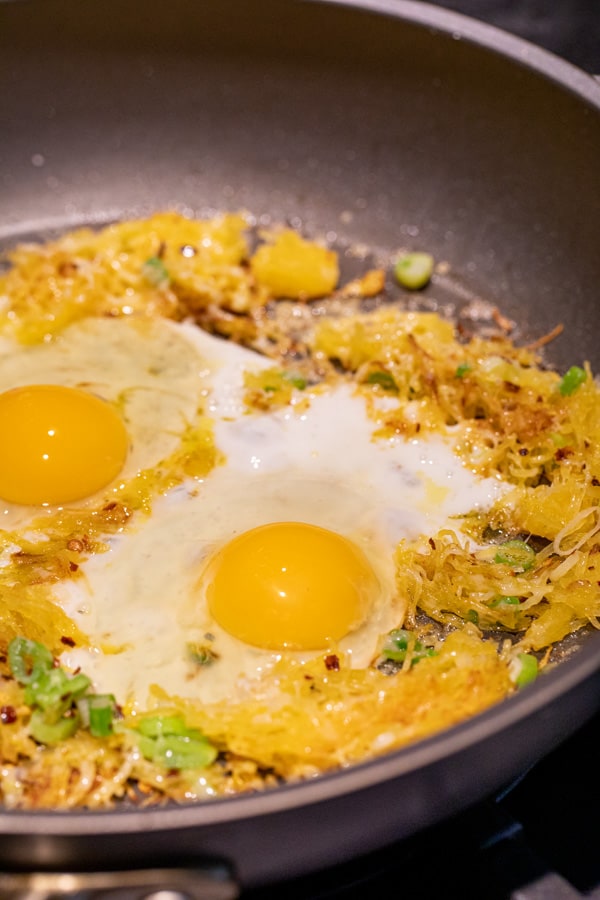 When the whites are mostly set on the eggs, cover the skillet for 30-45 seconds to set the tops of the eggs.
The eggs should still be slightly runny and you should have nice crispy edges on the squash.
This is a hearty breakfast for one or you can split the skillet with someone!
I love the mix of flavors and textures in this spaghetti squash breakfast skillet.
For just a few minutes of work and almost no chopping, it's a great way to start the day!
Try it out if you are in a breakfast rut!
Spaghetti Squash Breakfast Skillet
I love this healthy and easy twist on breakfast. Microwave a spaghetti squash and use it throughout the week for easy and healthy breakfasts!
Ingredients
1

cup

cooked spaghetti squash

1

tablespoon

olive oil

2

scallions

,

divided

2

tablespoons

parmesan cheese

2

large eggs

Pinch

red pepper flakes

Salt and pepper
Instructions
Slice spaghetti squash in half longwise, through the stem. Scoop out the seeds with a spoon and poke some holes in the skin and add the squash, cut side down, to a microwave-safe dish. Microwave on high for 5 minutes and test it to see if it's tender. It will probably need another 3-5 minutes depending on size and your microwave. When it's done you should be able to easily separate the squash with a fork into strands.

It's best to make the spaghetti squash in advance and let it cool in the fridge and then you can easily make breakfast with it when it's time. Squash will keep in the fridge for a week if wrapped tightly.

To make breakfast skillet, add a drizzle of olive oil to a medium skillet over medium heat. Add 1 cup of cooked and shredded spaghetti squash to the skillet and use a spatula to spread it around evenly. Allow to cook for about two minutes until it starts to take on some color.

Add scallion whites to the skillet (leave greens for garnish) along with parmesan cheese which will kind of cling to the squash and make crispy edges. Cook for another minute.

Arrange the squash so there are two wells in the center of the skillet and crack in two eggs. Let cook for a minute or two until most of the whites are set on the eggs.

Cover skillet and let the eggs steam for 30-45 seconds until they are set on top (yolks should still be runny although you can cook longer if you want set yolks).

Season skillet with red pepper flakes, salt, pepper, and green scallions. Serve immediately.
Nutrition
Serving:
1
Plate
|
Calories:
319
kcal
|
Carbohydrates:
8
g
|
Protein:
16
g
|
Fat:
25
g
|
Saturated Fat:
6
g
|
Polyunsaturated Fat:
3
g
|
Monounsaturated Fat:
14
g
|
Trans Fat:
0.03
g
|
Cholesterol:
334
mg
|
Sodium:
301
mg
|
Potassium:
274
mg
|
Fiber:
2
g
|
Sugar:
3
g
|
Vitamin A:
879
IU
|
Vitamin C:
6
mg
|
Calcium:
202
mg
|
Iron:
2
mg
Did you make this recipe?
Here are a few other great breakfast recipes!