It's officially fall, or as I like to call it, the season of what-can-I-put-in-a-skillet-with-eggs? The answer is pretty much everything, but first on your list should be this Crispy Brussels Sprouts Breakfast Hash with Bacon, Potatoes, and Eggs.
As we've discussed many times in this space, Brussels sprouts can span the range of deliciousness: From sad and soggy to crispy and delicious. Can you guess which version I'm shooting for here?
Dig in and let's make a really good breakfast skillet!
The Trick to Delicious Brussels Sprouts
There are a few keys to making this skillet perfect. Mostly though, it involves the Mosquito Bite rule: Don't touch it! The more you itch this dish, the more it'll suck. Once it is in the pan, just let it go.
This generally is my advice any time someone asks how to cook really good brussels sprouts. Cut them up, either in halves, quarters, or slivered, and add them to a skillet with some good fat like olive oil and don't mess with them.
Your goal is to encourage browning by not touching them. If you mess with them too much, they will fall apart, and steam rather than caramelize.
Of course, while the brussels sprouts cook, you can season them with black pepper, kosher salt, and other spices you might like, but at the end of the day, the most important element is patience and time.
Cooking this Brussels Sprouts Breakfast Hash
I tried this dish once with just brussels sprouts, but it was missing something. It actually needs shredded potato to add some body to the skillet. But not too much! It's one of the few times you'll see me actually measure out an amount of shredded potato. You just don't want to overdo it.
Mix together the sliced sprouts with the grated potato and all the spices.
Oh and bacon grease! Instead of oil or butter, crisp up a few pieces of bacon in your skillet over low heat and then pour off the bacon fat into the potato/sprouts mixture. Talk about flavor and it'll really promote browning on the sprouts.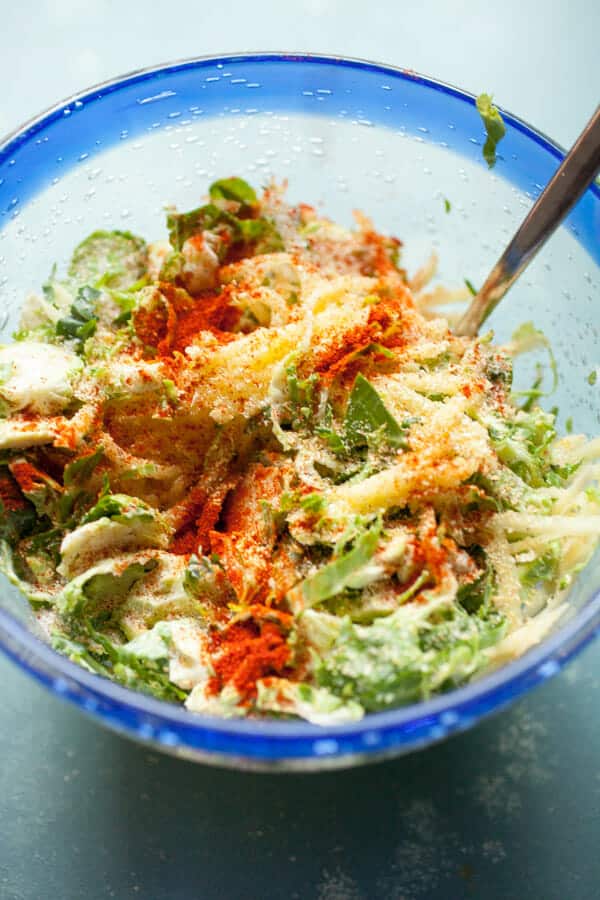 Remove your bacon and the grease from the skillet. Stir the grease into the sprouts and then return the sprouts mixture to the skillet over about medium heat.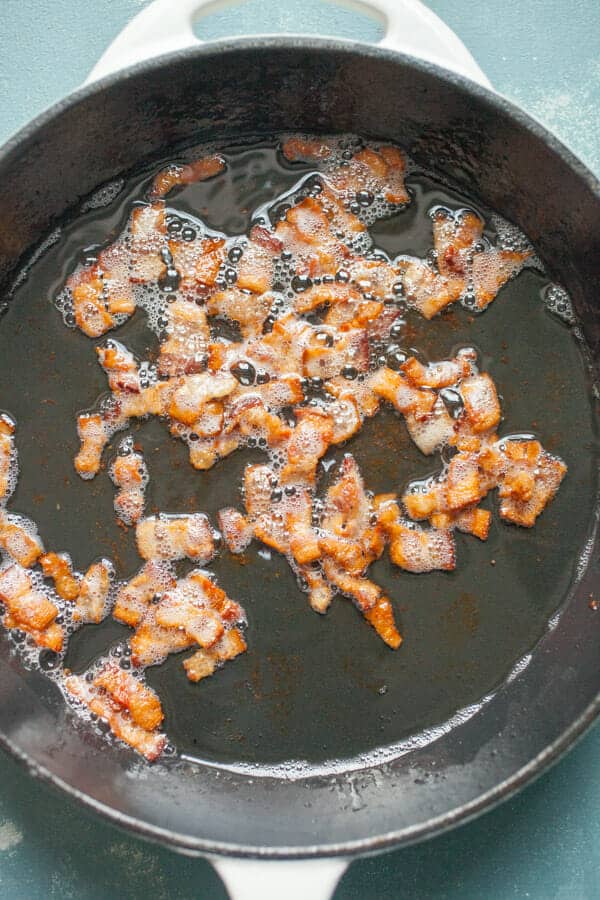 Now don't touch!
Okay… actually, you will need to stir it once or twice, but mostly let it sit. That's how you're going to get some nice browning. I let mine sit for 4-5 minutes in between stirs.
These crispy bits on the edges are what you're going for.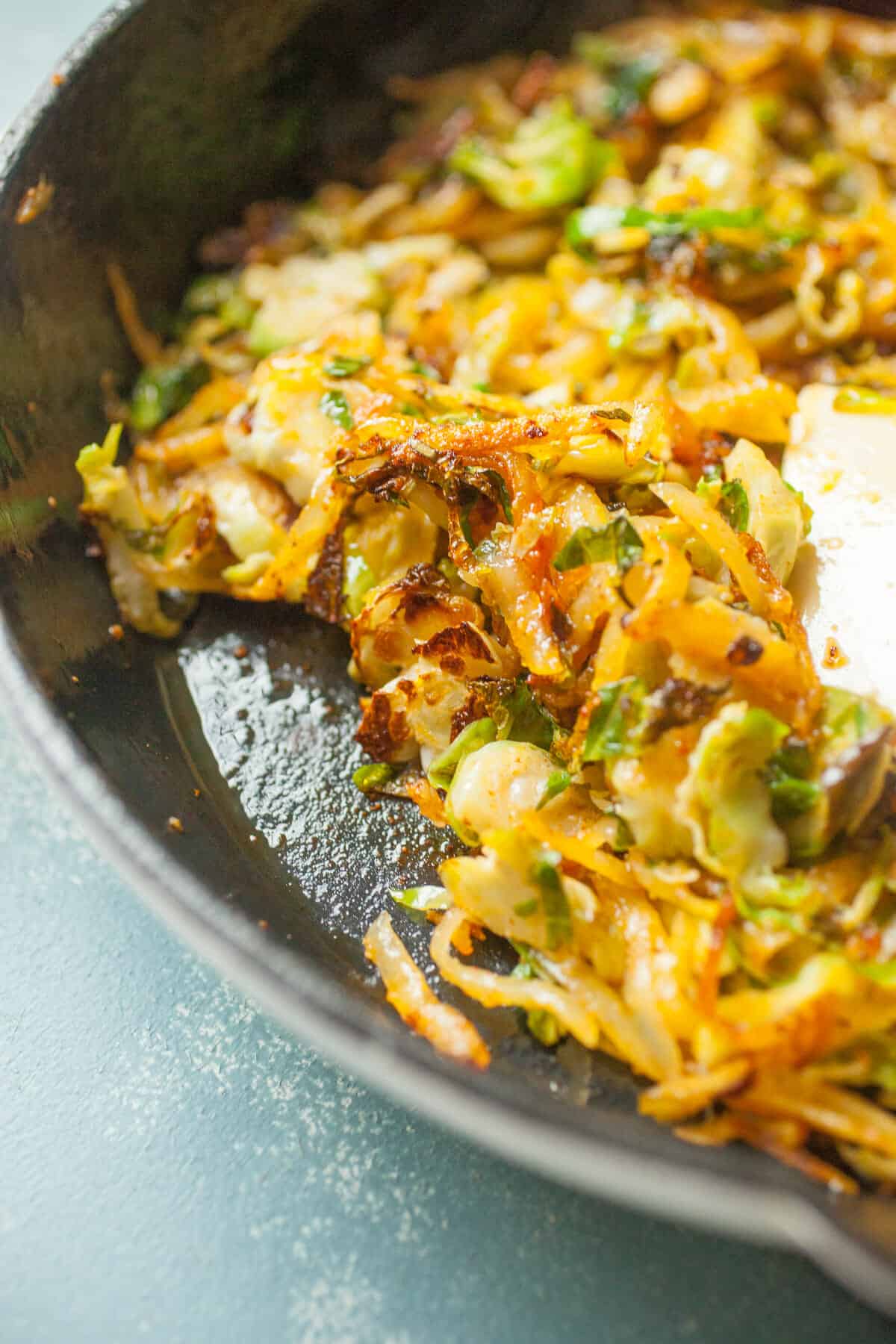 Adding the eggs to your skillet
If you don't have room in your skillet, you can of course cook your eggs separately on a griddle or smaller nonstick skillet.
But, if you have some room, you can cook everything in the same skillet which is a nice presentation and reduces dishes.
Once your sprouts are pretty crispy and browned, turn the heat down to low, make a few wells in the hash and crack in some eggs. If the skillet is really dry, it's fine to add a drizzle of oil or butter.
Cook the eggs over low heat. Cover them for the last 60 seconds or so to set the whites on top. If the yolks are still runny you did it right, although if you like completely set yolks then give them an extra minute or two.
I like to garnish this delicious situation with a drizzle of chili sauce and some fresh cilantro. YUM.
I can eat this entire Crispy Brussels Sprouts Breakfast Skillet by myself, if I'm being honest, but you could add an extra egg or two and split it between two people.
Can you make this in the oven?
If you wanted to double or triple this recipe to feed a crowd, you would want to move the cooking into the oven so it can all bake together. I would start the recipe the same by crisping some bacon and using the bacon fat to mix with the sprouts and potatoes.
Instead of a skillet, add that mixture to a large baking dish or sheet pan and bake it at a pretty high 450˚F for probably 20 minutes until it's getting really crispy around the edges and on top.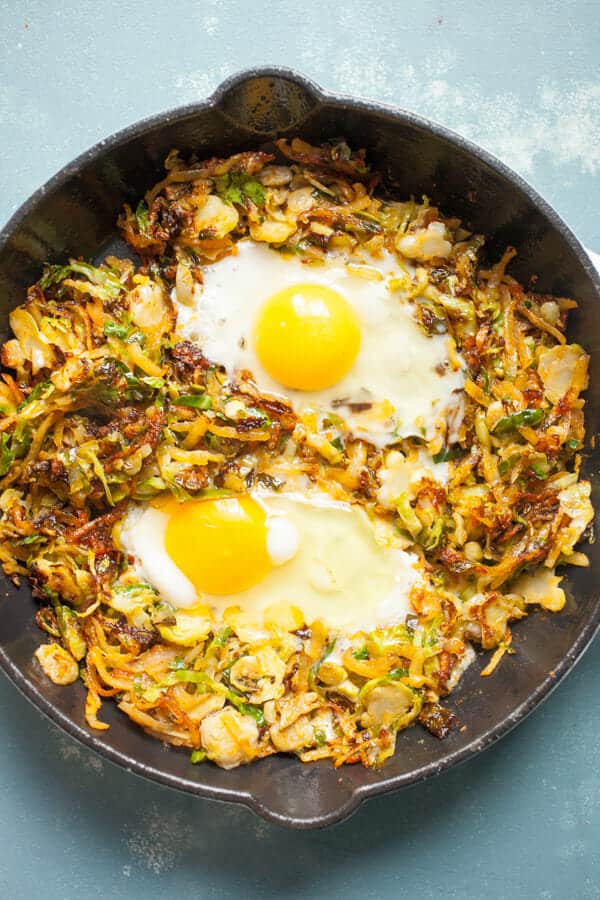 You can then make some wells in the baking sheet and crack in your eggs. Return to the oven for a few minutes until the eggs are just set and you are ready to serve!
Substitution ideas for this breakfast hash
I love this recipe as-is but there are some ideas for substitutions if needed!
To make this recipe vegetarian, replace the bacon with slivered mushrooms. You'll have to add some olive oil to the sprouts mixture instead of bacon fat.
For a sweet twist, substitute Yukon potatoes with sweet potatoes.
Add any aromatics you like. For example, chopped onions or fresh garlic to the brussels sprouts mixture.
Substitute the brussels sprouts with another root vegetable like parsnips.
To lower the cholesterol in the recipe, substitute egg whites for the whole eggs.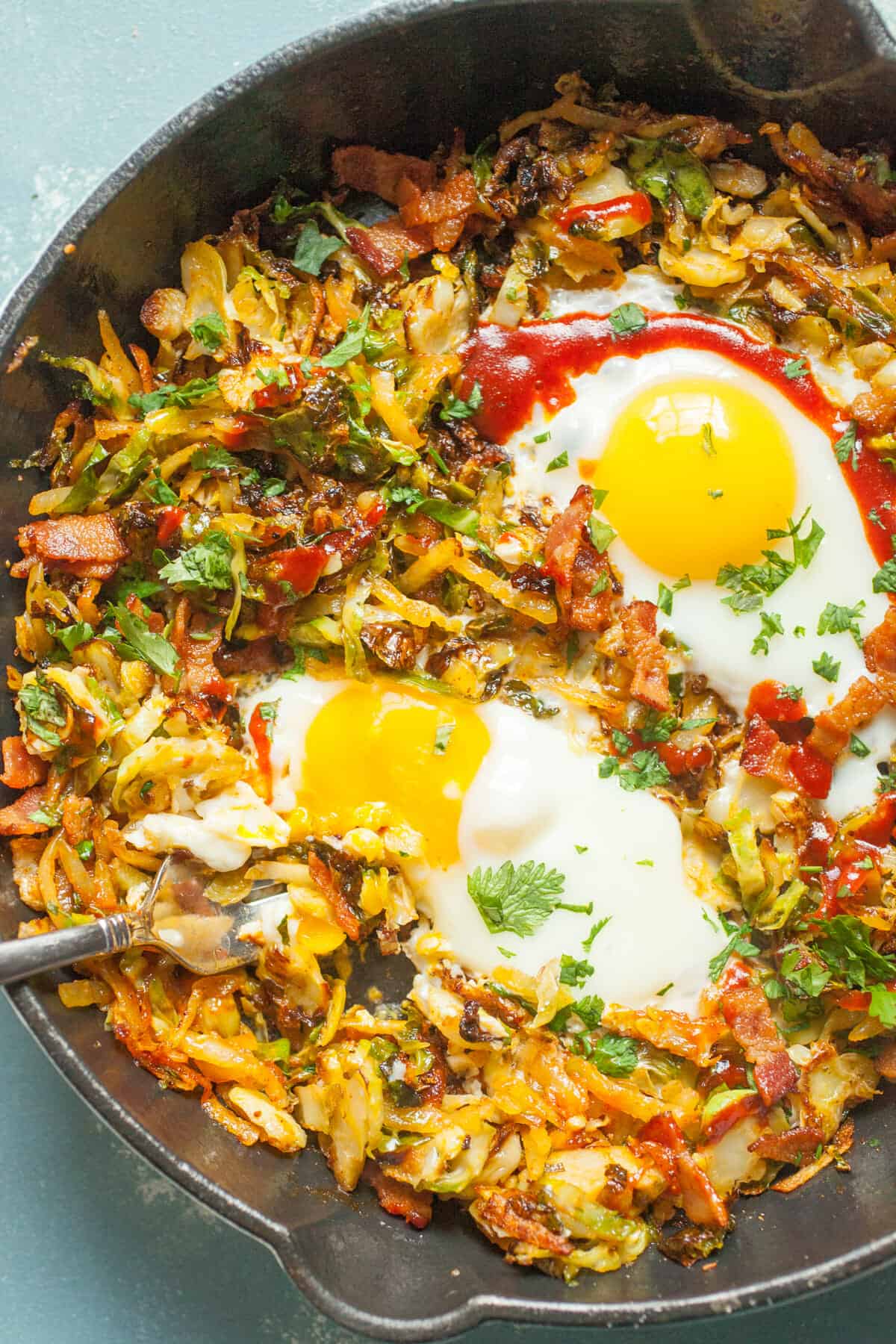 Reheating Brussels Sprouts leftovers
I seriously have never had leftovers of this recipe, but if you did have some, they would store fine in the fridge for a few days.
Reheat them in a hot skillet to re-crisp the edges and cook some fresh over-easy eggs for the hash.
What would be good to serve with this breakfast?
This is intended to be an all-in-one breakfast skillet hash, but if you were serving it as part of a larger brunch party, it would be nice to pair it with some baked goods as a side dish like maybe Blueberry Baked Oatmeal or this Savory Pumpkin Monkey bread.
If you just can't get enough brussels sprouts, check out this really simple and delicious oven-baked brussels sprouts recipe from Serious Eats or this Shaved Brussels Sprouts Salad!
Crispy Brussels Sprouts Breakfast Skillet
This simple breakfast skillet has some amazing fall flavors and is my new favorite take on hash. Dig in.
Ingredients
1

cup

grated Yukon potatoes

8-10

brussels sprouts

,

sliced thin

4

strips bacon

,

chopped

1

teaspoon

granulated onion

½

teaspoon

garlic salt

½

teaspoon

chili powder

½

teaspoon

kosher salt

2-4

eggs

Chili sauce

,

garnish

Cilantro

,

garnish
Instructions
Chop bacon and add to a skillet over medium-low heat. Cook slowly to render out fat and make bacon crispy.

Meanwhile, peel and grate potatoes and measure out 1 cup of grated potatoes. Wash sprouts and cut off stems. Then slice thin. Stir potatoes and sprouts together in a bowl.

When bacon is crispy, remove from the skillet. Pour off bacon grease into bowl with potatoes and sprouts. Then stir in seasonings. Stir well to combine.

Return skillet to medium heat and add the sprout mixture in an even layer. Let cook for 4-5 minutes until the hash is getting nicely browned.

Stir sprouts and potato mixture once and let cook a second time. Try not to over stir the mixture or it might get gummy. Just let it do it's thing.

When the sprouts mixture is nicely crispy on the edges, make two (or more) wells in the hash. Turn heat down to low and crack in eggs. If the skillet is very dry, you might want to add a drizzle of oil or butter.

Cook eggs in the skillet until the whites are set. Place a plate or lid on the skillet for about a minute near the end to set the tops of the eggs.

Serve skillet drizzled with chili sauce and fresh cilantro.

Serve while warm!
Nutrition
Serving:
0.5
skillet
|
Calories:
375
kcal
|
Carbohydrates:
29
g
|
Protein:
16
g
|
Fat:
22
g
|
Saturated Fat:
7
g
|
Polyunsaturated Fat:
4
g
|
Monounsaturated Fat:
9
g
|
Trans Fat:
0.1
g
|
Cholesterol:
193
mg
|
Sodium:
1552
mg
|
Potassium:
961
mg
|
Fiber:
6
g
|
Sugar:
3
g
|
Vitamin A:
978
IU
|
Vitamin C:
88
mg
|
Calcium:
79
mg
|
Iron:
3
mg
Did you make this recipe?